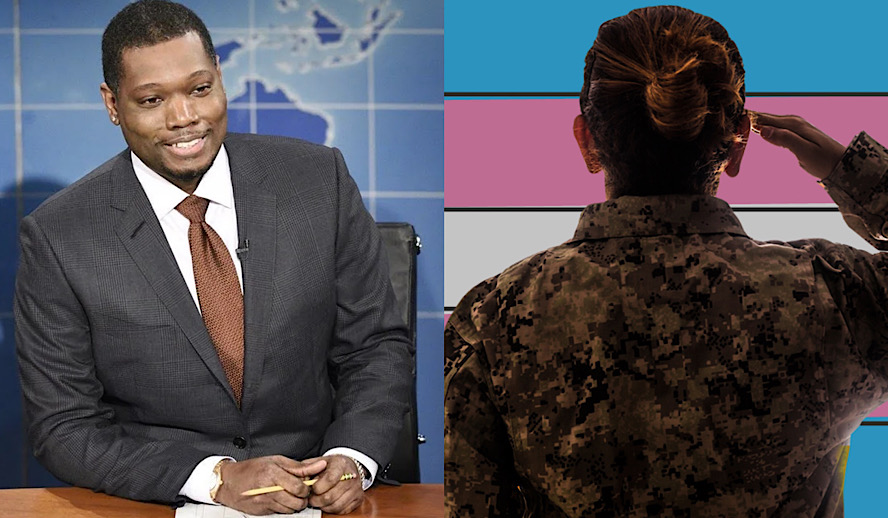 Photo: Comedy's Abuse of the Trans Community/SNL/NBC
The Fight for Trans Rights Persists 
If anything is to be gathered from the past century of human history, it is that progress is a grueling, sluggish process that requires all hands on deck. Change does not just randomly happen; it takes radical movements like the Civil Rights Movement of the 1950s and 60s for racial justice as well as the Stonewall Riots of 1969 which incited the modern Gay Rights Movement. Social justice campaigns like these are imperative to making the voices of the oppressed heard, but it has taken decades since the outset of these movements for any tangible legislative or social change.
The United States just underwent one of the most socially regressive eras in history under the presidency of Donald Trump, whose administration actively set out to undermine progressive agendas and appeal to his conservative, white supremacist infiltrated base. One group of people actively targeted by the Trump administration was the trans community, a faction of Americans that are already extremely vulnerable as trans people are statistically much more likely to experience violence than the average US citizen. 
Related article: 2020: An Outstanding Year for LGBTQ Representation Against All Odds
Related article: My Story Trying to Walk Away from Harry Potter, JK Rowling, Her Transphobic Views
This isn't funny and so many people had to let this joke get to air y'all are dumb pic.twitter.com/CyYQZXEeJX

— Rose Dommu (@rosedommu) January 31, 2021
Trans Community
Specific actions Trump took against the trans community include rolling back bathroom safety laws and healthcare protection for trans people as well as the notorious trans military ban, each of which actively endangers trans lives greatly while uplifting a hateful spirit of "othering." One pillar of society that is effective in aiding social movements during an oppressive government's administration is media, whose positive representation of the LGBTQ community in the past 20 years has been considered a vital cog in the process of cultivating queer rights like gay marriage. Unfortunately, the media's representation of disenfranchised communities can often have the opposite effect and contribute to the dangerous "othering" process. Despite the golden rule to "punch up" (aka make fun of a privileged person or group rather than a disadvantaged one), comedy has maintained a steady and shameful history of targeting the trans community. This toxic relationship has been recently spotlighted once again on 'Saturday Night Live' when "Weekend Update" host, Michael Che, delivered a tasteless transphobic joke. 
In wake of President Biden's removal of Trump's trans military ban, Che remarked, "It's good news, except Biden is calling the policy 'Don't Ask, Don't Tuck.,'" a callous riff on "Don't Ask, Don't Tell" that once again exhibits the media's unhealthy obsession with trans people's bodies. This is not the first time Che has utilized trans people as the butt of his jokes as the comedian referred to Caitlyn Jenner as a "fella" in 2019. Although Che's inexcusable comments are some of the most recent high profile digs at the trans community in the guise of comedy, the history of comedian's reliance on transphobia is an extensive and abhorrent one that must be called out and condemned.
Related article: MUST WATCH – Hollywood Insider's CEO Pritan Ambroase's Love Letter to Black Lives Matter – VIDEO
Subscribe to Hollywood Insider's YouTube Channel, by clicking here. 
Comedy's Transphobia Problem 
The exploitation of trans people for cheap comic effect caught on in comedy films of the 90s in which the revelation of a characters' trans identity would inevitably result in a vomit gag. 1991's 'Soapdish' is a notable example of this pattern as the climax of the satirical film arrives with Whoopi Goldberg outing Cathy Moriarty's villainous character as trans. In response, Kathy Najimy's character passes out and Robert Downey Jr., whose character had an affair with Moriarty's, excuses himself to puke in disgust. In 1994, Jim Carrey and Courteney Cox led 'Ace Ventura: Pet Detective' upheld many similar transphobic "gags" for comedic effect. In the film, Sean Young's character, Lois, has a romantic fling with Carrey's Ventura; however, when Ventura discovers that Lois is in fact trans, he immediately vomits in the toilet, brushes his teeth maniacally, and cries in the shower. Notably, crying in the shower is often an image ascribed to surviving sexual assault, though the interaction between Lois and Ventura was wholly consensual. The event of responding to the realization of a trans identity with an uncontrollable urge to disgorge has surpassed the 90s and still exists in comedies today, specifically in 'Family Guy'.
While this may appear to be a harmless joke at the expense of trans people, it is worth acknowledging that comedy has successfully sustained the notion that trans people are not acceptable for cis men to interact with, romantically or sexually. This is the very process of dehumanization playing itself out through the work of transphobic comedy. The more that people see protagonists' disgusted responses to trans identities, the more audiences are learning how they should treat the trans people in their lives. Unfortunately, the motif of a trans person inciting nausea only teaches viewers to "other" trans people and view them as nothing more than a cheap joke.
Related article: The Power of Positivity: Ikorodu Bois + Chris Hemsworth + Russo Brothers + Sam Hargrave
Limited Time Offer – FREE Subscription to Hollywood Insider
Click here to read more on Hollywood Insider's vision, values and mission statement here – Media has the responsibility to better our world – Hollywood Insider fully focuses on substance and meaningful entertainment, against gossip and scandal, by combining entertainment, education, and philanthropy. 
The Cancel Culture Argument
While activism on behalf of trans rights and representation has garnered an impressive influence in the past few years, the counter-argument of cancel culture has proven itself to be an impediment to the progressive cause. In many cases today, a comedian will make a transphobic joke, will get called out for their transphobia, and the said comedian, along with their supporters and/or other transphobes, will condemn the "cancel culture" instead of taking accountability for their transphobic actions. In the instance of Michael Che, although the comedian did not comment on the controversy himself, social media was nevertheless inundated with opinions from those who found labeling Che's transphobic joke as transphobic meant that cancel culture has rendered audiences too sensitive and effectively ruined comedy. The reality is quite the opposite as the critics of Che's joke are demanding his comedy simply stops hindering itself with lazy transphobic tropes.
Che is not the only comedian in recent history to interact with the phenomenon of cancel culture following a transphobic comment. In his 2019 Netflix special, 'Sticks and Stones,' Dave Chappelle faced backlash for his comments on the LGBTQ community in which he called bisexuals "gross" and trans people "confusing." When faced with this criticism, Chappelle simply argues, "Remember bitch, you clicked on my face." Just in January of last year, Ricky Gervais hosted the Golden Globes, and only a couple of weeks before awards night, Gervais decided to make his barbaric opinions of trans folks known on Twitter. Aggressively implying that trans women are nothing more than deceitful men, Gervais wrote, "We need to protect the rights of women. Not erode them because some men have found a new cunning way to dominate and demonise an entire sex."  This tweet wreaks of transphobia and the danger of dehumanizing all trans women is nothing short of horrifying. 
Related article: Hollywood Insider's CEO Pritan Ambroase: "The Importance of Venice Film Festival as the Protector of Cinema"
Related article: The Masters of Cinema Archives: Hollywood Insider Pays Tribute to 'La Vie En Rose', Exclusive Interview with Director Olivier Dahan
Predictably, Gervais seemed to brush off any criticism he may have received from this abusive rhetoric as the comedian has been an avid critic of cancel culture. In October of 2019, Gervais tweeted, "I don't try to offend, but the more people are offended by a joke, particularly on Twitter, the funnier I find it. And the angrier the tweet, the more chance of me using it and turning it to laughs and cash. PC culture isn't killing comedy. It's driving it. As it always did." Clearly, comedians live Gervais are not only incapable of self-awareness and growth but feel the need to make themselves into a martyr for all transphobes of the world.
Making Comedy A Trans-Inclusive Space
Now that the evidence of comedy's unrelenting trend toward transphobia has been exposed and defined, what can be done to eliminate the harmful rhetoric? First off, it is imperative that any and all transphobia is called out and condemned. No one, not even an 'SNL' star, should ever get a pass for a joke that dehumanizes an already marginalized group of people even further. By calling out these derogatory comments, the comedian making the transphobic joke is othered rather than the trans community. Normalizing accountability must be the priority over trivial concerns of whether or not cancel culture is "ruining" comedy, as the wellbeing of the trans community is on the line. To be a true ally to the LGBTQ community, and specifically trans people, any inkling of transphobia must be stomped out whether it comes from a family member, friend, or your favorite comedian. 
Related article: Trans Representation in Film, TV & Streaming Must Increase Respectfully
Related article: Marsha P. Johnson: 32 Facts on HER Glorious Life, Black Trans Lives Matter
Just as important as denouncing transphobic comedians is uplifting talented trans comics. Unfortunately, trans people are still fighting for any kind of representation in media, and their stories are often sidelined for cis ones instead. While there may not be any trans comedians that are household names (a blatant reflection of our transphobic society rather than the talent of trans comics) that does not mean there are not innumerable trans comics as hilarious as the rest. Some brilliant emerging trans comedians to keep an eye out for include Patti Harrison, Flame Monroe, and Jes Tom. 
Harrison has made a name for herself with her edgy style of humor and her featured appearances on 'The Tonight Show with Jimmy Fallon,' 'Shrill,' and the upcoming 'Raya and the Last Dragon' establish Patti as one of the most exciting comedians on the rise. Monroe has proven  herself to be a standout of the standup comedy world through her writing and starring roles in Netflix's 'Tiffany Haddish Presents: They Ready' and 'BET's Comicview.' Finally, Jes Tom has made a name for themselves acting in subversive queer entertainment with an intention to "see more non-binary trans people in media." These are only three of an infinite pool of wildly talented trans comedians that not only deserve the chance to pursue their dreams of comedy, but deserve the respect of the entire genre of comedy as well.
An excerpt from the love letter: Hollywood Insider's CEO/editor-in-chief Pritan Ambroase affirms, "Hollywood Insider fully supports the much-needed Black Lives Matter movement. We are actively, physically and digitally a part of this global movement. We will continue reporting on this major issue of police brutality and legal murders of Black people to hold the system accountable. We will continue reporting on this major issue with kindness and respect to all Black people, as each and every one of them are seen and heard. Just a reminder, that the Black Lives Matter movement is about more than just police brutality and extends into banking, housing, education, medical, infrastructure, etc. We have the space and time for all your stories. We believe in peaceful/non-violent protests and I would like to request the rest of media to focus on 95% of the protests that are peaceful and working effectively with positive changes happening daily. Media has a responsibility to better the world and Hollywood Insider will continue to do so."
Ways to support Black Lives Matter Movement to end systemic racism
– Do you know the hidden messages in 'Call Me By Your Name'? Find out behind the scenes facts in the full commentary and In-depth analysis of the cinematic masterpiece
– A Tribute To The Academy Awards: All Best Actor/Actress Speeches From The Beginning Of Oscars 1929-2019 | From Rami Malek, Leonardo DiCaprio To Denzel Washington, Halle Berry & Beyond | From Olivia Colman, Meryl Streep To Bette Davis & Beyond
– In the 32nd Year Of His Career, Keanu Reeves' Face Continues To Reign After Launching Movies Earning Over $4.3 Billion In Total – "John Wick", "Toy Story 4", "Matrix", And Many More
trans community, trans community, trans community, trans community, trans community, trans community, trans community, trans community, trans community, trans community, trans community, trans community, trans community, trans community, trans community, trans community, trans community, trans community, trans community, trans community, trans community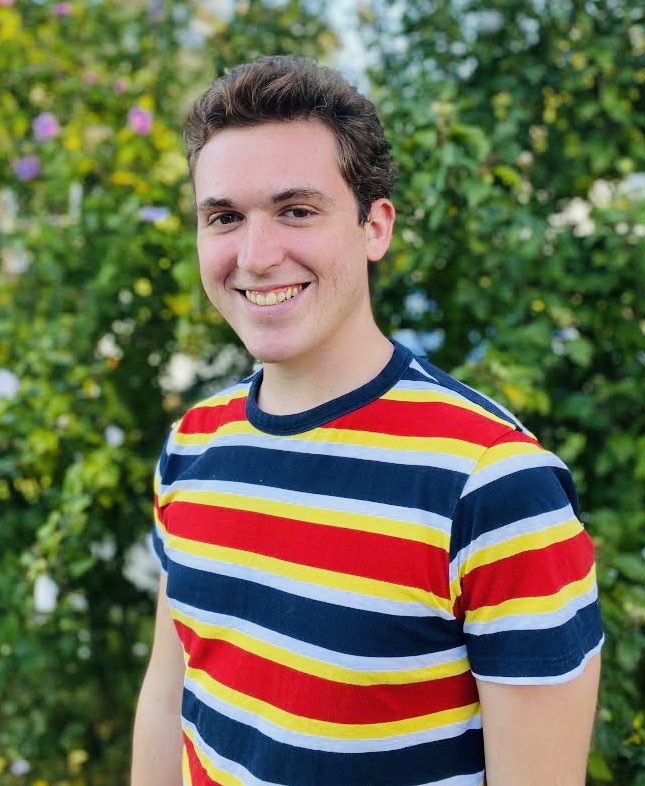 Christopher Davis is an entertainment enthusiast dedicated to the diverse and ever-expanding terrain of film and television. He is eager to examine entertainment that pushes the boundaries of the screen and offers new texture to popular culture altogether. Christopher is excited to write for Hollywood Insider, where he is encouraged to engage in factual and substance-based discourse. Christopher finds inspiration in media that is compelling to consume, sparks progress and evokes compassion.