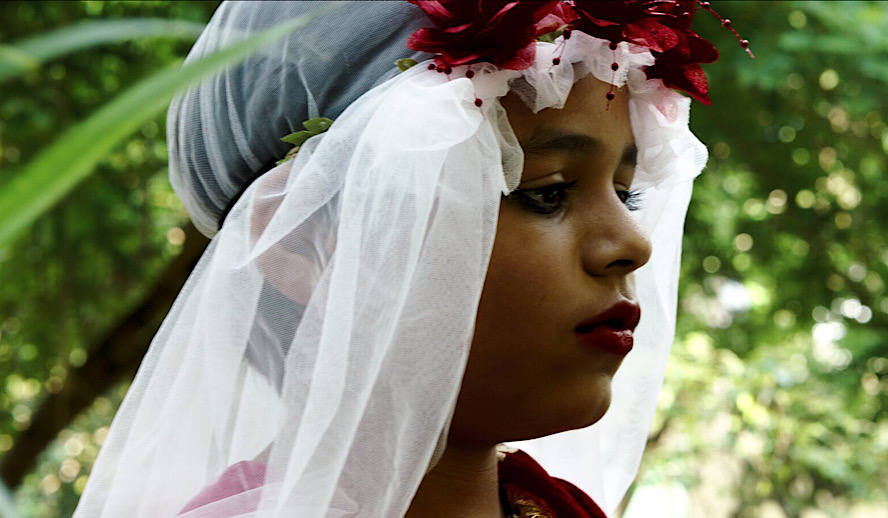 Photo: 'Funny Boy'/Netflix
'Funny Boy' opens with an image of Sri Lanka that evokes paradise. Children navigate through pockets of shade among cavernous palms, like fawns prancing through the forest, as they run along the sand of an azure seashore. 
We see a mock bridal procession led by our young protagonist Arjie (Arush Nand), who wears bright red lipstick and a sari to match. His younger sister Sonali (Araina Nand) runs alongside him, dressed in a groom's suit–trailing behind them are their girl cousins.
Arriving at their family's estate, where much of the film takes place, they continue the ceremony. One of the cousins officiates as Arjie and Sonali exchange their "I do's" and kiss each other on the cheek. The bridal party erupts in applause and cheers, tossing flower petals into the air, but cousin Tanuja (Thenaya Senarie Geeganage), a visitor from England, is not amused.
Related article: The Masters of Cinema Archives: Hollywood Insider Pays Tribute to 'Dil Se', Exclusive Interview with Director Mani Ratnam
Related article: Must Watch – 'Super Deluxe': An Oscar-Worthy Foreign Film With A Powerful Message
"He's not even a girl! A bride is a girl, and not a boy." Tanuja wants to play the bride, but the others deny her. She calls Arjie "a pansy, a sissy, a fag," at which point the others gang up on her and chant "fatty boom-boom," causing her to lash out and run crying to her mother.
The adults, who'd been playing cards inside, express concern over Arjie's make-up, attire, and behavior, while his uncle amusedly remarks that he's a "funny one." 
Children In Sri Lanka
Taking place in Colombo, 1974, the first act of the film thus follows Arjie through episodes of his childhood, and Director Deepa Mehta portrays the lives, attitudes, and perspectives of the children with expert deftness. The way that they talk, interact, and behave is refreshingly charming, capturing not only their jovial innocence but also their ignorant capacity for cruelty. 
Children are notoriously difficult to work with and filmmakers tend to struggle with them. They're often either reduced to a plot point or tool of the protagonist, other times simply behaving like little adults (think Fred Savage in the '90s). Not only does Mehta succeed in building a world through the eyes of the children, but so does Arush Nand, whose portrayal of young Arjie is masterful beyond his years.
Related article: MUST WATCH – Hollywood Insider's CEO Pritan Ambroase's Love Letter to Black Lives Matter – VIDEO
Subscribe to Hollywood Insider's YouTube Channel, by clicking here. 
Arjie struggles to fit in with the boys, neither enjoying nor being good at sports, but finds a friend in his aunt Radha (Agam Darshi), whose cut-off jean shorts appear starkly modern compared to the traditional saris of the other women. She lets Arjie wear a pink feather boa and paints one of his toenails, which he hides beneath a sock at all times as their "joyful secret." Having studied at the University of Toronto, she cares less for the traditional norms of Sri Lankan Tamil society but finds herself facing down the barrel of a loveless arranged marriage.
Together, Radha and Arjie audition and rehearse for an amateur production of The King and I, where they meet a boy named Anil (Ruvin De Silva). He's enamored by Radha, who's initially hesitant of his advances. She slowly falls for him as he reveals himself to be a genuinely kind man with modern sensibilities–he's a fan of Gloria Steinem and teaches Arjie how to knit, a skill he learned from his grandmother. 
The trio go on a number of outings before being discovered by the rest of the family. Their chief concern is not only that Radha is reneging on her arranged marriage, but also the fact that Anil is Sinhalese.
Related article: The Power of Positivity: Ikorodu Bois + Chris Hemsworth + Russo Brothers + Sam Hargrave
Limited Time Offer – FREE Subscription to Hollywood Insider
Click here to read more on Hollywood Insider's vision, values and mission statement here – Media has the responsibility to better our world – Hollywood Insider fully focuses on substance and meaningful entertainment, against gossip and scandal, by combining entertainment, education, and philanthropy. 
The Sinhalese And Tamil Ethnic Conflict
Unfortunately, Radha and Anil are star-crossed lovers. The family makes it clear that if Radha marries a Sinhalese, nobody would accept her into their households ever again. To audiences unaware of the history of Sri Lanka, to the young Arjie, and even to Radha, whose father was killed by the Sinhalese, this seems like an unfair prohibition. The film has hitherto contained nary a whisper of ethnic tensions, and at first, it seems almost manufactured. Radha's mother goes to have words with Anil's father, which leads to a humorously tense scene in which they drink tea together (he also tells her that she lives in a Sinhalese society so she should speak Sinhala, sound familiar?).
The childhood reminiscences and the budding romance come to a screeching halt. During routine travel, Radha's train is set upon by a masked mob of Sinhalese, who brutally massacre the Tamil passengers unprovoked, women and children alike. Radha narrowly survives and returns traumatized, unable to continue her relationship with Anil. She joylessly marries her arranged lover and isn't seen much again. 
Related article: Hollywood Insider's CEO Pritan Ambroase: "The Importance of Venice Film Festival as the Protector of Cinema"
Related article: The Masters of Cinema Archives: Hollywood Insider Pays Tribute to 'La Vie En Rose', Exclusive Interview with Director Olivier Dahan
I would've been happy to watch the charming story of Arjie's childhood for the full two hours, but that's just not the story being told. The first act focuses on young Arjie becoming cognizant of sexuality and ethnicity, and it unfolds beautifully. However, when the film shifts its focus toward the emerging civil conflict, problematic elements become more apparent.
As a teenager, Arjie (now played by Brandon Ingram) comes to terms with his sexuality and falls in love with a Sinhalese classmate named Shehan (Rehan Mudannayake) against the backdrop of increasing ethnic tensions. Mehta references this in a brief musical homage to Doctor Zhivago in one scene where Arjie watches a pianist playing Lara's iconic theme.
Numerous pogroms against the Tamil occur throughout the film–brutal, senseless, hate-fueled violence. Eventually, the initial vision of an idyllic Sri Lanka makes sense in a mournful way. The children running along the beach no longer exist, nor could their innocence possibly exist within the realities of Sri Lankan society–we're shown images of bloodied Tamil children who've fallen victim to the pervasive violence. 
However, there are a number of reasons why the film fails to meaningfully represent the struggle of the Tamil people.
Related article: 'Sound of Metal': Brilliant Riz Ahmed in Darius Marder's Look at an Emotional Journey
Related article: Barack Obama's 'A Promised Land' Review: A Powerful Introspective from a True Leader
How Funny Boy Contributes To Tamil Erasure
I'll conclude this review by addressing the controversy that has surrounded the casting and language used in the film. Some have criticized the film for having a largely non-Tamil cast, despite obviously being about Tamils. Consequently, the language spoken in the film is non-authentic Sri Lankan Tamil which was apparently so butchered that Mehta had many lines dubbed.
I have to be honest here. Although I have no personal ties to the Sri Lankan Tamil community, I completely agree with the criticism that the film has done a disservice by casting non-Tamils. Of the main cast, only Nimmi Harasgama, who plays Arjie's mother, is a native Sri Lankan Tamil.
The casting calls for the film were supposedly closed and circulated only among the Sri Lankan elite, and many feel that Mehta did not make an adequate effort to cast Tamils in the role. In her defense, she stated that it was too difficult to find a gay Tamil due to the current Sri Lankan anti-homosexuality laws, and a number of Tamil castings fell through because their refugee status made it impossible to shoot on location in Colombo.  
Related article: Video | The Artist Evolves: All Leonardo DiCaprio Roles & Performances, 1980s to 2020 Filmography
Related article: Video: The Evolution Of Johnny Depp Filmography – All His Roles & Performances From 1984 to 2021
Ultimately, it doesn't quite achieve what Moonlight did in terms of portraying the struggles of being gay in a marginalized community. The protagonists of Funny Boy belong to a highly affluent family and, therefore, the difficulty of grappling with the illegality of homosexuality is somewhat of a non-issue. Arjie and Shehan are free to make love in one of the many rooms of their vast estates, only needing to fear discovery at the hands of their own family. By the time they're outed, the ongoing massacre of Tamils sort of sidelines the emotional turmoil, which only contributes to the idea that the Sri Lankan Civil War is used as a backdrop and plot element rather than being properly represented. 
I can watch the film, divorced from the political realities, and appreciate its craftsmanship. However, I don't think it's a good representation of Sri Lankan Tamils.
Funny Boy is available to stream now on Netflix.
By Daniel Choi
Click here to read Hollywood Insider's CEO Pritan Ambroase's love letter to Black Lives Matter, in which he tackles more than just police reform, press freedom and more – click here.
An excerpt from the love letter: Hollywood Insider's CEO/editor-in-chief Pritan Ambroase affirms, "Hollywood Insider fully supports the much-needed Black Lives Matter movement. We are actively, physically and digitally a part of this global movement. We will continue reporting on this major issue of police brutality and legal murders of Black people to hold the system accountable. We will continue reporting on this major issue with kindness and respect to all Black people, as each and every one of them are seen and heard. Just a reminder, that the Black Lives Matter movement is about more than just police brutality and extends into banking, housing, education, medical, infrastructure, etc. We have the space and time for all your stories. We believe in peaceful/non-violent protests and I would like to request the rest of media to focus on 95% of the protests that are peaceful and working effectively with positive changes happening daily. Media has a responsibility to better the world and Hollywood Insider will continue to do so."
More Interesting Stories From Hollywood Insider
– Want GUARANTEED SUCCESS? Remove these ten words from your vocabulary| Transform your life INSTANTLY
– Compilation: All James Bond 007 Opening Sequences From 1962 Sean Connery to Daniel Craig
– Do you know the hidden messages in 'Call Me By Your Name'? Find out behind the scenes facts in the full commentary and In-depth analysis of the cinematic masterpiece
– A Tribute To The Academy Awards: All Best Actor/Actress Speeches From The Beginning Of Oscars 1929-2019 | From Rami Malek, Leonardo DiCaprio To Denzel Washington, Halle Berry & Beyond | From Olivia Colman, Meryl Streep To Bette Davis & Beyond
– In the 32nd Year Of His Career, Keanu Reeves' Face Continues To Reign After Launching Movies Earning Over $4.3 Billion In Total – "John Wick", "Toy Story 4", "Matrix", And Many More
Funny Boy, Funny Boy, Funny Boy, Funny Boy, Funny Boy, Funny Boy, Funny Boy, Funny Boy, Funny Boy, Funny Boy, Funny Boy, Funny Boy, Funny Boy, Funny Boy, Funny Boy, Funny Boy, Funny Boy, Funny Boy, Funny Boy, Funny Boy, Funny Boy, Funny Boy, Funny Boy, Funny Boy, Funny Boy, Funny Boy, Funny Boy, Funny Boy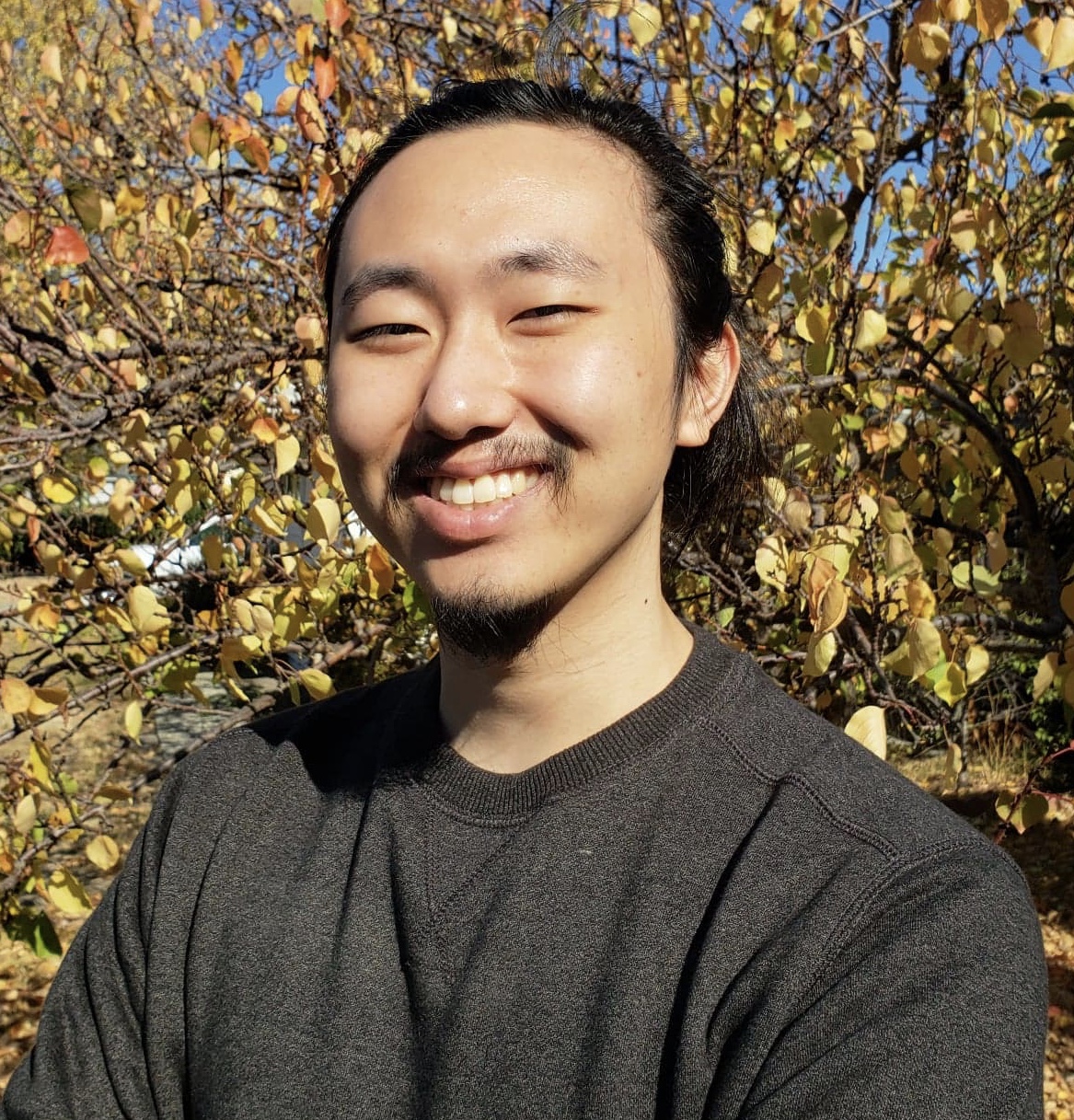 Daniel Choi is a writer who's currently pursuing a BA in Film & Television from New York University. With a background in amateur film production, Daniel is fascinated by how artists' cultural backgrounds inform their work, subconsciously or not, and how that work is then perceived by different audiences across time and space. He joined Hollywood Insider to promote its mission statement of substantive entertainment journalism, and hopes to enrich readers' understandings of cinema through insightful analysis.