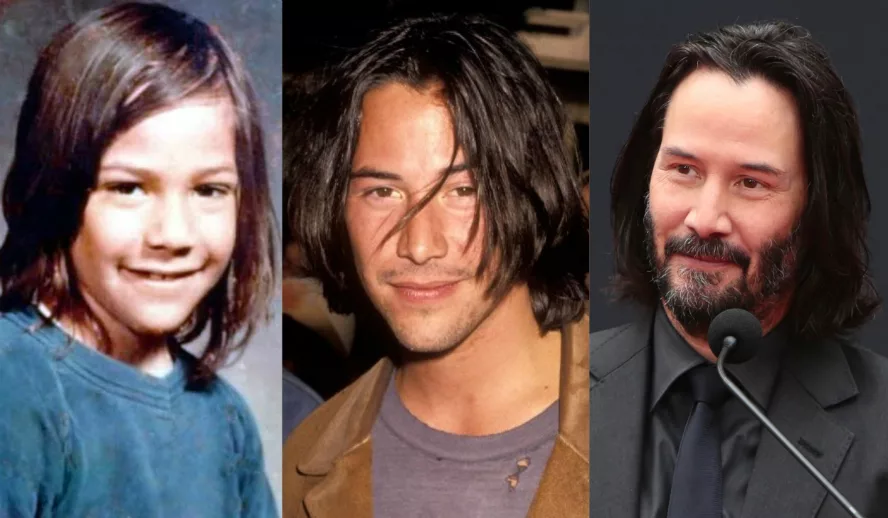 Photo/Video: Hollywood Insider YouTube Channel/Eric Charbonneau
Keanu Reeves has been a star, not for a year or two, but for decades. This video shows his face getting better with time and if the current trends are anything to go by, then his stardom sees no slowing down. He goes from strength to strength every year – and 2019 happens to be the year he is everywhere. King of comedic timing? Duke Caboom in Toy Story 4 stole the scene and more. Action star continues? John Wick 3 doesn't seem to be slowing down. His Hand and Foot Print ceremony at the TCL Chinese Theatre – wait what? Only now? Why has this taken so long? Shocked. I mean, come on, this guy is in his 32nd year of acting and has made over $4.3 billion in total ticket sales.
Related article: Hollywood Insider's CEO Pritan Ambroase's Love Letter to Black Lives Matter
Keanu has taken us along with him on a spectacular ride and the audiences keep wanting more. He has excelled in every role he has been given – My Own Private Idaho With River Phoenix, The Matrix Trilogy, The Little Buddha, Speed, The Devil's Advocate, John Wick, Toy Story 4 and the list goes on and on. His work and support for Nepal during the disastrous earthquake speaks volumes on his humanitarianism. And we sure hope he continues on. 
Keanu, we are rooting for you. Keep it going. You have our support and if social media is anything to go by – then the whole world is also rooting for you. 
By Hollywood Insider Staff Writer
More Interesting Stories From Hollywood Insider
– WATCH: Who Is President For 2020? Pete Buttigieg? Joe Biden? Kamala Harris? Donald Trump? Bernie Sanders? – Season 2 Of Hollywood Insider's Messages From America – Episode 2
– WATCH: Would A President's Sexuality Matter To You? A Lesbian, Gay, LGBTQ President? Pete Buttigieg? – Hollywood Insider's "Messages From America" – Episode 3
– WATCH: Do People In America Choose Human Rights Or Religion? – Season 2 Of Hollywood Insider's Messages From America – Episode 1
– FACT-CHECKED Series: Tom Holland And 15 Things You Might Not Know About The Star Of Spider-Man
– WATCH: Once Upon A Time In Hollywood's Premiere & "Reaction From Stars" Leonardo DiCaprio, Brad Pitt, Quentin Tarantino, Margot Robbie, Etc. On The Making Of The Masterpiece
– Spider-Man's Zendaya In Her First Adult Role In HBO's Brilliant Series Euphoria – It Is Also One Of Leonardo DiCaprio's Favorite Shows
– Why Queen Elizabeth II Is One Of The Greatest Monarchs | Her Majesty Queen Elizabeth II of United Queendom of Great Britain & Northern Ireland
– WATCH: Pritan Ambroase On The #metoo Revolution & Powerful Questions That Need Answers
– FACT-CHECKED Series: Tom Holland And 15 Things You Might Not Know About The Star Of Spider-Man
–The Lion King Roars Louder With Beyonce, Donald Glover, Chiwetel Ejiofor As Leads – "It Never Gets Old" 
– 10 facts you may not know about Ben Hardy, the Bohemian Rhapsody Star
– Are you a huge fan of the British Royal family? Would you like to know REAL FACTS instead of just gossip? Here are 15 facts about HRH Prince Charles brought to you by Hollywood Insider's Fact-Checked Series
– EXCLUSIVE: Is That Quentin Tarantino Hidden In Plain Sight In The New Poster Of Once Upon A Time In… Hollywood: An In-Depth Analysis
– New & Exciting Poster Released For Once Upon A Time In… Hollywood –Taking A Page Out Of The Golden Age Of Hollywood
– From The First Romantic Film in 1919 Based On A Gay Love Story To Where We Must Go – Why LGBTQ+ Representation in Film/TV matters
– Netflix's Elite is a show where being gay is a non-issue and gay couples are celebrated
– How Hollywood continues to take a stance on climate change and speaks up to halt the crisis facing our ONE home known as earth
– When Brad Pitt, Leonardo DiCaprio and the rest of the cast of Once Upon A Time In… Hollywood brought glamour back to Cannes
– Timothée Chalamet feels lucky to utilize his platform to save people from drug abuse 
– Pritan Ambroase on his idols Martin Scorsese, James Cameron and positive actions needed to avert the global warming crisis
– 32 Facts on Rambo and the more-than-meets-the-eye superstar Sylvester Stallone