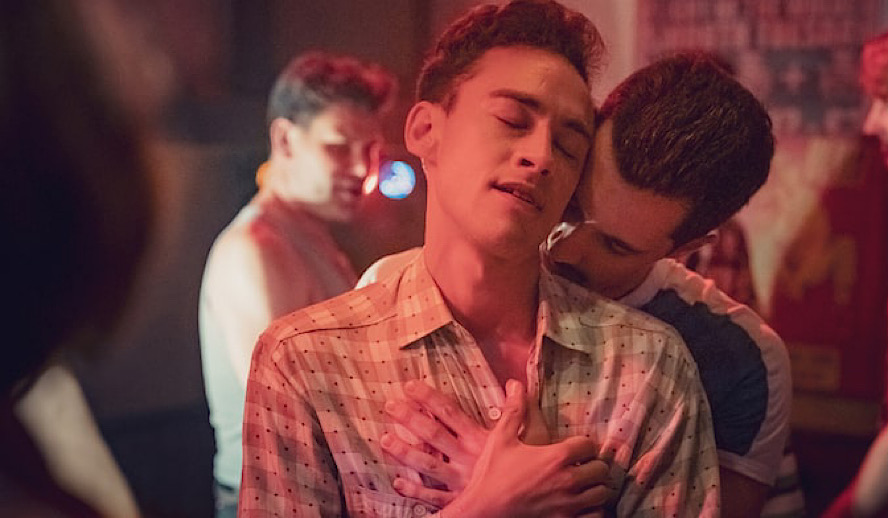 Photo: 'It's a Sin'/HBO Max
Honoring Queer History
Like all marginalized communities, LGBTQ individuals have endured a trying journey for social justice that will continue to persist for decades to come. The progress of gay acceptance can be loosely traced through the embrace of LGBTQ entertainment over the past years. Starting with Ellen DeGeneres' revolutionary coming out to the legendary sitcom 'Will & Grace,' of which then-Vice President Joe Biden credited for the rapid acceleration of the public's acceptance of gay marriage, the 90s proved that there was at least room for some queer people in media, albeit cartoonishly effeminate white gay men.
Related article: One of the Most Beautiful Love Stories 'God's Own Country' is a Must Watch for Fans of 'Call Me By Your Name'
Related article: Pride Month: Hollywood Insider Pays Tribute To LGBTQ Films 1918-Now
The new millennium saw some of the most influential queer entertainment of all time from series like 'The L Word' and 'Queer as Folk' to massive Academy Award-winning films like 'Brokeback Mountain.' Today we live in the most exciting moment for LGBTQ media as there's room for zany shows like 'RuPaul's Drag Race' as well as thoughtful art films such as 'Moonlight.' The success of queer entertainment has also bred a variety of proud LGBTQ A-list celebrities who act as advocates for the queer cause including Laverne Cox, Frank Ocean, and Lil Nas X. 
With the current influx of LGBTQ representation in mainstream media, it can be easy to forget how difficult it was to achieve this progress and how easily rights can be revoked. The administration of former president Donald Trump was one of the most regressive for queer people in recent history, specifically with its targeting of trans people in its implementation of the trans military ban as well as several attempts to roll back the rights trans people have fought for decades.
Related article: WATCH: "If Your Child Told You They Were Gay/Lesbian, What Would You Do?" – Prince William Confirms He Would Completely Accept His Gay Children – Hollywood Insider's 'Messages From America' – Episode 6
Although this recent attack on LGBTQ rights is shocking and appears to be of a barbaric mindset when compared to the progress made in entertainment, the reality is that gay marriage was only passed in the U.S. 5 years ago, the first major legislative triumph of a movement that began with the Stonewall Riots of 1969. It is heartbreaking to be constantly reminded of the anguish the LGBTQ community has faced time and time again, but it is imperative to understand queer history to ensure those that fought for gay rights did not do so in vain. HBO Max's most recent hit series, 'It's a Sin' is a brilliant story of queer love that honors one of the most tragic periods in LGBTQ history.
Related article: MUST WATCH – Hollywood Insider's CEO Pritan Ambroase's Love Letter to Black Lives Matter – VIDEO
Subscribe to Hollywood Insider's YouTube Channel, by clicking here. 
'It's a Sin' Commemorates AIDS Awareness and Queer Activism
The AIDS epidemic is one of the darkest chapters in LGBTQ history as thousands of gay men and trans women were effectively murdered by the willful ignorance of governments across the globe. Instead of attempting to combat the spread of the disease, leaders like President Ronald Reagan and Prime Minister Margaret Thatcher did impressively little to aid the communities of queer people that were afflicted. As a result, the AIDS epidemic was merciless in its ravaging of the LGBTQ community during the 1980s. 'It's a Sin' follows a group of young friends who blossom into their queer identities in early 80s London. Following central protagonist Ritchie, an ambitious actor who has his sights set on fame, 'It's a Sin' explores what life was like for the average gay person during the onset of the AIDS crisis.
Related article: Did you see the hidden messages in 'Call Me By Your Name'? Find out behind the scenes facts in the full commentary and In-depth analysis of the cinematic masterpiece
This is a revolutionary feat as very few shows or films have taken on the heavy subject matter with the depth and amount of detail that 'It's a Sin' does. From the funerals of loved ones to battles with homophobic family members, all of the heartaches of being queer during this time is conveyed. 'It's a Sin' also conveys the fear that the afflicted felt as they faced a horrifying fate as exhibited in one character's attempt to halt the growth of AIDS in his body by ingesting raw eggs, battery acid, and even his own urine. Although scenes like these are disturbing, they are extremely effective in humanizing a group of people that was ferociously vilified by conservative governments of the time.
Related article: The Power of Positivity: Ikorodu Bois + Chris Hemsworth + Russo Brothers + Sam Hargrave
Limited Time Offer – FREE Subscription to Hollywood Insider
Click here to read more on Hollywood Insider's vision, values and mission statement here – Media has the responsibility to better our world – Hollywood Insider fully focuses on substance and meaningful entertainment, against gossip and scandal, by combining entertainment, education, and philanthropy. 
In addition to portraying the gritty reality LGBTQ people faced during the AIDS crisis, 'It's a Sin' is also elaborates on just how complicit the rest of the world was to the hardship of the queer community. The series exhibits the nonchalant disposition all straight people took to the virus at the time and points out, "If we had heterosexual boys dying in these numbers the world would've stopped." Indeed, the tragic truth of the AIDS epidemic was the general public's indifference to the death of thousands of LGBTQ people as many believed their deaths were a deserved outcome of being queer. 'It's a Sin' is inspiring in its condemnation of these beliefs and the inaction of government leaders. One brilliant example of this denunciation is the group's advocacy for AIDS awareness through means of a "die-in."
Related article: Marvel/DC LGBTQ Representation: Will Bisexual Star-Lord Amount to More Gay Superheroes on the Big Screen?
Based on an actual form of protest from the 80s, the group of friends rally with other LGBTQ advocates with the goal of forcing the world to pay attention to AIDS and the death it is bringing to the queer community. To accomplish this masses of protestors would stop traffic and lie on the street, representing the thousands of dead LGBTQ people society is all too willing to ignore. By relaying the deadly homophobia of our nations' inaction and honoring those that stood up for the queer victims of AIDS, 'It's a Sin' inspires all audiences to question what they are told and fight for their rights of the marginalized.
Related article: Hollywood Insider's CEO Pritan Ambroase: "The Importance of Venice Film Festival as the Protector of Cinema"
Related article: The Masters of Cinema Archives: Hollywood Insider Pays Tribute to 'La Vie En Rose', Exclusive Interview with Director Olivier Dahan
Queer Love Does Not Die
Although, It's a Sin' does focus on the gut-wrenching reality the AIDS pandemic placed the LGBTQ community in, the series is masterful in highlighting the joy of the queer experience first and foremost. All too often LGBTQ stories are overshadowed with tragic endings, whether it be abuse or death, in the name of conveying an accurate representation of how harrowing queer life can be. While this is true, it is damaging and borderline traumatic for LGBTQ people to grow up in a world of entertainment in which being queer means inevitably falling upon tragedy. For example, although 'Brokeback Mountain' was radical in its portrayal of two masculine men falling into love with one another, the ultimate message of the film is not that it's easy to be gay and live a joyful life- rather, quite the opposite. 'It's a Sin' remarkably walks the line between relaying an imperative lesson in LGBTQ history and conveying the beautiful aspects of queer life that make it worth living. 
Related article: 2020: An Outstanding Year for LGBTQ Representation Against All Odds
Just like the vulnerable protagonists, the audience is always aware that the threat of AIDS is impending; however, the theme of friendship and community between queer people is consistently shown to overcome the danger of death. Whether it be in the fantastic parties they throw, the lighthearted use of drag performed to liven up the crew's spirits, or the impenetrability of each friends' love for the other, 'It's a Sin' notes that the bond of queer love is what makes the LGBTQ community spectacular- even in the face of catastrophe. Uplifting in its spirit of love and salient in its call for action in support of vulnerable LGBTQ people, 'It's a Sin' is a must-watch not only for queer audiences but for all who desire a reminder of how precious life is.
Cast: Olly Alexander, Nathaniel Curtis, Shaun Dooley, Omari Douglas, Lydia West
Director: Peter Hoar
Writer: Russell T. Davies | Editor: Sarah Brewerton | Producer: Phil Collinson, Russell T. Davies, Michaela Fereday, Peter Hoar, Nicola Shindler | Cinematography: David Katznelson
An excerpt from the love letter: Hollywood Insider's CEO/editor-in-chief Pritan Ambroase affirms, "Hollywood Insider fully supports the much-needed Black Lives Matter movement. We are actively, physically and digitally a part of this global movement. We will continue reporting on this major issue of police brutality and legal murders of Black people to hold the system accountable. We will continue reporting on this major issue with kindness and respect to all Black people, as each and every one of them are seen and heard. Just a reminder, that the Black Lives Matter movement is about more than just police brutality and extends into banking, housing, education, medical, infrastructure, etc. We have the space and time for all your stories. We believe in peaceful/non-violent protests and I would like to request the rest of media to focus on 95% of the protests that are peaceful and working effectively with positive changes happening daily. Media has a responsibility to better the world and Hollywood Insider will continue to do so."
Ways to support Black Lives Matter Movement to end systemic racism
– Do you know the hidden messages in 'Call Me By Your Name'? Find out behind the scenes facts in the full commentary and In-depth analysis of the cinematic masterpiece
– A Tribute To The Academy Awards: All Best Actor/Actress Speeches From The Beginning Of Oscars 1929-2019 | From Rami Malek, Leonardo DiCaprio To Denzel Washington, Halle Berry & Beyond | From Olivia Colman, Meryl Streep To Bette Davis & Beyond
– In the 32nd Year Of His Career, Keanu Reeves' Face Continues To Reign After Launching Movies Earning Over $4.3 Billion In Total – "John Wick", "Toy Story 4", "Matrix", And Many More
it's a sin, it's a sin, it's a sin, it's a sin, it's a sin, it's a sin, it's a sin, it's a sin, it's a sin, it's a sin, it's a sin, it's a sin, it's a sin, it's a sin, it's a sin, it's a sin, it's a sin, it's a sin, it's a sin, it's a sin, it's a sin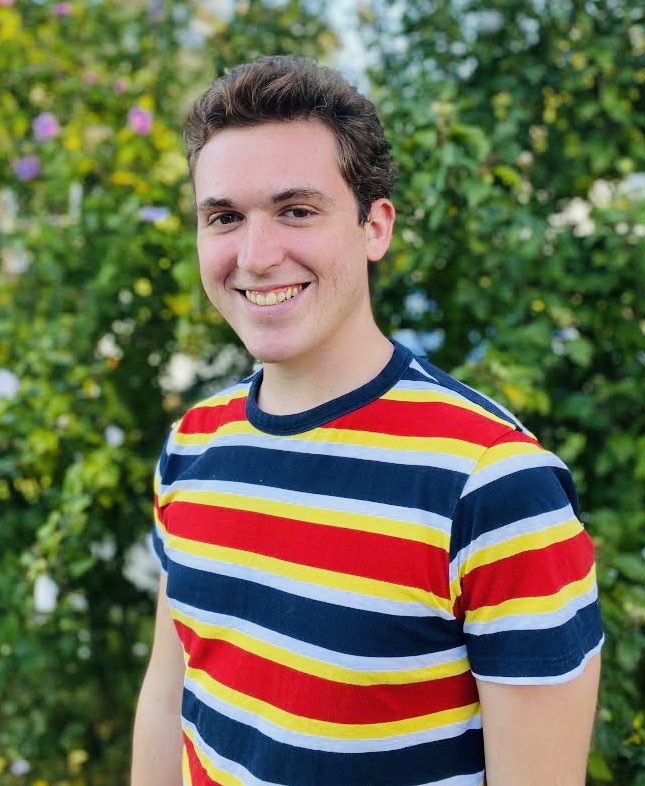 Christopher Davis is an entertainment enthusiast dedicated to the diverse and ever-expanding terrain of film and television. He is eager to examine entertainment that pushes the boundaries of the screen and offers new texture to popular culture altogether. Christopher is excited to write for Hollywood Insider, where he is encouraged to engage in factual and substance-based discourse. Christopher finds inspiration in media that is compelling to consume, sparks progress and evokes compassion.