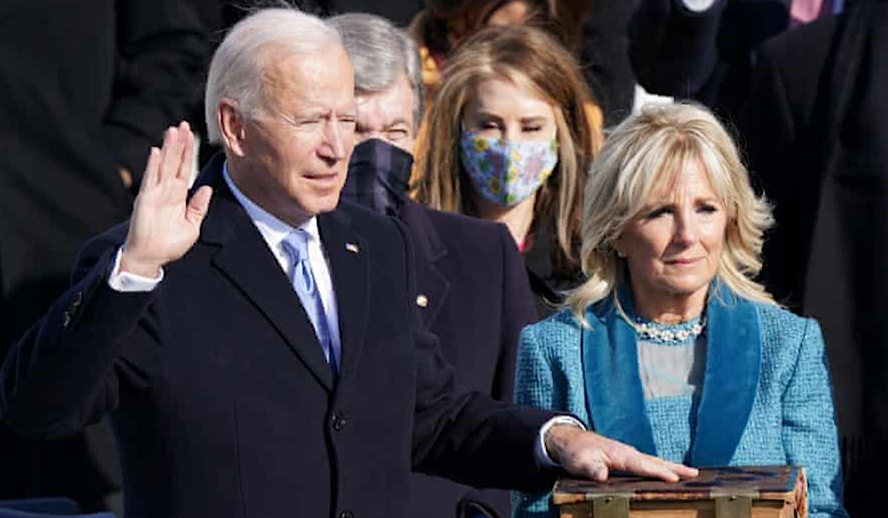 Photo: President Joe Biden swearing-in on Inauguration Day 2021 with First Lady Dr. Jill Biden
 

 

View this post on Instagram

 
An Unprecedentedly Violent Transition of Power Puts All Eyes on Inauguration Day
Who would have thought Election Day would have been one of the least eventful of now President Joe Biden's milestones to the White House? One of the most unpredictable elements of an extraordinarily shocking year, the 2020 election between Joe Biden and incumbent Donald Trump provided ample evidence of the extent to which Americans found themselves divided by the end of Trump's first term in office. The absence of presidential decorum traditionally integral to the United State's healthy democratic system first made itself apparent in the first presidential debate, which The Washington Post condemned to be "the worst presidential debate in living history." 
The chaotic energy of the debate turned out to be a defining trait of the entire presidential election process as the delay caused by the counting of mail-in ballots turned election day into election week. For 4 tireless days, several key battleground states remained too close to call for either candidate, but that did not prevent Trump from falsely claiming victory on November 3rd and sequentially filing unfounded lawsuits in multiple states as Biden's win over the incumbent became more and more inevitable.
Related article: President Joe Biden & VP Kamala Harris – Hollywood Insider Congratulates Our Official Endorsements!
Related article: Video: The People in USA Send Messages to Joe Biden and Kamala Harris for Elections
Trump's baseless claims of election fraud resulted in the catastrophic events of January 6th when hundreds of Trump supporters attacked the Capitol with the intention to overthrow the certification Biden's win. With a total of five left dead from the insurrection, America's sacred tradition of a peaceful transition of power between presidential administrations was tainted forever. The domestic terrorist attack on the Capitol resulted in President Trump's historic second impeachment as well as all anxious eyes looking to Inauguration Day for some kind of hope for the future of this divided nation. Is the fracture beyond repair? Will Trump supporters strike again? How will Joe Biden be a president for all Americans in the next 4 years? Inauguration Day may not have answered all of these imperative questions, but it certainly showed signs of hope every American has been anticipating for far too long.
A Historic Inauguration Foreshadows a New United States
Although it is shrouded in unparalleled disarray, the inauguration of Joe Biden is historic in its own right. Dozens of firsts were made as Joseph Biden made his way to fulfill his oath of office and be sworn in as the 46th president of the United States. This inauguration will make Joe Biden the oldest president to be appointed at the age of 78, but perhaps more striking is the swearing-in of Kamala Harris, who became the first woman and the first person of color Vice President. These inspirational first steps toward a much more inclusive government that accurately represents the diverse makeup of the American people come as a result of a fittingly record-breaking election turnout which handed Joe Biden and Kamala Harris a remarkable 81 million votes, the most any presidential ticket has ever received in American history.
Related article: MUST WATCH – Hollywood Insider's CEO Pritan Ambroase's Love Letter to Black Lives Matter – VIDEO
Subscribe to Hollywood Insider's YouTube Channel, by clicking here. 
Additionally, Inauguration Day will also establish the historic appointment of two new Georgia senators, Pastor Raphael Warnock and Jon Ossoff.  The highly scrutinized Senate race in Georgia garnered national attention as it would determine the balance of power in the U.S. Senate between Republicans and Democrats. With the votes electing both Democratic candidates, Democrats now hold control of all three branches of government, with Chuck Schumer as Senate Majority Leader, Nancy Pelosi as Speaker of the House, and Joe Biden as POTUS. Senator Warnock's election to the Senate is particularly noteworthy as he is now one of only 11 Black senators in all of U.S. history and the first Black senator from Georgia.
Beyond the momentous achievements recognized, 2021's Inauguration Day also held sobering irregularities from past inaugurations that highlight the exceptionally polarized reality of the United States today. Most notable of these irregularities is the absence of former President Donald Trump during the swearing-in of Joe Biden. Although the newly inaugurated President Biden expressed his satisfaction with Trump's decision to skip out on the ceremony, Trump's refusal to attend his successor's inauguration makes him only the 7th president in history to reject this basic principle of American democracy. This stark departure from the peaceful and amicable transition of power was further highlighted by the 25,000 members of the National Guard acting as security to the Capitol since its siege just 2 weeks prior to Inauguration Day. Luckily, the absence of a domestic terrorist threat allowed for a comfortably traditional day in American politics, a feat made rare during the now terminated Trump administration.
Related article: The Power of Positivity: Ikorodu Bois + Chris Hemsworth + Russo Brothers + Sam Hargrave
Limited Time Offer – FREE Subscription to Hollywood Insider
Click here to read more on Hollywood Insider's vision, values and mission statement here – Media has the responsibility to better our world – Hollywood Insider fully focuses on substance and meaningful entertainment, against gossip and scandal, by combining entertainment, education, and philanthropy. 
An Inaugural Call for Unity
This Inauguration Day being so extraordinary in context and symbolic significance made it one of the most high-profile ceremonies of recent memory. Previous presidents Bill Clinton, George Bush, and Barack Obama, of course, accompanied by their eminent spouses Hillary Clinton and Michelle Obama, provided the credibility of President Biden's ascent to the office that many may have viewed as less legitimate due to the void left by former President Trump's absence. Furthermore, global superstar and regular supporter of Joe Biden, Lady Gaga opened the ceremony with a stunning rendition of the National Anthem. Gaga's performance of "The Star-Spangled Banner" struck an especially resonant note when the icon belted the lyrics, "Gave proof through the night that our flag was still there," as today's inauguration stands defiant in the face of the recent attempt to overthrow American democracy. Following Lady Gaga came the inimitable Jennifer Lopez, whose spirited performance of "This Land is Your Land" included a call for peace in Spanish exclaiming, "One nation, under God, indivisible, with liberty and justice for all," as well as JLO's trademark, "Let's get loud!" Country singer Garth Brooks rounded out the musical performances with 'Amazing Grace,' an apparent appeal to rural Americans.
The Inauguration of Joe Biden also featured a reading from poet Amanda Gorman, who at 22, became the youngest poet to recite their work at an inauguration ceremony. Her words placed America in its crucial historical context with arresting statements such as, "We lift our gazes not to what stands between us but what stands before us," and, "For while we have our eyes on the future, history has its eyes on us." The main attraction of the ceremony came in Joe Biden's inaugural address following his swearing-in.
Related article: Hollywood Insider's CEO Pritan Ambroase: "The Importance of Venice Film Festival as the Protector of Cinema"
Related article: The Masters of Cinema Archives: Hollywood Insider Pays Tribute to 'La Vie En Rose', Exclusive Interview with Director Olivier Dahan
As Biden had strongly indicated throughout his entire campaign, his intention as President of the United States has been, and remains, to be a unifying force during these tumultuous times. President Biden utilized the first 20 minutes of his presidency to reason with the American people, acknowledging the several crises the United States faces at the moment, from COVID-19 to racial injustice.
"Few people in our nation's history have found a time more difficult than we are in now." The freshly inaugurated president compassionately relayed, "My whole soul is in this… bringing America together."

President Biden stressed how important it is that all Americans heed the call for unity, "In each of these moments enough of us have come together to carry all of us forward… History, faith, and reason show the way of unity… We can join forces, stop the shouting, and lower the temperature. Without unity, there is no peace."
Related article: The Storming of the US Capitol, One Week Later: What We Know Now and What's Next
Related article: WATCH: Would A President's Sexuality Matter To You? A Lesbian, Gay, LGBTQ President? Pete Buttigieg? – Hollywood Insider's "Messages From America" – Episode 3
Biden's optimism in today's sorely divided nation retaining the ability to work together even after an attempted coup incited by a sitting president exhibits resilience and hope the incoming administration is sure to infuse back into American morale.
"We have never failed in America when we acted together. So today, in this time, in this place, let's start afresh." Biden reaches out to those who opposed his election to the office, vowing, "I will work as hard for those who did not support me for those who did."
Following a polarizing four years under the Trump administration and a catastrophic set of months leading up to Inauguration Day, President Biden and Vice President Kamala Harris make a promise as ambitious as it is imperative to the health of American democracy, the unification of one nation.
Additional Updates
Following their inauguration, President Joe Biden and Vice President made their way to Arlington National Cemetery for the traditional laying of the wreath at the Tomb of the Unknown Soldier.

President Joe Biden and Vice President Kamala Harris exit the heavily secured motorcade and march to the White House among family members and marching troops.

The Democrats have officially taken over the Senate as Vice President Kamala Harris accomplishes her first task as VP in swearing in 3 newly elected senators: Georgia run-off winners Raphael Warnock and Jon Ossoff, as well as Harris's own replacement Alex Padilla, the first Latino Senator from California.

Joe Biden returns to the oval office for the first time as President of the United States.

President Joe Biden reportedly gets right to work, claiming to be signing 17 executive orders over the next few days and weeks. These are passed with the intention to undo some of former President Trump's agenda and follow through on the promises President Biden made during his campaign. 

"I'm going to start by keeping the promises I made to the American people." Biden explains the rollout of his executive actions, "And the first order I'm going to be signing here relates to COVID and it's requiring… where I have authority… masks be worn and social distancing be maintained on federal property."

The second executive order President Biden signed was in "support for underserved communities" followed by a third executive order to rejoin the Paris Climate Accord.

When asked about the letter President Trump left for his successor, President Biden refused to go into more detail than to describe it as "generous."

The nation looks forward to the culmination of Inauguration Day events, "Celebrating America," a digital concert in lieu of the traditional Inauguration Ball airing tonight at 8:30 PM EST. The concert will be hosted by Tom Hanks and feature prominent artists such as Bruce Springsteen, Jon Bon Jovi, Katy Perry, and Demi Lovato.
An excerpt from the love letter: Hollywood Insider's CEO/editor-in-chief Pritan Ambroase affirms, "Hollywood Insider fully supports the much-needed Black Lives Matter movement. We are actively, physically and digitally a part of this global movement. We will continue reporting on this major issue of police brutality and legal murders of Black people to hold the system accountable. We will continue reporting on this major issue with kindness and respect to all Black people, as each and every one of them are seen and heard. Just a reminder, that the Black Lives Matter movement is about more than just police brutality and extends into banking, housing, education, medical, infrastructure, etc. We have the space and time for all your stories. We believe in peaceful/non-violent protests and I would like to request the rest of media to focus on 95% of the protests that are peaceful and working effectively with positive changes happening daily. Media has a responsibility to better the world and Hollywood Insider will continue to do so."
Ways to support Black Lives Matter Movement to end systemic racism
– Do you know the hidden messages in 'Call Me By Your Name'? Find out behind the scenes facts in the full commentary and In-depth analysis of the cinematic masterpiece
– A Tribute To The Academy Awards: All Best Actor/Actress Speeches From The Beginning Of Oscars 1929-2019 | From Rami Malek, Leonardo DiCaprio To Denzel Washington, Halle Berry & Beyond | From Olivia Colman, Meryl Streep To Bette Davis & Beyond
– In the 32nd Year Of His Career, Keanu Reeves' Face Continues To Reign After Launching Movies Earning Over $4.3 Billion In Total – "John Wick", "Toy Story 4", "Matrix", And Many More
Inauguration, Inauguration, Inauguration, Inauguration, Inauguration, Inauguration, Inauguration, Inauguration, Inauguration, Inauguration, Inauguration, Inauguration, Inauguration, Inauguration, Inauguration, Inauguration, Inauguration, Inauguration, Inauguration, Inauguration, Inauguration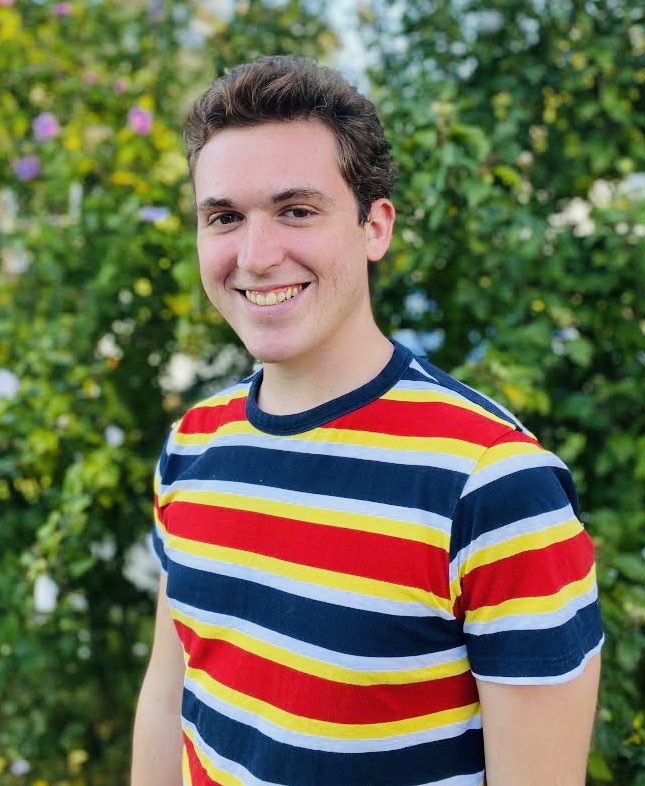 Christopher Davis is an entertainment enthusiast dedicated to the diverse and ever-expanding terrain of film and television. He is eager to examine entertainment that pushes the boundaries of the screen and offers new texture to popular culture altogether. Christopher is excited to write for Hollywood Insider, where he is encouraged to engage in factual and substance-based discourse. Christopher finds inspiration in media that is compelling to consume, sparks progress and evokes compassion.