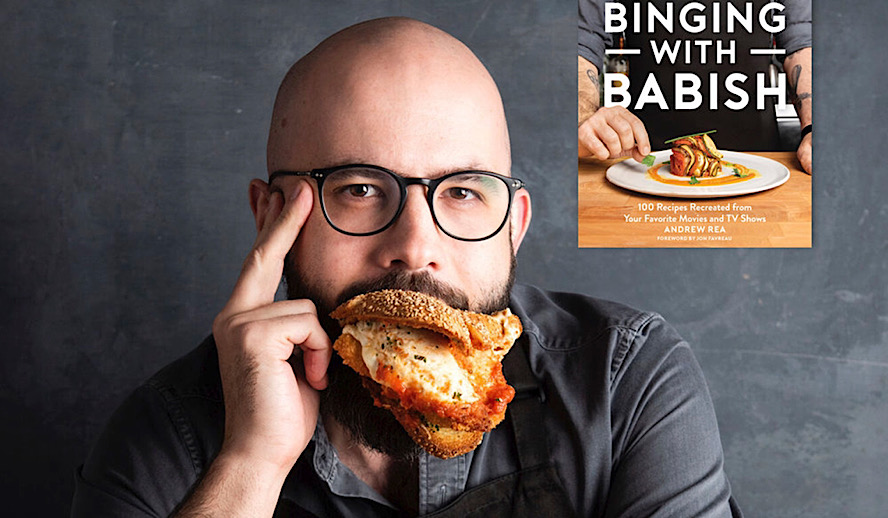 Photo: 'Binging with Babish'
About – 'Binging with Babish'
Youtube was and continues to be a platform that holds hundreds to thousands of talented people with the possibility of gaining a following. From amateur singers to pranks on loved ones to comedians trying out their act, there is a place for everyone. If your niche on the internet is cooking then 'Binging with Babish' is a familiar name to hear. Andrew Rea is a self-taught chef that has dominated the cooking platform that all started with his web series 'Binging with Babish'. In this series, he recreates film and television featured food items and then does his version of it as well. 
Related article: 'In the Heights' – Behind the Scenes and Full Commentary/Reactions from Cast & Crew
Other than being a chef, Rea is a filmmaker and it clearly shows across the screen with his beautiful cooking shots to his seamless editing skills. Originally from Rochester, New York, Rea invites millions of viewers into his Brooklyn kitchen to see and try his latest creations. With over two hundred of these videos, Rea has expanded his videos to a Culinary Universe that features basic cooking skills, collaborations with other chefs, and of course, continuing his cinematic meals. 
The Babish Culinary Universe
The Babish Culinary Universe is an expansion from his original 'Binging with Babish' Youtube Web series. Though that series is active and still readily enjoyed, his latest being the "Sloppy Steaks" from Netflix's 'I Think You Should Leave with Tim Robinson', Rea also features a series 'Basics with Babish'. In these videos, he slows down simple cooking tutorials and focuses on either a specific food or even a piece of equipment. Rea has over one hundred Basics videos making it likely that if a person searches for something to learn how to cook, his video will surely come up in the results. Whether it's an ice cream cake or an advanced grilled cheese, he has you covered.  Alternating back and forth each release of Binging and Basics, a viewer is guaranteed two new videos a week that will make your mouth water. 
One thing that always keeps viewers coming back for more is Rea's love of food and humbleness around cooking. In his videos, he only films from his arms down, never showing his face unless bending down for a bite. His focus and devotion to making sure that the cooking is the star rather than himself shines through. He also is never afraid to show his mistakes when trying something new, it isn't cut from the final edit and after a humorous remark, he teaches us how to fix it and make it better. This takes away the fear of cooking that many people are hesitant to conquer. Creating a comforting and encouraging environment that people can't stop watching.
Related article: MUST WATCH – The Hollywood Insider's CEO Pritan Ambroase's Love Letter to Black Lives Matter – VIDEO
Subscribe to The Hollywood Insider's YouTube Channel, by clicking here.
Countdown of Fan Favorites
Each video begins with the scene in which the food he is preparing is presented, putting viewers in the perfect headspace to see what comes next. Every video put out is graced with over a million views and makes our stomachs rumble. Here are some of the top 'Binging with Babish' videos that have wowed viewers and granting us the opportunity to be able to add a sense of taste to our film-watching experience.
10. Prison Sauce – 'Goodfellas'
Starting strong with 'Goodfellas' prison sauce in one of Rea's earlier releases of the series. Holding over 8.6 million views, Rea kicks off the video showing him recreating the famous razor blade thinly slicing garlic. If you're unfamiliar with the prison sauce scene in 'Goodfellas' it's exactly what it sounds like. Rea makes the delicious sauce step by step by the directions of the Scorsese film. A more recent appearance of a Scorsese film in the series is from 'The Irishman'. Rea recreates the chili dogs steamed in beer and takes it a step further by making the hot dogs from scratch!
Prison Sauce link here.
Chili Dogs link here.
9. Michael Scott's Pretzel  – 'The Office'
The dessert soft pretzel with 18 toppings is tackled by Rea and is now viewed over 9 million times. After showing the clip of Michael Scott being excited and overwhelmed ordering "the works" on pretzel day, Rea makes the pretzel from scratch. Difficult to make all the toppings from scratch, he makes the caramel sauce and a peanut butter sauce in the five-minute video. If you're a big fan of 'The Office', he also has videos recreating Kevin's famous chili and the osso buco from the dinner party episode. 
Pretzel link here.
Chili link here.
Osso Buco link here.
8. The Most Expensive Milkshake – 'Pulp Fiction'
One of the most famous milkshakes in cinematic history comes from Tarantino's 'Pulp Fiction'. This $5 shake is ordered by Uma Thermon's character while accompanied by the judgemental John Travolta in awe of its price. In this particular recreation, Rea takes it a step further making three separate milkshakes that vary in skill level and ingredients. From the classic milkshake to adding booze to even adding gold flakes, Rea spares no expense for recreating the best milkshake that now has 9.7 million views.
Milkshake link here.
Related article: Why Queen Elizabeth II Is One Of The Greatest Monarchs | Her Majesty Queen Elizabeth II of United Queendom of Great Britain & Northern Ireland (Video Insight)
Click here to read more on The Hollywood Insider's vision, values and mission statement here – Media has the responsibility to better our world – The Hollywood Insider fully focuses on substance and meaningful entertainment, against gossip and scandal, by combining entertainment, education, and philanthropy.
7. Ram-Don – 'Parasite'
Bong Joon-Ho not only walked away with an Oscars but now with a special video by Rea. Not only does this video dive into the cultural side of this authentic Korean dish, but Rea does his brief analysis of what this meal represents in the 2019 hit 'Parasite'. Making it even easier to understand with an example of putting black truffles on a BigMac. The recipe calls for two different instant noodle packages so for the second half of the video he recreates those from scratch. Over ten million views on this mouth-watering dish.
Ram-Don link here.
6. Shawarma – 'The Avengers'
Though Robert Downey Jr. jokes as Iron Man not knowing what Shawarma is and wanting to go try it, Rea answers his question by showing us all. This Middle Eastern dish consisting of meat that is thinly sliced and piled onto a vertical rotisserie and slowly turned, onto fresh pita bread topped along with fresh ingredients and tzatziki sauce. Rea's other Marvel dish is from 'The Avengers: Infinity War' and is then made-up ice cream flavors come to life by Babish.
Shawarma link here.
Ice Cream Flavor link here. 
5. White Castle Order – 'Harold and Kumar'
More impressive than complicated, Rea recreates the order from the end of 'Harold and Kumar go to White Castle'. Making thirty sliders the White Castle way with burgers and buns toasted on a bed of onions. The money shot of thirty sliders piled on top of each other will make you a bit nervous about your health. With over 13 million views, Rea makes his version as well from grinding his own choices of meat. 
White Castle Order link here.
4. Every Meat Buritto – 'Regular Show'
Exactly what it sounds, featuring 27 different types of meat. A joke in the Cartoon Network hit 'Regular Show' makes the special 'Binging with Babish' episode that features a vlog of Rea venturing out to retrieve exotic meats in the city. This episode is a two million subscriber celebration and gives viewers a glimpse into his life explaining what he did before the show and also why he got into cooking in the first place. This was viewed over 15 million times!
Every Meat Buritto link here.
3. Jake's Perfect Sandwich – 'Adventure Time'
Another Cartoon Network dish comes from 'Adventure Time' and Rea recreates one of the most insane sandwiches. Featuring a full steak and lobster-infused oil, this sandwich is bigger than most people's heads let alone their stomachs. Jake from the show is a fan favorite so seeing his dream come to life on a plate is the reason this sandwich has over 17 million views online but is less likely to be recreated in kitchens.
Jake's Perfect Sandwich link here.
Related article: The Hollywood Insider's CEO Pritan Ambroase: "The Importance of Venice Film Festival as the Protector of Cinema"
Related article: The Masters of Cinema Archives: The Hollywood Insider Pays Tribute to 'La Vie En Rose', Exclusive Interview with Director Olivier Dahan
Related article: – Want GUARANTEED SUCCESS? Remove these ten words from your vocabulary| Transform your life INSTANTLY
2. Krabby Patty – 'Spongebob Squarepants'
It comes as no surprise that this is towards the top of the list. Seeing a childhood staple being cooked in real life is mesmerizing. The Krabby Patty from 'Spongebob Squarepants' is not just a burger, but a generational connection for many young people, including myself. Rae's Krabby Patty video has 21 million views and followed behind it is his Krabby Patty Supreme video that has 20 million views. As the most requested food item to be featured on his show, Rae takes it on making it the way the trusty fry cook would make it, but then he makes it his way taking a swing at what the secret formula may be.
Krabby Patty link here.
Krabby Patty Supreme link here.
1. Ratatouille – 'Ratatouille'
Last and certainly not least is the Disney classic 'Ratatouille' featuring the most wanted animated food of all time. The lovable Remy the rat's signature dish that moves a harsh food critique at the end of the film has changed the game for the foodie/cinematic world. This early video of Rae is his most-watched coming in with 27 million views! This special dish put 'Binging with Babish' on the map and blew up his subscribers on Youtube. The dish also graces the cover of Rae's cookbook that holds recipes to many of his recreations. If you're a new subscriber and don't know where to start, this classic is the perfect way to begin.
Ratatouille link here.
Wrap Up
Andrew Rea continues to amaze and make his fans laugh with each informative video. He combines two loves that most people hold… food and film. His cookbook Binging with Babish holds 100 recipes from all of the entertainment that we love and give viewers the opportunity to try them in their own kitchen. Sold in most bookstores including Amazon and Target, grab your tiny whisk and get cooking!
Catch Andrew Rea's weekly videos on his Youtube page here!
Binging with Babish is available here on his website.
By Jack Colin
Click here to read The Hollywood Insider's CEO Pritan Ambroase's love letter to Black Lives Matter, in which he tackles more than just police reform, press freedom and more – click here.
An excerpt from the love letter: The Hollywood Insider's CEO/editor-in-chief Pritan Ambroase affirms, "The Hollywood Insider fully supports the much-needed Black Lives Matter movement. We are actively, physically and digitally a part of this global movement. We will continue reporting on this major issue of police brutality and legal murders of Black people to hold the system accountable. We will continue reporting on this major issue with kindness and respect to all Black people, as each and every one of them are seen and heard.
Just a reminder, that the Black Lives Matter movement is about more than just police brutality and extends into banking, housing, education, medical, infrastructure, etc. We have the space and time for all your stories. We believe in peaceful/non-violent protests and I would like to request the rest of media to focus on 95% of the protests that are peaceful and working effectively with positive changes happening daily. Media has a responsibility to better the world and The Hollywood Insider will continue to do so."
Ways to support Black Lives Matter Movement to end systemic racism
More Interesting Stories From The Hollywood Insider
– Want GUARANTEED SUCCESS? Remove these ten words from your vocabulary| Transform your life INSTANTLY
– Compilation: All James Bond 007 Opening Sequences From 1962 Sean Connery to Daniel Craig
– Do you know the hidden messages in 'Call Me By Your Name'? Find out behind the scenes facts in the full commentary and In-depth analysis of the cinematic masterpiece
– A Tribute To The Academy Awards: All Best Actor/Actress Speeches From The Beginning Of Oscars 1929-2019 | From Rami Malek, Leonardo DiCaprio To Denzel Washington, Halle Berry & Beyond | From Olivia Colman, Meryl Streep To Bette Davis & Beyond
– In the 32nd Year Of His Career, Keanu Reeves' Face Continues To Reign After Launching Movies Earning Over $4.3 Billion In Total – "John Wick", "Toy Story 4", "Matrix", And Many More
binging with babish, binging with babish, binging with babish, binging with babish, binging with babish, binging with babish, binging with babish, binging with babish, binging with babish, binging with babish, binging with babish, binging with babish, binging with babish, binging with babish, binging with babish, binging with babish, binging with babish, binging with babish, binging with babish, binging with babish, binging with babish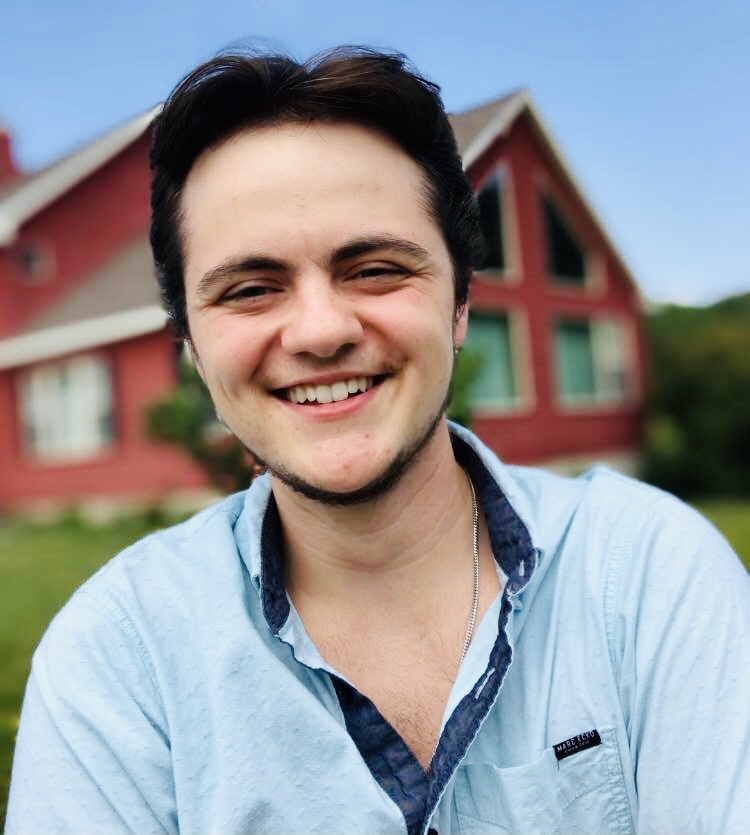 Jack Colin is a playwright and screenwriter with an immense love for film & television which drives him to learn from and share his passion with anyone willing to listen. Living life as a trans man, Jack wants his writing to create a safe space for LGBTQ+ members and share the positive stories that are so often ignored through his work at The Hollywood Insider, he is eager to give readers a confident outlook on life. The storytellers of the world are the ones who decide what happiness can be. Jack takes pride in The Hollywood Insider's mission statement to stray away from gossip and to lift up voices in entertainment with supportive and meaningful stories that will promote strength and unity.