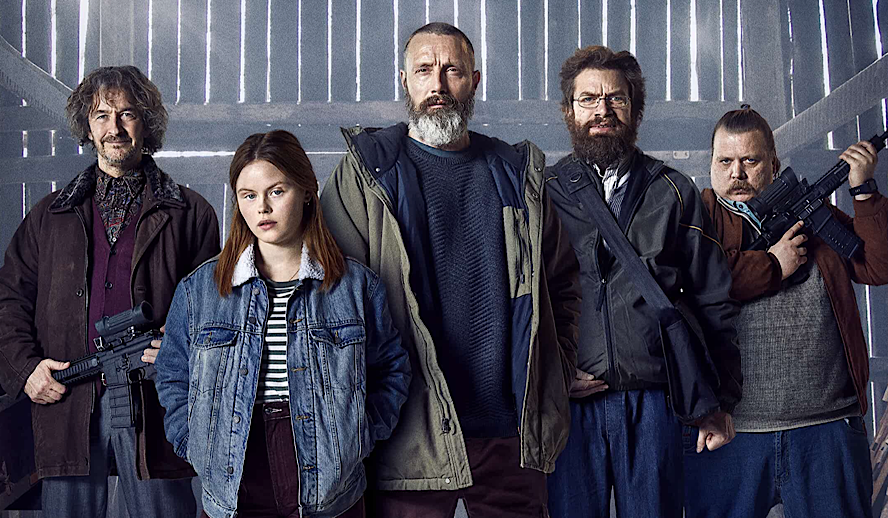 Photo: 'Riders of Justice'/Nordisk Film
How do we justify the violence inherent in our society? How do we make sense of terrible tragedy? At what point does reliance on science and logic become too extreme, rendering one's mind as inflexible as that of a fundamentalist religious zealot? These are some of the questions at the heart of 'Riders of Justice' ('Retfærdighedens Ryttere'), the hilarious and heartbreaking new film from Danish director Anders Thomas Jensen. The film, which is the fifth collaboration between the director and stars Nikolaj Lie Kaas and Mads Mikkelsen, follows career soldier Markus (Mikkelsen) as he adjusts to domestic life and single fatherhood after the sudden death of his wife in a freak train accident.
Only statistician Otto (Kaas), who also happened to be on the train, does not believe it was an accident, believing instead that it was an assassination conducted by the Riders of Justice, a powerful local crime syndicate. Otto recruits colleagues Emmenthaler, a facial recognition expert (Jensen favorite Nicolas Bro), and Lennart, a hacker (played by Jensen newcomer Lars Brygmann) to assist in their extralegal investigation. Like many of Jensen's past films, once this fab four brotherhood is established, the antics begin in earnest.
Related article: A Tribute to Mads Mikkelsen: How the Delectable Dane Conquered Hollywood
Related article: Oscar Buzz: Mads Mikkelsen Swaggers Into Our Hearts in the intoxicating Danish Hit 'Another Round'
'Riders of Justice' – This Danish Film is a Gem
Surprisingly, 'Riders of Justice' strikes a much more somber tone than offerings past from its existentialist cut-up director. Previous Jensen films tended to use punches and bullets to punctuate Marx Brothers-esque slapstick, but here the hits have gravity. This shift in tone may be in part due to the film's genesis–it was conceptualized in tandem with Danish writer/director Nikolaj Arcel, with whom Jensen collaborated on the maligned Stephen King adaptation 'The Dark Tower'. One can imagine the two Danes commiserating over that trainwreck by imagining the literal trainwreck that serves as the impetus of this film. Also worthy of note is the rising star power of the constant Jensen cohort Mads Mikkelsen.
Since Jensen's last film, 2015's 'Men & Chicken', Mikkelsen has headlined a Star War, a chapter in the MCU, and a Hideo Kojima game. Jensen's past projects were an opportunity for Mikkelsen to be cast against Hollywood type and stretch his comedy muscles–here, he leans hard into the cold calculating killer persona of Le Chiffre and Hannibal Lecter, adding a shot of the intoxicating sobriety he manifested in last year's phenomenal alcoholic drama 'Another Round'. Jensen himself scripted Mikkelsen in the 2014 Wild West revenge thriller 'The Salvation', and with 'Riders of Justice' Jensen exquisitely combines the director's parallel careers as journeyman screenwriter and hometown auteur.
Related article: MUST WATCH – Hollywood Insider's CEO Pritan Ambroase's Love Letter to Black Lives Matter – VIDEO
Subscribe to Hollywood Insider's YouTube Channel, by clicking here. 
If 'John Wick' Went to Therapy
No director blends profoundly human character-driven humor with sudden and shocking violence like Anders Thomas Jensen. At moments, 'Riders of Justice' feels like what would happen if Wes Anderson directed a 'John Wick', or if Noah Baumbach teamed up with Quentin Tarantino. Characters get philosophical, bicker misanthropically, and then Mikkelsen tactically executes a dozen or so faceless baddies. Not only does 'Riders of Justice' amass a massive body count, it also seriously reckons with the significant impact death and violence have on the human psyche. Mikkelsen commands the screen as a stoic angel of death more comfortable in conflict with battlefield insurgents than with his teenage daughter Mathilde (Andrea Heick Gadeberg), but each character in the oddball ensemble copes with trauma in individual and interesting ways.
Otto, who years ago lost his wife and daughter in a drunk driving accident, seeks illumination in computations and wields algorithms like a holy cross. Emmenthaler, an obese man struggling with low self-esteem, explodes in bouts of rage and profanity. Lennart, who is implied to be a survivor of childhood sexual abuse, arrogantly mocks his friends only to cower in fear when confronted with the possibility of bodily harm. As Otto suggests, the maladjusted seem to always end up together.
Related article: The Power of Positivity: Ikorodu Bois + Chris Hemsworth + Russo Brothers + Sam Hargrave
Limited Time Offer – FREE Subscription to Hollywood Insider
Click here to read more on Hollywood Insider's vision, values and mission statement here – Media has the responsibility to better our world – Hollywood Insider fully focuses on substance and meaningful entertainment, against gossip and scandal, by combining entertainment, education, and philanthropy. 
With 'Riders of Justice', Jensen expands his retinue beyond the standard quartet of man-children at the center of his previous films. Along with Gadeberg as Mathilde, Albert Rudbeck Lindhardt as Mathilde's boyfriend Sirius, and Gustav Lindh as rescued Ukrainian prostitute Bodashka add a youthful zeal to the proceedings. Gadeberg is excellent as the down-to-earth teen trapped in a cyclone of dysfunction, demonstrating genuine pathos as she grapples with her checked-out father. Lindhardt, who recently co-starred with Mikkelsen in 'Another Round', here becomes the target of one of Jensen's sick jokes as the peace-advocating armchair therapist who unluckily becomes the film's primary recipient of bodily injury.
Lindh meanwhile dispenses lost-in-translation Ukrainian folk wisdom as the film's hooker with a heart of gold. 'Riders of Justice' also delivers Jensen's most intimidating antagonist in gangster kingpin Kurt, played by Roland Møller. Unfortunately missing from this cast is Jensen's elder statesman Ole Thestrup, who appeared in each of Jensen's previous films before passing away in 2018. Thestrup's absence is yet another example of how 'Riders of Justice' feels like a new chapter in the career of Jensen.
A Calculated Comic Fairytale
Jensen's films are full of the sort of surrealism and pitch-black humor that characterizes the work of directors like Charlie Kaufman, Yorgos Lanthimos, and Todd Solondz, but Jensen inflects his work with a moralistic certitude reminiscent of his Danish storytelling predecessor Hans Christian Andersen. Indeed, despite some tonal evolution evident in 'Riders of Justice', the film is bookended by fairytale visits to Tallinn, Estonia, where a young girl asks her Santa Claus-bearded grandfather for a bicycle for Christmas.
Related article: Hollywood Insider's CEO Pritan Ambroase: "The Importance of Venice Film Festival as the Protector of Cinema"
Related article: The Masters of Cinema Archives: Hollywood Insider Pays Tribute to 'La Vie En Rose', Exclusive Interview with Director Olivier Dahan
'Riders of Justice' feels like Hans Christian Andersen by way of Nicholas Winding Refn, but Jensen's fairytale sensibilities remain strong, even as composer Jeppe Kaas (who happens to be the brother of star Nikolaj Lie) supplies the soundtrack with Hans Zimmer-style 'braaaams'. If anything, Jensen has come to take his fairytales more seriously, removing some of the comic aspects of his previous films and allowing us closer connections to his characters. Here, Markus and Otto have a legitimate heart-to-heart as fathers and husbands who share a deep sense of guilt and grief. It's perhaps the most sincere moment he has ever scripted.
Ultimately, 'Riders of Justice' is a heartwarming reminder of the importance of friendship and family, suggesting that it is the hearth and not cold-blooded logic or murder that yield salvation for the soul. As we approach what is hopefully the light at the end of the tunnel of a long pandemic and years of political discord, Jensen's manic yet meditative revenge romp provides a perfectly-timed spiritual push. Perhaps Jensen, who has long dwelled right on the edge of international renown, has here delivered a career-making hit. The world should see this film and it will, if there is any justice.
'Riders of Justice' is currently streaming at film festivals internationally. 
Cast: Mads Mikkelsen, Nikolaj Lie Kaas, Andrea Heick Gadeberg
Cinematography: Kasper Tuxen | Editors: Anders Albjerg Kristiansen, Nicolaj Monberg 
Director: Anders Thomas Jensen | Writer: Anders Thomas Jensen | Producers: Sidsel Hybschmann, Sisse Graum Jørgensen 
riders of justice, riders of justice, riders of justice, riders of justice, riders of justice, riders of justice, riders of justice, riders of justice, riders of justice, riders of justice, riders of justice, riders of justice, riders of justice, riders of justice, riders of justice, riders of justice, riders of justice, riders of justice, riders of justice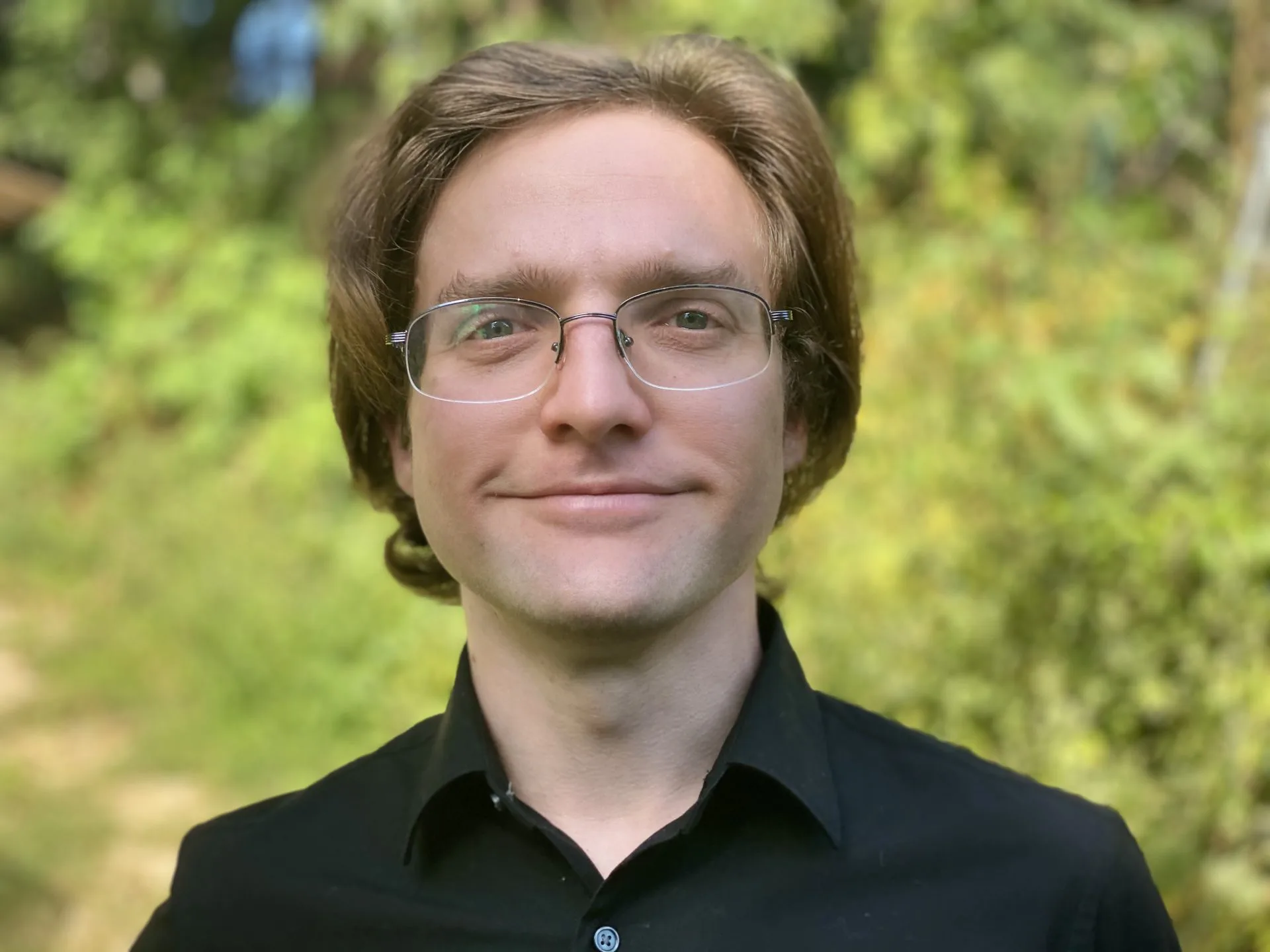 Trent
Kinnucan is a film and television critic, with over 5,000 film hours logged to date. He is devoted to maintaining an encyclopedic knowledge of cinema, with consideration for its history, its cultural impact, and its ability to create social change.
Trent
enjoys finding films that amplify voices otherwise unheard, and reveal images otherwise unseen.
Trent
's interest in media coverage as a way to inspire meaningful dialogue led him to
Hollywood Insider,
a media network that consistently prioritises journalism and content with a purpose.
Trent
also recognizes that media is meant to be enjoyed, which aligns with
Hollywood Insider's
penchant for tackling complex issues with levity and original insight.
Trent
hopes to share his love of film with others, and to help further expand the bandwidth of artists with something to say.