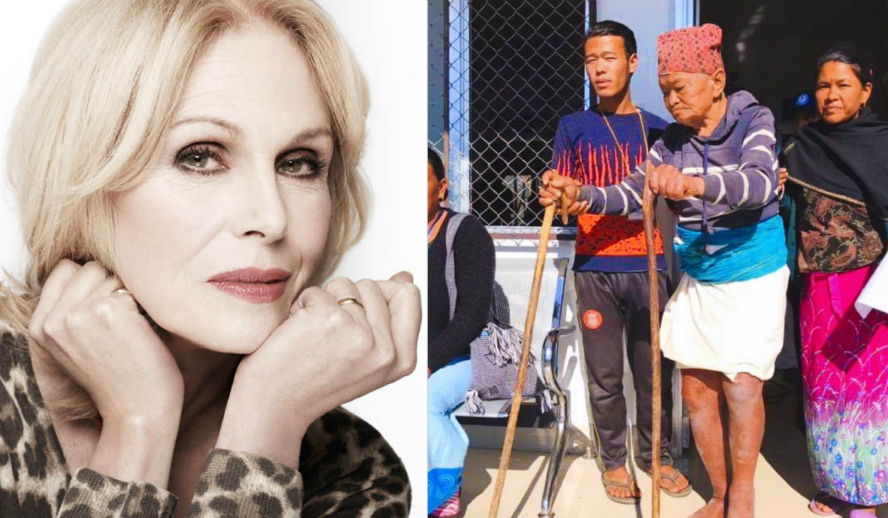 Photo: Joanna Lumley Supports Humans Of Our World's Campaign. Humans Of Our World Foundation Nepal Humanitarian Campaign in remote village called Ghyachchok/Hollywood Insider
How many times have we all seen this situation,  where the media has a short attention span and ONLY focuses on a disaster zone for the trending two weeks.  Media repeatedly reports on a country or area struck by a tragic natural disaster for two to three weeks, it turns into a trend on social media for "useful" prayers. And then all of a sudden media gets bored and sadly moves on to the next popular news. Once the news becomes "old" and "boring", what happens to the forgotten human victims of the tragedy? What happened to the victims of the devastating earthquakes in Nepal? What happened to the victims of the natural disaster in Haiti? The list of countries goes on. Sure the news channels are abuzz with the Amazon Rainforest right now – but what happens are after the "trending" two weeks. Do those forgotten victims stop suffering? 
And that is exactly where Humans Of Our World Foundation and Joanna Lumley come in – their goal is to help the forgotten victims in villages by raising donations and also bringing media attention to those areas of need with the campaign "Remember Forgotten Villages". Why villages? Because it is usually the remote and inaccessible villages that are the last to get any form of help. This campaign also has the support of Dame Judi Dench, Bear Grylls, Amanda Holden, etc. Hence Joanna Lumley and the celebrity supporters request all to donate to this link here www.fundrazr.com/villagesofnepal and the funds will be sent directly to the villages without any government middle-person. (Donations are tax-deductible as the Foundation is a 501(c)(3) organization)
"Remember Forgotten Villages" campaign focuses on victims in remote villages in Nepal, Kenya, Brazil (Amazon associated communities), Portugal, Peru, Egypt and Greece.
With Nepal in focus, it has been four years since the disastrous 7.8 magnitude earthquake and its 260 aftershocks which claimed thousands of lives, destroyed millions of homes and paralyzed the country's infrastructure. All these years later,  hundreds of thousands of houses are yet to be rebuilt with people still living in makeshift tents. As per official reports published by the National Reconstruction Authority in 2018, 800,000 families are still homeless, children remain out of school and only 5% of the homes have been rebuilt. The people in villages are disproportionately and increasingly affected due to lack of access to help, unavailable funds and 0 officials who can make a change. Annual landslides and danger of travel have made it harder to provide help to the regions affected.  
Joanna Lumley speaks as an official supporter of Humans Of Our World's "Remember Forgotten Villages" humanitarian campaign: "It is very easy to forget broken lives and communities left behind once the storm of publicity has moved on from an area of crisis. We feel that with your help we can rebuild and restore, comfort and make safe, provide and help protect some of the most vulnerable people on earth. The Nepalis are a valiant, optimistic and determined race and the last thing they would ever do is beg: so on their behalf I would only say with all my heart please will you help us to restore their lives and homes, lost through no fault of their own.  Every single gift and donation to Humans Of Our World's Campaign will be treasured. Thank you so much, and Namaste."
Hollywood Insider Reports: The photos are of residents in a remote village Ghyachchok which is mostly made up of people of the Gurung ethnic community. Nepali people's clothing, facial features, languages are varied and they differ between the many ethnic groups. Nepal is a multi-ethnic, multi-religious, multi-racial country with hundreds of languages, cultures, cuisines, festivals, dialects and ethnic groups – the country and its people continue to live harmoniously through their rich tapestry of diverse backgrounds. 
The funds raised will provide medical care, relief/welfare, anti-trafficking support, eye-sight/cataract surgeries for the elderly, education support and much needed support – for full details, please visit www.fundrazr.com/villagesofnepal. Donations can be made directly to that link. Humans Of Our World has been working on the ground with the support of local grassroots organizations since the 2015 earthquake. 
A spokesperson for Humans Of Our World Foundation speaks on the remoteness of these areas, "One of the villages, named Ghyachchok, in Nepal, was over 5347 feet above sea level – a village that was completely destroyed by the earthquake. A regular car, bus or plane could not take us to this village or others of its kind – we utilized 4X4 vehicles to reach these estranged locations. With a large medical group of almost 50, traveling caravan style with 10 packed 4×4 vehicles traversing 12 hours through rivers, mud, and a single-track road hugging the side of the monstrous mountain should give you some idea of the dedication of each person. Three tires on the ground, one half-way off the mountain, a drastic realignment to get all four back on the cliffside dirt road. Our medical camp was more of a hospital – with a General Practitioner, ENT specialist, Orthopedist, Pediatrician, Pharmacist, Dermatologist, Gynecologist, Dentist, and Gastroenterologist. We served over 500 patients per day.  Our work in these villages is far from over. Media has to be made accountable."
You can help the forgotten victims by donating to the Foundation, which is a 501(c)(3) organization and your donations are tax-deductible:  www.fundrazr.com/villagesofnepal.
"Remember Forgotten Villages" focuses on remote villages in seven countries specifically in Nepal, Kenya, Brazil (specifically communities associated with the Amazon), Greece, Peru, Portugal and Egypt. 
Hollywood Insider is a proud and official supporter of Humans Of Our World Foundation.
By Hollywood Insider Staff Writer
More Interesting Stories From Hollywood Insider
– Dame Judi Dench Urges All To Remember Forgotten Villages Of Nepal By Donating To Humans Of Our World's Nepal Campaign
– A Tribute To The Academy Awards: All Best Actor/Actress Speeches From The Beginning Of Oscars 1929-2019 | From Rami Malek, Leonardo DiCaprio To Marlon Brando & Beyond | From Olivia Colman, Meryl Streep To Bette Davis & Beyond
– FACT-CHECKED Series: Zendaya And 15 Things You Might Not Know About The Star Of 'Euphoria', Tom Holland's Leading Lady In "Spider-Man: Far From Home' And Next Starring With Timothée Chalamet In 'Dune'
– In the 32nd Year Of His Career, Keanu Reeves' Face Continues To Reign After Launching Movies Earning Over $4.3 Billion In Total – "John Wick", "Toy Story 4", "Matrix", And Many More
– WATCH: Who Is President For 2020? Pete Buttigieg? Joe Biden? Kamala Harris? Donald Trump? Bernie Sanders? – Season 2 Of Hollywood Insider's Messages From America – Episode 2
– WATCH: Would A President's Sexuality Matter To You? A Lesbian, Gay, LGBTQ President? Pete Buttigieg? – Hollywood Insider's "Messages From America" – Episode 3
– WATCH: Do People In America Choose Human Rights Or Religion? – Season 2 Of Hollywood Insider's Messages From America – Episode 1
– FACT-CHECKED Series: Tom Holland And 15 Things You Might Not Know About The Star Of Spider-Man
– WATCH: Once Upon A Time In Hollywood's Premiere & "Reaction From Stars" Leonardo DiCaprio, Brad Pitt, Quentin Tarantino, Margot Robbie, Etc. On The Making Of The Masterpiece
– Spider-Man's Zendaya In Her First Adult Role In HBO's Brilliant Series Euphoria – It Is Also One Of Leonardo DiCaprio's Favorite Shows
– Why Queen Elizabeth II Is One Of The Greatest Monarchs | Her Majesty Queen Elizabeth II of United Queendom of Great Britain & Northern Ireland
– WATCH: Pritan Ambroase On The #metoo Revolution & Powerful Questions That Need Answers
– FACT-CHECKED Series: Tom Holland And 15 Things You Might Not Know About The Star Of Spider-Man
–The Lion King Roars Louder With Beyonce, Donald Glover, Chiwetel Ejiofor As Leads – "It Never Gets Old" 
– 10 facts you may not know about Ben Hardy, the Bohemian Rhapsody Star
– Are you a huge fan of the British Royal family? Would you like to know REAL FACTS instead of just gossip? Here are 15 facts about HRH Prince Charles brought to you by Hollywood Insider's Fact-Checked Series
– EXCLUSIVE: Is That Quentin Tarantino Hidden In Plain Sight In The New Poster Of Once Upon A Time In… Hollywood: An In-Depth Analysis
– New & Exciting Poster Released For Once Upon A Time In… Hollywood –Taking A Page Out Of The Golden Age Of Hollywood
– From The First Romantic Film in 1919 Based On A Gay Love Story To Where We Must Go – Why LGBTQ+ Representation in Film/TV matters
– Netflix's Elite is a show where being gay is a non-issue and gay couples are celebrated
– How Hollywood continues to take a stance on climate change and speaks up to halt the crisis facing our ONE home known as earth
– When Brad Pitt, Leonardo DiCaprio and the rest of the cast of Once Upon A Time In… Hollywood brought glamour back to Cannes
– Timothée Chalamet feels lucky to utilize his platform to save people from drug abuse 
– Pritan Ambroase on his idols Martin Scorsese, James Cameron and positive actions needed to avert the global warming crisis
– 32 Facts on Rambo and the more-than-meets-the-eye superstar Sylvester Stallone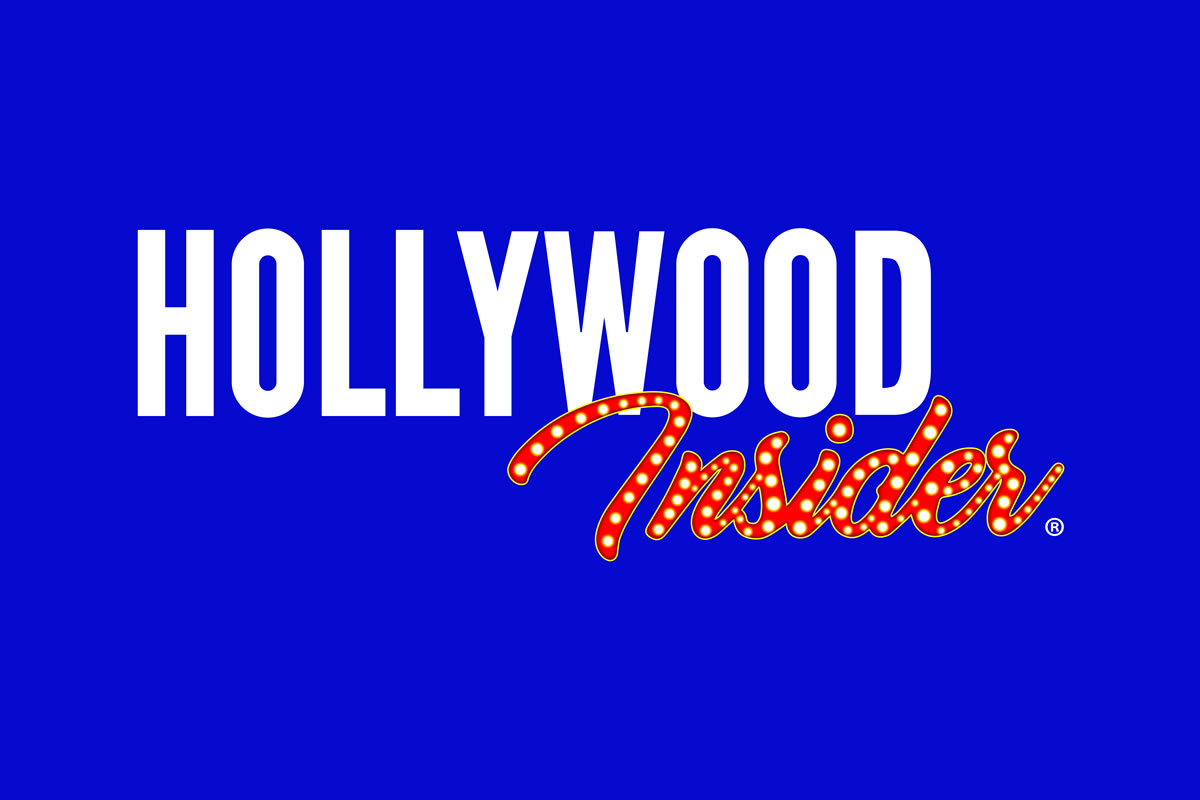 Hollywood Insider  is a media network thatfocuses on substance and meaningful entertainment/culture, so as to utilize media as a tool to unite and better our world, by combining entertainment, education and philanthropy, while being against gossip and scandal.