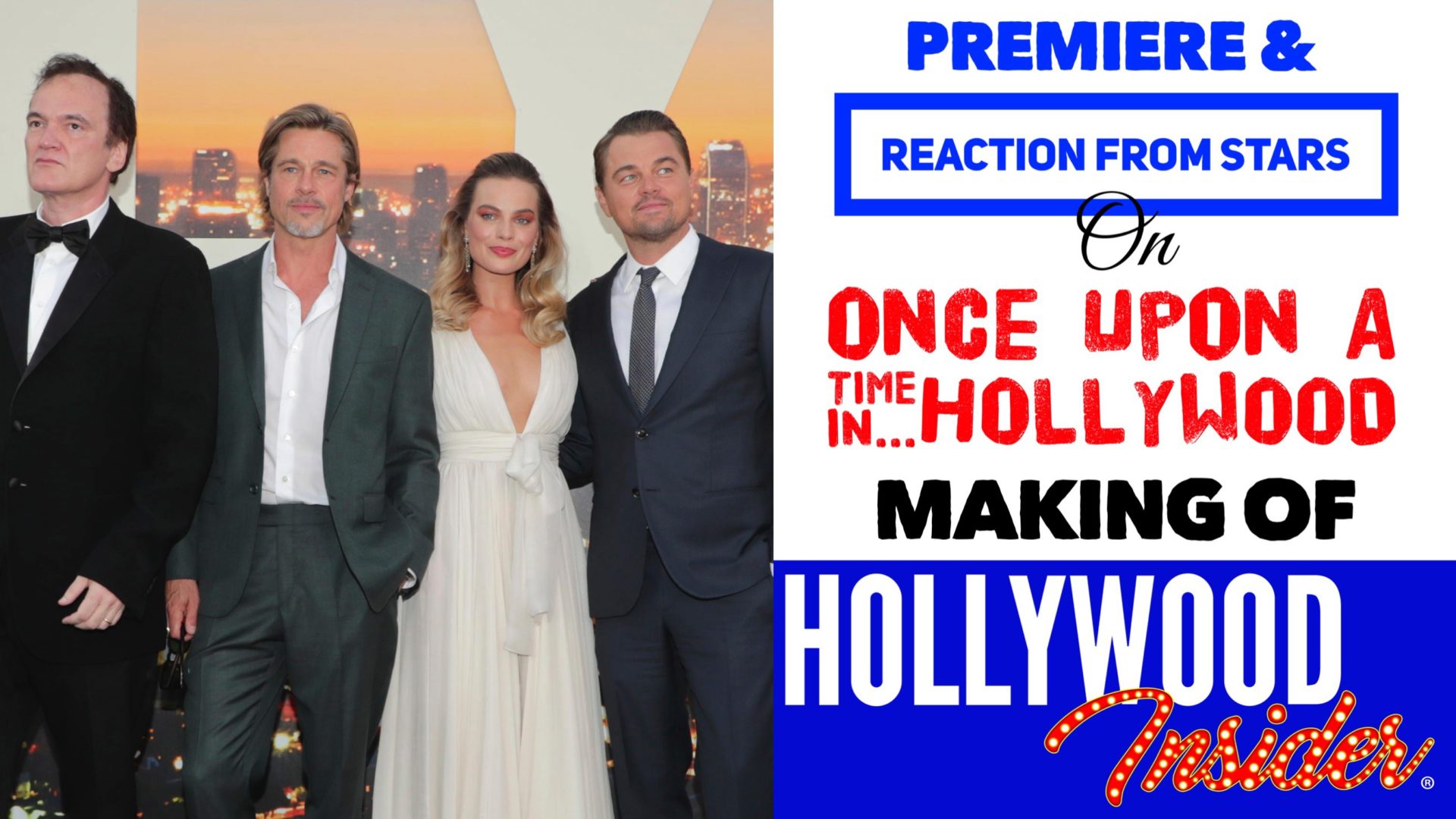 Video:  Reaction From Stars On The Making Of "Once Upon A Time In… Hollywood" | Leonardo DiCaprio, Brad Pitt, Margot Robbie & Quentin Tarantino. Hollywood Insider YouTube Channel/Sony Pictures
Watch the latest instalment in Hollywood Insider's series knows as "Reaction From Stars" – on this episode the stars of the latest Quentin Tarantino masterpiece speak on the honor of starring in Once Upon A Time In… Hollywood as they walk and strut on the red carpet for the movie's premiere in Los Angeles. Watch as Leonardo DiCaprio, Brad Pitt, Quentin Tarantino and Margot Robbie describe what it means to them to be working on a movie that serves as a tribute to Hollywood.
The leading stars with Leonardo DiCaprio as Rick Dalton, Brad Pitt as Cliff Booth and Margot Robbie as Sharon Tate are followed by an impactful cast list made up of Emile Hirsch as Jay Sebring, Margaret Qualley as Pussycat, Timothy Olyphant as James Stacy, Julia Butters as Trudi Fraser, Austin Butler as Charles "Tex" Watson, Dakota Fanning as Lynette "Squeaky" Fromme, Bruce Dern as George Spahn, Mike Moh as Bruce Lee, Luke Perry as Wayne Maunder, Damian Lewis as Steve McQueen, Al Pacino as Marvin Schwarzs, Kurt Russell as Randy, a stunt coordinator who also serves as the film's narrator, Zoë Bell as Janet, Randy's wife, also a stunt coordinator and Lorenza Izzo as Francesca Cappucci, an Italian film crew member and Dalton's eventual wife. Along with stellar performances from Rebecca Gayheart as Booth's late wife, Billie, Michael Madsen as the Sheriff on Bounty Law, Martin Kove and James Remar as villains on Bounty Law, Samantha Robinson as Abigail Folger, Daniella Pick as fictional actress Daphna Ben-Cobo, Spencer Garrett as Allen Kincaid, a fictional TV personality, Damon Herriman as Charles Manson, Lena Dunham as Catherine Share, Maya Hawke as Linda Kasabian, Rafał Zawierucha as Roman Polanski, Nicholas Hammond as Sam Wanamaker, Costa Ronin as Wojciech Frykowski and Rumer Willis as Joanna Pettet. 
Here are some of the other articles we have published on the cinematic gem. 
Watch: At Cannes Film Festival – Reaction From Stars On The Making Of Once Upon A Time In… Hollywood | Leonardo DiCaprio, Brad Pitt, Margot Robbie & Quentin Tarantino
True Hollywood Glamour Arrives At Cannes – Premiere of Quentin Tarantino's Once Upon A Time… In Hollywood: Brad Pitt, Leonardo DiCaprio & Margot Robbie Wow All
Is Once Upon a Time in Hollywood, Quentin Tarantino's Stance Against Streaming Services Like Netflix?
Hollywood Insider's BEST DRESSED WINNERS: Cannes Film Festival 2019 – Recap With Leonardo DiCaprio, Brad Pitt, Priyanka Chopra Jonas, Nick Jonas, Elle Fanning, Ming Xi & Many More
Hollywood Insider Staff Writer 
More Interesting Stories From Hollywood Insider
– WATCH: Do People In America Choose Human Rights Or Religion? – Season 2 Of Hollywood Insider's Messages From America – Episode 1
– FACT-CHECKED Series: Tom Holland And 15 Things You Might Not Know About The Star Of Spider-Man
–The Lion King Roars Louder With Beyonce, Donald Glover, Chiwetel Ejiofor As Leads – "It Never Gets Old" 
– Disney's The Lion King – Donald Grover, Beyoncé, Seth Rogen, Chiwetel Ejiofor, on "Trailer With A Scoop Of Trivia"
– Spider-Man: Far From Home –Tom Holland, Jake Gyllenhaal, Zendaya & "Trailer With A Scoop Of Trivia"
– 10 facts you may not know about Ben Hardy, the Bohemian Rhapsody Star
– Are you a huge fan of the British Royal family? Would you like to know REAL FACTS instead of just gossip? Here are 15 facts about HRH Prince Charles brought to you by Hollywood Insider's Fact-Checked Series
– EXCLUSIVE: Is That Quentin Tarantino Hidden In Plain Sight In The New Poster Of Once Upon A Time In… Hollywood: An In-Depth Analysis
– New & Exciting Poster Released For Once Upon A Time In… Hollywood –Taking A Page Out Of The Golden Age Of Hollywood
– From The First Romantic Film in 1919 Based On A Gay Love Story To Where We Must Go – Why LGBTQ+ Representation in Film/TV matters
– Netflix's Elite is a show where being gay is a non-issue and gay couples are celebrated
– How Hollywood continues to take a stance on climate change and speaks up to halt the crisis facing our ONE home known as earth
– When Brad Pitt, Leonardo DiCaprio and the rest of the cast of Once Upon A Time In… Hollywood brought glamour back to Cannes
– Timothée Chalamet feels lucky to utilize his platform to save people from drug abuse 
– Pritan Ambroase on his idols Martin Scorsese, James Cameron and positive actions needed to avert the global warming crisis
– Men In Black: International – Chris Hemsworth & Tessa Thompson in "Trailer With A Scoop Of Trivia"
– 32 Facts on Rambo and the more-than-meets-the-eye superstar Sylvester Stallone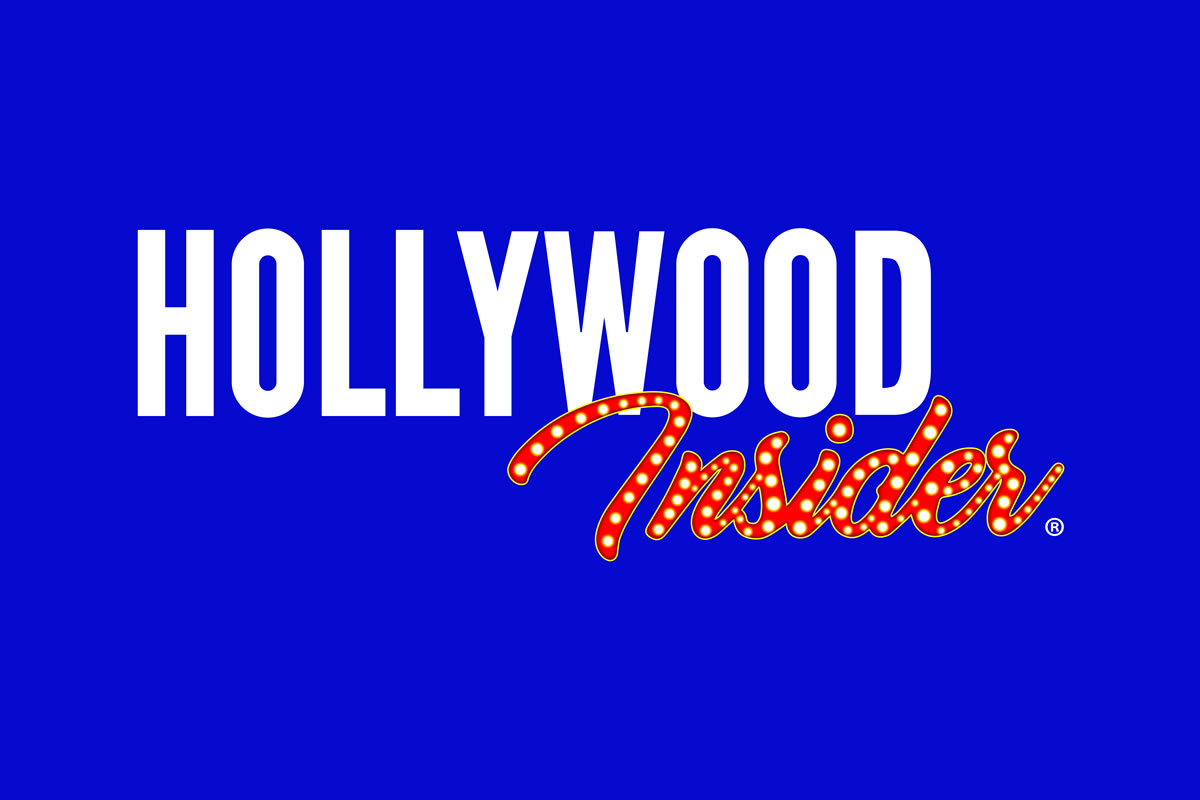 Hollywood Insider  is a media network thatfocuses on substance and meaningful entertainment/culture, so as to utilize media as a tool to unite and better our world, by combining entertainment, education and philanthropy, while being against gossip and scandal.