[masterslider alias="ms-32-2-7-2″]
Thank God for the stars of Once Upon A Time In… Hollywood for bringing back true Hollywood glamour to the red carpet at the Cannes Film Festival. This is Cannes. Wow. (Wiping sweat away). Scorching, smoldering, fainting…… and everything else you can say to describe how we all feel right now.
Tarantino-Cinema + Leo + Brad + Margot + Old Hollywood Glamour = Explosive Iconic Legendary Breathtaking Masterpiece. I almost feel like a genie granted all our cinema wishes. From Cannes, to audiences' hearts, and all the way to the Oscars. 
The director Quentin Tarantino had initially mentioned that his masterpiece might not be ready on time for Cannes Film Festival. All the Tarantino-cinema fans know the feeling when a Tarantino movie is announced, we go nuts. Add the names DiCaprio and Pitt to it and there is guaranteed mass hysteria around the movie. Hence, the news of the movie possibly not making it to Cannes was disappointing. Cut to a few days ago, Tarantino posts an open letter on the film's social media pages requesting Cannes attendees to not post any spoilers to prevent ruining the movie for all (thank you, seriously thank you, I can't even go on social media or outside my home if I am late to watch shows like Game Of Thrones or movies like Avengers Endgame. It should be a law that people cannot post spoilers): 
"I love cinema. You love cinema. It's the journey of discovering a story for the first time," Tarantino wrote. "I'm thrilled to be here in Cannes to share 'Once Upon a Time…In Hollywood' with the festival audience. The cast and crew have worked so hard to create something original, and I only ask that everyone avoids revealing anything that would prevent later audiences from experiencing the film in the same way."
The movie boasts a star cast of Al Pacino, Luke Perry, Damian Lewis, Lena Dunham, James Marsden, Emile Hirsch, Bruce Dern, Dakota Fanning, etc. With the two mega-star principles being DiCaprio as the television actor Rick Dalton and Pitt as the stuntman Cliff Booth. The movie chronicles the transition of Hollywood through two different eras and the two stars' journey with it while things get mixed up with the whole Sharon Tate and Manson Family cult scandal. Margot Robbie stars as Tate. The film will release in theatres nationwide on July 26, 2019. 
Quick trivia on the movie and around it: 
The last time Tarantino showed his movie at Cannes was during the premiere of Inglorious Basterds. 
Once Upon A Time In… Hollywood premieres on the 25th anniversary of Pulp Fiction (1994), the film had won the Palme d'Or. 
Tarantino capitalizes Cinema. And I fully support it. Thank you for all the Cinema you have blessed us with. 
We really hope everyone gets the message and avoids releasing any spoilers. Thank you. Seriously, thank you. 
Back to Cannes. Wow. Thank you. Everyone take notes. That is how you do Cannes. If the red carpet alone was that iconic, then I can only imagine how great the movie is going to be. 
We wait to witness the greatness of Once Upon A Time… In Hollywood. Christmas is in July this year? 
More Interesting Stories From Hollywood Insider
– 10 facts you may not know about Ben Hardy, the Bohemian Rhapsody Star.
– How Hollywood continues to take a stance on climate change and speaks up to halt the crisis facing our ONE home known as earth
– Are new actors getting a huge break, an amazing story, or simply financially beneficial for studios? 
– Read all about the hit show that's breaking all kinds of conventions, Fleabag is the groundbreaking show that was written by the creator of Killing Eve.
– Chiewetel Ejiofor's masterful directorial debut The Boy Who Harnessed The Wind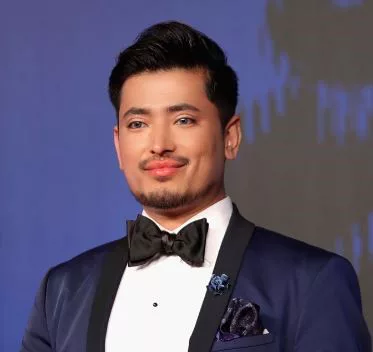 Pritan Ambroase is the CEO and editor-in-chief of Hollywood Insider. He authored the new mission statement which reads: "Hollywood Insider focuses on substance and meaningful entertainment, so as to utilize media as a tool to unite and better our world, by combining entertainment, education and philanthropy, while being against gossip and scandal." It is with that particular intention and under his leadership that Hollywood Insider has transformed into a trusted media platform across multiple channels. Ambroase is also a producer, film director, motivational speaker and a talk show host with a new one in development.
Alongside his career in entertainment and media, Ambroase continues to be a passionate humanitarian and a constant human rights activist/advocate. He started the Humans Of Our World Foundation at the age of 19, and named it that specific name as he wanted humans all over the world to unite regardless of mental/political/physical borders. For the past 14 years, he has actively stood up against injustices and atrocities across the world. He believes in the power of empathy and uses that tool to be there for others across all borders. Some of the many causes he has stood up for – easy accessibility to education,  anti-sexual harassment, disaster relief, healthcare, justice for black, brown and minority ethnic communities, marriage equality, refugee assistance, rebuilding villages, education reform, women's rights, rebrand Africa, police reform, prison reform, anti-segregation in governmental infrastructure, classification of animals as sentient beings, pro-LGBTQ families, anti-trafficking, anti-drug abuse, equity, differently-abled assistance, etc. The foundation's celebrity supporters are Dame Judi Dench, Joanna Lumley OBE, Bear Grylls, Amanda Holden, Andy Serkis and many others.
For more on his biography, please click here. It is his passion for cinema, entertainment and media that drives him to utilize his platform and media to unite all and make our world a better place, all the while entertaining, transforming and educating. It is his long and varied experience in entertainment, education and philanthropy which led him to combine those three elements and include them in Hollywood Insider's mission statement.
To read more about his intention, vision and goals for the media network, please visit the Our Values page by clicking on the link.