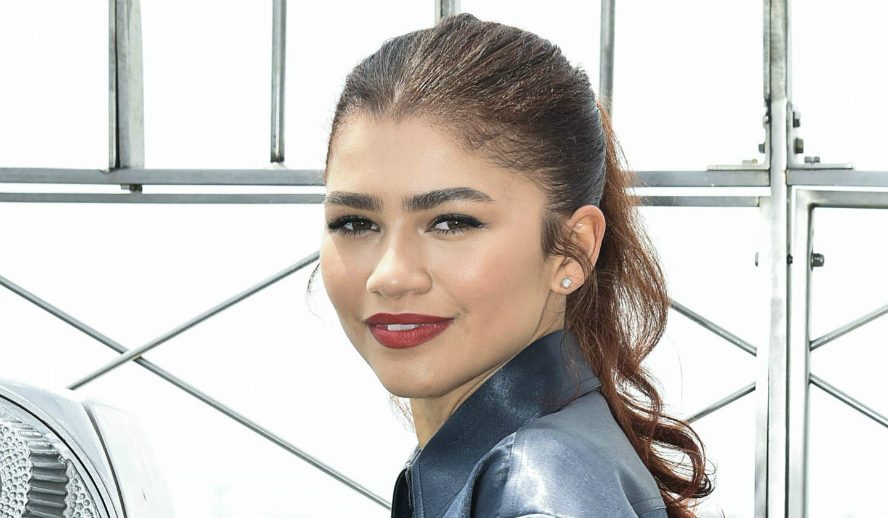 Photo:  Zendaya from Columbia Pictures' SPIDER-MAN: FAR FROM HOME at the top of the Empire State Building/Eugene Gologursky/Getty for Sony Pictures
Known mostly, until recently, for her Disney Channel career and her amazing fashion choices, Zendaya is more than what you might assume from your average Disney starlet. This young, smart, talented actress is only just starting to show the true depths of her abilities through recent projects like the emotional drama, Euphoria, The Greatest Showman and of course as MJ in the new Spider-man movies. It's only a matter of time now before she's ruling Hollywood, so let's get to know her better!
1. A 16 year old producer – she negotiated her way into being made a producer of her Disney show, K.C. Undercover, at the age of 16. Zendaya revealed to Vogue that she didn't sign onto the show playing a high-school-student-by-day-spy-by-night role until Disney had met a set of demands for the character and the show. "I wanted to make sure that she wasn't good at singing or acting or dancing," she said. "I didn't want them to all of a sudden be like, 'Oh, yeah, and then she sings this episode!' No. There are other things that a girl can be … I want her to be normal with an extraordinary life." And Disney complied, giving her a black family and a kickass leading character. Just goes to show; boys and girls, you can never be too young and there is no one too powerful for you to be assertive and stand your ground. "A lot of people don't realize their power," Zendaya explains. "I have so many friends who say yes to everything or feel like they can't stand up for themselves in a situation. No: You have the power."
2. The advice that Zendaya has completely ignored? That you can't do it all.
"Because you can. If you feel you can do it, you
can
do it."
3. She snuck into a theatre to watch Spider-man: Homecoming with Tom Holland … wearing Spiderman sweatshirts for kids that she bought from Target. It's clear that Zendaya and Tom have a strong friendship – she even revealed that she is constantly scared that Tom will overexert himself while doing all of his spidey stunts, throw up in his one-piece Spiderman suit and inevitably choke. "I think about it all the time! That's really scary," she tells MTV. Awww, don't we all want a friend as thoughtful and attentive?
Video:  Hollywood Insider's REACTION FROM STARS: Tom Holland, Jake Gyllenhaal, Zendaya on "Spider-Man: Far From Home". Hollywood Insider YouTube Channel/Disney Marvel
4. There was a period in her life where she dressed like Michael Jackson. We get it – true fashion intellects know the King of Pop was the real deal.
5. She honed her acting through Shakespeare – her favourite Shakespeare quote is, "If music be the food of love, play on." She told Vogue that her mom had worked at the Californian Shakespeare Theatre as a house manager since she was two years old – meaning she has watched all the plays, several times. She also revealed that her favourite character is Viola from Twelfth Night (or Viola from She's the Man if that speaks to you more).
6. Her beauty philosophy is that there are no rules. When asked which one of her many outfits over the course of her career, she wishes she skipped, she replied, "None of them, actually! Because I think they all have equally helped me find my confidence and figure out what I like. So, I wouldn't take it back." Zendaya has spoken – wear what you want and wear it proudly.
7. Zac Efron's favourite on-screen kiss so far is the one with Zendaya in The Greatest Showman.
Zac has also
gushed
about his experience working with Zendaya plenty of times – complimenting her work ethic, drive for perfection and willingness to always push it to the next level. 
8. Her role model is her mother. "Because she's a teacher and she's spent her whole life giving. And I really admire that."
9. To relax after her emotionally harrowing series Euphoria, she would stay up all night watching … crime documentaries. Lots of them. "When asked if that made her anxious or scared at all, she revealed, "There got a point where I got a little worried that I wasn't scared and that it didn't bother me. It was like … I have a problem. Also, I was worried how people perceived me every time they called and I'd be like 'Oh, just watching another murder documentary'." A slightly odd way to unwind, but to each her own.
10. She has an amazing mindset on dealing with negativity and chooses enlightenment and education over "dragging" people. Back in 2015, Zendaya stepped onto the Oscars red carpet, looking sleek and stunning in a white Vivienne Westwood gown and dreadlocks. Her hair, however, prompted Fashion Police's Guiliana Rancic to ignorantly comment that she must have smelled of "patchouli oil" and "weed." Instead of hitting back at Guiliana with a sharp retort, Zendaya chose, instead, to write out a thoughtful, intelligent response on her Instagram educating Guiliana and others who may share her sentiments on why her words were offensive and incorrect. Her restrain and graciousness in the situation is truly something to learn from. Watch here for what she had to say about turning the debacle from something that could potentially just be a hateful mess where no one comes out of it any wiser … to taking her time and turning it into "a teachable moment" for "whoever needed to hear it empowerment-wise or whoever needed to hear it to learn something from it and know what not to do". She told Vogue, "I try to keep in mind that everyone is dealing with something that we have no idea about, you know? So I just try to have compassion for them."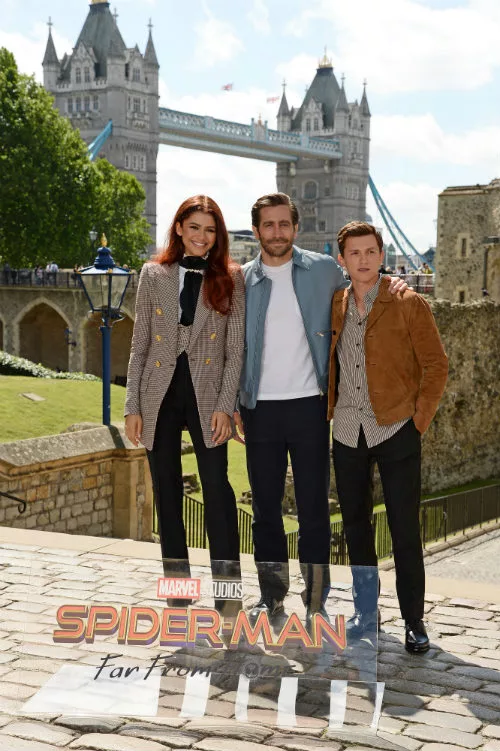 Photo: Tom Holland (Peter Parker / Spiderman), Zendaya (MJ), and Jake Gyllenhaal (Quentin Beck / Mysterio) attend the Spider-Man: Far From Home London photo call at Tower of London one of the films iconic locations in London, England/Jeff Spicer/Getty Images for Sony
11. She formed a Cheetah Girls tribute band in the first grade. "I was obsessed with The Cheetah Girls, so we created our own version at school, and we held auditions. I mean, we were serious about it. We asked the principal if on grandparents' day we could perform this for the grandparents." A good move, really – everyone knows The Cheetah Girls are the original Disney Channel feminists! Her idol was Raven-Symoné
12.  A 'crazy night' for her is watching Netflix with her nieces and having a pool party. As bold and charismatic as she is, she reveals that she is actually very much like her Spider-man character, MJ – shy, introverted and "kind of a loner". She says she would much rather stay at home watching Harry Potter movies than go out – I'm sure many fellow homebodies and HP fans (myself included) can relate. "I don't know, I just like to stay at home and stay to myself, I can't help it."
13. A song Zendaya wishes she had written is 'A Song for You' by Donny Hathaway. She also shared that a track that always ends up on a Zendaya curated playlist is anything by Solange – "She's been holding me down." Excellent taste, as expected.
14. She fights for change. Whether it's protesting for women's rights at the Women's March, fundraising on her 19th birthday, or just showing support for her slut-shamed and victim-blamed friend by reminding her she's strong, courageous and beautiful – these are just the usual in the life of Zendaya. "People are so afraid to go outside the box. It's not normal – you have to go against the grain. People don't agree with you YET – it's all part of the process. That's how change happens."
15. She believes in the 'Black Girl Magic' and hopes to open the door (and jam it open) for other people that face their own challenges in finding and creating a space where they are welcome. "We're magical! I don't care what anybody says – I read this one tweet that was like, 'Our skin soaks up the sun rays, our hair defies gravity' – that's magic!" She also acknowledges, however, that while it's nice that Hollywood is slowly opening up doors to diversity, there needs to be more done to "jam it open and let other people come in as well and fill up that room" and she hopes to achieve that goal at some point.  "I think it's so important for young people to be able to see themselves in a character. I definitely don't say I have the same challenges as darker skin black woman because … I don't. But I do like to take my privileges that I have as a lighter skin black woman and help them and shine light on those issues because I think that's important and that we should constantly uplift each other and push for acceptance of all women of colour."
Brought up by two teachers, Zendaya's kindness, strength and integrity shines through. She has taken her time coming out of Disney, wanting to carry on her responsibility of creating programming for young people ("I think it's a gift that parents trust me with their kids … at the most important part of their life, that's when they're learning who to become. I do genuinely appreciate it, I'm thankful for it.") and slowly build herself outside of it, but it's clear that she is now ready to branch out and is on her way to truly wonderful things. Watch as she undoubtedly carves a legacy for herself in the industry! We are excited to see what she does next. After all, someone who has been called a "badass" by Wolverine himself, the one and only Hugh Jackson, is surely someone to watch out for. 
By Bhawana Siwa
More Interesting Stories From Hollywood Insider
– A Tribute To The Academy Awards: All Best Actor/Actress Speeches From The Beginning Of Oscars 1929-2019 | From Rami Malek, Leonardo DiCaprio To Marlon Brando & Beyond | From Olivia Colman, Meryl Streep To Bette Davis & Beyond
– Dame Judi Dench Urges All To Remember Forgotten Villages Of Nepal By Donating To Humans Of Our World's Nepal Campaign
– Spider-Man's Zendaya In Her First Adult Role In HBO's Brilliant Series Euphoria – It Is Also One Of Leonardo DiCaprio's Favorite Shows
– FACT-CHECKED Series: Tom Holland And 15 Things You Might Not Know About The Star Of Spider-Man
– WATCH: Once Upon A Time In Hollywood's Premiere & "Reaction From Stars" Leonardo DiCaprio, Brad Pitt, Quentin Tarantino, Margot Robbie, Etc. On The Making Of The Masterpiece
– In the 32nd Year Of His Career, Keanu Reeves' Face Continues To Reign After Launching Movies Earning Over $4.3 Billion In Total – "John Wick", "Toy Story 4", "Matrix", And Many More
– WATCH: Would A President's Sexuality Matter To You? A Lesbian, Gay, LGBTQ President? Pete Buttigieg? – Hollywood Insider's "Messages From America" – Episode 3
– Why Queen Elizabeth II Is One Of The Greatest Monarchs | Her Majesty Queen Elizabeth II of United Queendom of Great Britain & Northern Ireland
– WATCH: Pritan Ambroase On The #metoo Revolution & Powerful Questions That Need Answers
– 10 facts you may not know about Ben Hardy, the Bohemian Rhapsody Star
– Are you a huge fan of the British Royal family? Would you like to know REAL FACTS instead of just gossip? Here are 15 facts about HRH Prince Charles brought to you by Hollywood Insider's Fact-Checked Series
– From The First Romantic Film in 1919 Based On A Gay Love Story To Where We Must Go – Why LGBTQ+ Representation in Film/TV matters
– Netflix's Elite is a show where being gay is a non-issue and gay couples are celebrated
– Pritan Ambroase on his idols Martin Scorsese, James Cameron and positive actions needed to avert the global warming crisis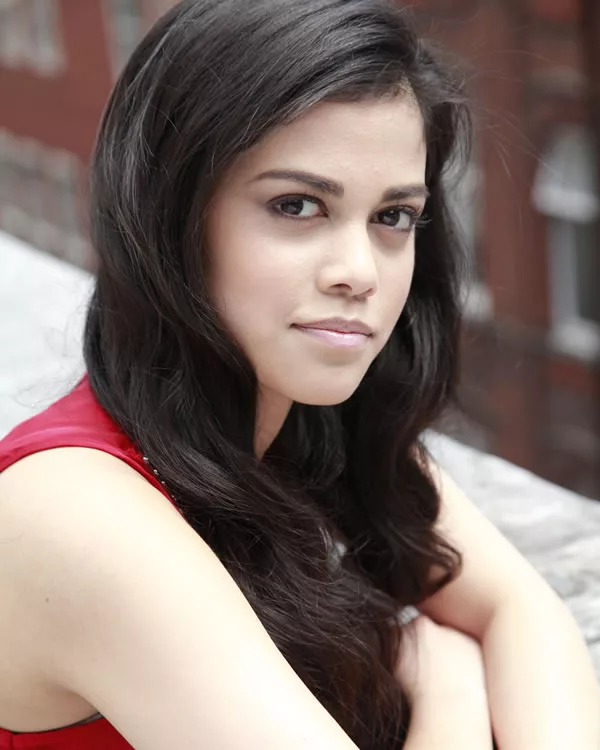 Bhawana Siwa is a writer for Hollywood Insider, writing film reviews and the occasional feature. Having grown up with a passion for finding beautiful stories, she aims to put her love of films and TV (and the hours she's spent watching them) to good use, aiding audiences to wade through the mass to find entertainment that is well-made, meaningful and that helps open their world up a little bit – exactly aligned with Hollywood Insider.