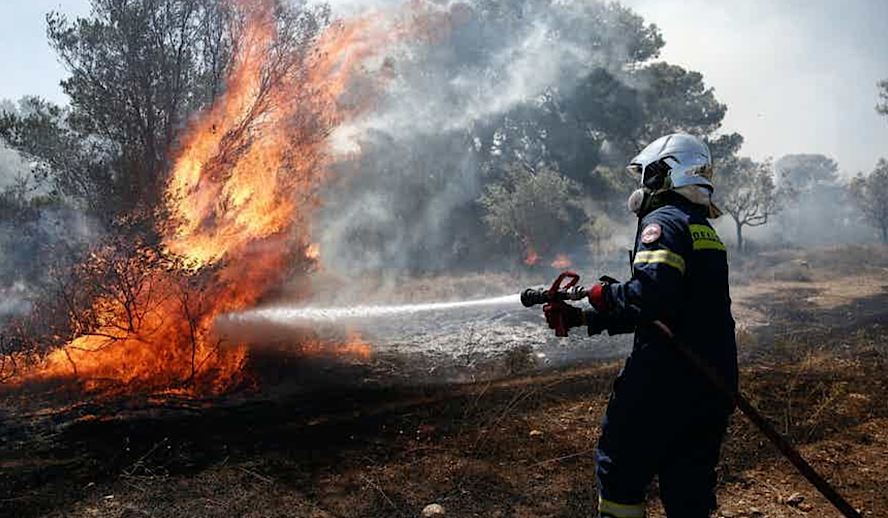 Photo: Wildfires Rage in Europe
Are we still casually calling it "Global Warming" to avoid alarming people? Or should we call it what it is? And that is Rapid Destructive Climate Crisis. 
Europe is currently in the midst of a monumental heatwave. Many counties, primarily including Britain, which has not seen temperatures that have exceeded 100℉ since 2019, recorded a collective number of temperatures that surpassed this previous milestone. "At least 34 sites broke the old British record on Tuesday, according to the Met Office, the national weather service, including at least six that reached 40 Celsius." The effects of this dramatic heatwave are not solely limited to the temperature of the weather. Powerful gusts and winds are also contributing to the creation and spread of vast and deadly wildfires. These wildfires are unlike anything that many countries in Europe have ever experienced before and they are threatening the livelihood and well-being of many permanent residents that live within parts of these nations.
Things to do: 
Click here to read more on

The Hollywood Insider's

vision, values and mission statement here – Media has the responsibility to better our world –

The Hollywood Insider

fully focuses on substance and meaningful entertainment, against gossip and scandal, by combining entertainment, education, and philanthropy.
Climate Change Or Rapid Destructive Climate Change? | Messages From America: S2 Ep 12

"The heat continued a global pattern in recent years of leaping past records rather than breaking them in tiny increments. Amid the Guinness Book-style excitement at falling records was a somber recognition of the human cost of dangerous heat waves." The danger that these wildfires and extreme climate conditions pose to human existence has continuously increased in recent years. While these fires appear to be the immediate source of the threat to human life, they are in reality merely a symptom of a world-altering climate change. This climate change has been brought upon the entirety of humanity through their inability to change their all-consuming and Earth-destroying habits.                             
Climate Crisis – Heatwave Strikes The Globe
A recent heatwave has struck the globe and is now threatening the lives and state of existence of many people and families in Europe. "A ferocious heat wave moved northwest, leaving a trail of raging wildfires, lost lives and evacuated homes across a Europe frighteningly ill-equipped to cope with the new reality of extreme weather." Countries like Spain, Italy, Greece, Britain, and France are all enduring the destructive wrath of these wildfires as firefighters and brigades of responders desperately attempt to control the unpredictable and lethal miles of endless flames. "In London, a series of grass fires erupted around the capital on Tuesday afternoon, burning several homes — an ominous sign that the destruction could hopscotch the English Channel." Not only have firefighters had to deal with the circumstances of these grave fires, but "the efforts of the firefighters have been hampered by fierce gusts of wind, arid conditions and scorched trees that sent fiery embers through the air, further spreading the flames."
If The World Was Ending In One Hour, Who Would You Call? Messages From America: S 2 Ep 16

Related video: Full Commentary – Cast & Crew Spills Secrets on Making of 'Elvis' | In-Depth Scoop | Austin Butler
Related video: Full Rendezvous At the Premiere of 'Elvis' with Reactions from Stars | Austin Butler, Baz Luhrmann
Related video: Come Behind The Scenes of 'Elvis' | Austin Butler, Tom Hanks and Baz Luhrmann
Related article: MUST WATCH – The Hollywood Insider's CEO Pritan Ambroase's Love Letter to Black Lives Matter – VIDEO
Related article: Why Queen Elizabeth II Is One Of The Greatest Monarchs | Her Majesty Queen Elizabeth II of United Queendom of Great Britain & Northern Ireland (Video Insight)
Related article: All Best Actor/Actress Speeches From The Beginning Of Oscars 1929-2019 | Hollywood Insider
With resources drawn thin, and crews of firefighters growing weary from their continuous battle against the flames, this situation causes the public to wonder, what is truly responsible for what seems like an endless cycle of wildfires that erupt every year? Whether these wildfires come as a result of natural or man-made circumstances, the frequency and intensity from which they originate signals to a larger issue that humans face.  
Why Do Wildfires Continue to Grow in Frequency?
The question of why wildfires continue to increase with such regularity is one that can be directly linked to the existence of climate change. Ilissa Ocko and Tinyani Sun, both climate scientists and authors of the article, "Here's How Climate Change Affects Wildfires," state, "Not only is the average wildfire season three and a half months longer than it was a few decades back, but the number of annual large fires… have tripled. Severe heat and drought fuel wildfires, conditions scientists have linked to climate change. If we don't break the warming cycle, we expect more and worse wildfires in the years ahead." This factually predicated hypothesis by these climate scientists highlights a growing problem that past societies of Earth have long ignored. The very reason why this climate change in the world has been undermined and seemingly "discredited" boils down to one particular thing: currency.
Is Climate Change An Urgent Issue Or Not A Worry For 100 Years? | Messages From America: S 2 Ep 7

For humans to change the very way that they live would amount to an extremely expensive and "inefficient" transformation of operations, particularly concerning organizations and corporations that are primarily responsible for the vast amount of carbon that is pumped into the atmosphere as a result of their manufacturing and on-going work. "​​As drought and heat continue with rising greenhouse gas emissions, we expect more wildfires in years ahead, especially with the fire seasons getting longer." This issue is not simply one that will disappear in the grand scheme of time or, like some argue, that the world will adjust and adapt to the climate that now is the standard. In order to restore balance to the Earth and its seasons, humans must accept their role in creating this disaster and change their habits before climate change begins to threaten humanity's very existence.               
Related article: The Hollywood Insider's CEO Pritan Ambroase: "The Importance of Venice Film Festival as the Protector of Cinema"
Related article: The Masters of Cinema Archives: The Hollywood Insider Pays Tribute to 'La Vie En Rose', Exclusive Interview with Director Olivier Dahan
Related article: – Want GUARANTEED SUCCESS? Remove these ten words from your vocabulary| Transform your life INSTANTLY
Related video: EVOLUTION: Every Tom Cruise Role From 1981 to 2021, All Performances Exceptionally Poignant
Thousands Evacuate as Fires Threaten Residents' Livelihood and Survival
The threat to human existence is reflected in the state of life that is being challenged by the wildfires that rage in Europe. This symptom of a much greater problem, i.e. climate change, has forced thousands of people to evacuate and flee from their homes for the sake of their lives and their own personal welfare. One resident, who was driven from his home, which is now completely burned down, describes how he was lucky to escape with his life. He states, "I didn't sleep last night. I was in the hotel room thinking how bad it could have gone. I just thank god that everyone got out alive… We've lost everything. But when we get back, we can clear the site, put some fences up, get a couple of mobile homes and we'll start again."
This individual's resilience in the face of great adversity is admirable, and it mirrors the spirit of human endurance and fortitude. Despite a human being's natural ability to find the silver lining of a tough situation, the knowledge that these fires are a direct result of humanity's own creation is a difficult fact to come to terms with. It leads to the ultimate understanding that for the sake of not only the Earth, which has forever been the home that has allowed the human race to flourish, but also for generations to come, humans must do all they can to prevent the further pollution of greenhouse gasses into the atmosphere. If humans continue to ignore the Earth's natural warning, which can be directly linked to these wildfires, the magnitude and effect that they, as well as countless other natural disasters will have upon this planet and human existence, will threaten the survival of both.                                          
By Thomas Jacobs
Click here to read The Hollywood Insider's CEO Pritan Ambroase's love letter to Cinema, TV and Media. An excerpt from the love letter: The Hollywood Insider's CEO/editor-in-chief Pritan Ambroase affirms, "We have the space and time for all your stories, no matter who/what/where you are. Media/Cinema/TV have a responsibility to better the world and The Hollywood Insider will continue to do so. Talent, diversity and authenticity matter in Cinema/TV, media and storytelling. In fact, I reckon that we should announce "talent-diversity-authenticity-storytelling-Cinema-Oscars-Academy-Awards" as synonyms of each other. We show respect to talent and stories regardless of their skin color, race, gender, sexuality, religion, nationality, etc., thus allowing authenticity into this system just by something as simple as accepting and showing respect to the human species' factual diversity. We become greater just by respecting and appreciating talent in all its shapes, sizes, and forms. Award winners, which includes nominees, must be chosen on the greatness of their talent ALONE.
I am sure I am speaking for a multitude of Cinema lovers all over the world when I speak of the following sentiments that this medium of art has blessed me with. Cinema taught me about our world, at times in English and at times through the beautiful one-inch bar of subtitles. I learned from the stories in the global movies that we are all alike across all borders. Remember that one of the best symbols of many great civilizations and their prosperity has been the art they have left behind. This art can be in the form of paintings, sculptures, architecture, writings, inventions, etc. For our modern society, Cinema happens to be one of them. Cinema is more than just a form of entertainment, it is an integral part of society. I love the world uniting, be it for Cinema, TV, media, art, fashion, sport, etc. Please keep this going full speed."
More Interesting Stories From The Hollywood Insider
– Want GUARANTEED SUCCESS? Remove these ten words from your vocabulary| Transform your life INSTANTLY
– A Tribute to Martin Scorsese: A Complete Analysis of the Life and Career of the Man Who Lives and Breathes Cinema 
– Do you know the hidden messages in 'Call Me By Your Name'? Find out behind the scenes facts in the full commentary and In-depth analysis of the cinematic masterpiece
– A Tribute To The Academy Awards: All Best Actor/Actress Speeches From The Beginning Of Oscars 1929-2019 | From Rami Malek, Leonardo DiCaprio To Denzel Washington, Halle Berry & Beyond | From Olivia Colman, Meryl Streep To Bette Davis & Beyond
– In the 32nd Year Of His Career, Keanu Reeves' Face Continues To Reign After Launching Movies Earning Over $4.3 Billion In Total – "John Wick", "Toy Story 4", "Matrix", And Many More
climate crisis, climate crisis, climate crisis, climate crisis, climate crisis, climate crisis, climate crisis, climate crisis, climate crisis, climate crisis, climate crisis, climate crisis, climate crisis, climate crisis, climate crisis, climate crisis, climate crisis, climate crisis, climate crisis, climate crisis, climate crisis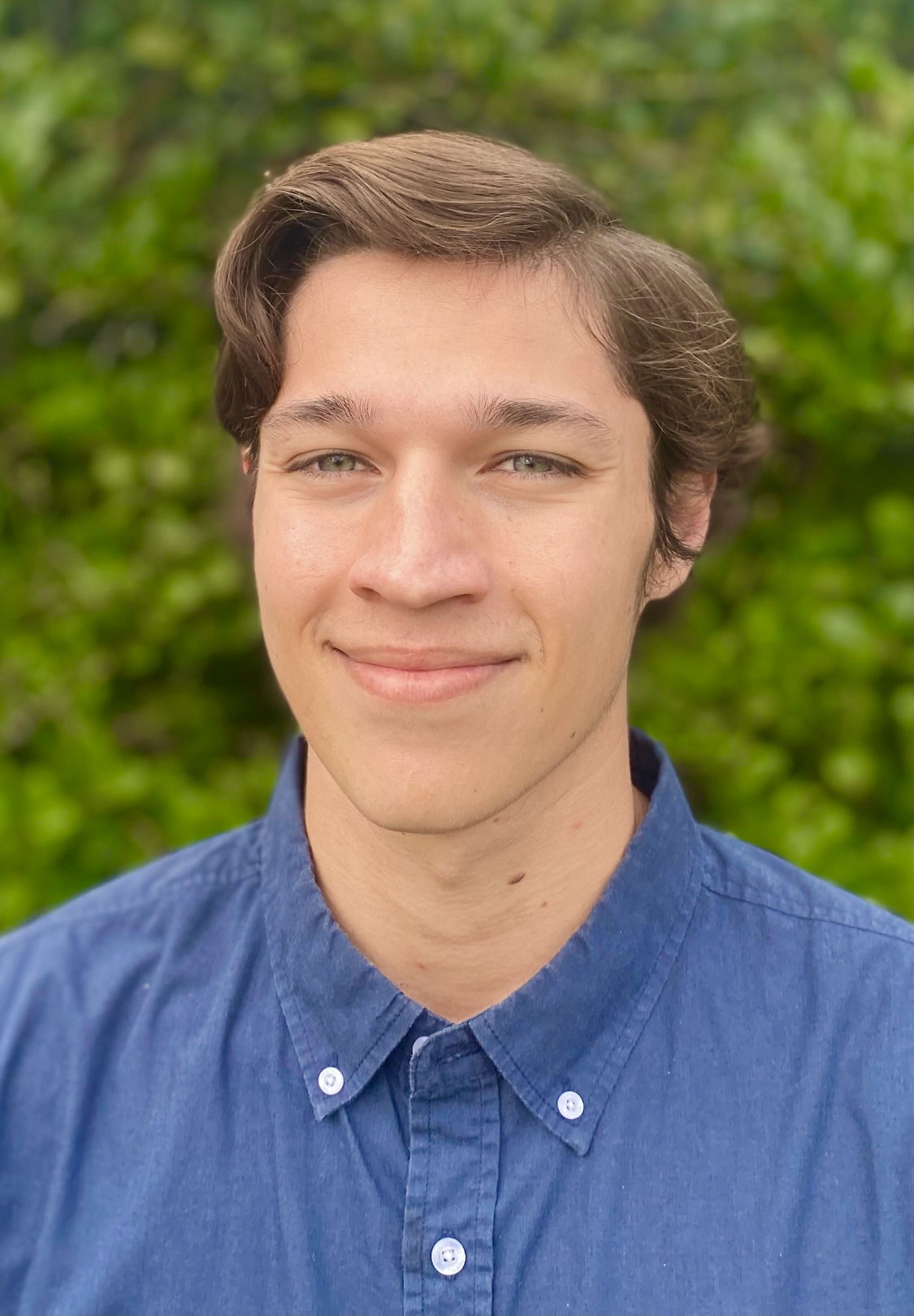 Thomas Jacobs is an avid writer, Cinema aficionado, and filmmaker. He graduated with Dean's Honors from the University of California, Santa Cruz with a major in Film and Digital Media. His passion is directly tied to the appreciation and creation of film and television, and this fact is reflected in his intent to be a writer for the acclaimed entertainment journal, The Hollywood Insider. His beliefs mirror the core goals and mission statement of The Hollywood Insider by sharing an admiration for quality entertainment as well as bolstering a sense of positivity and equality among all humans. Thomas believes that Cinema is an advantageous promoter of civil and social empowerment, and he shares a mutual societal view with  The Hollywood Insider, that people should not be judged by the color of their skin, but the content of their character.