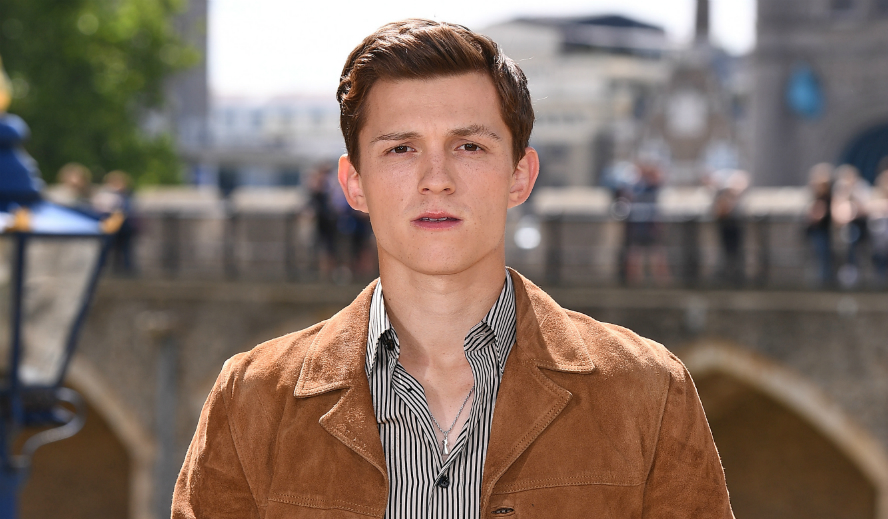 Photo/Video: Hollywood Insider YouTube Channel – Tom Holland (Peter Parker / Spiderman) attends the Spider-Man: Far From Home London photo call at Tower of London one of the films iconic locations on June 17, 2019 in London, England/Jeff Spicer/Getty Images for Sony
Tom Holland facts to help you to know Spider-Man better. As the internet very well knows, Tom Holland (Spider-man, The Impossible, The Lost City of Z) , a.k.a. the best Spider-man yet, is a walking spoiler dispenser. We also know that he and Jake Gyllenhaal have an ongoing "bromance" or as they call it – romance.  And that he doesn't want to go. We know all this … but what else is the young British actor really about? Called "bright and gifted" by none other than Robert Downey Jr. himself, "a raw, open talent" by Naomi Watts, and "just a good dude" by Zendaya, let's find out more about the man behind the mask.
1. Tom Holland Facts – He is terrified of spiders
.
"Not my thing," says Spider-man. When asked what he would do if he was in his apartment and a spider crawled on the floor: kill it or take it outside, Tom reveals, "I would probably leave my apartment for a good few hours and let the thing do whatever it needs to do, make its way out of the apartment … and then come back in and then be very uneasy for about 4 days."
2. He regularly rescues people in real life. He recently saved a fan from having a full-on panic attack after being pushed down and crushed against a barricade while waiting to see him. Cassidy described her experience being crushed by "6 foot tall men trying to sell autographs" and how Tom noticed and came to her rescue by making people move away and repeatedly reassuring her, "It's OK, I got you." Not to forget, that time he came to the rescue of a lady who passed out next to him on the plane … even though he wasn't quite sure what he was doing ("I'm not a doctor, I'm an actor!"). A superhero's work never ends …
3. The best advice Tom Holland has ever received is, "Turn nerves into excitement."
On the other hand, the worst advice he has ever received, he claims is, "Go out and have some fun by Mark Wahlberg. Basically told me to go crazy." I guess Tom didn't think Mark's advice to "get a jacuzzi", "bring the boys [his brothers] to Cali" and "get a medical marijuana license" was such a good idea … thankfully.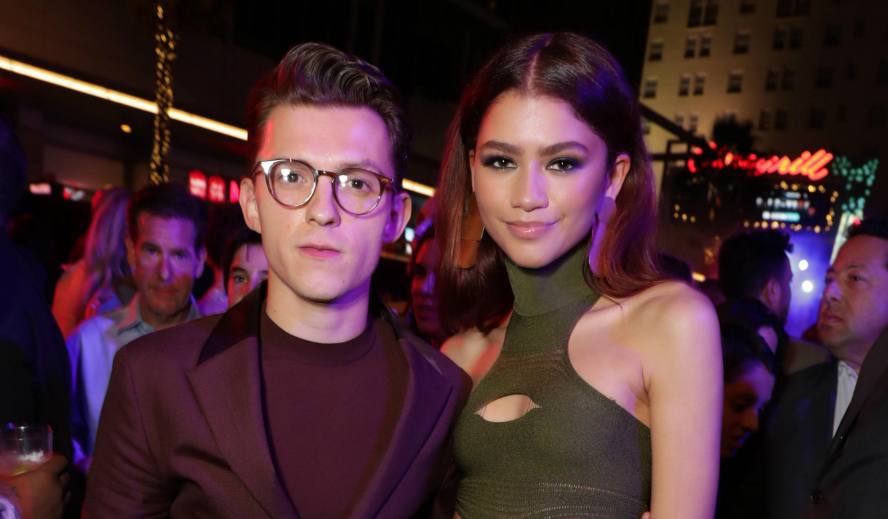 Photo: Tom Holland and Zendaya at the World Premiere of Columbia Pictures' "Spider-Man: Far From Home" at the TCL Chinese Theatre/Eric Charbonneau
4. He was not smooth as a kid … or as an adult. Before he even joined the Marvel Cinematic Universe, he once showed up to a party fully dressed as Spider-man … but it wasn't a fancy-dress party. "It was a friend of mine's, just, birthday party and for some reason, I decided to believe that it was a fancy-dress party and I was like 'Great! An opportunity to dress up like Spider-man!' … And it wasn't." He shares, "I showed up in a full-on morphsuit and everyone was like … in jeans and a t-shirt. I was 16." Ouch. He also shared that his "awkward teenage moments" were even worse than it is for Peter Parker – "I was so not smooth as a kid and I'm actually not smooth as … as … as… an adult. Either. The way I said that is an example." We believe him – watch as he recounts his "embarrassing" first meeting with Zendaya.
5. The theme song to Tom Holland's life? He would choose "My Heart Will Go On" by Celine Dion.
We love a man with taste.
6. His favourite part of being Spider-man is visiting children in hospitals where he spends time talking to them, showing off his spidey backflips and giving out autographs. "It's an amazing thing to be able to do, you know. I mean, these kids are so nice, to be able to put a smile on their faces and their parents'… And if we can do that, then we should. We're given such an amazing opportunity making these movies and we're so lucky to be doing it – we'd be doing something wrong if we weren't giving back to our community." Jake Gyllenhaal and Zendaya also recently joined him in surprising the children at Children's Hospital Los Angeles while they were enjoying an advanced screening of Spider-man: Far from Home. 
Video:  Hollywood Insider's REACTION FROM STARS: Tom Holland, Jake Gyllenhaal, Zendaya on "Spider-Man: Far From Home". Hollywood Insider YouTube Channel/Disney Marvel
7. If he could have any superpower, he would choose to be able to control water. "Uhhh I don't think I'm responsible enough to have the power of time, which is what I'd want – I think I would just mess up everything … So I'll probably go with the power of being able to control water." At least he knows.
8. If Tom Holland wasn't an actor, he would choose to be … a stuntman. Or a carpenter. Or a puppy wrangler. 
Having come from a gymnastics and ballet background, Tom does majority of his stunts himself – in fact, he regularly enjoys the art of free running with his friends, "Me and my mates go free running all the time… I've probably jumped four meters on to grass and two meters between buildings." With such talent, makes sense that he would consider doing it professionally! The carpenter thing, however, comes from the fact that all of his family members are mostly carpenters. And who doesn't want to be a puppy wrangler? Watch him struggle to keep his focus answering questions as he's surrounded by pups. 
9. He was bullied at school for being 'keen' and a dancer. He told People, "There was times when I was bullied about dancing and stuff…But you couldn't hit me hard enough to stop me from doing it." The level of persistence is definitely something we can all learn from … and we are so glad he powered through! After all, look at where it led him – a lead role in the West End musical, Billy Elliot, by the time he was eleven years old and of course, Spider-man, for which he credits his dance and gymnastics training as being a major part of the reason he got the role after a gruelling 7-month auditioning process. Plus, the bullying he says helped him understand the role of Peter Parker better. "I was not a cool kid in school. I got bullied pretty badly. Mainly because if I did my homework, I was called 'keen,' and being good at work wasn't cool … So I think it's a really good thing for kids to see someone they can look up to, but that someone they look up to is a geeky kid, not your typical jock who's a quarterback, you know."
10. The song that always makes him dance is 'Smooth Criminal' by Michael Jackson. "If that song just came on now, you would see an amazing routine–DON'T YOU DARE PLAY THE SONG-." Unfortunately, the song did not come on and we did not get to experience this brilliance.
11. The most 'exotic' food he's ever eaten is a rat in Bangkok, Thailand. "It was disgusting I'll never do it again. It was a mistake. I spent three days on the toilet, let's just put it that way. It was literally the worst three days of my life … It looked pretty cool though! Like a rat on a stick. It was kinda cool."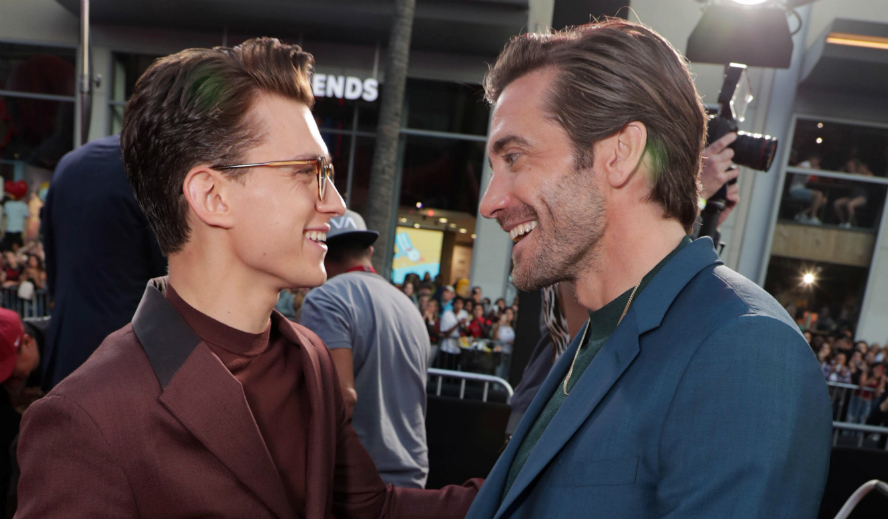 Photo/Video: Hollywood Insider's RED CARPET PREMIERE: Tom Holland, Jake Gyllenhaal, Zendaya on "Spider-Man: Far From Home". Hollywood Insider YouTube Channel/Disney Marvel – Tom Holland and Jake Gyllenhaal at the World Premiere of Columbia Pictures' "Spider-Man: Far From Home" at the TCL Chinese Theatre/Eric Charbonneau
12. His top favourite movies are:
Primal Fear | The Departed | Saving Private Ryan | My Cousin Vinny
13. He has his whole career mapped out. He shared that he has played "a lot of wide-eyed kids" and would like to play more complicated characters, characters less like himself. "I want to really get out of my comfort zone and play, like, a serial killer, or a drug dealer. I want to shoot a gun – have you seen Keanu Reeves shoot a gun? He does it so well! I did use a gun during The Lost City Of Z, but I only shot a rabbit. A fake one, obviously." However, he clarifies that he will first do some more franchises ("I have so much to learn!"), and then transition into the more indie roles as he develops, eventually ending up on the other side of the camera and foraying into directing. Until then, he has a solution against being typecast, "I need to get a beard."
14. Tom Holland wants to direct movies with his brother.
In fact, they are currently in the process of writing a film and the pair are hoping to direct it this year!
15. Along with his three brothers, he sponsors The Brothers Trust, a charity founded by his parents. The organisation aims to shine a light and raise money for lesser known charities that struggle to be heard, supporting a wide range of causes from feeding and providing education for children in the Kenyan slums, funding research to find a cure for Epidermolysis Bullosa – condition that causes the skin to blister and tear at the slightest touch, and supporting families with children that have life limiting illnesses. As Zendaya put it, "It's nice to know that the 'superhero' is also a good person."
And if all of that was not enough to leave you with heart-eyes and a good dose of admiration for Tom Holland, let me leave you with a few quotes from Jake Gyllenhaal gushing about Tom.
"He's great."
"He's awesome."
"He's just … amazing."
"He really truly is a lovely soul."
"He's a good guy. I think he's a humble guy … He respects the people he's working with and what they've done … He knows he has stuff to learn but he is also so skilled and he's just obsessed with getting it right."
"I just adore him."
"I continue to learn from him and I think he is an incredible, physical actor and there are so many things that he can do that I could never do. He's also just so kind."
"I really truly do love the kid."
He's got you now, hasn't he?
By Bhawana Siwa
More Interesting Stories From Hollywood Insider
– Disney's The Lion King – Donald Grover, Beyoncé, Seth Rogen, Chiwetel Ejiofor, on "Trailer With A Scoop Of Trivia"
– Spider-Man: Far From Home –Tom Holland, Jake Gyllenhaal, Zendaya & "Trailer With A Scoop Of Trivia"
– 10 facts you may not know about Ben Hardy, the Bohemian Rhapsody Star
– Are you a huge fan of the British Royal family? Would you like to know REAL FACTS instead of just gossip? Here are 15 facts about HRH Prince Charles brought to you by Hollywood Insider's Fact-Checked Series
– EXCLUSIVE: Is That Quentin Tarantino Hidden In Plain Sight In The New Poster Of Once Upon A Time In… Hollywood: An In-Depth Analysis
– New & Exciting Poster Released For Once Upon A Time In… Hollywood –Taking A Page Out Of The Golden Age Of Hollywood
– From The First Romantic Film in 1919 Based On A Gay Love Story To Where We Must Go – Why LGBTQ+ Representation in Film/TV matters
– Netflix's Elite is a show where being gay is a non-issue and gay couples are celebrated
– How Hollywood continues to take a stance on climate change and speaks up to halt the crisis facing our ONE home known as earth
– When Brad Pitt, Leonardo DiCaprio and the rest of the cast of Once Upon A Time In… Hollywood brought glamour back to Cannes
– Timothée Chalamet feels lucky to utilize his platform to save people from drug abuse 
– Pritan Ambroase on his idols Martin Scorsese, James Cameron and positive actions needed to avert the global warming crisis
– Men In Black: International – Chris Hemsworth & Tessa Thompson in "Trailer With A Scoop Of Trivia"
– 32 Facts on Rambo and the more-than-meets-the-eye superstar Sylvester Stallone
Tom Holland Facts, Tom Holland Facts, Tom Holland Facts, Tom Holland Facts, Tom Holland Facts, Tom Holland Facts, Tom Holland Facts, Tom Holland Facts, Tom Holland Facts, Tom Holland Facts, Tom Holland Facts, Tom Holland Facts, Tom Holland Facts, Tom Holland Facts, Tom Holland Facts, Tom Holland Facts, Tom Holland Facts, Tom Holland Facts, Tom Holland Facts, Tom Holland Facts, Tom Holland Facts, Tom Holland Facts, Tom Holland Facts, Tom Holland Facts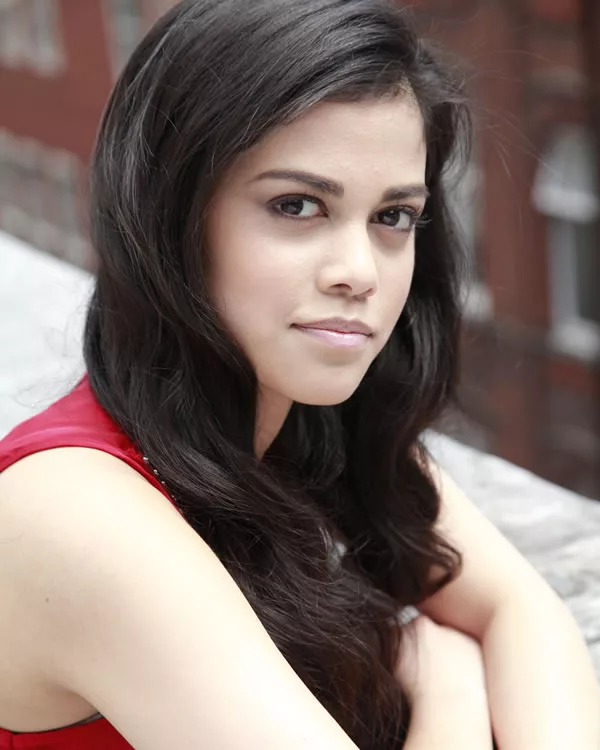 Bhawana Siwa is a writer for Hollywood Insider, writing film reviews and the occasional feature. Having grown up with a passion for finding beautiful stories, she aims to put her love of films and TV (and the hours she's spent watching them) to good use, aiding audiences to wade through the mass to find entertainment that is well-made, meaningful and that helps open their world up a little bit – exactly aligned with Hollywood Insider.