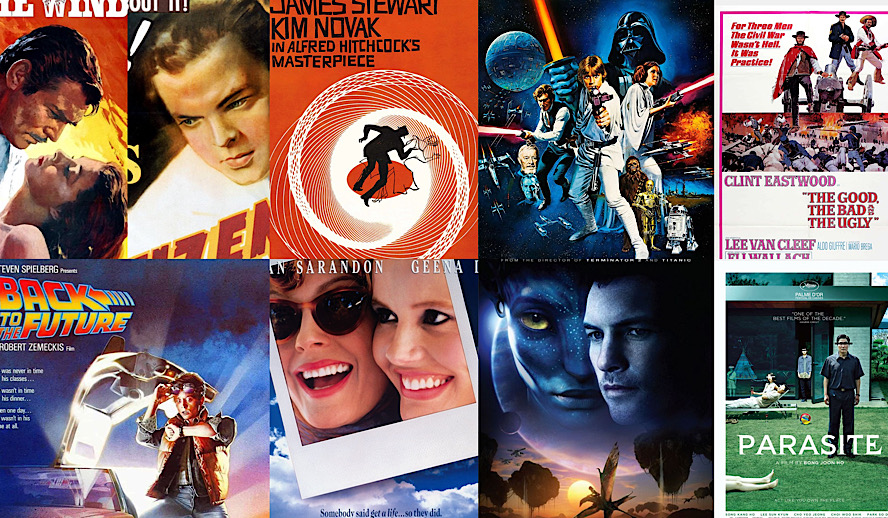 Photo: Best Movies
With all the content that's been produced in the last century, it's difficult to pin down a single film each decade that truly stands out from the others of that decade. But money talks, and by assessing reviews, Oscar nominations, box office earnings, and the current perception of the film's content, one can take an educated guess at what the best movie was. The cultural impact of the film plays a large role in the way history views its prominence.    
Please remember that this is an INDIVIDUAL's perspective. 
Related article: Oscar Snubs: The Top 10 Actors Ignored By Oscars for Best Actor & Best Actress Awards
Related article: 2020 Best Films – Less Tentpole Blockbusters and More Independent Smaller Budget Films
Best Movies From Each Decade
Victor Fleming's masterpiece 'Gone With the Wind' broke the box office when it became the highest-grossing film of the 1930s in 1939. Respect for the film has certainly declined in recent years, understandably so, because there is troubling, racist, subject matter in relation to the time period and place the film is set in. Still, the imprint this film left on Cinema and general audiences alike was enormously powerful. Barbara O' Neil and Clark Gable steal the spotlight in this film, and when adjusted for inflation, still holds the top spot for highest-grossing movie of all time. George Cukor and Sam Wood made uncredited directing contributions, and Sidney Howard wrote the screenplay based on Margaret Mitchell's story of the 'Old South'. This was at the tail end of the Great Depression also, so the fact that people were flocking to see this movie under such horrendous economic conditions shows the uplifting power Cinema can have, and how it can cheer an entire nation up.
Related article: MUST WATCH – Hollywood Insider's CEO Pritan Ambroase's Love Letter to Black Lives Matter – VIDEO
Subscribe to Hollywood Insider's YouTube Channel, by clicking here. 
Orson Welles' masterpiece 'Citizen Kane' came out in 1941 and was not positively received at first, but grew to become the iconic film it is today. Co-written with Herman J. Mankiewicz, who David Fincher just made a film about, this film still stands as one of the greatest films made of all time. With the powerful themes of happiness, wealth, ethics, and power, this compact story still fascinates current audiences. 
The 1950s:
'
Vertigo
' (1958)
From incredible camera techniques such as the dolly zoom, to edge-of-your-seat suspense that audiences weren't used to before, Alfred Hitchcock came into the industry like a bull in a China shop and pioneered the thriller and suspense genre in a way no other filmmaker has to date. The brilliant Kim Novak and James Stewart are the leads in this film, and they deliver extraordinary performances that truly push this film to be the extremely high quality it is. Written by Alec Coppel and Samuel A. Taylor, and based on a novel by Pierre Boileau and Thomas Narcejac titled 'D'Entre Les Morts', Hitchcock employed his most defining Cinematic traits to bring this story to life. The success of this film would propel Hitchcock to churning out hit after hit for the duration of his entire career. 
Related article: The Power of Positivity: Ikorodu Bois + Chris Hemsworth + Russo Brothers + Sam Hargrave
Limited Time Offer – FREE Subscription to Hollywood Insider
Click here to read more on Hollywood Insider's vision, values and mission statement here – Media has the responsibility to better our world – Hollywood Insider fully focuses on substance and meaningful entertainment, against gossip and scandal, by combining entertainment, education, and philanthropy. 
Directed by Sergio Leone, this film has since become the quintessential Western. With Ennio Morricone's incredible composition accompanied by the gritty performances by Clint Eastwood, Eli Wallach, and Lee Van Cleef, there is not a moment of this film that isn't engrossing. Written by Sergio Leone himself along with Agenore Incrocci, Furio Scarpelli, and Luciano Vincenzoni, the story is gripping, with many Westerns following the model this film is created.  
The 1970s:
'
Star Wars
' (1977) 
The movie that spawned the largest and most dedicated fanbase and largest franchise in film history. There had never been such a creative and original science fiction feature such as George Lucas's multi- billion-dollar idea, which has continued to dominate pop culture ever since its 1977 release. With a unique screenplay following the hero's journey structure, Mark Hamill, Carrie Fisher, James Earl Jones, Harrison Ford, Peter Mayhew, Anthony Daniels, and Kenny Baker brought the most legendary and now recognizable characters to life. Of course, the movie wouldn't have been what it was without the incredible special effects team, editors, costume and set designers, etc. With dozens of movies, shows, toys, apparel, and even its own exclusive part of an amusement park, 'Star Wars' changed Cinema forever and has enchanted hundreds of millions of fans across the globe for the past five decades.    
Related article: Hollywood Insider's CEO Pritan Ambroase: "The Importance of Venice Film Festival as the Protector of Cinema"
Related article: The Masters of Cinema Archives: Hollywood Insider Pays Tribute to 'La Vie En Rose', Exclusive Interview with Director Olivier Dahan
From the incredible special effects, original concept, to immediately captivating characters, Robert Zemeckis's 'Back to the Future' is as close to Cinematic perfection as a filmmaker can get, especially for the time of the film's release. The three-act traditional structure, genre-mixing, and rhythmic pace of the movie charmed general audiences that were hungry for something fresh after hits like 'Star Wars' and 'The Terminator', something that satisfied the high and heavy impacts from that era's Cinema. 'Back to the Future' stands strongly on its feet as a masterpiece, and is as easy to enjoy today as it was to audiences over forty years ago. Starring Michael J. Fox, Christopher Lloyd, and Lea Thompson, with writing credits from Robert Zemeckis and Bob Gale, this film went on to get nominated for four Oscars and won one. 
This landmark film was ahead of its time in many ways. There are a number of ways this film stands out from a technical perspective; such as the simplistic sets and character-driven story that would ultimately contribute to the Independent Film Movement of the 1990s. What makes it so transcendent and important to the 1990s, however, is the movie put a spotlight on toxic male behavior, sexual assault, and what it's like to be a woman that was being largely ignored in society, and though conversations have started and progress has been made, it's still very much ignored. The powerful and brilliant performances by Susan Sarandon and Geena Davis lead the character-driven story through a myriad of highs and lows and rounds out to be a dark coming-of-age story with a truly thought-provoking message, and an impactful theme that still remains relevant. The writer, Callie Khouri, and the director, Ridley Scott, did a remarkable job at steering the movie where it needed to go, and all the people involved in the making of the film deserve applause.  
Related article: The Films with the Best Dialogues
Related article: Why the Year 2017 Cinema Was The Best in The Decade
The 2000s
: '
Avatar
' (2009)
The story of James Cameron's 'Avatar' is a rich classic tale about species fighting each other for dominance, a timeless tale to say the least. It held the top spot for the highest-grossing movie of all time for a long time before that spot recently got snagged by 'Avengers: Endgame', but remains close to the top of the list. What really makes this movie the quintessential 2000s movie, and why it beats out 'Iron Man' are some of the other more artist postmodern films is because it represents how large the Blockbuster had truly gotten, and what enamored audiences more than anything up to that date. As digital editing became more popular in the film industry, the possibilities of visual effects expanded by a tremendous amount. 'Avatar' surpassed that precedent and dazzled audiences globally by creating such a unique world and employing innovative editing techniques with avant-garde visual effects. Sam Worthington and Zoe Saldana played the two leads in the film, and the rest of the cast and crew went on to get nominated for several Oscars and won three. 
The 2010s:
'
Parasite
' (2019)
Writer and Director Bong Joon-Ho's film will be discussed and studied for generations. A work of art, a true original emblem to such a socioeconomically and culturally wild time in history, and a message that resonated with audiences internationally. This genre-bending, symbolic tale about a poor family that's able to con their way into wealth is immensely dense with powerful universal truths and statements, in addition to postmodern Cinematic techniques with poetic imagery and unorthodox structural devices. The groundbreaking film also made history by becoming the first non-English-speaking movie to win the Best Picture Oscar
Click here to read Hollywood Insider's CEO Pritan Ambroase's love letter to Black Lives Matter, in which he tackles more than just police reform, press freedom and more – click here.
An excerpt from the love letter: Hollywood Insider's CEO/editor-in-chief Pritan Ambroase affirms, "Hollywood Insider fully supports the much-needed Black Lives Matter movement. We are actively, physically and digitally a part of this global movement. We will continue reporting on this major issue of police brutality and legal murders of Black people to hold the system accountable. We will continue reporting on this major issue with kindness and respect to all Black people, as each and every one of them are seen and heard. Just a reminder, that the Black Lives Matter movement is about more than just police brutality and extends into banking, housing, education, medical, infrastructure, etc. We have the space and time for all your stories. We believe in peaceful/non-violent protests and I would like to request the rest of media to focus on 95% of the protests that are peaceful and working effectively with positive changes happening daily. Media has a responsibility to better the world and Hollywood Insider will continue to do so."
Ways to support Black Lives Matter Movement to end systemic racism
– Do you know the hidden messages in 'Call Me By Your Name'? Find out behind the scenes facts in the full commentary and In-depth analysis of the cinematic masterpiece
– A Tribute To The Academy Awards: All Best Actor/Actress Speeches From The Beginning Of Oscars 1929-2019 | From Rami Malek, Leonardo DiCaprio To Denzel Washington, Halle Berry & Beyond | From Olivia Colman, Meryl Streep To Bette Davis & Beyond
– In the 32nd Year Of His Career, Keanu Reeves' Face Continues To Reign After Launching Movies Earning Over $4.3 Billion In Total – "John Wick", "Toy Story 4", "Matrix", And Many More
best movies, best movies, best movies, best movies, best movies, best movies, best movies, best movies, best movies, best movies, best movies, best movies, best movies, best movies, best movies, best movies, best movies, best movies, best movies, best movies, best movies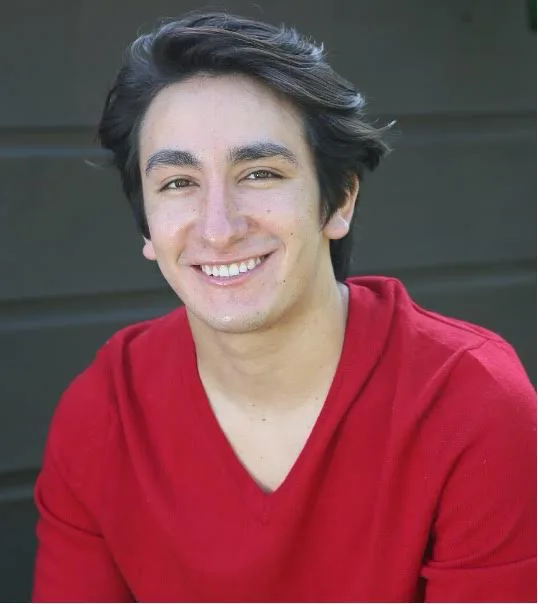 Armando Brigham is a writer, comedian, and actor who blends his adoration of film & TV with his passion for writing. Armando has a keen interest in the powerful impact art and entertainment can make. He sets out to write features and reviews full of honesty, encouragement, and vigor, which is why he's writing for the Hollywood Insider, a place that champions facts, quality writing, and building art up.