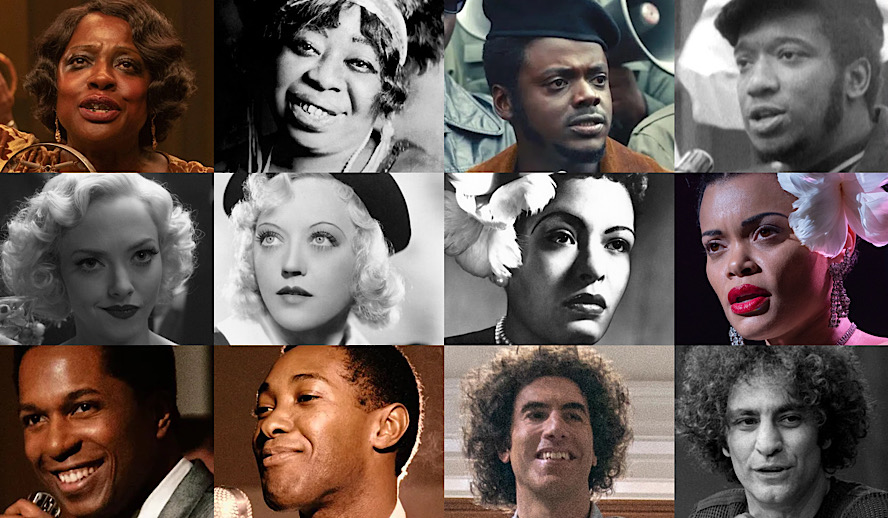 Video Version of this Article
Photo/Video: Oscar Nominated Performances/Hollywood Insider YouTube Channel
Over the years many Oscars have been won for portrayals of real-life people. Renée Zellweger won Best Actress in 2020 for playing Judy Garland. In 2019, Rami Malek won for his role as Queen frontman Freddie Mercury and Mahershala Ali won for playing piano maestro Dr. Don Shirley. This year, eight of the 20 acting nominees are nominated for their portrayals of real-life figures: Billie Holiday, Ma Rainey, Herman J. Mankiewicz, Marion Davies, Sam Cooke, Fred Hampton, William O'Neal, and Abbie Hoffman. 
Related article: Oscars 2021 Winners: The 93rd Show With Record-Breaking Historic Successes, Shocks and Surprises
Related article: A Tribute To The Academy Awards: All Best Actor/Actress Speeches From The Beginning Of Oscars 1929-2019 | From Rami Malek, Leonardo DiCaprio To Marlon Brando & Beyond | From Olivia Colman, Meryl Streep To Bette Davis & Beyond
Here are the 8 Real-Life Figures Behind Oscar Nominated Roles: 
Billie Holiday – Andra Day 
Billie Holiday was a renowned American jazz and swing singer who became a staple for her musical improvisational skills. One of the most notable songs she performed throughout her career was "Strange Fruit" which is the song that made her commercially successful but also created much controversy. The controversy surrounding "Strange Fruit" led to many legal problems for Holiday and is the subject of Andra Day's Best Actress-nominated performance in 'The United States vs. Billie Holiday'. 
'The United States vs. Billie Holiday' is about the U.S. government's attempts to stop Holiday from singing "Strange Fruit", a song about the lynching of Black people, by weaponizing her heroin addiction to arrest her several times as a way to punish her for performing the song. She was imprisoned twice for this and the FBI, who had been after her for singing "Strange Fruit" since 1939, attempted to arrest her a third time in 1959, but was unable to since she was hospitalized for a failing liver and ultimately died not long afterward. 
While the film itself was mediocre, Andra Day truly embodied and transformed into Holiday. Even before she started to prepare for the role, she has been influenced by the late music legend, with the "Day" part of her stage name "Andra Day" from Holiday's nickname "Lady Day".
Related article: Oscar Buzz | Andra Day Is Astounding in the Not So Astounding 'The United States vs. Billie Holiday'
Related article:  What Is an Oscar Bait Film? How to Be Nominated for and Win an Academy Award
To become Billie Holiday, Day said, "I studied the diction, lost the weight, took up the drinking and the smoking, and… and other things as well." She also said preparing and taking on this role was extremely difficult, saying, "Like, it was the hardest thing I have ever had to do in my life. But it changed me in an amazing way. It was fun. I loved every moment of this. Even the worst moments, even the most painful moments, it was a lesson in filmmaking. It was a lesson in making art, a lesson in authenticity and bravery." 
Ma Rainey – Viola Davis
Ma Rainey, also known as "Mother of the Blues", was a legendary blues singer who helped bridge and blend vaudeville and southern blues performances together. She began performing as a teenager and made eight recordings before her death in 1939. The film 'Ma Rainey's Black Bottom' is a fictionalized account of the recording of the titular song based on the play of the same name by August Wilson. 
Related article: A Tribute to August Wilson: Breath and Life of American Artistry, Writer of 'Ma Rainey's Black Bottom'
Viola Davis put herself through quite a physical transformation to become Ma Rainey for what has become her Oscar-nominated role for Best Actress. She gained weight and wore a fat suit to better embrace the singer's stature, saying, "As soon as I put the padding on I felt more sexual. I felt like I owned my body!" 

When talking about her role she said, "Transformation is exciting in acting. It's great to be in someone else's skin—it just is. There's a sense of confidence with her because she owned her sexuality—she was a bisexual woman—and she was a leader. She had her own band that she paid, and she was an entrepreneur in 1927, Jim Crow America." 
Related article: Oscar Buzz – 'Ma Rainey's Black Bottom': Magic Beneath the Surface as Viola Davis and Chadwick Boseman Electrify
Related article: A Tribute to Viola Davis: The Powerhouse Champion of Excellence
Herman J. Mankiewicz – Gary Oldman 
Herman J. Mankiewicz was a Hollywood screenwriter from 1926 until 1952. He worked on notable projects such as 'The Wizard of Oz' and is most famous for writing the screenplay for what is arguably the greatest movie of all time: 'Citizen Kane'. The period where he was writing that Best Original Screenplay winner is the subject of the Best Picture nominee 'Mank' for which Gary Oldman is nominated for his portrayal of Mankiewicz. 
To help prepare for the role, Oldman was given a copy of the original screenplay for 'Citizen Kane', saying, "Well, I was lucky because I had access to the original script which was called The American…  I was privy to, you know, this material, having the privilege of working on the production, and you get to read these things that the public doesn't have access to. So, I read the 325-page first draft." 

Much like Davis, Oldman also put on weight to play the legendary screenwriter. When talking about the transformation, he said, "With Mank, apart from one or two photographs of him, no one really knows kind of what he looks like. But someone that unhealthy- I don't know what his diet was but I can imagine, and he smoked probably two packs of cigarettes a day, and was a whisky drinker- so I just wanted to get kind of that sort of belly and then you get a sense." 
Related article: MUST WATCH – Hollywood Insider's CEO Pritan Ambroase's Love Letter to Black Lives Matter – VIDEO
Subscribe to Hollywood Insider's YouTube Channel, by clicking here. 
Marion Davies – Amanda Seyfried
Marion Davies was an actress on the stage and screen from 1914 through 1937. She appeared in Broadway shows such as 'Ziegfeld Follies' but transitioned to mainly film work not long after that. One of her most notable roles however was not one she actually portrayed but rather one she was supposedly the inspiration for: Susan Alexander in 'Citizen Kane', a role which created a less-than-favorable impression of the career of the late actress and tarnished her legacy. 
In the film 'Mank', for which Amanda Seyfried is nominated for Best Supporting Actress, Marion Davies appears periodically throughout as a connector for Mankiewicz to meet key figures in his journey to writing 'Citizen Kane'.
To prepare for the role and get Davies' voice correct, Seyfried said, "[I] watched Marion Davies a lot…The last thing I wanted to do was the cadence and the kind of frequency they had… I didn't want to imitate anybody and I wanted it to feel grounded and I was like 'how am I going to fit in?' But I got to do the accent, the New York accent." 
Related article: The Power of Positivity: Ikorodu Bois + Chris Hemsworth + Russo Brothers + Sam Hargrave
Limited Time Offer – FREE Subscription to Hollywood Insider
Click here to read more on Hollywood Insider's vision, values and mission statement here – Media has the responsibility to better our world – Hollywood Insider fully focuses on substance and meaningful entertainment, against gossip and scandal, by combining entertainment, education, and philanthropy. 
Sam Cooke – Leslie Odom Jr. 
Sam Cooke was a singer, songwriter, and entrepreneur in the 1950s and 1960s who also had the moniker "King of Soul". He was known best for his influence in shaping pop music and being active with the Civil Rights Movement. He was also known for being friends with boxer Cassius Clay (also known as Muhammad Ali), football player-turned-actor Jim Brown, and Civil Rights activist Malcolm X, and one particular gathering between these four is the subject of the film 'One Night in Miami…'. 
The film follows a night these four icons shared in a Miami motel room after Clay became the World Heavyweight Champion. No one actually knows what they discussed during that time so screenwriter Kemp Powers wrote what he imagined they would have done that night, a night made all the more poignant when you remember that Sam Cooke would be murdered in December of that year and Malcolm X assassinated a couple of months after. 
Leslie Odom Jr. received an Oscar nomination for Best Supporting Actor for his spot-on performance of Sam Cooke. When asked about the research he did for the role, Odom said, "I had never had to do that before. I'd never had to adhere so closely to my research… So it's really about finding the humanity, locating the human in your being, and having the courage to present that. And if you can come close to that, you can come close to eliciting people's empathy."

He continued by saying, "There is no footage. There is no real record of what was talked about in the room where it happened, as it were. There is no record of that, and so we could take a leap of the imagination. You bring all the research, you assimilate all that research within yourself, and then you make some art. You use your imagination, and you imagine, "What if? Could this be what they talked about? What if they had pressed each other in this way?"
Related article: Hollywood Insider's CEO Pritan Ambroase: "The Importance of Venice Film Festival as the Protector of Cinema"
Related article: The Masters of Cinema Archives: Hollywood Insider Pays Tribute to 'La Vie En Rose', Exclusive Interview with Director Olivier Dahan
Fred Hampton – Daniel Kaluuya
Fred Hampton was an activist during the Civil Rights movement, best known for being the chairman of the Illinois chapter of the Black Panther Party. He worked to create social change in Chicago through creating the Rainbow Coalition which sought to unite multicultural groups to help reduce infighting on the streets. He was assassinated in December of 1969 at the age of 21 by the FBI because they saw him as a threat due to the rate he was "radicalizing" people in Chicago. The last few months of his life is the focus of the film 'Judas and the Black Messiah' and Daniel Kaluuya's Oscar-nominated performance.
Kaluuya did a lot to prepare for the role of this political leader, saying, "I think there was a tipping point when I went to Chicago by myself for a week. That was the tipping point [in my research process]. I would not call it more important than anything else [I did to prepare], because I think everything is as important, even small details, but it was a tipping point in terms of, 'Cool, I feel I am in here.' I needed to get into that space and just completely focus on him for a week in order to sit in a certain position and be the vessel that I'm aspiring to be."

He also said that figuring out how to speak like Hampton was difficult: "I looked for people that sound similar to chairman Fred and just there were none; he has a very distinct way of speaking, and I just had to focus on him. If speech really is a window into how you think, I needed to get into his thinking to be able to move in a space of his speech. Why does this rhythm make sense? Why am I saying this? How are the new thoughts igniting from the thought before – igniting in a different way? Which is why you're speaking that way."
Related article: Oscar Buzz | David Fincher's 'Mank' is a Captivating Origin Story of One of the Greatest Movies of All Time
Related article: One Night in Miami Review: A Microscopic Look at Histories Grandest Heroes; Regina King's Directorial Debut is Stunning 
William O'Neal – LaKeith Stanfield
William O'Neal was an FBI informant who infiltrated the Black Panther Party in Chicago. His intel was key in orchestrating the assassination of Fred Hampton in 1969 and sent him into witness protection when his involvement was revealed in 1973. He died at the age of 40 in a car accident and he was said to have been wracked with guilt ever since working with the FBI. His time as an informant is the base for the plot of 'Judas and the Black Messiah'. 
LaKeith Stanfield is nominated alongside his co-star Daniel Kaluuya in Best Supporting Actor for his turn as O'Neal (which does beg the question of who the Oscar nominators thought the lead of the movie was if both of the leads were nominated under supporting).
To take on this controversial figure, Stanfield said, "I had to wrestle with the contentions that I had in order to play O'Neal as a human being. O'Neal did some things that I found reprehensible, but I had to find a way to connect to his humanity. What made him make these decisions at these crossroads? What were the things that he was triggered by, that he'd been through, that I could bring to the forefront? I had to understand him as an overall being, rather than the archetype of a villain character." 
Related article: 'Judas and the Black Messiah': The Panther Party Rears Revolutionaries | Oscar Buzz
Related article: Why Noname Turned Down the "Judas and the Black Messiah" Soundtrack | Whitewashing Black History
Abbie Hoffman – Sacha Baron Cohen
Abbie Hoffman was a social justice activist and co-founder of the Youth International Party. He was a very prominent figure in the opposition of the Vietnam War which led to his arrest and being charged with intent to cross state lines and incite a riot after participating and assisting with organizing the anti-war protests outside of the 1968 Democratic Convention. The group he was arrested with is best known as the Chicago Seven who are the focus of the film 'The Trial of the Chicago 7'. 
Sacha Baron Cohen, who portrays Hoffman in the film, said, "I just found him this incredibly funny charismatic character who underneath it all was amazingly courageous. He was ready to give his life to fight injustice. So I needed to play him… He realized the power of humor in being able to challenge certain things he found immoral in society. He was always saying 'we need to go where the cameras are.'" 
Related article: 'The Trial of the Chicago 7': History Repeats Itself in Aaron Sorkin's Salient Masterpiece
Related article: Sacha Baron Cohen: 32 Facts on the King of Disguises and Pranks
Cohen had a unique challenge when preparing to play Hoffman since he was simultaneously in pre-production for 'The Trial of the Chicago 7' and shooting the new 'Borat'. He said this was challenging because "while I was shooting 'Borat' during the days, at night I was learning the dialect of Abbie with this incredible dialect coach called Tim Monich, who I met on the set of Scorsese's 'Hugo'. And so, I was, you know, trying to–you know, it's an Aaron Sorkin movie, so you have to be perfect down to every comma and full stop. And so, I was, you know, trying to make sure that script was completely innate, trying to study Abbie and learn him and research him at night, and during the day shooting 'Borat', and obviously, rewriting that script at the same time.
So, it was–that period there was really hard. Then, when I actually got to Chicago, I could fully focus on Abbie Hoffman and yeah, it was challenging, because Abbie has his own set of challenges…. So, you know, I wasn't trying to do an impersonation of him, but I felt, to do–to give him credit and his legacy and those who survived him credit, I had to at least know him completely before trying to inhabit my version of him on set." 
Hope you all get to watch these incredible actors playing these incredible powerhouses known as icons. 
Click here to read Hollywood Insider's CEO Pritan Ambroase's love letter to Black Lives Matter, in which he tackles more than just police reform, press freedom and more – click here.
An excerpt from the love letter: Hollywood Insider's CEO/editor-in-chief Pritan Ambroase affirms, "Hollywood Insider fully supports the much-needed Black Lives Matter movement. We are actively, physically and digitally a part of this global movement. We will continue reporting on this major issue of police brutality and legal murders of Black people to hold the system accountable. We will continue reporting on this major issue with kindness and respect to all Black people, as each and every one of them are seen and heard. Just a reminder, that the Black Lives Matter movement is about more than just police brutality and extends into banking, housing, education, medical, infrastructure, etc. We have the space and time for all your stories. We believe in peaceful/non-violent protests and I would like to request the rest of media to focus on 95% of the protests that are peaceful and working effectively with positive changes happening daily. Media has a responsibility to better the world and Hollywood Insider will continue to do so."
Ways to support Black Lives Matter Movement to end systemic racism
More Interesting Stories From Hollywood Insider
– Want GUARANTEED SUCCESS? Remove these ten words from your vocabulary| Transform your life INSTANTLY
– Compilation: All James Bond 007 Opening Sequences From 1962 Sean Connery to Daniel Craig
– Do you know the hidden messages in 'Call Me By Your Name'? Find out behind the scenes facts in the full commentary and In-depth analysis of the cinematic masterpiece
– A Tribute To The Academy Awards: All Best Actor/Actress Speeches From The Beginning Of Oscars 1929-2019 | From Rami Malek, Leonardo DiCaprio To Denzel Washington, Halle Berry & Beyond | From Olivia Colman, Meryl Streep To Bette Davis & Beyond
– In the 32nd Year Of His Career, Keanu Reeves' Face Continues To Reign After Launching Movies Earning Over $4.3 Billion In Total – "John Wick", "Toy Story 4", "Matrix", And Many More
oscar, oscar, oscar, oscar, oscar, oscar, oscar, oscar, oscar, oscar, oscar, oscar, oscar, oscar, oscar, oscar, oscar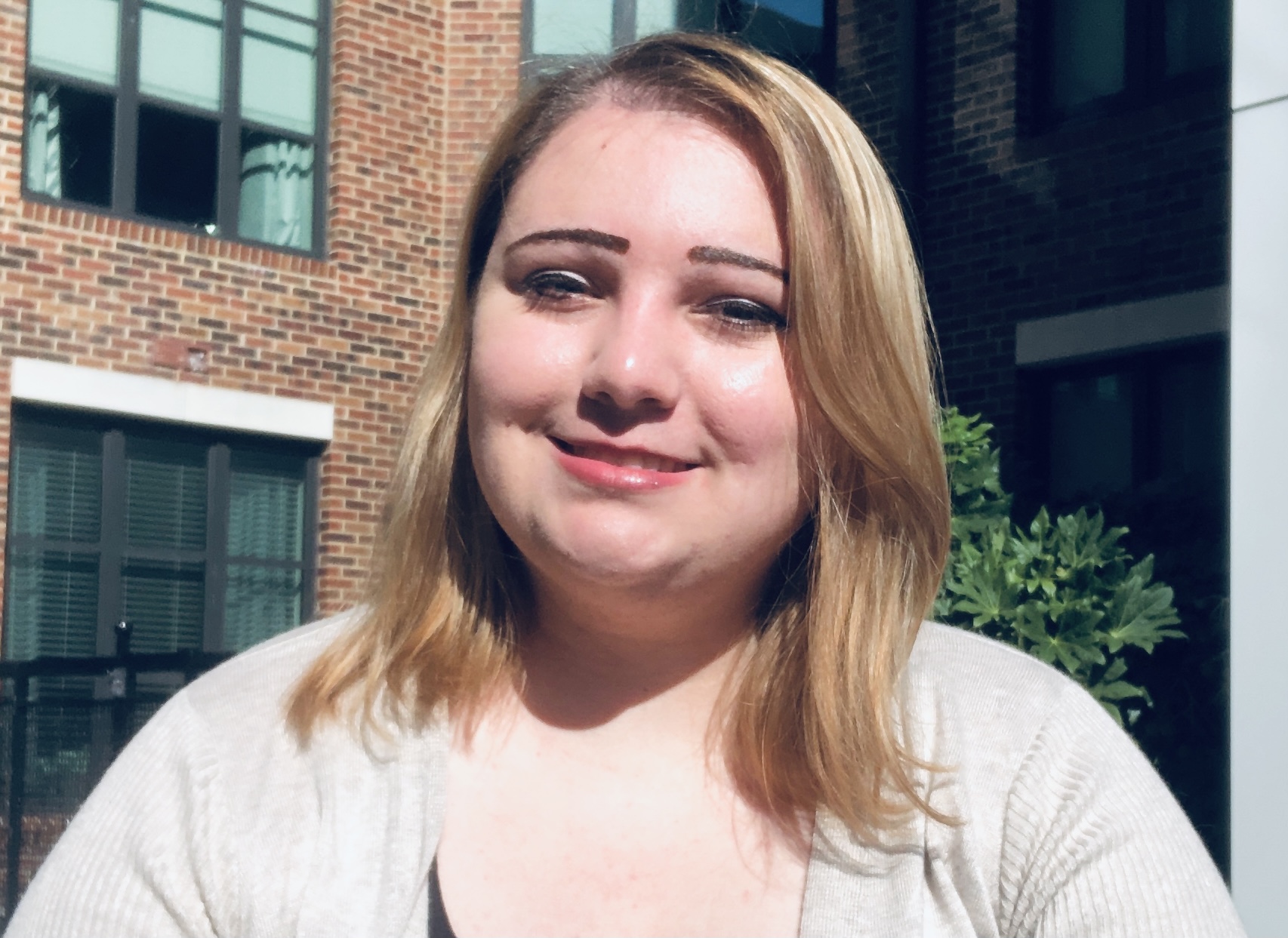 Caroline Schneider has  always had a fascination with television and film. She revels in analyzing and writing about her favorite television shows and movies while looking for the greater meaning within Cinema. Finding the elements that really make people think about deeper messages and trends – which is exactly what Hollywood Insider continues to do.