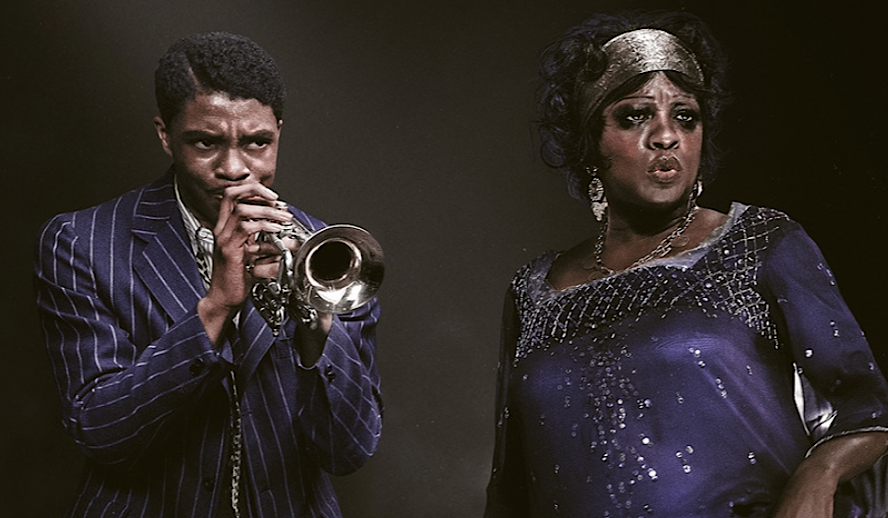 Photo: 'Ma Rainey's Black Bottom'/Netflix
The highly anticipated film adaptation of August Wilson's Pulitzer winning 'Ma Rainey's Black Bottom' is finally here. Following the story of one of America's first professional singers, Ma Rainey's Black Bottom uses the "Mother of Blues" as a vehicle to depict Black American life in the early 20th century. The film hints that Ma and her band have seemingly found a bypass from the social immobility most Black Americans faced during the 1920s. 
The movie details a dramatic recording session of "Madame Gertrude Rainey and Her Georgia Smart Sets", comprised of Ma Rainey (Viola Davis) and her instrumentalists Cutler (Colman Domingo), Toledo (Glynn Turman), Slow Drag (Michael Potts), and Levee (Chadwick Boseman). 
Filmed in August Wilson's hometown of Pittsburgh, Pennsylvania, the story is the only play from Wilson's Century Cycle written outside the steel city. Helmed by Viola Davis playing the title character, the film's backbone isn't just in its masterful acting, but also its musicality. 
Related article: A Tribute: The Inspiring Life of Chadwick Boseman, Passing the Torch
Related article: Must Watch: 'They've Gotta Have Us' Beautifully Chronicles Black Hollywood's Progress
'Ma Rainey's Black Bottom' – A Deeply Layered Story
"What's the colored man gonna do with himself? That's what we're waiting to find out… But first he's got to know that he's a leftover."
Black Bottom tells a story symbolic of the African American experience in early 20th century America, a time filled with hatred, racism, and persecution toward the Black community—systemic racism that unfortunately continues to prevail to this day, nearly 100 years after the story's setting. The film features scenes involving Black communities moving out west in search of work, intimidated by the white working class, and other subtle and tense race-related moments. Although Black Bottom, on paper, is billed as a relatively simple story about a group of musicians getting together for a brief recording session at a Chicago studio, the narrative's underlying themes—which end up dominating the film's runtime, dwarfing the actual music in the process—turn out to be the film's actual focal points. Its main characters often reflect on their respective Black experiences of living in America, a country that continually threatens their well-being —whether financial, emotional, or simply toward their very existence. The film's layered, dialogue-fueled scenes really do make the viewer feel like they're watching a Broadway-quality play at home, resulting in a wonderfully unique experience. 
"​​The score is by jazz legend Branford Marsalis, while the tunes that Ma Rainey sings are from her own catalog" Thrillist claims. They continue to discuss how Davis doesn't actually sing— the booming voice you'll hear in the film is from Maxayn Lewis, a vocal powerhouse that embeds new life into the nearly century-old lyrics.
When we're first introduced to the cast they're dressed elegantly and wielding pristine instruments. However, the film's magic isn't in Ma's glitz and glamour, but rather the screeching flames swelling beneath the surface. 
Related article: MUST WATCH – Hollywood Insider's CEO Pritan Ambroase's Love Letter to Black Lives Matter – VIDEO
Subscribe to Hollywood Insider's YouTube Channel, by clicking here. 
"Its What Ma Say that Count"
Before Ma arrives at the rehearsal studio, confusion runs amuck as characters struggle to decide on a version of the title song 'Ma Rainey's Black Bottom'. The gravitas of her entrance is supported by the vacuum left in her absence, and the power she exudes when she finally appears. Many characters attempt to get in Ma's way, some even going behind her back, but in the end, Ma is a master at getting her way and especially getting her due.
Davis reminds audience members of her mastery in her almighty depiction of Rainey. Studded with a gold necklace, gilded teeth, and smeared eyeliner, Davis fuses Ma's omnipotence into her cells. She's supreme; there was no other casting choice better than the queen of acting to portray one of America's brightest hidden gems.
Ma Rainey – A Shakespearean King 
Playing the film's titular character, Ma Rainey, Viola Davis completely transforms herself into the troubled "Mother of the Blues"—arguably producing the film's strongest performance. Davis is a tour-de-force and effortlessly embodies her character's unflinching, artistic process and quiet dignity, demanding respect from everyone around her—especially those who are white, male, and in possession of power. Full of raw talent and unapologetic for her craft, Rainey is a deeply complex, troubled, and multi-layered character, all of which Davis nails perfectly.
Related article: The Power of Positivity: Ikorodu Bois + Chris Hemsworth + Russo Brothers + Sam Hargrave
Limited Time Offer – FREE Subscription to Hollywood Insider
Click here to read more on Hollywood Insider's vision, values and mission statement here – Media has the responsibility to better our world – Hollywood Insider fully focuses on substance and meaningful entertainment, against gossip and scandal, by combining entertainment, education, and philanthropy. 
Born Gertrude Pridgett in 1886 and later nicknamed Ma Rainey after marrying Will "Pa Rainey" in 1904, the singer is one of the first African Americans to be signed to the record label Paramount. Throughout Davis' performance is the theme of getting what's due. There is a litany of times where Ma puts the entire rehearsal on pause (to much dismay of her white manager and producer, Irvin and Sturdyvant respectively) for something simple like a promised Coca-Cola. In one of the many monologues, Wilson is famous for, Rainey describes how white people don't care about who she is as a person, all they want is her voice. The artistry in which Davis has crafted Rainey and the mammoth platform the movie was given is a dedication to the hidden history early Black artists had of fighting for their worth.
As jazz and other more upbeat music styles began to grip America's interest, blues legends like Ma Rainey went uncherished. Chicago Whispers: A History of LGBT History Before Stonewall, illustrates how even in her death she went unrecognized: "an obituary in the local paper described the blues singer and businesswoman as a 'housekeeper". 
The movie also shamelessly showcases Ma's queerness, something that was vibrant in her music. "I went out last night with a crowd of my friends/ It must've been women, 'cause I don't like no men/ Wear my clothes just like a fan/ Talk to the gals just like any old man". 
In the end, there's no better marriage than Wilson and the blues. While Viola's performance is almighty, a great lead is only as great as the cast around her, and boy did Viola have legendary support.
Related article: Hollywood Insider's CEO Pritan Ambroase: "The Importance of Venice Film Festival as the Protector of Cinema"
Related article: The Masters of Cinema Archives: Hollywood Insider Pays Tribute to 'La Vie En Rose', Exclusive Interview with Director Olivier Dahan
"What you all say don't count with me, you understand? Ma listen to her heart. Ma listen to the voice inside her. That's what count with Ma."
Davis's performance is at times reminiscent of a Shakespearean king, a character yielding great power and influence over her people and surroundings, a power that threatens to be revoked from her at any moment—akin to a ticking-time-bomb waiting to detonate, or a crumbling castle threatening to give way. Frustrated by Levee's youth and wild-natured habits, Rainey fights against the threatening tide of change in the music industry, repeatedly butting heads with Levee's rebellious showmanship and his jazzier, upbeat tempos.
"They don't care nothing about me. All they want is my voice… They gonna treat me the way I want to be treated, no matter how much it hurts them."
Much like Levee, Rainey is a deeply complex character, repeatedly challenging the viewer with her unapologetic attitude toward everyone around her, making us question whether she's a villain or truly the misunderstood and underappreciated artist she claims to be. Davis's rendition has her character sweat and sigh as she grapples to maintain her hard-fought power in the music industry, her running makeup seemingly symbolizing the crumbling dominance and fatigue of a larger-than-life artist. 
Related article: EVOLUTION: Every Chadwick Boseman Role From 2003 to 2020, All Performances Exceptionally Poignant
Related article: A Reflection on Chadwick Boseman's 'Black Panther', a Gift to the World and Its Children
Rainey is most comfortable when singing or talking about music—her only true reprieve from the unfairness and difficulties of life, an outlook that's also shared by the majority of the film's characters. Rainey understands her worth and value in the industry, fully aware that her sole power lies in her voice, which she cherishes dearly—all of which is masterfully personified by Davis's reserved presence on screen. 
Chadwick Boseman's Levee: Holding Back the Floodgates 
Featuring Chadwick Boseman's (Black Panther, Da 5 Bloods) final performance, August Wilson's adapted play—Ma Rainey's Black Bottom—is out now on Netflix. (Wilson is also known for writing Fences and is a two-time Pulitzer Prize-winning playwright.)
Chadwick Boseman delivers a powerful final performance on screen as Levee, a trumpet virtuoso. Boseman is full of vitality and life, and Levee is a fitting final character for a man who gave the world an electric vigor with every role he played. Although Levee is far more restless than Boseman seemed to be, their intersection lies in their battles beneath the surface. 
Related article: The Next Generation of Talented Young Black Actors to Rule Hollywood?
Related article: The Much Anticipated 'Small Axe' from Writer-Director Steve McQueen – Black Lives Matter
Serving as another devastating blow to an already turbulent year, Boseman tragically passed away from advanced colon cancer back on August 28th, 2020 at the age of 43, shocking both fans and colleagues around the world, many of whom weren't even aware of the actor's deteriorating health as The Black Panther star only told his closest circle about his condition. Known for his iconic roles as Black Panther, Jackie Robinson (42), and James Brown (Get on Up), Boseman's passing sent shockwaves throughout the entertainment industry. Not even producer Denzel Washington knew that Boseman was brawling with cancer on the set of Ma Rainey. 
"​​He kept it to himself. It was nobody's business. He was there to deliver and he delivered" Washington told CBS. Viola was also very vocal about the impact Boseman left on her in his passing: "I felt like he was always living in the moment, squeezing out every bit of life. What it makes me think is, it's not the quantity, it's the quality" she says to Yahoo Entertainment. 
Maybe this is why Boseman was able to play a man like Levee so well. Just as his name suggests, Wilson wrote Levee to a man with a lot of water behind his floodgates, and when they're released, the film soars to new heights.
Related article: Michael B Jordan's Career and Greatest Roles So Far
Related article: Idris Elba's 'Concrete Cowboy' is a Revolutionary Film – Coming Soon!
Levee is a wistful trumpet player with dreams of creating his own band and running things his way just like Ma. Through broken promises and dire circumstances, Levee pushes to get his due. He's lived a grueling life, and where along the way he lost his faith in God and just about everything else, besides his instrument. His fight is deeper than wanting to be a star; in his grapple with getting what he's owed is an experiment on justice and if it works the same as it does for his white counterparts. Levee feels justice and the semblances of God abandoned Black people long ago; it's the birth of his rage. Although he seems like a bright-eyed trumpeter on the surface, masked by his wide smile is a metaphor for the nature of Black American opportunity. 
While Levee's story and Boseman's death may both seem tragic, in them both are messages about what life is truly about. Ma Rainey's Black Bottom sprinkles in tragedy, but it's certainly matched by its understanding of the joy it is to be Black and alive. Ma Rainey's Black Bottom is proof that Chadwick Boseman will live on in his art and continue to assume new beautiful forms.
Related article: The Rise of Idris Elba: A Tribute to the Path-Breaking Leading Man
Related article: 'Green Book': Can White Filmmakers Make Films on Black Stories Truthfully?
Chadwick Boseman Gives an Electrifying Performance
Black Bottom arguably faced significant expectations due to the fact that it features Boseman's final performance. Despite these high expectations and the bittersweet sadness of seeing Boseman playing on the screen for the last time, the late actor ends up completely dominating the screen with his presence—providing an arguably Oscar-worthy performance for his rendition of the troubled character Levee. Boseman's presence is electrifying, immediately pulling the viewer in with his layered and fully-committed performance, realistically conveying the fears, aspirations, and heartache associated with Levee's character. Boseman's monologues alternatively elicit laughter and tears from the viewer, and the actor masterfully embodies his character's strengths and weaknesses, producing a genuinely moving experience. Levee's monologues often challenge God, religion, and the terror of death itself—inadvertently producing an especially haunting performance from Boseman, due to his real-life struggles with cancer during Black Bottom's filming, and his tragic and subsequent death thereafter.
A Stellar Ensemble
Cast and Crew
Featuring strong supporting performances from Colman Domingo (Euphoria, Selma), Glynn Turman (Fargo), Michael Potts (True Detective, The Wire), and Taylour Paige (Ballers), Black Bottom is a tour-de-force—boasting deeply moving performances, beautiful visual imagery, dazzling props, costumes, and set designs, and strikingly emotional song numbers. Co-produced by Denzel Washington—who famously helped jump-start Bosman's illustrious acting career—Netflix's latest adaptation is a well-crafted masterpiece.
Related article: Oprah Winfrey: 32 Facts on the Queen of Hollywood and Most Inspiring Media Mogul
Related article: A Tribute to Shonda Rhimes: How the Most Successful Showrunner Came into Power
A Must-Watch for Every Netflix Subscriber
Ma Rainey's Black Bottom not only serves as an undeniably strong addition to Netflix's library of films but boasts a masterful performance from Viola Davis and a deeply moving, final performance from Chadwick Boseman. Black Bottom will no doubt be a bittersweet experience for fans of the late actor, but it simultaneously serves as a fitting tribute to Boseman's illustrious career as well—highlighting the actor's raw talents, whether in acting, singing, or his ability to personify the human spirit. Simply put, it's a beautiful film that demands your attention and is sure to leave a long-lasting impression on its viewers. 
A Film Nestled with Artistry
There's a certain trust you can put into historically significant films when you know a Black writer and director are behind them. When contemporary flares seep through, like Ma's encounter with police early in the film, knowing that George C. Wolf directed this film puts audience members at ease. When you have Black leaders behind Black stories magic has a way of finding itself in the nooks and crannies of the picture.
Related article: Netflix Releases Their Best Animated Short Yet with the Beautifully Emotional 'Canvas'
Related article: The American Hero Stacey Abrams' 'And She Could Be Next': Perfect Primer to the 2021 Georgia Runoffs
Colman Domingo called the film an early Christmas gift in his Broadway.com roundtable with co-theatre legends Michael Potts and Glynn Turman. How fitting that a movie adapted from an August Wilson play be decorated with the likes of some of Black Broadway's most treasured talent. That's what this film becomes in the end: a reflection on the origins of Black entertainment and a redeclaration of our presence. 
Every day is a fight for Black actors, musicians, directors, and artists—no matter what status you hold— to get the recognition we've been robbed of. Ma Rainey's Black Bottom shows the fight the young and old have been through in the pursuit of promises like justice. The magic bestowed in the script comes forth when audience members of all ages can see the coalition of the past and present of Black artistry and beauty. 
'Ma Rainey's Black Bottom' is streaming now on Netflix.
By Tyler Bey and Les Almourzaev
An excerpt from the love letter: Hollywood Insider's CEO/editor-in-chief Pritan Ambroase affirms, "Hollywood Insider fully supports the much-needed Black Lives Matter movement. We are actively, physically and digitally a part of this global movement. We will continue reporting on this major issue of police brutality and legal murders of Black people to hold the system accountable. We will continue reporting on this major issue with kindness and respect to all Black people, as each and every one of them are seen and heard. Just a reminder, that the Black Lives Matter movement is about more than just police brutality and extends into banking, housing, education, medical, infrastructure, etc. We have the space and time for all your stories. We believe in peaceful/non-violent protests and I would like to request the rest of media to focus on 95% of the protests that are peaceful and working effectively with positive changes happening daily. Media has a responsibility to better the world and Hollywood Insider will continue to do so."
More Interesting Stories From Hollywood Insider
– Do you know the hidden messages in 'Call Me By Your Name'? Find out behind the scenes facts in the full commentary and In-depth analysis of the cinematic masterpiece
– A Tribute To The Academy Awards: All Best Actor/Actress Speeches From The Beginning Of Oscars 1929-2019 | From Rami Malek, Leonardo DiCaprio To Marlon Brando & Beyond | From Olivia Colman, Meryl Streep To Bette Davis & Beyond
– Why Queen Elizabeth II Is One Of The Greatest Monarchs | Her Majesty Queen Elizabeth II of United Queendom of Great Britain & Northern Ireland
– Compilation: All James Bond 007 Opening Sequences From 1962 Sean Connery to Daniel Craig
– In the 32nd Year Of His Career, Keanu Reeves' Face Continues To Reign After Launching Movies Earning Over $4.3 Billion In Total – "John Wick", "Toy Story 4", "Matrix", And Many More
– Want GUARANTEED SUCCESS? Remove these ten words from your vocabulary| Transform your life INSTANTLY
Ma Rainey's Black Bottom, Ma Rainey's Black Bottom, Ma Rainey's Black Bottom, Ma Rainey's Black Bottom, Ma Rainey's Black Bottom, Ma Rainey's Black Bottom, Ma Rainey's Black Bottom, Ma Rainey's Black Bottom, Ma Rainey's Black Bottom, Ma Rainey's Black Bottom, Ma Rainey's Black Bottom, Ma Rainey's Black Bottom, Ma Rainey's Black Bottom, Ma Rainey's Black Bottom, Ma Rainey's Black Bottom, Ma Rainey's Black Bottom, Ma Rainey's Black Bottom, Ma Rainey's Black Bottom, Ma Rainey's Black Bottom, Ma Rainey's Black Bottom, Ma Rainey's Black Bottom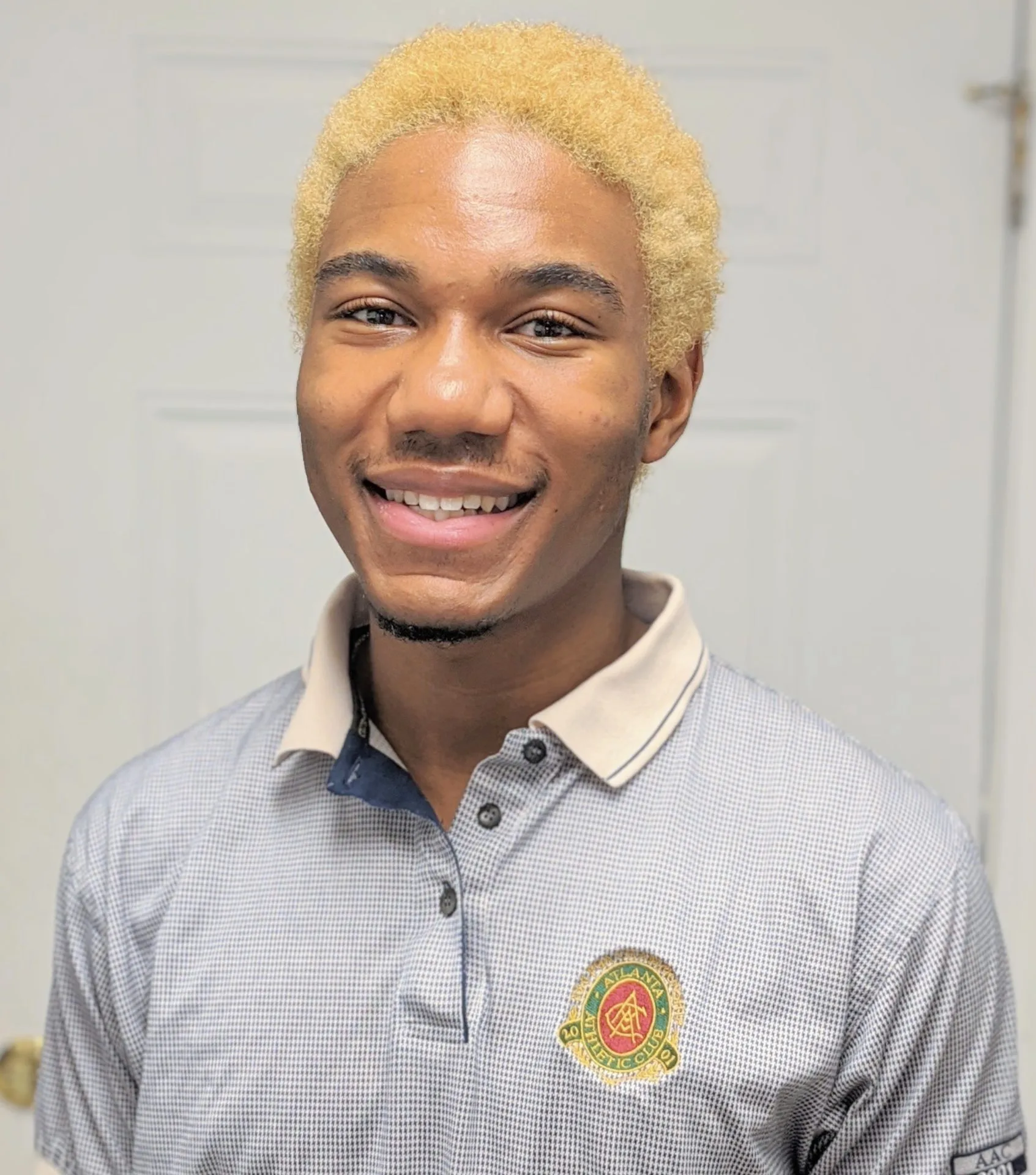 Tyler Isaiah Bey is a writer and actor from Atlanta, Georgia. His emphasis on storytelling through his work guides him through his writing. His theatre background has given him a love for honest performance and a strong appreciation for art. Hollywood Insider's focus on education, philanthropy, and anti-drama is the perfect platform for Tyler who's unique and often intersectional perspective gives him a honed edge to the work he creates. He finds joy in discovering powerful crossroads of current events and media and infuses this cultural awareness into his writing. For it's these intersections that make art so powerful and writing such a pleasure for Tyler.