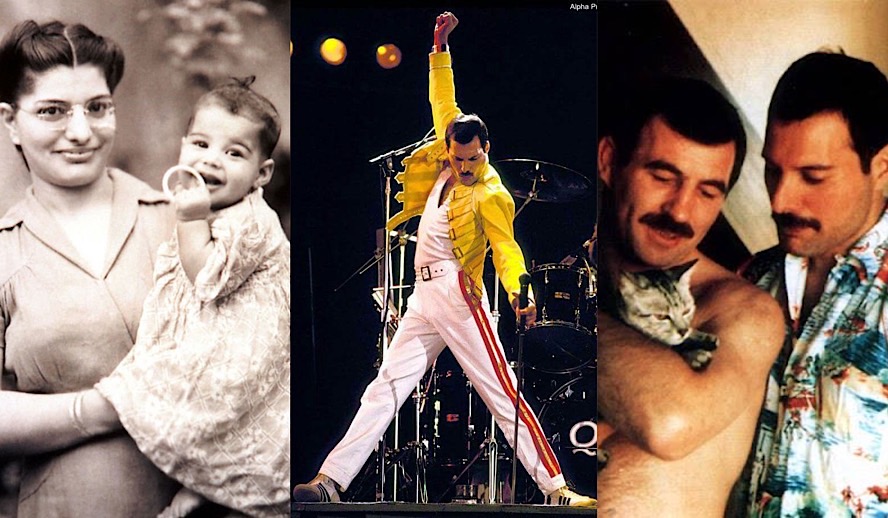 Photo: Freddie Mercury with his mom Jer Bulsara, Freddie Mercury on stage, Freddie Mercury with his spouse Jim Hutton and their pet Dorothy
I challenge you to find me a voice in rock history more epic than Freddie Mercury's. Or a greater showman for that matter. Mercury's voice was the stuff of legends with a rumored range of four octaves and a signature growl that left audiences speechless. I've spent a good amount of my adult life fascinated by Freddie and Queen. When I get obsessed, I get OBSESSED. I've read 4 biographies on the subject of Freddie Mercury, seen pretty much every Queen documentary ever made, and saw Bohemian Rhapsody so many times that theater workers recommended I go to QA (Queen Anonymous.) So, I am qualified to teach a college-level course on Queen 101. I'm here to tell you about what you probably don't know about the man, the myth, the legend Freddie Mercury.
Subscribe to Hollywood Insider's YouTube Channel, by clicking here. 
Basic Level Queen Knowledge
I include this section because I once sat next to a girl on the way to a screening of Bohemian Rhapsody who thought Another One Bites The Dust was an AC/DC song, which… no. So naturally, I feel the need to include a little intro to the band that redefined rock and roll. Queen was officially formed in 1970. The original members included Brian May on guitar, Roger Taylor on drums, and of course Freddie on lead vocals. After a good amount of shopping around for bassists, John Deacon was the last member to join the band completing what would become known as the official Queen line up.
These four men stayed together from 1970 until Freddie Mercury's death in November of 1991. Although May and Taylor still play in what is now Queen + Adam Lambert, Deacon was too affected by Mercury's death and hung up his bass strap in 1997. The band's most famous songs include We Will Rock You, We Are the Champions, Somebody to Love, and, of course, Bohemian Rhapsody. The music of Queen can't be boxed into one genre. The band is classified as rock but they experimented with opera, disco, and pop. So, there's a Queen song for everyone.
Related article: Did you see the hidden messages in 'Call Me By Your Name'? Find out behind the scenes facts in the full commentary and In-depth analysis of the cinematic masterpiece 
A Performance Master- Freddie Mercury Stole the Stage and Took  the Crowd's Breath Away
Queen was not just a 70's band. For proof, look no further than 1985's Live Aid, during which Queen completely stole the show. Live Aid was a concert meant to raise money to end famine in Africa. It took place simultaneously at Wembley Stadium in London and JFK Stadium in Philadelphia and included the likes of Elton John, The Who, David Bowie, U2, etc. This concert cemented Queen and Freddie Mercury's place in rock history. Their performance is considered one of the, if not the greatest, live performances in history.
The performance was especially amazing and tragic when you factor in the fact that Freddie was singing with a throat infection on that fateful day, showing the first signs of the HIV infection which would just six years later cause his death. But he powered through it and made it clear to everyone that he was a rock god.
Exclusive: Lion King is now a talk show host? The Launch of NEWEST ANIMATED TALK SHOW – 'The Anytime Show' with host Mister H. I. | Much needed humor and perspective
Many people speculate over why exactly Queen's Live Aid performance was so show-stopping. I've heard arguments that it was because the set included audience participation such as in the song Radio Gaga and We Will Rock You. Also, Queen played their classics that most people in the audience would know rather than new songs which was the route most other acts that day chose to take.
And while I absolutely agree that those things played a factor, the main aspect of Queen's performance that made it so unforgettable was Freddie's sheer showmanship. Freddie Mercury burst onto the Wembley stage with explosive energy. For those 25 minutes, Freddie was king. He commanded everyone's attention and even played with the cameras so people watching at home would feel just as connected. 
Limited Time Offer – FREE Subscription to Hollywood Insider, for substance and meaningful entertainment that is free of gossip and scandal, click here
But it wasn't that Freddie raised his energy that day to a special level because he was performing for the world.  Freddie always brought this level of energy and showmanship to every performance. Just look at this performance of Queen classic Somebody to Love or how much energy he has during this performance of Killer Queen. This kind of stage presence is something you just have to see for yourself so go on YouTube, search "Queen Live Performances" and prepare to be blown away. It was something the world had not seen and probably will never see again.
​Related article: FACT-CHECKED Series: Ben Hardy And 10 Things You Might Not Know About This Bohemian Rhapsody Star
Video Version of this Article
Freddie Mercury's Nepali classmate from school Victory Rana, Major General and Nepal Ambassador
During his school days, Freddie had started a band called 'Hectics' with his classmates. He was a shy 12-year-old boy at the time and was known as Farrokh Bulsara while his nickname was 'Bucky'. His friends remember that he had started calling himself 'Freddie' to divert them from his nickname of Bucky that was given due to his facial features. The band was made up of Victory Rana as the drummer, Freddie as lead singer/guitarist/pianist and star (the signs were already there), Derrick Branche who played guitar, Farang Irani who played bass and the idea for the band was brought forward by Bruce Murray. They were inspired by Elvis Presley, Cliff Richards, and Little Richard. 
Related article: Why Queen Elizabeth II Is One Of The Greatest Monarchs | Her Majesty Queen Elizabeth II of United Queendom of Great Britain & Northern Ireland (Video Insight)
His classmate Victory Rana was from Nepal and he fondly remembers his buddy Freddie stating, "Freddie was hugely talented. He was a natural musician. And he had an amazing voice. He could sing anything from Rock 'n' Roll to classical music. By the way, his voice never changed over the years, if you listen to a Freddie Mercury CD, it sounds just like the young Freddie did back then, singing for the 'Hectics'. He was very much of a loner. Happiest when he was playing the piano or in art school. Even though he was shy, he became a completely different person once he started playing his piano. He was also a good sportsman – hockey, athletics, boxing…"
Related article:  FACT-CHECKED Series: Keanu Reeves – 12 Revelations About The Star Of 'Matrix' & 'Toy Story'
Victory Rana went on to have a completely different life from his famous friend Freddie Mercury. Victory joined the Nepali army and trained at the Royal Military Academy Sandhurst in the UK whose alumni include Prince William and Prince Harry as well as Sir Winston Churchill. Victory Rana retired as a Major General, was posted with United Nations Peacekeeping Forces in Lebanon and Cyprus and his last assignment was as the Nepali Ambassador to Myanmar.
Victory remembers, "After school, I lost track of Freddie. I had never even heard of Freddie Mercury, given the very different kind of life I led in the army. It was only after he died, in 1991, that someone sent me a magazine cutting about Freddie, which happened to mention my name as one of the Hectics. It was only then that I learned his whole story. I went out and bought a couple of Freddie Mercury CDs, I remember. I could hardly recognize the face on the cover, but the voice sounded exactly like the Freddie I knew from our Hectic days."
Freddie's family migrated to England in 1964. 
Related article: FACT-CHECKED Series: 32 Facts on Hollywood Legend Quentin Tarantino
Freddie's true love Jim Hutton
At Hollywood Insider, we believe that people's romantic lives are their own and also completely private. Thus we avoid all speculations. Here, we write about Jim Hutton only, as that is the one person that the people closest to him recognized as his one true love.  He was the man that Freddie lived with at his home in London and this was also shown in the film 'Bohemian Rhapsody'. Freddie Mercury and his boyfriend Jim Hutton both wore wedding rings as a sign of their commitment to each other and they had been together for seven years when Freddie passed away. Jim took care of Freddie during his illness as well.
Related Article: Want GUARANTEED SUCCESS? Remove these ten words | Transform your life INSTANTLY
Freddie spoke about his boyfriend Jim Hutton in 1987, while protecting his identity, stating that, "We have to be very careful here. I can put it this way, I am so happy with the person I am living with at the moment. You mustn't say that (identify the person). Just say a relationship. I couldn't ask for better. I have finally found a niche that I was looking for all my life. It's like I don't have to try so hard. I don't have to prove myself now. I've got a very understanding relationship. It's just like I wanted a genuine tranquil after the storm. Everybody expects me to have stormy relationships. I was virtually living my own media. And you get caught up in it. I actually thought that was the way I should be. I was trying to force people to have a relationship with me in THAT way. And it's so easy." 
His love story with Jim Hutton is very clear from the heart-wrenching memoir Mercury and Me. 
He was a rock god! He redefined a genre of music! Aside from Jim Hutton, do we really need to worry so much about who he went to bed with?
Related articles:  A Tribute To The Academy Awards: All Best Actor/Actress Speeches From The Beginning Of Oscars 1929-2019 | From Rami Malek, Leonardo DiCaprio To Marlon Brando & Beyond | From Olivia Colman, Meryl Streep To Bette Davis & Beyond
 Solo Career- The Great Pretender At Work
Contrary to what the movie Bohemian Rhapsody would suggest, no one was mad at Freddie when he decided to go solo for a bit. In fact, both Brian May and Roger Taylor already made solo albums. The truth is, when a band iss together for a decade, sometimes band members want a chance to spread their wings and try something new. In 1985, Mercury released Mr. Bad Guy. The music was in similar lavish and decadent style audiences had become familiar with in Queen music.
Plus, out of this album came one of my favorite Freddie Mercury anecdotes. Freddie was recording with Michael Jackson. Both artists had different stories as to why the collaboration ended but Freddie claimed it was because Jackson's pet chimp kept interrupting the session, which is amazing.
Related article: EXCLUSIVE: Ayushmann Khurrana Interview – India's Tom Hanks is Transforming Bollywood and Indian Society while Destroying Toxic Masculinity
But, back to the music, Freddie's solo single, The Great Pretender, was released in 1987. The Great Pretender, as biographer Lesley-Ann Jones claims, is the most honest song released by Mercury, although he did not write it himself, it was a cover of a song by The Platters produced in 1955. The song seems to perfectly match Freddie's feelings. He was a performer. Though he had stopped doing live performances by that time, he felt he was still putting on an act for the press and his fans. Therefore, Mercury was The Great Pretender he was singing about.
Freddie had wanted to work with Monserrat Caballe for quite some time. He first learned of her when his friend Joe Fanelli introduced him to opera towards the beginning of his career and he became obsessed. He finally managed to make contact with her and get an agreement for a collaboration in 1987. They first performed their collaborative song Barcelona, fittingly, in Barcelona, Spain. Mercury and Caballe would later release their album, Barcelona in 1988.
Freddie Mercury was Made in Heaven
Unfortunately, Mercury succumbed to pneumonia on November 24, 1991. My theory that he didn't die of illness but was consumed by his own raw power unfortunately, cannot be proven. For anyone who wants to make the journey to Switzerland, his memorial statue is on the banks of Lake Geneva, which was his favorite place to record. I've already purchased my plane ticket. There are a lot of theories out there that I won't get into here because I want to let my favorite rocker rest in peace.
But one thing is for sure, Freddie Mercury left his mark on the world. Take it from the fact that Bohemian Rhapsody is the highest-grossing biopic of all time or that he sold out theaters that seated tens of thousands. Freddie Mercury has gone down in history as one of the greatest rock stars of all time and his legacy lives on.
To catch a glimpse of Freddie Mercury's life story, watch Bohemian Rhapsody. Rami Malek plays Freddie Mercury and Ben Hardy plays Roger Taylor. Rami Malek won an Oscar for his performance as Freddie Mercury. The film also brilliantly respects Freddie's relationship with his love Jim Hutton. 
We, at Hollywood Insider, will continue to support, cherish, and be inspired by our non-conforming superstar Freddie Mercury. 
By Carrie Fishbane
More Interesting Stories From Hollywood Insider
– Do you know the hidden messages in 'Call Me By Your Name'? Find out behind the scenes facts in the full commentary and In-depth analysis of the cinematic masterpiece
– A Tribute To The Academy Awards: All Best Actor/Actress Speeches From The Beginning Of Oscars 1929-2019 | From Rami Malek, Leonardo DiCaprio To Marlon Brando & Beyond | From Olivia Colman, Meryl Streep To Bette Davis & Beyond
– Why Queen Elizabeth II Is One Of The Greatest Monarchs | Her Majesty Queen Elizabeth II of United Queendom of Great Britain & Northern Ireland
– Compilation: All James Bond 007 Opening Sequences From 1962 Sean Connery to Daniel Craig
– In the 32nd Year Of His Career, Keanu Reeves' Face Continues To Reign After Launching Movies Earning Over $4.3 Billion In Total – "John Wick", "Toy Story 4", "Matrix", And Many More
– Want GUARANTEED SUCCESS? Remove these ten words from your vocabulary| Transform your life INSTANTLY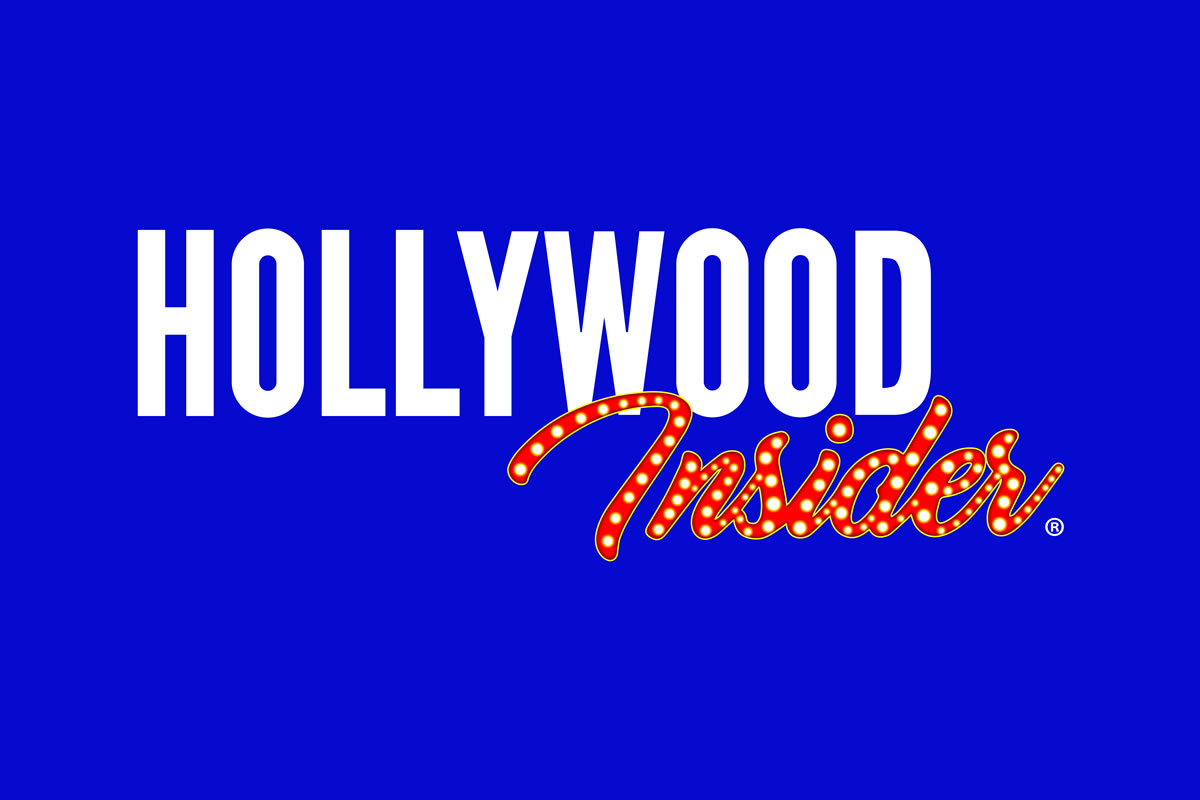 Hollywood Insider  is a media network thatfocuses on substance and meaningful entertainment/culture, so as to utilize media as a tool to unite and better our world, by combining entertainment, education and philanthropy, while being against gossip and scandal.