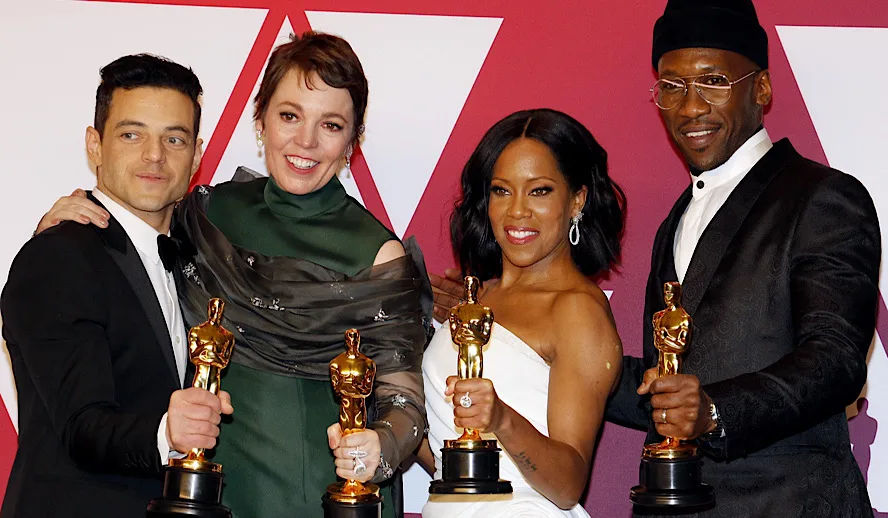 Photo:  Rami Malek, Olivia King, Regina King and Mahershala Ali with their Academy Awards/Oscars/Starfrenzy
It is not a matter of making a request. It is not a matter of someone allowing it. 
It is about making it happen. 
The goal of increased diversity and inclusivity has to succeed – for the sake of art, cinema and creativity. 
The creative field must be a safe space for all. For the ones that watch it – as well as the ones that work in it…..or wish to work in it or wish to be recognized for working in it. 
For the movement of diversity and inclusivity to succeed, we, as a collective, and individual, need to also recognize moments of success in the middle of all the anger.  
We have to give credit where it is due. The movement for inclusivity and diversity has to recognize moments of victory and not ignore it. 
If it has been done once, it can happen again. And that statement is where the power is at. It ceases to be impossible. Now we have a precedent. 
In my opinion, last year's Academy Awards, was THAT precedent, one of the best moments in our fight for diversity in entertainment. And I hope there will be many repeats to the point where it becomes a norm. It is imperative to celebrate victories while we continue to speak up for continued diversity in the entertainment industry and awards. We are far from done. But we must celebrate the victories while we are on the way to being done. 
Related Article: A Tribute To The Academy Awards: All Best Actor/Actress Speeches From The Beginning Of Oscars 1929-2019 | From Rami Malek, Leonardo DiCaprio To Marlon Brando & Beyond | From Olivia Colman, Meryl Streep To Bette Davis & Beyond
The winners in the 4 categories of Best Actor, Best Actress, Best Supporting Actor and Best Supporting Actress were all representatives of diversity, either due to them as an individual and/or for the characters they portrayed. 
Rami Malek, an Egyptian-American, won the Academy Award for Best Actor for playing a Parsi-Indian, Gay, Immigrant British singer-cum-legend Freddie Mercury in Bohemian Rhapsody.  Diversity to the brim. 
Olivia Colman, an English actress who excelled in character roles to the point where she is now leading in both TV and movies, won the Academy Award for Best Actress for playing a lesbian English royal, Queen Anne in The Favourite. 
Mahershala Ali, a Muslim African-American actor, became the first Muslim actor to win an Oscar, and he won the Academy Award in the Best Supporting Actor category for playing a gay African-American musician named Don Shirley in Green Book. 
Regina King, an African-American actress, won the Academy Award for Best Supporting Actress for her role in If Beale Street Could Talk.
The above is the level of diversity that we need as the norm. Having said that, any of us movie-buffs will also tell you that each of those actors deserved their win based on their talent and specific performance for which they have been awarded. Their award was rightfully won based on talent alone. An award CANNOT and SHOULD NOT be handed based on diversity quota and that should never be the case. Talent has to be paramount. In that same regard, excellent talent cannot be ignored or sidelined because of their "other" diverse background such as race, religion, sexuality, etc. 
Related Article: Video: '1917' – Golden Globes Winner – Full Commentary And Reactions From The Stars & Crew Including Sam Mendes, George MacKay, Dean-Charles Chapman & Team
Again, the creative field has to be a safe space. 
The movement for diversity and inclusivity has to recognize these moments of victory so that we can use is it, as the precedent it blatantly is, and stop making it look like an impossibility. It has happened before so it can happen again. To the gatekeepers that are adamant on keeping the "others" out – do NOT use that precedent as a morsel to say "Look, we did give you an award" – that one time. Yes Kathryn Bigelow happened, but once. Gone are the days when the massive walls of giant studios and corporations drowned out the cries for help from the many that weren't allowed in. Social media has given power to the people and a single hashtag has the magical david-from-the-david-and-goliath-story superpower to turn the suffering masses into a collective strong enough to topple modern-day giants – do you all remember how "the people" got a major studio to re-design Sonic the Hedgehog? Do you all remember how "the people" got a major organization called the Academy Awards to show respect to their cinematographers/editors and award them their accolades during Oscars screen time? There are many such events. Countless. For the sake of us all. 
Related Article: – Video: Full Commentary & Reactions From Stars On 'Bombshell' With Charlize Theron, Nicole Kidman, Margot Robbie, Jay Roach & Team
But the topic of diversity and inclusion cannot begin and end during the Oscars, BAFTAs or Golden Globes. 
Keyword: begin. What is better – telling the chef what you want in your food or complaining about it after the food has already been cooked? Over and over again? We have got to start talking, tweeting and taking action towards inclusivity and diversity long before Oscars or awards season has begun. And if the chefs are not willing to listen, then I guess it is time to start cooking ourselves. It is not about creating this huge noise ONLY around awards season. It is about adding the right ingredients before the food has been cooked. And, boy, a variety of ingredients ARE available and ready to act, write and direct their hearts out. A variety of cooks are available. And I, for one, cannot wait to taste all the diverse delicacies – albeit artistic. 
Speaking up against the wrong, and for the good is as old as human civilization itself. The survival of our species depends on it. We as humans will always strive for better. We are aspirational. 
Imagine having a coloring book (canvas of cinema) and a palette of colors to choose from (diversity in everything from race to ethnicities, religion to style, politics to ideologies, culture to language, genres, etc.) and then being told you can only use 5% of it. Would you be calm or angry? The child me would be half way into the second act of my tantrum by this point. Speaking up matters. Striving for the better matters. Can you imagine if the human species stopped speaking up? If the Suffragettes didn't speak up against the status quo, women would be considered not good enough to vote. If scientists and inventors didn't speak against the status quo, our homes would be full of hazardous candles since electricity would be deemed too strange as an idea. If a skinny old man in a loin cloth didn't speak up, India would still be under the British rule. If a short black lady didn't speak up or in her case, refuse to stand up, segregation would have never ended. If a couple of forward thinking men didn't speak up for a new world full of acceptance for all, USA would still be under the British Empire as a colony. If an intelligent gay scientist did not speak up and break the Enigma code, World War II would have ravaged our world and the entire geography and climate would have been different for the worse. If certain pilgrims didn't speak up against religious oppression, the new world would have been a fairytale. And the list goes on and on… and for the sake of humans – Phew!  
So to all of you speaker-uppers, carry on. 
The fight is far from over. We have lots of ground to cover. But we have a precedent and we have to hold on to that towards our path to normalizing it. The 91st Academy Awards from 2019 can be repeated and it must be. Mission possible. To all the Rami Maleks, Olivia Colmans, Mahershala Alis, Regina Kings, you are all seen and we, the collective, will make sure of it. 
Now I am off to use the entire coloring palette. Heck, I might even create some new colors of my own.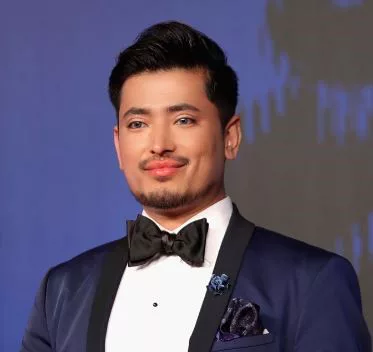 Pritan Ambroase is the CEO and editor-in-chief of Hollywood Insider. He authored the new mission statement which reads: "Hollywood Insider focuses on substance and meaningful entertainment, so as to utilize media as a tool to unite and better our world, by combining entertainment, education and philanthropy, while being against gossip and scandal." It is with that particular intention and under his leadership that Hollywood Insider has transformed into a trusted media platform across multiple channels. Ambroase is also a producer, film director, motivational speaker and a talk show host with a new one in development.
Alongside his career in entertainment and media, Ambroase continues to be a passionate humanitarian and a constant human rights activist/advocate. He started the Humans Of Our World Foundation at the age of 19, and named it that specific name as he wanted humans all over the world to unite regardless of mental/political/physical borders. For the past 14 years, he has actively stood up against injustices and atrocities across the world. He believes in the power of empathy and uses that tool to be there for others across all borders. Some of the many causes he has stood up for – easy accessibility to education,  anti-sexual harassment, disaster relief, healthcare, justice for black, brown and minority ethnic communities, marriage equality, refugee assistance, rebuilding villages, education reform, women's rights, rebrand Africa, police reform, prison reform, anti-segregation in governmental infrastructure, classification of animals as sentient beings, pro-LGBTQ families, anti-trafficking, anti-drug abuse, equity, differently-abled assistance, etc. The foundation's celebrity supporters are Dame Judi Dench, Joanna Lumley OBE, Bear Grylls, Amanda Holden, Andy Serkis and many others.
For more on his biography, please click here. It is his passion for cinema, entertainment and media that drives him to utilize his platform and media to unite all and make our world a better place, all the while entertaining, transforming and educating. It is his long and varied experience in entertainment, education and philanthropy which led him to combine those three elements and include them in Hollywood Insider's mission statement.
To read more about his intention, vision and goals for the media network, please visit the Our Values page by clicking on the link.