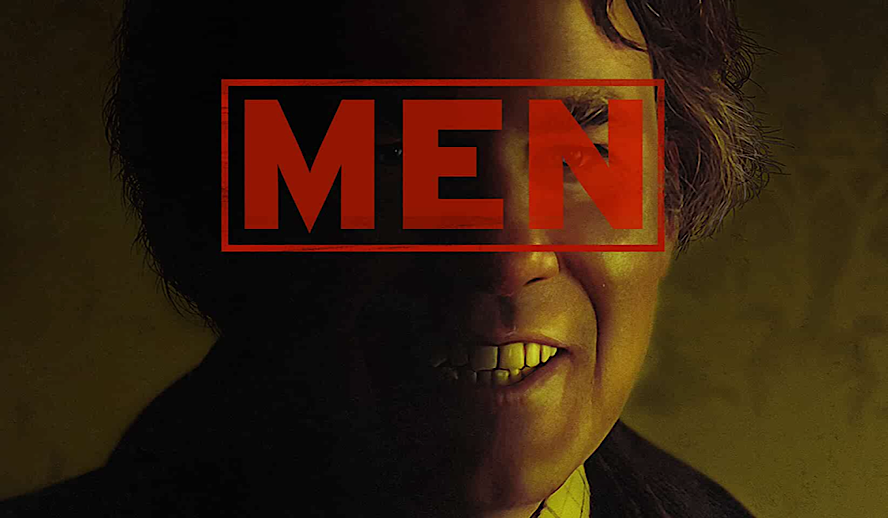 Photo: 'Men'
'Men' Is a Bit of a Clickbait Title
A personal retreat to the countryside seems like a straightforward thing to arrange. A necessary thing if, say, your husband who you planned to divorce plummeted to his grisly death from the London highrise where you live. This is the situation in which we find Harper (Jessie Buckley, 'I'm Thinking of Ending Things') at the beginning of 'Men.' Her healing trip is disrupted, however, when an enigmatic, naked man stalks her on a walk through the woods. Resolving not to let fear rule her, Harper attempts to explore the sleepy village where she's chosen to stay, but each interaction she has with the men who live there (Rory Kinnear, who plays seven distinct characters) gives her more reason to stay locked inside.
Related Video: Full Commentary on 'Top Gun: Maverick': Tom Cruise, Val Kilmer, Jennifer Connelly, Miles Teller
Related video: 'Top Gun: Maverick' Full Premiere Reactions: Tom Cruise, Val Kilmer, Jennifer Connelly, Miles Teller
Related video: EVOLUTION: Every Tom Cruise Role From 1981 to 2021, All Performances Exceptionally Poignant
You may recognize the director for his brilliant work on 'Ex Machina' or '28 Days Later,' but 'Men' is an entity unto itself. Alex Garland's nightmarish vision of trauma and dread will leave you with more questions than answers, but will likely haunt you long enough that you come up with answers of your own. If you go into this movie expecting it to deliver a clear message about what it's like to be a woman gaslit by men, you will be disappointed and needlessly horrified at the unforgettable body-horror ending. 'Men' does explore gaslighting and toxic masculinity to a certain extent, but ultimately to create a sense of dread that can be universally felt. It delivers something more timeless than a series of talking points about hot button issues.
Life in 'Men'
The first act of the movie unfurls slowly, but gorgeously. Harper receives the horror-staple tour of the idyllic home she's renting for the week from the offputting landlord Geoffrey. Whenever she's left alone to savor it, the home reveals itself as beautiful and its grounds as fruitful (be ready for a lot of forbidden fruit in the garden imagery). This is a new beginning for Harper, only disrupted by Geoffrey's awkwardness. She then takes a walk through the woods, where Rob Hardy's cinematography is on full display in a sequence of nature shots that revel in the quiet workings of creation. 
Related article: A Tribute to Johnny Depp: The Actor and Musician Who Defined Range
Related video: EVOLUTION: Every Johnny Depp Role From 1984 to 2020, All Performances Exceptionally Poignant
Related article: A Tribute to the Hero & President Volodymyr Zelenskyy: Comedian/Actor, Ukraine's President and Heroic Leader
Harper, in a state of childlike wonder, creates something herself. Upon encountering a huge tunnel, Harper calls out a series of echoes that create a sort of song in one of the eeriest, most brilliant scenes in the film. In doing so, she unintentionally awakens the Green Man, a living version of an ancient symbol. The tunnel becomes a Platonic cave from which that primordial creature stirs, and the creeping dread it causes underscores the rest of the movie.
'Men' is heavily symbolic throughout its 100-minute run. One symbol that a lot of people have pointed to is the Sheela Na Gig on the church's baptismal font, a symbol often taken (perhaps mistaken) to represent fertility. Sheela Na Gigs, however, are as mysterious in meaning as the film itself. Even in the first scenes of the film, when the narrative is clearest, the ideas of life, death, and rebirth are muddily intertwined, as flashbacks to Harper's husband James' (Paapa Essiedu, 'I May Destroy You') death still play in her mind.
Death and Rebirth in 'Men'
Harper's Edenic impression of the village quickly sours, and the imagery follows. After finding out that the Green Man has been loosed once more (I don't want to reveal too much about the plot), we are shown a deer rotting in the woods, then the Green Man ritualistically attaching foliage to his person, then the deer carcass again, this time covered in maggots. Throughout the film, images like these give us pause to confront the messiness of the cycle of life.
Related video: Full Premiere Reactions 'Doctor Strange in the Multiverse of Madness': Benedict Cumberbatch & Team
Related Video: OSCAR-NOMINATED – EXCLUSIVE: 'Dune' Full Commentary, Reactions, Making Of – Timothee Chalamet, Zendaya, Oscar Isaac
Related Video: OSCAR-NOMINATED – 'House of Gucci' Full Commentary & Behind the Scenes – Lady Gaga, Adam Driver, Jared Leto, Al Pacino
Towards the end of the film, after the men Harper has interacted with become a shapeshifting monster that takes on the men's forms in succession, the Green Man entrances Harper, setting off a final act that plays out like a hallucination. At this point in the movie, the creature is so symbolically tied to death and rebirth that it's impossible not to associate Harper's confrontation with it with the lifecycle of her own trauma.
She tries killing the conglomerate man-thing, then tries running from it, and as those things fail it becomes more important for her to understand what the thing is in the first place. She has to understand why her deceased husband resorted to abusive behavior in order to process what she's been through and experience a rebirth of her own. Luckily (or perhaps unluckily) for her, the Green Man has a series of birthings in store to make that viscerally known to her.
Related article: The Hollywood Insider's CEO Pritan Ambroase: "The Importance of Venice Film Festival as the Protector of Cinema"
Related article: The Masters of Cinema Archives: The Hollywood Insider Pays Tribute to 'La Vie En Rose', Exclusive Interview with Director Olivier Dahan
Related article: – Want GUARANTEED SUCCESS? Remove these ten words from your vocabulary| Transform your life INSTANTLY
If you've heard anything about 'Men,' you've heard about the finale, which Garland described as a "rolling birth" in an interview for IndieWire. Garland took inspiration from 'Attack on Titan' to stylize the rolling birth which, briefly explained, consists of four of the men, starting with the Green Man, birthing another of the men in the film. The man this rolling birth finally lands on is James, who sits with Harper on the couch. She asks what he wants from her, and he says "your love." Harper reacts with a "yeah" that's about as unimpressed as the audience at that response, and this lame moment is precisely what makes the film brilliant.
Related article: EVOLUTION: Every Henry Cavill Role From 2001 to 2021, All Performances Exceptionally Poignant
Related article: EVOLUTION: Every Chris Evans Role From 1997 to 2020, All Performances Exceptionally Poignant
Related article: #metoo Revolution: Powerful Questions That Need Answers
Related article: FACT-CHECKED Series: Timothee Chalamet and 32 Facts about The Young Superstar
By giving us an exact answer to the question of what this series of men want from Harper, Garland leaves us with the same questions that troubled us in the first place. How does that neediness translate to toxic male behavior? Why do men feel the instinct to blame women for their own shortcomings? Isn't there something more soluble and less pathetic at the bottom of all of this? We want the behavior to be explained away. We want Harper to be the clear victim. We want the Sheela Na Gig to make perfect sense. Unfortunately, personal and generational traumas are not so easily dispensed with. 
Ending Number Two
The movie's title ends up taking on a meaning closer to "mankind" despite basing its horror so deeply in gendered symbolism. The morning after Harper's confrontation with all these men, she sits in the garden with a flower and smiles at her friend Riley (Gayle Rankin) who drove up to meet her after a failed distress call. We see fallout from the night before, so we know that it was not entirely dreamed up, and if we are to believe that the night before had the significance it seemed to, then we also know that Harper is not done experiencing death and rebirth. She's in a hopeful state of rebirth right now, but life and trauma both happen in cycles, as they have since the dawn of men.
Related article: MUST WATCH – The Hollywood Insider's CEO Pritan Ambroase's Love Letter to Black Lives Matter – VIDEO
Subscribe to The Hollywood Insider's YouTube Channel, by clicking here.
Related article: All Best Actor/Actress Speeches From The Beginning Of Oscars 1929-2019 | Hollywood Insider
She did, however, confront her trauma so directly that we can imagine the next few times around will be progressively easier. Throughout the film, Harper progressively becomes more disconnected from the world outside until she loses literal connection in the middle of her distress call to Riley. If my unsolicited dissection of the film resonates with you, perhaps you'll entertain the idea that Harper's disconnection is meant to portray a truer confrontation of trauma than what is offered by many contemporary self-help ideas. She initially takes an approach that you'd find in a magazine: take a vacation, get some fresh air, try something new. While those things can all help, she ultimately has to be in a state of isolation to deal with what troubles her, and indeed the longer she interacts with the source of that dreadful feeling covering everything, the weaker it becomes.
Related article: Why Queen Elizabeth II Is One Of The Greatest Monarchs | Her Majesty Queen Elizabeth II of United Queendom of Great Britain & Northern Ireland (Video Insight)
Limited Time Offer – FREE Subscription to The Hollywood Insider
Click here to read more on The Hollywood Insider's vision, values and mission statement here – Media has the responsibility to better our world – The Hollywood Insider fully focuses on substance and meaningful entertainment, against gossip and scandal, by combining entertainment, education, and philanthropy.
Overthinking a Horror Show
The audacity and mystique of 'Men' has already made it Alex Garland's most divisive film so far, but I recommend it if you have the stomach for it. I've probably exhibited some of the behaviors of the vicar by doing all of this yearning and desperate explanation, so I can only hope you don't feel too preached to. Whether or not you agree with my interpretation of the film, I want to suggest to you that it has quite a lot of substance to it, even if the meaning of it isn't perfectly clear. It's easy to walk out of the movie feeling stultified by the labor of watching so much labor, but the more you let 'Men' sit with you, the closer you'll come to understand whatever it is that it means to you.
Cast: Jessie Buckley, Rory Kinnear, Paapa Essiedu, Gayle Rankin
Creator: Alex Garland | Producers: Andrew Macdonald, Allon Reich, Cahal Bannon
Cinematography: Rob Hardy | Editing: Jake Roberts
By Kevin Hauger
Click here to read The Hollywood Insider's CEO Pritan Ambroase's love letter to Cinema, TV and Media. An excerpt from the love letter: The Hollywood Insider's CEO/editor-in-chief Pritan Ambroase affirms, "We have the space and time for all your stories, no matter who/what/where you are. Media/Cinema/TV have a responsibility to better the world and The Hollywood Insider will continue to do so. Talent, diversity and authenticity matter in Cinema/TV, media and storytelling. In fact, I reckon that we should announce "talent-diversity-authenticity-storytelling-Cinema-Oscars-Academy-Awards" as synonyms of each other. We show respect to talent and stories regardless of their skin color, race, gender, sexuality, religion, nationality, etc., thus allowing authenticity into this system just by something as simple as accepting and showing respect to the human species' factual diversity. We become greater just by respecting and appreciating talent in all its shapes, sizes, and forms. Award winners, which includes nominees, must be chosen on the greatness of their talent ALONE.
I am sure I am speaking for a multitude of Cinema lovers all over the world when I speak of the following sentiments that this medium of art has blessed me with. Cinema taught me about our world, at times in English and at times through the beautiful one-inch bar of subtitles. I learned from the stories in the global movies that we are all alike across all borders. Remember that one of the best symbols of many great civilizations and their prosperity has been the art they have left behind. This art can be in the form of paintings, sculptures, architecture, writings, inventions, etc. For our modern society, Cinema happens to be one of them. Cinema is more than just a form of entertainment, it is an integral part of society. I love the world uniting, be it for Cinema, TV. media, art, fashion, sport, etc. Please keep this going full speed."
More Interesting Stories From The Hollywood Insider
– Want GUARANTEED SUCCESS? Remove these ten words from your vocabulary| Transform your life INSTANTLY
– A Tribute to Martin Scorsese: A Complete Analysis of the Life and Career of the Man Who Lives and Breathes Cinema 
– Do you know the hidden messages in 'Call Me By Your Name'? Find out behind the scenes facts in the full commentary and In-depth analysis of the cinematic masterpiece
– A Tribute To The Academy Awards: All Best Actor/Actress Speeches From The Beginning Of Oscars 1929-2019 | From Rami Malek, Leonardo DiCaprio To Denzel Washington, Halle Berry & Beyond | From Olivia Colman, Meryl Streep To Bette Davis & Beyond
– In the 32nd Year Of His Career, Keanu Reeves' Face Continues To Reign After Launching Movies Earning Over $4.3 Billion In Total – "John Wick", "Toy Story 4", "Matrix", And Many More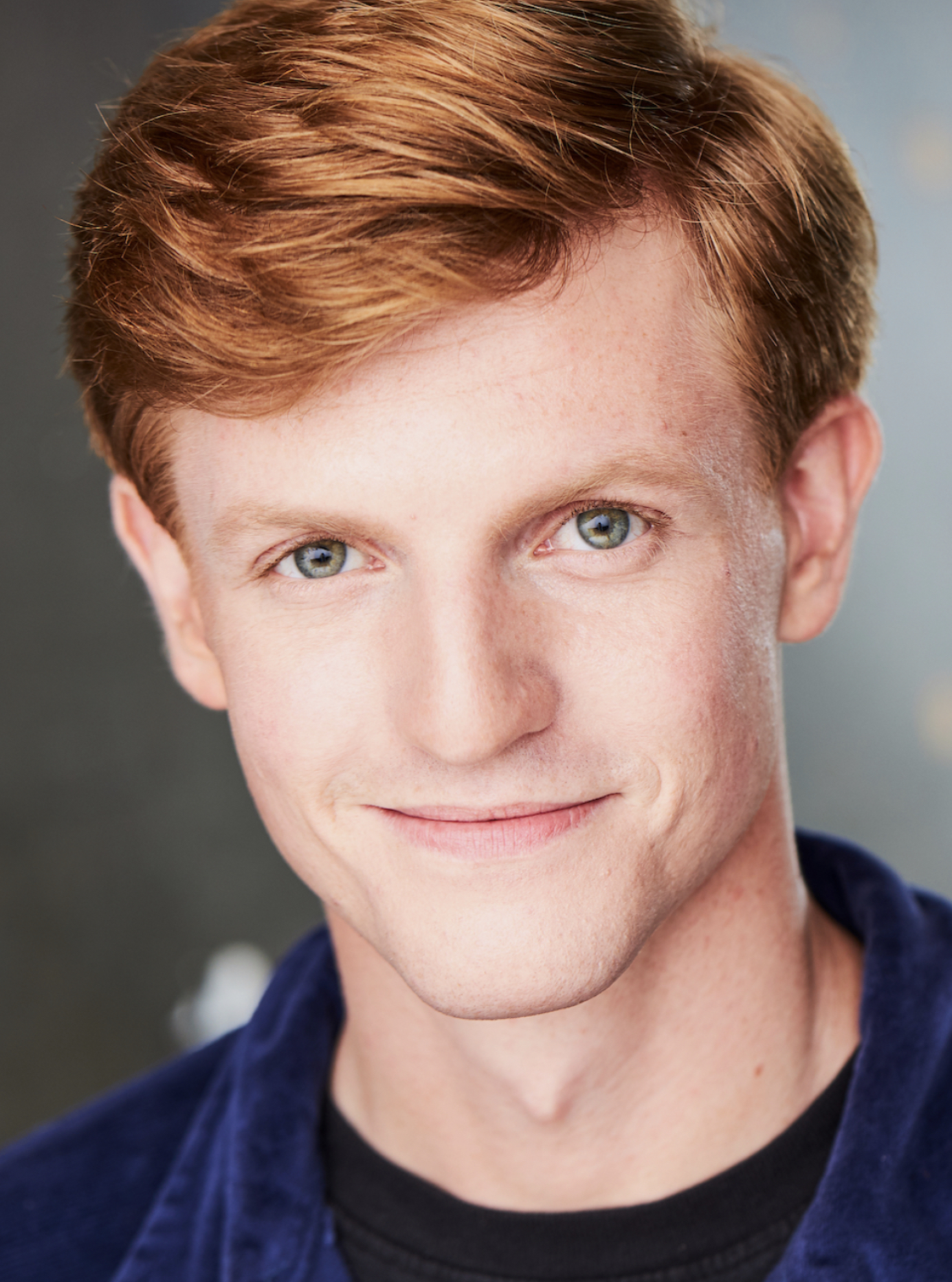 Kevin
Hauger
 is a writer and actor joyfully afflicted with cinephilia. 
Kevin
has spent thousands of hours discussing movies, theatre, music, games, anime, and the role of storytelling and entertainment in everyday life.
Kevin
 has a habit of giving everything from Oscar nominees to holiday fillers equal consideration, and finding meaning in the seemingly mundane. 
Kevin
was drawn to
The Hollywood Insider
mission to support substantive, meaningful journalism, as he believes discussion of art can affect us as profoundly as the art itself. He writes reviews and features that entertain and provoke, and that hopefully provide more questions than answers.