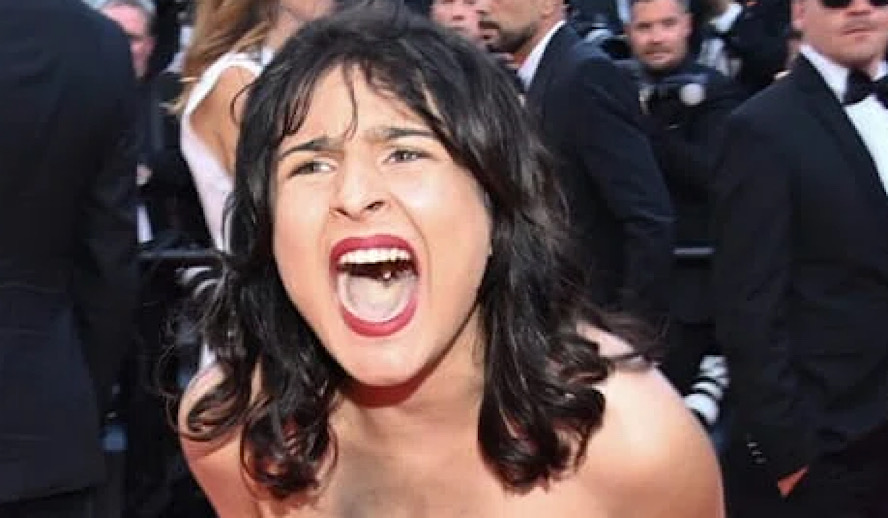 Photo: Is an Award Show an Award Show without A Protest? 
Writer's Note: This article talks about sexual assault and the topics of human rights violations. Take care of yourself when reading.
Between pregnant models wearing designer clothes and 'Triangle of Sadness' winning Palme d'Or, a topless activist ran onto the 'Three Thousand Years of Longing' red carpet at the Cannes Festival. Across her chest were the words "Stop Raping Us" with the Ukrainian flag colors, bloody handprints on her thighs and underwear, and the word "Scum", the name of a feminist French activism group, written across her back. As she shouted her complaints, she was removed from the carpet by security. Scum later tweeted that the act was a protest against the Russian forces that are raping dozens of Ukrainian women and girls.
Award shows are no stranger to protests. In fact, at the same festival, the production team of the Ukrainian film 'Bachennya Metelyka', aka 'Butterfly Vision', held their own protest, in which they held a banner that read "Russians kill Ukrainians. Do you find it offensive or disturbing to talk about this genocide?"
There have been debates online on whether or not protests are appropriate in such a setting. Some say it takes away from celebrating the art while others argue that a red carpet or a winner's speech is pointless without politics. Which way is the right way to lean?
Related Video: Full Commentary on 'Top Gun: Maverick': Tom Cruise, Val Kilmer, Jennifer Connelly, Miles Teller
Related video: 'Top Gun: Maverick' Full Premiere Reactions: Tom Cruise, Val Kilmer, Jennifer Connelly, Miles Teller
Related video: EVOLUTION: Every Tom Cruise Role From 1981 to 2021, All Performances Exceptionally Poignant
The Purpose of the Red Carpet
In American culture, red carpets were routinely used by heads of state for "ceremonial and formal occasions", i.e. the President walking up the stairs of Air Force One. But through the decades it became a staple at any star-studded Hollywood event, which only reinforces the cultural significance of these celebrities. Now, if anyone wants to feel like they are getting the VIP treatment, the red carpet is rolled out.
This symbol of significance has also become a walkway not just to show status, but to display fashion. For most, if not all award shows like the Grammys or the Oscars, the nominees (or popular people paid to be there) walk the carpet, show off their custom designer clothes, pose for the paparazzi, get interviewed by people like Robin Roberts and Emma Chamberlain about said clothes, and then end up on best or worst dressed lists and reviews across the internet: The red carpet is now synonymous with fashion.
But because they are so heavily associated with displaying glamor, a question remains if adding political statements or protest fashion has its place on the carpet.
Related article: A Tribute to Johnny Depp: The Actor and Musician Who Defined Range
Related video: EVOLUTION: Every Johnny Depp Role From 1984 to 2020, All Performances Exceptionally Poignant
Related article: A Tribute to the Hero & President Volodymyr Zelenskyy: Comedian/Actor, Ukraine's President and Heroic Leader
In an interview with Caroline Framke for Vox, devoted fashion lovers and reviewers Tom Fitgerald and Lorenzo Marquez of tomandlorenzo.com shared why they believe the carpet should stay focused on fashion: "When the Golden Globes' Time's Up protest happened, there was quite a lot of confusion," Tom said, "People have never really seen so many use the red carpet that way…The Time's Up initiative came off beautifully…But there was no way this was the new version of the red carpet, that this kind of protest was going to become the new normal."
The duo also emphasized the different levels of importance of different celebrity award shows. To them, the Oscars are the pinnacle of red carpet fashion, while something like the Golden Globes is "not as serious — and it's not making or breaking your year the way an Oscars nomination does." The two also discussed the irony of being a protestor while also being a celebrity: "you're trying to promote bigger political and social issues here," said Lorenzo, "but at the same time, you're wearing $500,000 earrings." This same argument has been used against Met Gala attendees who are wearing hundreds of thousands of dollars worth of designer clothes while trying to send political messages: People think it's all tone deaf.
Related video: Full Premiere Reactions 'Doctor Strange in the Multiverse of Madness': Benedict Cumberbatch & Team
Related Video: OSCAR-NOMINATED – EXCLUSIVE: 'Dune' Full Commentary, Reactions, Making Of – Timothee Chalamet, Zendaya, Oscar Isaac
Related Video: OSCAR-NOMINATED – 'House of Gucci' Full Commentary & Behind the Scenes – Lady Gaga, Adam Driver, Jared Leto, Al Pacino
On the other hand, Fashion scholar Valerie Steele posed the argument that red carpets were not important prior to entertainers using them as a platform for protest. In agreement, Mandatory editors wrote that political protests had brought new and necessary energy to award show fashion. "Awards shows have always been a drag…But a French actress has given us a brand-new reason to tune in to such programs, and it's one that every awards show should incorporate more of from here on out: nudity." The actress, Corinne Masiero, attended the César Awards (aka the French Oscars) wearing a faux Donkey skin and blood-stained dress that she soon stripped off to reveal the words "No culture, no future" and "Give us back our art, Jean" on her chest and back. Some were disturbed by the demonstration, but others were grateful to see something other than your typical beauty queens: "Masiero's naked [protest is] catching on in the U.S. and giving us a very enticing reason to watch awards shows again."
How Effective are Celebrity Protests?
Non-famous protestors who find their way onto the red carpet are usually more extreme than their celebrity counterparts. While protestors yield Pickett signs and throw smoke bombs, actors and singers use their expensive fits to share their messages.
Related article: EVOLUTION: Every Henry Cavill Role From 2001 to 2021, All Performances Exceptionally Poignant
Related article: EVOLUTION: Every Chris Evans Role From 1997 to 2020, All Performances Exceptionally Poignant
Related article: #metoo Revolution: Powerful Questions That Need Answers
Related article: FACT-CHECKED Series: Timothee Chalamet and 32 Facts about The Young Superstar
In a Teen Vogue article, Ella Cerón wrote that "enough actresses already wear black to award shows…" so the real protest would have been to not attend or to find a better cause than just raising awareness. "In a world where hashtags like #MeToo are highlighted…it would be hard to find someone who isn't aware of this issue…So, what can people do to raise awareness?… they don't have to attend the Golden Globes at all…why support the system that disenfranchised you and people like you in any way?"
It would seem that some of the stars participate in the protest fashion for the sake of fashion rather than for the actual results: Cara Delevingne, Lena Waithe, and AOC all wore outfits to the Met that had messages written across them. But, what actually came out of those? Conversation and buzz? Definitely. But what is a real protest if it is not truly disruptive? A lot of effective protests have to do with execution over the subject.
A woman running onto the red carpet, topless, with fake blood on her body, is more effective and memorable than people wearing a Ukrainian pin on their lapel. The pin on the suit shows solidarity, and it may detour some and attract others, but it does not create any real motion. When you google "Cannes protest", the unknown woman comes up way before the banner display from 'Bachennya Metelyka'.
Related article: MUST WATCH – The Hollywood Insider's CEO Pritan Ambroase's Love Letter to Black Lives Matter – VIDEO
Subscribe to The Hollywood Insider's YouTube Channel, by clicking here.
Related article: All Best Actor/Actress Speeches From The Beginning Of Oscars 1929-2019 | Hollywood Insider
Are the Speeches the Place for Politics?
According to a Morning Consult article, "more than 1,500 Oscar acceptance speeches dating back to 1939 found that while 22% of speeches overall contained one or more political words, 36% of speeches in the 2010s included political rhetoric," many of which have received criticism. When Vanessa Redgrave spoke out against fascism during her acceptance speech in 1977, screenwriter Paddy Chayefsky came on stage later that night and shared, "I would like to say that I'm sick and tired of people exploiting the Academy Awards for the propagation of their own personal propaganda… I would like to suggest to Miss Redgrave that her winning an Academy Award is not a pivotal moment in history, nor does not require a proclamation, and a simple 'thank you' would have sufficed."=
After Susan Sarandon and Tim Robbins addressed our American government to give sanctuary to hundreds of HIV-positive Haitian prisoners, and Richard Gere called for action against "the horrendous human rights" violations in China, an Academy producer threatened to ban them from the ceremony, calling their speeches "rude and inappropriate and unacceptable behavior."
And, most infamously, Marlon Brando sent Sacheen Littlefeather in his place to kindly turn down the award for Best Actor because "the motion picture community has been as responsible as any for degrading the Indian and making a mockery of his character, describing him as savage, hostile, and evil". During her speech, she was booed, and afterward, the producers felt compelled to ban proxy recipients. The shows themselves are against displays of protest unless they remain undisruptive.
Related article: Why Queen Elizabeth II Is One Of The Greatest Monarchs | Her Majesty Queen Elizabeth II of United Queendom of Great Britain & Northern Ireland (Video Insight)
Limited Time Offer – FREE Subscription to The Hollywood Insider
Click here to read more on The Hollywood Insider's vision, values and mission statement here – Media has the responsibility to better our world – The Hollywood Insider fully focuses on substance and meaningful entertainment, against gossip and scandal, by combining entertainment, education, and philanthropy.
Fans too have criticized the political parts of these ceremonies. "It's become a common complaint, especially amid awards season, that Hollywood has gotten 'too political'," wrote Sarah Shevenock for Morning Consult, "Polling has shown that most of the public wants celebrities to stay mum on politics during awards broadcasts, even as stars have embraced using an awards podium to call attention to political and social injustices."
But, an award show is inherently political. Whether we like it or not, sometimes those chosen to win are picked because they represent a minority or an important cause, rather than because of their production value or performances. Award shows are also reality television, and, sometimes, have to be geared toward audience appeal: The choice to gift the sound editing awards pre-telecast was probably made due to time limitations, putting the flourish and magic of the show over giving internationally televised credits.
However, I can sympathize with the complaints from both the producers and the audiences: Similar to the Will Smith slap, protests can take away from the celebration of art, which is (allegedly) the whole purpose of the ceremony in the first place. An everyday person who runs onto the red carpet topless is subject to far less criticism than the celebrity who uses the platform they earned to bring awareness to something they believe in. Why? Because the activist owes nothing to Hollywood and owes nothing to the public. Their actions represent nothing but the cause, while the celebrity represents a brand, a label, and an entire industry.
Related article: The Hollywood Insider's CEO Pritan Ambroase: "The Importance of Venice Film Festival as the Protector of Cinema"
Related article: The Masters of Cinema Archives: The Hollywood Insider Pays Tribute to 'La Vie En Rose', Exclusive Interview with Director Olivier Dahan
Related article: – Want GUARANTEED SUCCESS? Remove these ten words from your vocabulary| Transform your life INSTANTLY
To Protest or Not to Protest at Cannes
Personally, I'm not sure if I think it's selfish to take a stance during a night dedicated to celebrating art and creatives. I think choosing what to use your platform for is tough, but it is the right of each individual to make that decision for themselves. If someone in their own acceptance speech wishes to address racism, so be it. If the Weeknd wants to boycott the Grammys, good on him, even though he'll probably return once he's nominated. And if someone thinks wearing black to a red carpet, when black is generally a staple color in fashion, will bring awareness to sexual assault in Hollywood, although it's silly and almost counterproductive, it is their right.
But I do think that today's modern award show deserves protest and celebration. There is so much wrong in the world, and although it's nice to forget about it, I do not believe a ceremony dedicated to art is where we should seek refuge. When watching the films or listening to the music, feel free to escape. But a room full of artists, an event dedicated to art, is going to elicit a need to speak up. And people with political views outside of the industry will take the opportunity to get in front of millions to state their case.
By Z Murphy 
Click here to read The Hollywood Insider's CEO Pritan Ambroase's love letter to Cinema, TV and Media. An excerpt from the love letter: The Hollywood Insider's CEO/editor-in-chief Pritan Ambroase affirms, "We have the space and time for all your stories, no matter who/what/where you are. Media/Cinema/TV have a responsibility to better the world and The Hollywood Insider will continue to do so. Talent, diversity and authenticity matter in Cinema/TV, media and storytelling. In fact, I reckon that we should announce "talent-diversity-authenticity-storytelling-Cinema-Oscars-Academy-Awards" as synonyms of each other. We show respect to talent and stories regardless of their skin color, race, gender, sexuality, religion, nationality, etc., thus allowing authenticity into this system just by something as simple as accepting and showing respect to the human species' factual diversity. We become greater just by respecting and appreciating talent in all its shapes, sizes, and forms. Award winners, which includes nominees, must be chosen on the greatness of their talent ALONE.
I am sure I am speaking for a multitude of Cinema lovers all over the world when I speak of the following sentiments that this medium of art has blessed me with. Cinema taught me about our world, at times in English and at times through the beautiful one-inch bar of subtitles. I learned from the stories in the global movies that we are all alike across all borders. Remember that one of the best symbols of many great civilizations and their prosperity has been the art they have left behind. This art can be in the form of paintings, sculptures, architecture, writings, inventions, etc. For our modern society, Cinema happens to be one of them. Cinema is more than just a form of entertainment, it is an integral part of society. I love the world uniting, be it for Cinema, TV. media, art, fashion, sport, etc. Please keep this going full speed."
More Interesting Stories From The Hollywood Insider
– Want GUARANTEED SUCCESS? Remove these ten words from your vocabulary| Transform your life INSTANTLY
– A Tribute to Martin Scorsese: A Complete Analysis of the Life and Career of the Man Who Lives and Breathes Cinema 
– Do you know the hidden messages in 'Call Me By Your Name'? Find out behind the scenes facts in the full commentary and In-depth analysis of the cinematic masterpiece
– A Tribute To The Academy Awards: All Best Actor/Actress Speeches From The Beginning Of Oscars 1929-2019 | From Rami Malek, Leonardo DiCaprio To Denzel Washington, Halle Berry & Beyond | From Olivia Colman, Meryl Streep To Bette Davis & Beyond
– In the 32nd Year Of His Career, Keanu Reeves' Face Continues To Reign After Launching Movies Earning Over $4.3 Billion In Total – "John Wick", "Toy Story 4", "Matrix", And Many More
cannes, cannes, cannes,cannes, cannes, cannes, cannes, cannes, cannes, cannes,  cannes, cannes, cannes, cannes, cannes, cannes, cannes, cannes, cannes, cannes, cannes, cannes, cannes, cannes, cannes, cannes, cannes, cannes, cannes, cannes, cannes, cannes, cannes, cannes, cannes, cannes, cannes, cannes, cannes, cannes, cannes, cannes, cannes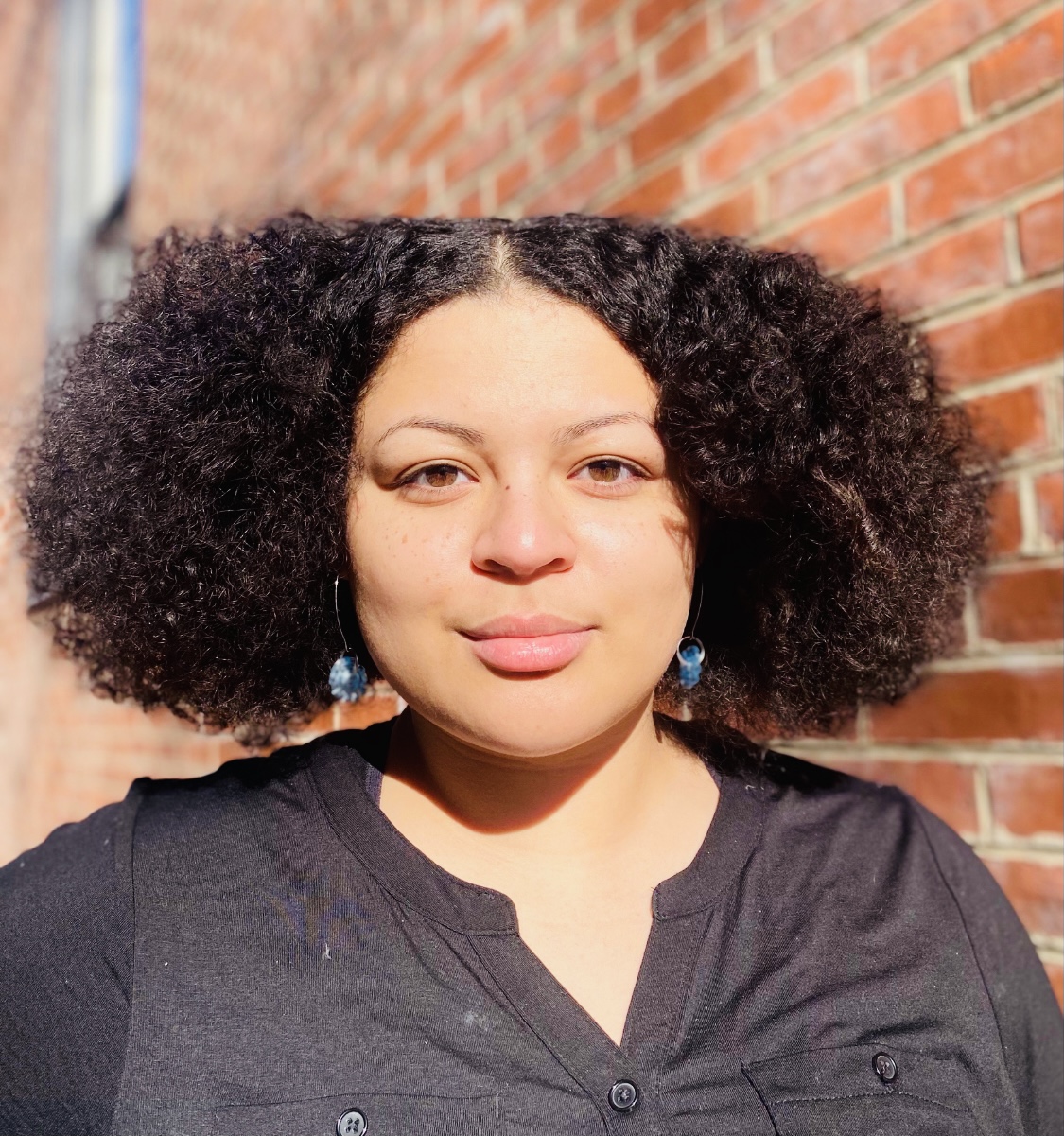 Z Murphy (she/they) has a passion for storytelling. As a queer person of color, Z always aims to challenge their readers to look at art in a new light by putting racial and sexual identities in conversation with pop culture. With this dedication to inspiring respectful and insightful dialogue, Z is thrilled to be a part of the Hollywood Insider cohort, a media network that supports content focused on perceptive exploration rather than gossip.