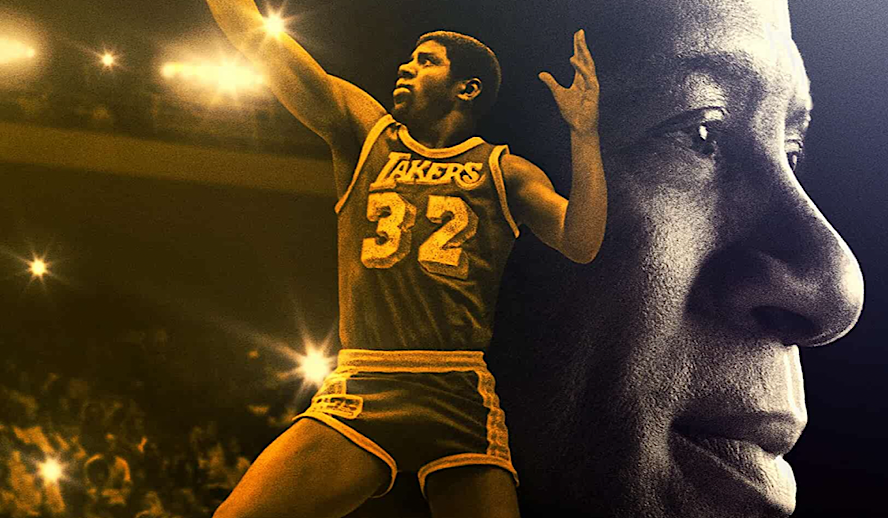 Photo: 'They Call Me Magic'
The biography of Earvin "Magic" Johnson, as portrayed in the new docuseries, 'They Call Me Magic,' is packed with the turbulent highs and lows of the life of the basketball Hall of Famer. His tumultuous journey through life in becoming a basketball superstar, HIV activist, business entrepreneur, philanthropist, and supporter of the Black community is all unpacked in this four-part episodic documentary series. There are so many aspects to who Magic Johnson is as a person that while the documentary covers much of the large strokes of his life, much of it is seemingly glazed over and packaged in a neat and orderly product. The documentary fails to fully dig into the messier aspects of Johnson's life and in parts of his interviews, he appears quite disinterested in revisiting certain topics. That being said the documentary provides new insights into the cultural phenomenon of Magic, and the significance of the role that he brought not only to the NBA and Los Angeles Lakers, but to American society as a whole.        
Related article: OSCAR-NOMINATED – EXCLUSIVE: 'Dune' Full Commentary, Reactions, Making Of – Timothee Chalamet, Zendaya, Oscar Isaac
Related article: OSCAR-NOMINATED – 'House of Gucci' Full Commentary & Behind the Scenes – Lady Gaga, Adam Driver, Jared Leto, Al Pacino
Related article: OSCAR-NOMINATED – 'Belfast' Full Commentary & BTS – Jamie Dornan, Caitriona Balfe, Judi Dench
Related article: OSCAR-NOMINATED – 'West Side Story' Full Commentary – Rita Moreno, Steven Spielberg, Rachel Zegler
Related article: OSCAR-NOMINATED – 'No Time to Die' Full Commentary, Behind the Scenes & Reactions, Daniel Craig, Rami Malek, Bond
'They Call Me Magic,' Captures The Rise of Magic Johnson to Basketball Super Stardom
The rise to basketball superstardom for Earvin "Magic" Johnson came from what he denotes as determination and dedication. Being born in the small town of Lansing Michigan, Magic Johnson, describes in his new four-part biographical documentary series, 'They Call Me Magic,' that he had to be the hardest worker around to make a name for himself in the world of basketball. That is precisely what Magic did. Beginning with his high school basketball career, the two years of college ball that he played, and then leading to him joining the NBA, Magic proved himself time and time again that he is one of the best players to ever play the sport of basketball. Starting in high school in the second game of his freshman year, he was greeted after his game by a sportswriter who claimed that Earvin had played the best game of basketball that he had ever seen. In Johnson's account of how the legend began, he recalled that the sportswriter said, "Man, that was an awesome game! I got to give you a nickname… Somebody is already called Doctor J, and Big E is already taken… I'm going to call you Magic."
Related article: Why Queen Elizabeth II Is One Of The Greatest Monarchs | Her Majesty Queen Elizabeth II of United Queendom of Great Britain & Northern Ireland (Video Insight)
Limited Time Offer – FREE Subscription to The Hollywood Insider
Click here to read more on The Hollywood Insider's vision, values and mission statement here – Media has the responsibility to better our world – The Hollywood Insider fully focuses on substance and meaningful entertainment, against gossip and scandal, by combining entertainment, education, and philanthropy.
Just like that the nickname stuck and it will go down in history to represent Earvin Johnson, and his style of playing forever. 'They Call Me Magic,' in the first two parts of the limited documentary series, captures the greatness that Magic Johnson brought to the sport of basketball. Throughout his entire career, word of his skill and unique ability would bring hordes of people to his games, completely selling out packed gyms and arenas. At the time that Johnson was drafted by the NBA, the state of the league was in a downtrodden condition and it was not nearly as popular or appreciated by American society as it is today. Players were able to physically fight and assault one another and this further deterred fans and viewers who thought poorly of the actions of certain players in the NBA. When Magic was drafted by the Los Angeles Lakers, he brought a natural sense of charisma, and with his generational skill, he seemingly changed the sport of basketball. With his grandiose smile and infectious positivity and upbeat attitude, combined with his insatiable desire to win, Magic brought new life into the NBA, changing the tides of public interest and attitudes toward the League as a whole. 
Related article: All Best Actor/Actress Speeches From The Beginning Of Oscars 1929-2019 | Hollywood Insider
Related article: EVOLUTION: Every Henry Cavill Role From 2001 to 2021, All Performances Exceptionally Poignant
Related article: EVOLUTION: Every Chris Evans Role From 1997 to 2020, All Performances Exceptionally Poignant
Related article: 'In the Heights' Full Commentary & Behind the Scenes +  Reactions – Lin Manuel Miranda, John M. Chu
Magic Johnson: HIV Activist
When Magic Johnson was diagnosed with HIV it came as a huge shock to the world. Due to public fear and ridicule of those who had contracted the HIV virus at the time, Magic was forced into retirement "due to concerns regarding his health and the safety of other players." The societal stigma behind fears of HIV and the Aids pandemic is ultimately what pushed Johnson into retirement, and this period of time in America's history is a dark one that shows not only the injustices of society, but especially the ways in which the majority can use baseless and false beliefs to stereotype and belittle a group of people with unfounded and hypocritical claims. This diagnosis was treated with a vast amount of fear as reflected in the words of NBA coach Pat Riley, who stated, "We all thought it was a death sentence," Even with the occurrence of this unfortunate, unforeseeable circumstance, Magic was able to turn this impactful change in his life into a silver lining.
Earvin "Magic" Johnson used his platform, and influence to help change the harmful conversation around HIV. By being a well-known, and well-liked athlete and personality, Magic became a voice for those who were at the time, voiceless. Johnson used his role in society to shift the way in which "Aids was perceived," and that is just a small insight into the man that Johnson ultimately is. His ability to change a negative into a positive in which he uses his power to help others is reflective of the type of humble, kind, and thoughtful person that he is. The message that the docuseries, 'They Call me Magic,' builds is that while Magic is one of history's best basketball players ever, Earvin Johnson is a hero of his community and of American society as a whole.     
Related article: The Hollywood Insider's CEO Pritan Ambroase: "The Importance of Venice Film Festival as the Protector of Cinema"
Related article: The Masters of Cinema Archives: The Hollywood Insider Pays Tribute to 'La Vie En Rose', Exclusive Interview with Director Olivier Dahan
Related article: – Want GUARANTEED SUCCESS? Remove these ten words from your vocabulary| Transform your life INSTANTLY
Related article: #metoo Revolution: Powerful Questions That Need Answers
Related article: FACT-CHECKED Series: Timothee Chalamet and 32 Facts about The Young Superstar
Magic Johnson: An Outspoken Advocate And Supporter of The Black Community
Magic Johnson has not curtailed his activism and support relating to communities of those who have been voiceless. "Off the court, he has been a pioneering businessman, putting his fingerprints on sports franchises, real estate and commercial endeavors, particularly in the Black community." Magic has reinvested his time and focus into Black communities with the efforts of giving back to those who have been historically subjugated and oppressed. Magic Johnson in a recent interview has described that it is his mission on earth to help "Black communities obtain economic advancement." In his own words, he states, "One thing the Black community has struggled with is helping someone else achieve their hopes and dreams. Once we have made it, a lot of times, we didn't all reach back to help someone else make it. I didn't want to be one of those people. I wanted to reach back and give back. So, whether it's athletes or people in the community doing great things, whoever needs help, I'm going to help them because that's what I was put on this earth to do. God has blessed me, he put me in this position, and I want to continue to help the Black and brown community continue to be better, to help educate our children and send them to college."
Related article: MUST WATCH – The Hollywood Insider's CEO Pritan Ambroase's Love Letter to Black Lives Matter – VIDEO
Subscribe to The Hollywood Insider's YouTube Channel, by clicking here.
While much of this documentary series, 'The Call Me Magic,' glosses over the more sensitive and difficult times and aspects of Magic Johnson's life, it does fail in depicting the inherent quality of Earvin Johnson's character. He is above all a flawed human, but still well-intending and a champion of common people. Despite all the hardship that he has had to endure in his life he still has not lost his kindness and sincerity. His promotion and support for communities that are in need, shows truly where his priorities in life lie. 'They Call Me Magic,' succeeds in capturing the man and the nature of Magic, but it fails in storybook nature. There is much more to the icon that Magic Johnson is than just what the docuseries portrays, and that is where much of its oversight lies. Overall, it is adequate in depicting Magic and his story in a broader sense, but unfortunately, it leaves the viewer with more questions than answers.
Director: Rick Famuyiwa
Cast: Magic Johnson
Producers: Jeremy Allen, Stacey Barker, Andre Cleveland, Kathryn Everett, Scott Falconer, Rick Famuyiwa, Christina Francis, Jordan Fudge, John Henry Hinkel, Chris Leggett, Christina McLarty Arquette, Bryn Mooser, Zoë Morrison, Tony Pitts
Cinematographers: Todd Banhazl, Ruben Contreras, Adam Garber, Eduard Grau, David Jacobson, Jenni Morello, Rachel Morrison, J.B. Rutagarama, Jay Visit, Zoë White, David Paul Jacobson
Editors: Derek Doneen, Monique Zavistovski, Will Znidaric, Wes Lipman, Salman Syed, Dirk Westervelt
By Thomas Jacobs
Click here to read The Hollywood Insider's CEO Pritan Ambroase's love letter to Cinema, TV and Media. An excerpt from the love letter: The Hollywood Insider's CEO/editor-in-chief Pritan Ambroase affirms, "We have the space and time for all your stories, no matter who/what/where you are. Media/Cinema/TV have a responsibility to better the world and The Hollywood Insider will continue to do so. Talent, diversity and authenticity matter in Cinema/TV, media and storytelling. In fact, I reckon that we should announce "talent-diversity-authenticity-storytelling-Cinema-Oscars-Academy-Awards" as synonyms of each other. We show respect to talent and stories regardless of their skin color, race, gender, sexuality, religion, nationality, etc., thus allowing authenticity into this system just by something as simple as accepting and showing respect to the human species' factual diversity. We become greater just by respecting and appreciating talent in all its shapes, sizes, and forms. Award winners, which includes nominees, must be chosen on the greatness of their talent ALONE.
I am sure I am speaking for a multitude of Cinema lovers all over the world when I speak of the following sentiments that this medium of art has blessed me with. Cinema taught me about our world, at times in English and at times through the beautiful one-inch bar of subtitles. I learned from the stories in the global movies that we are all alike across all borders. Remember that one of the best symbols of many great civilizations and their prosperity has been the art they have left behind. This art can be in the form of paintings, sculptures, architecture, writings, inventions, etc. For our modern society, Cinema happens to be one of them. Cinema is more than just a form of entertainment, it is an integral part of society. I love the world uniting, be it for Cinema, TV. media, art, fashion, sport, etc. Please keep this going full speed."
More Interesting Stories From The Hollywood Insider
– Want GUARANTEED SUCCESS? Remove these ten words from your vocabulary| Transform your life INSTANTLY
– A Tribute to Martin Scorsese: A Complete Analysis of the Life and Career of the Man Who Lives and Breathes Cinema 
– Do you know the hidden messages in 'Call Me By Your Name'? Find out behind the scenes facts in the full commentary and In-depth analysis of the cinematic masterpiece
– A Tribute To The Academy Awards: All Best Actor/Actress Speeches From The Beginning Of Oscars 1929-2019 | From Rami Malek, Leonardo DiCaprio To Denzel Washington, Halle Berry & Beyond | From Olivia Colman, Meryl Streep To Bette Davis & Beyond
– In the 32nd Year Of His Career, Keanu Reeves' Face Continues To Reign After Launching Movies Earning Over $4.3 Billion In Total – "John Wick", "Toy Story 4", "Matrix", And Many More
they call me magic, they call me magic, they call me magic, they call me magic, they call me magic, they call me magic, they call me magic, they call me magic, they call me magic, they call me magic, they call me magic, they call me magic, they call me magic, they call me magic, they call me magic, they call me magic, they call me magic, they call me magic, they call me magic, they call me magic, they call me magic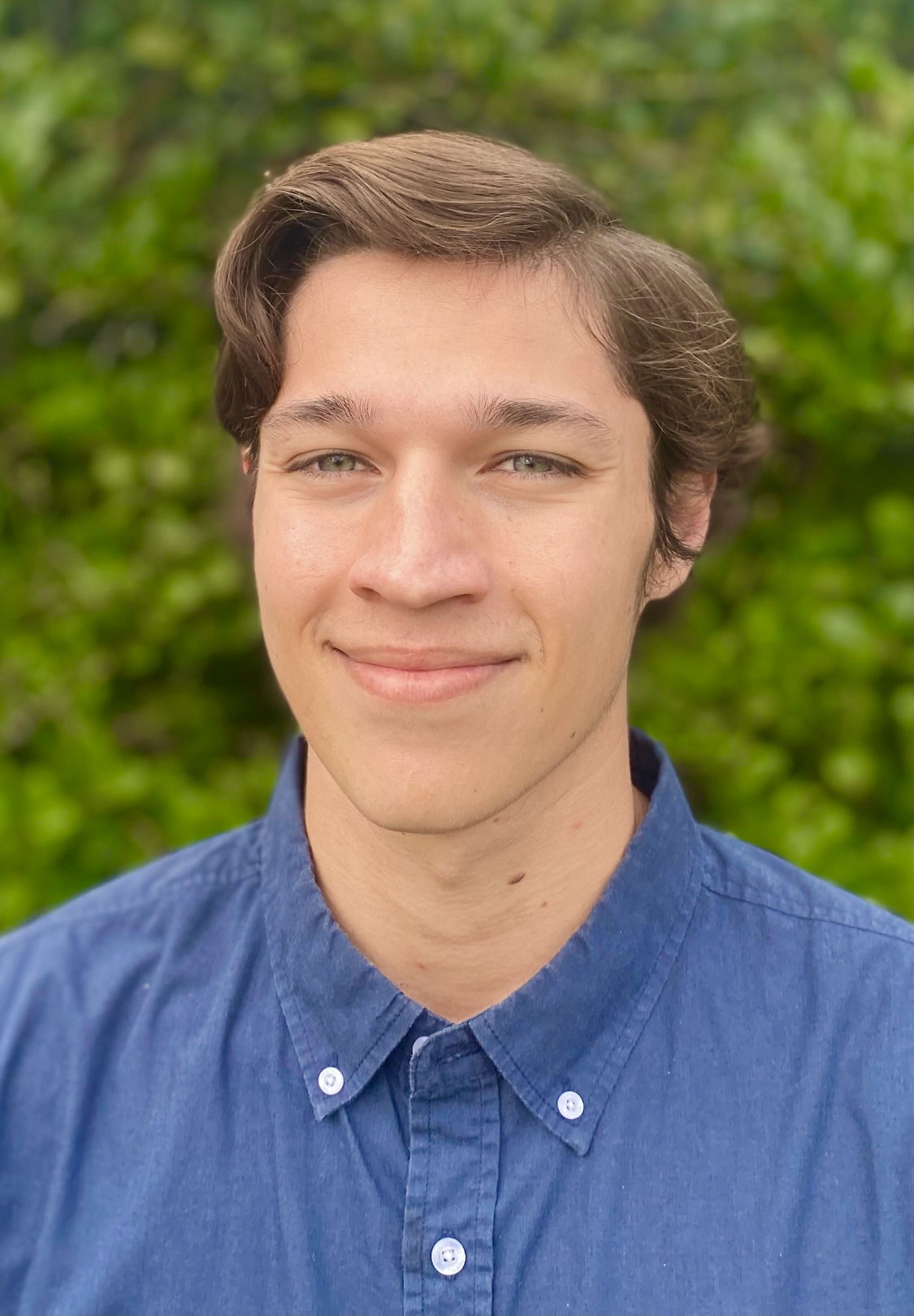 Thomas Jacobs is an avid writer, Cinema aficionado, and filmmaker. He graduated with Dean's Honors from the University of California, Santa Cruz with a major in Film and Digital Media. His passion is directly tied to the appreciation and creation of film and television, and this fact is reflected in his intent to be a writer for the acclaimed entertainment journal, The Hollywood Insider. His beliefs mirror the core goals and mission statement of The Hollywood Insider by sharing an admiration for quality entertainment as well as bolstering a sense of positivity and equality among all humans. Thomas believes that Cinema is an advantageous promoter of civil and social empowerment, and he shares a mutual societal view with  The Hollywood Insider, that people should not be judged by the color of their skin, but the content of their character.