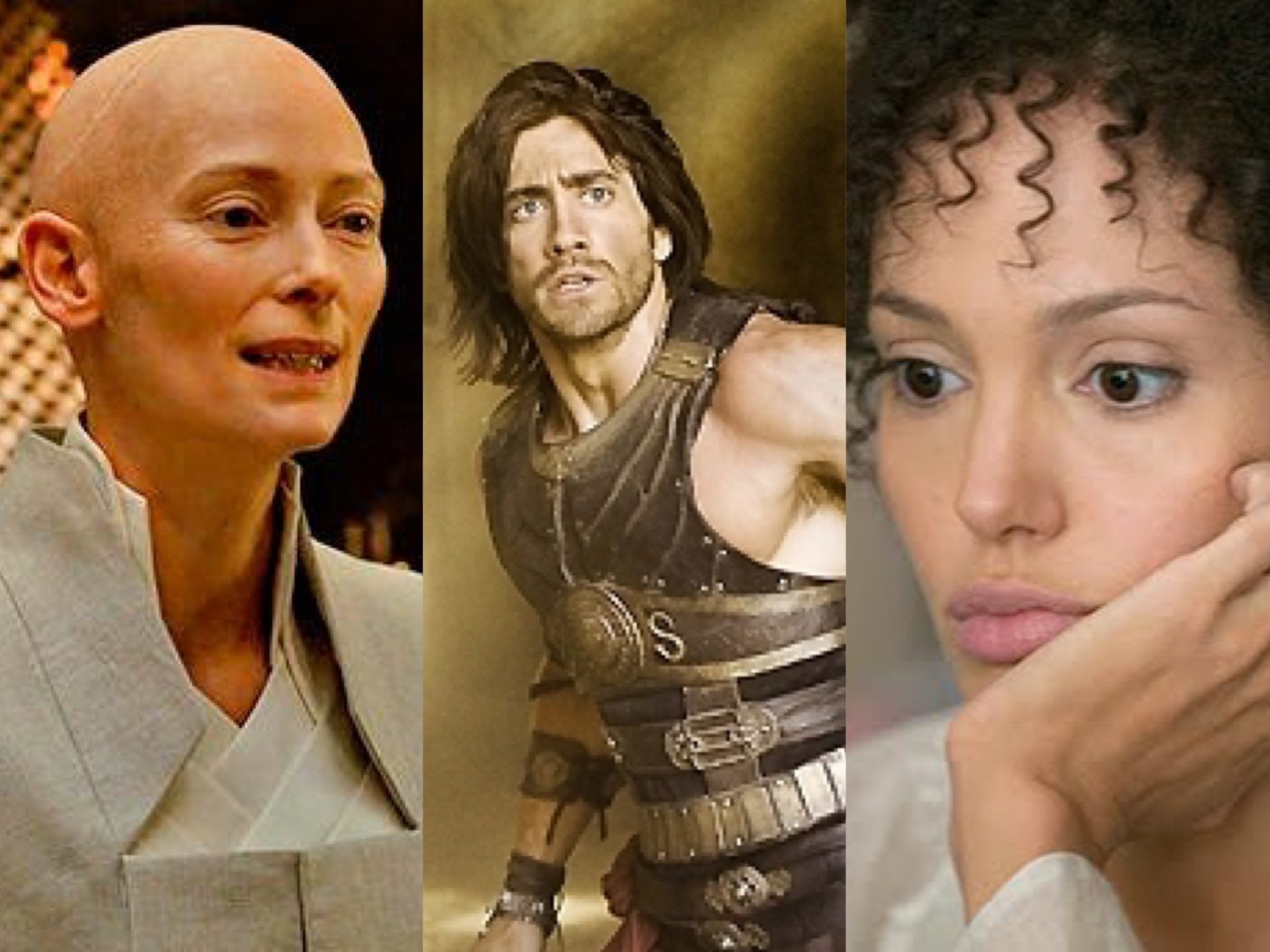 Photo: White-washing in Hollywood | Tilda Swinton as The One in Dr Strange, Marvel/Disney, Jake Gyllenhaal as Prince of Persia, Andrew Cooper/Disney, Angelina Jolie as Mariane Pearl, Peter Mountain/Paramount Vantage
"Whitewashing" is an issue as old as cinema itself. Countless films have been considered guilty of whitewashing, which generally involves white actors filling roles scripted for traditionally ethnic roles in cinema, specifically Hollywood. The majority of critics have articulated on the same Hollywood whitewashing focal point over the years, which includes its significance- the real and very unfortunate effects on our society, manifesting and spreading over time.
Before continuing, it is important to note that "whitewashing", and the severity/degree at which it appears in movies and occurs in Hollywood stems from personal opinions. What one person/group of people perceives to be whitewashing may be deemed totally acceptable by another. Regardless of personal beliefs, several "variations" of whitewashing in different Hollywood films have been noted.
White-washing issue: Some would be severely shocked by the prevalence of historically culture-specific roles being played by white actors/actresses. 
Additionally, the same gawking would ensure over the normalization of directors/writers adapting another cultures' history to fit a white cast, and/ or minimizing the role a minority played historically on screen. Furthermore, whitewashing presents itself in the form of American cinema heroes; Iron Man, Batman, Captain America, Spiderman- besides their supernatural abilities and gender ( an entirely different social issue), what do all of these vigilantes have in common? Even today, many heroic characters within cinema are always played by white actors/actresses, suggesting superiority and mindsets that should be long forgotten.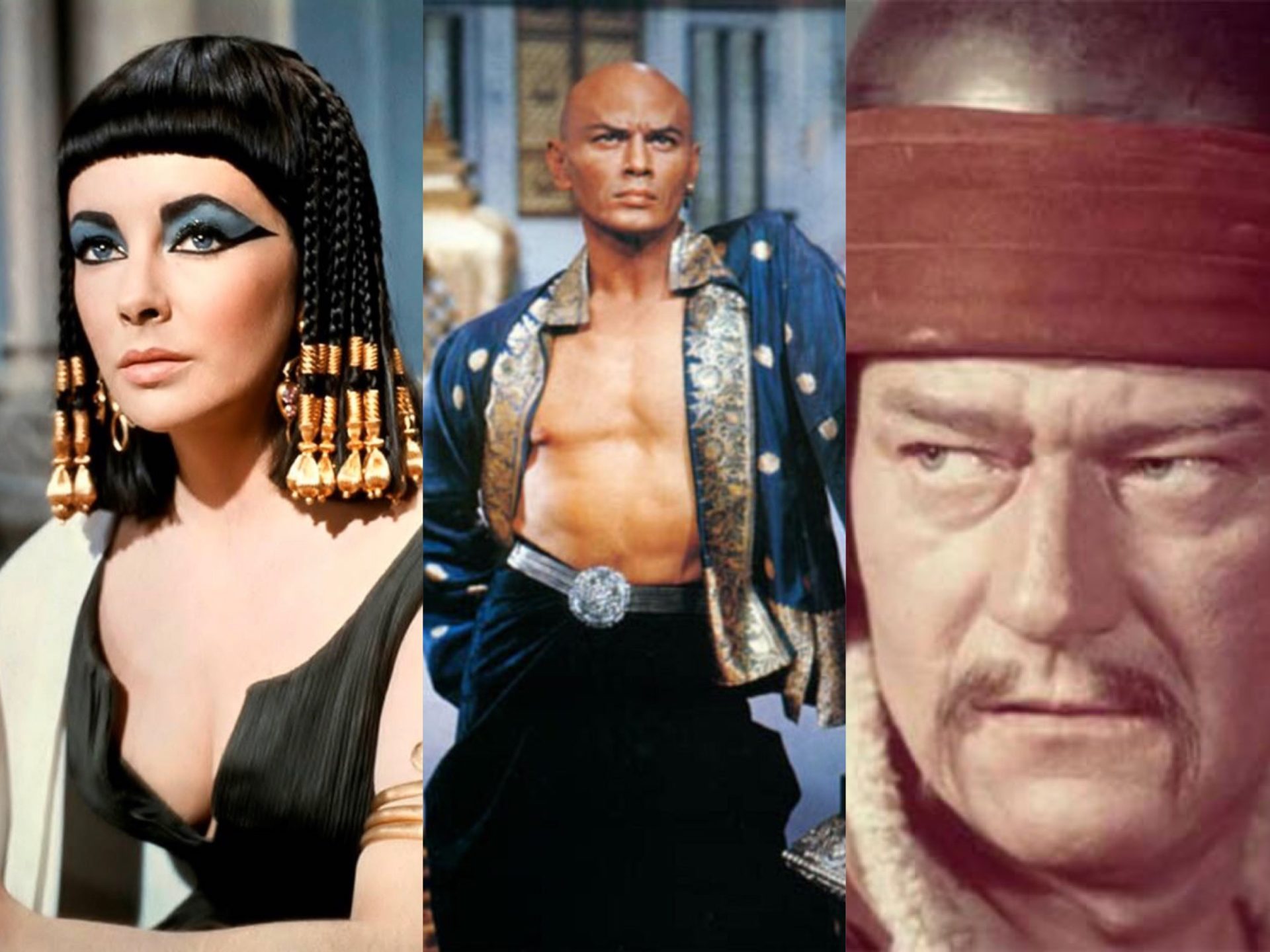 Photo: History of white-washing in Hollywood | Elizabeth Taylor as Cleopatra, 20th Century Fox, Yul Brynner as King Mongkut of Siam, 20th Century Fox, John Wayne as Genghis Khan, RKO Pictures
For the greater part of the 20th century, films were applauded for simple incorporation or display of race other than Caucasian, even if a white actor presented said "display" on screen. Whitewashing in Hollywood did not only leave minorities off the cast list but on the rare moments different cultures got the spotlight in a specific scene, they were often depicted in "stereotypical", offensive ways. Critics now rightfully berate and mock older Hollywood films for their ethnic insensitivity- for instance, multiple films within the 20th century involved white actors/actresses donning painted black and yellow faces to portray African American and Asian characters.
Whitewashing, after said "face paintings", appears in more discreet ways. Exemplary, well-known instances include: the previously stated American hero characters which are predominantly white, director/actor, Mel Gibson orchestrating the Irish actor, Jim Caviezel playing "Jesus" in the 2004 film The Passion of Christ, more recently in 2016, Matt Damon's casting in The Great Wall, and in 2017, when Scarlett Johansson played a Japanese-scripted character in the film Ghost in the Shell.  
While these more current examples are clearly not as culturally-insensitive as the traditional "black" or "yellow" painted faces in Hollywood's cinematic history, the current, clear white superiority within the castings of various roles annually promotes the same, dehumanizing ideals that destroy culture. Various past and present filmmakers accused of whitewashing have used the same justification, that white casts equate to maximum profit and film popularity. While this answer may have held some truth in the past, foreign film industries continue to be on the rise, accounting for large masses of overseas box office revenue for American films today. Equipped with this knowledge, if casting is done with money and budgets in mind, minorities should obtain equal screen time in Hollywood because the U.S film demographic has grown to incorporate many other countries. Some examples are: Black Panther, Crazy Rich Asians, Quantico with Priyanka Chopra.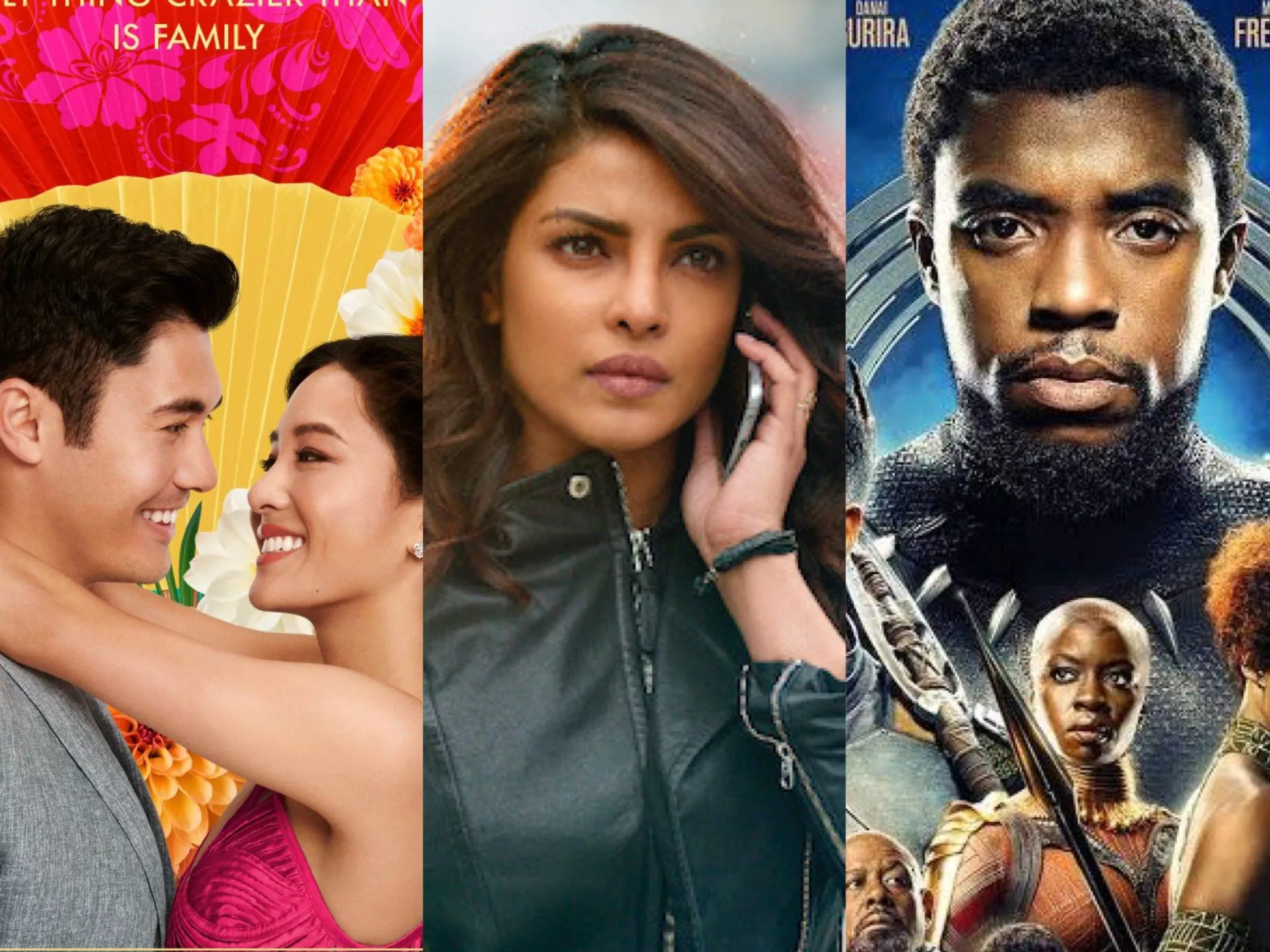 Eradicating white-washing in Hollywood Henry Golding and Constance Wu in Crazy Rich Asians, Warner Bros., Priyanka Chopra in Quantico, ABC, Chadwick Boseman and Danai Gurira in Black Panther, Marvel/Disney
Even so, combatting whitewashing in cinema encompasses much more than seeing minorities play more active roles, just as the issue itself causes more issues in our society than racism.  
In addition to the magazine-critics, celebrities like Grey's Anatomy's Ellen Pompeo have spoken out about the need for equal racial representation in the film industry. This past November, Porter magazine's "Women in Television" issue involved the gathering of a few of Hollywood's most successful actresses and philanthropists, including Pompeo, Gabrielle Union, Emma Roberts, and Gina Rodriguez. While the panel of women were supposed to discuss women's representation, ss reported by Vox, Ellen Pompeo called the magazine and Hollywood out for their general exclusion of minorities by saying, "this day has been incredible. And there's a ton of women in the room. But I don't see enough color. And I didn't see enough color when I walked into the room today…".
Clearly, Pompeo sees the lack of racial equality within Hollywood, specifically on screen and within crews (in Hollywood and Porter magazine). Her direct words signaled a call for action, and of course, went viral on social media and resonated with many. Like she said, we have come a long way, but we cannot become complacent if a real change is the goal.  It is time that everyone, those with and lacking social "power" promote equality for all people.
More Interesting Stories From Hollywood Insider
– When Brad Pitt, Leonardo DiCaprio and the rest of the cast of Once Upon A Time In… Hollywood brought glamour back to Cannes
– How Hollywood continues to take a stance on climate change and speaks up to halt the crisis facing our ONE home known as earth
– Pritan Ambroase on his idols Martin Scorsese, James Cameron and positive actions needed to avert the global warming crisis
– 10 facts you may not know about Ben Hardy, the Bohemian Rhapsody Star 
– Priyanka Chopra slams media for giving online trolls/bullies a larger platform to spew their harmful negativity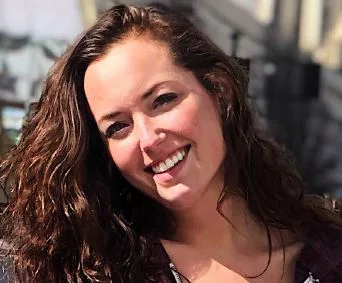 Marissa Ressler is an entertainment and culture writer at Hollywood Insider. She strives to highlight the latest happenings in Hollywood, focusing on culturally-relevant news that is consequential to audiences. Marissa believes journalism is both a gift and a tool, and utilizes it to be a voice for the voiceless. Her values closely mirror Hollywood Insider's, exemplified in her humanitarian viewpoints and informative proclamations about the current issues within society, seen through facets of cinema and entertainment in Hollywood and globally.