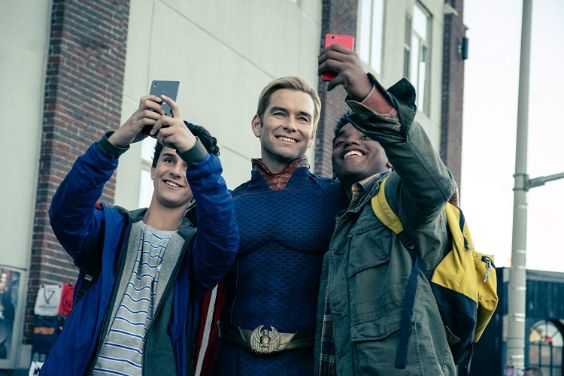 Photo: "The Boys"/Amazon
It's our world. But with one fundamental change – superheroes exist. They exist in all their flying, laser-beam-shooting, fish-talking, invisible-turning, super-strength glory. By now, with the Marvel Cinematic Universe and the DC Extended Universe dominating the box office and smashing records like it's The Hulk, we are no stranger to the concept of superhumans and all the tropes that come with it … Amazon's The Boys grabs this list of what we have been conditioned to believe about our beloved superheroes, scrunches it up and callously throws it all away. And steamrolls over it and lasers it and buries the ashes. In this world, superhumans are … less heroic, more human. The Boys unflinchingly explores what it would mean, 'realistically', for our society if people were able to develop extraordinary powers. Would they really sort themselves neatly into the superhero or supervillain categories? Or would things be … a whole lot greyer than that?
The Boys Takes The Superhero Genre And Turns It On Its Head – Hysterically
Based on the comics of the same name by Garth Ennis and Darick Robertson and brought to the small screen by Eric Kripke, Evan Goldberg and Seth Rogan, The Boys starts by lulling us into a sense of comfort and familiarity, playing into exactly what we expect of our superheroes in what we thought was yet another superhero show … We get introduced to the 'supes' through Hughie's (Jack Quaid) eyes, a fainthearted electronics store clerk, who, along with everyone else, idolises the supes. Next is Annie 'Starlight' January (Erin Moriarty), your average small-town-superhuman-girl that gets everything she's always dreamed of when she passes auditions to become the new member of The Seven – the crème de la creme of the superheroes. Within the first 6 minutes, however, the series takes a hard left. Both characters very soon realise (in horrific ways) that the supes and, in particular, The Seven, are not what they appear to be. In fact, everything that they appear to be (from their childhood stories, to their rescue missions, to every word that comes out of their mouths) seems to have been meticulously scripted for them by the marketing guys at Vought International, the superhero management company. They are in charge of getting the supes' faces on everything from toys, cereal boxes, shoes, to national security – and the supes themselves are more concerned with their cut of the profit to care much about anything else, even if they make fatal (for other people) mistakes on the job. Here, saving people takes a backseat to photo ops. Enter Billy Butcher (Karl Urban), the leader of a shady band of ragtag boys fighting back and making sure that the supes' wrongdoings don't just get swept under the rug …
Superheroes in The Boys Like Humans Are Both Good And Bad
Firstly, of course, we cannot talk about The Boys without mentioning the characters. With the exception of possibly Starlight, there are no characters that can be neatly sorted into good or bad. They are all complex and layered, making getting to know them a rollercoaster of a journey and making this story about superhumans more authentic and plausible. Each character seems to have their own fleshed-out story and each one is as interesting as the next. And we cannot talk about the characters without mentioning the acting. Antony Starr as the most psychotic supe of them all, Homelander, is particularly phenomenal in the role, communicating the underlying air of threat and pure, sinister power lurking in every banal, smiley, nice-guy interaction in the most seamless way. You are never able to stray too far from the knowledge that this is a man that can literally melt your entire skull at any second with just the narrowing of his eyes. The … odd (and honestly, quite disturbing) relationship between him and Madelyn Stillwell (Elisabeth Shue), the Senior Vice President of Vought's Hero Management, makes for some of the most uncomfortable, hair raising scenes in the series and both actors do an amazing job portraying the twistedness of it all. Speaking of Stillwell, although only a 'normal' human, she is also one of the most terrifying characters in the series. There is something about the way she calmly sits behind a desk and facilitates everything that makes her even more deplorable and Elisabeth Shue is brilliant at playing her with just the right amount of chill and charm. Finally, we cannot miss Karl Urban who brings such a rough, charismatic appeal and a strange likeability to the role of Butcher – whom it would have been otherwise very easy to hate, that you cannot help but want to follow him along on this 'adventure' and it's easy to see why Hughie would be compelled to do the same.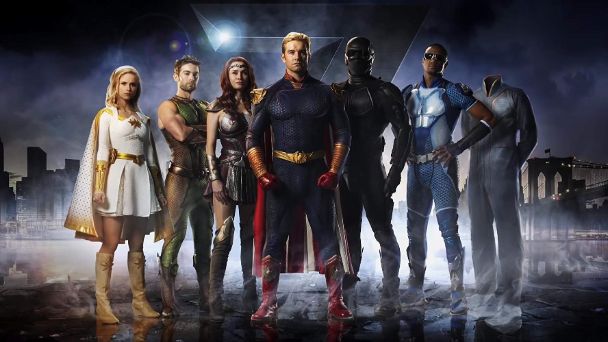 Photo: "The Boys"/Amazon
The Boys Attacks and Demolishes All Stereotypes
The series also does a very commendable job handling gender stereotypes. We have several women in high and influential positions – regardless of whether they use that position for good or bad; a black male who on all accounts seems like a 'tough guy'TM but isn't afraid to kiss his wife and kids goodnight over the phone every night in front of the boys; a jack-of-all-trades gunrunner who takes on almost a mother-figure role, caring and nurturing as he is (and an excellent baker!); a bisexual superhero; a ruthless businesswoman who is also an attentive and indulgent mother, etc. Impressively, it does all this without calling attention to it and patting themselves on the back for it, it just is – playing their part in normalising seeing these in more productions and subtly commenting on issues like toxic masculinity, sexuality and portrayal of women in traditional superhero movies.
It Attacks Abusive Patterns in The Entertainment Industry Through Parallels 
Furthermore, The Boys draws several parallels with the entertainment industry, offering audiences a sneak peek behind the curtains. The series reveals Vought International as a breeding ground for systemic abuse, where everything is carefully planned and orchestrated to service and facilitate rampant power abuse – from people within it using their influence and prestige to bend and break young women to their wills, to the calculated cover up of these incidents to protect the image of the company/abuser to the detriment of the victims (the victim is threatened with termination of employment instead of the abuser; a victim finding their voice and courage to speak out is labelled being a 'petulant diva' and gets told to 'show a little f***ing gratitude'). The series also dives into the plethora of ways a victim can be manipulated, threatened and trapped into believing that they have no option but to give in to the demands of the abuser – it is simply not as straightforward as, "she went along with it to get ahead in her career but now that it is no longer beneficial to her, she is complaining" or "why didn't she speak up earlier" which, tragically, were sentiments heard more than once during the #metoo movement. It is also noteworthy that while the series contains several scenes of male nudity, female nudity is entirely non-existent – while it's sad that this is considered noteworthy and 'progressive', unfortunately in our current environment … it is and it says a lot about how the creators of the show wanted to approach the series. 
The Show Wins By Exposing The Big Industries, Organized Religion, etc. 
At its core, The Boys is a story of ordinary people fighting back against institutions who seem invincible. That is why this series, more than any other superhero story, feels most relatable and "real". I mean. Yes, at one point, Billy Butcher literally takes a superhuman baby and uses its laser eyes to off some people. Yes, there is some fatal face-sitting. However, The Boys' criticism of mega-institutions – whether it be Vought International, or even organised religion and its hypocrisies – resonates now more than ever when it feels as if mega corporations are just getting bigger and bigger, more and more powerful and more and more oppressive; when everything including medication and healthcare is commercialised with profit maximisation taking priority; when it feels as if the top players are abusing their status and there is nothing that can be done about it. You need only to glance at the news to find yet another person that has passed away due to a treatable condition simply because they could not afford medication (that doesn't actually need to be that expensive). In a world where we are far more likely to relate to and find authenticity in a story where sociopaths pose as saviours than one where superhumans choose to use their ability only to do good – watching these normal guys attempt to expose the untouchable is very satisfying indeed.
If a superhero messed up the trajectory of your life because of a careless mistake, would you fight back? How?
The series is available to watch on Amazon Prime.
Actors: Karl Urban, Jack Quaid, Erin Moriarty, Antony Starr, Elisabeth Shue, Chase Crawford, Jessie T. Usher, Laz Alonso, Tomer Capon, Karen Fukuhara
Directors: Philip Sgriccia, Daniel Attias, Eric Kripke, Jennifer Phang, Stefan Schwartz, Matt Shakman, Frederick E.O. Toye, Dan Trachtenberg
Writers: Eric Kripke, Garth Ennis, Darick Robertson, Geoff Aull, Anne Cofell Saunders, Craig Rosenberg, Rebecca Sonnenshine, George Mastras, Ellie Monahan, Evan Goldberg, Phil Hay, Matt Manfredi, Seth Rogen
Producers: Evan Goldberg, Eric Kripke, Ken F. Levin, Ori Marmur, Neal H. Moritz, Jason Netter, Seth Rogen, Pavun Shetty, James Weaver, Philip Sgriccia, Nick Barrucci, Cory Bird, Anne Cofell Saunders, Garth Ennis, Gabriel Garcia, Hartley Gorenstein, George Mastras, Darick Robertson, Craig Rosenberg, Rebecca Sonnenshine, Michaela Starr, Dan Trachtenberg
Cinematographer: Evans Brown, Jeremy Benning, Jeff Cutter, Dylan Macleod
By Bhawana Siwa
More Interesting Stories From Hollywood Insider
–  The No. 1 Show In USA – 'Elite' Is Faster, Edgier & Sexier In Season 2 – And Omar & Ander Also Known As #Omander Are Here To Steal The Title Of Most Famous/Sexiest Couple From Priyanka Chopra Jonas & Nick Jonas
–  FACT-CHECKED Series: Keanu Reeves – 12 Revelations About The Star Of 'Matrix', 'John Wick' & 'Toy Story 4′ – Did His Close Friend River Phoenix Predict Reeves' Super Stardom?
– A Tribute To The Academy Awards: All Best Actor/Actress Speeches From The Beginning Of Oscars 1929-2019 | From Rami Malek, Leonardo DiCaprio To Marlon Brando & Beyond | From Olivia Colman, Meryl Streep To Bette Davis & Beyond
– In The 32nd Year Of His Career, Keanu Reeves' Face Continues To Reign After Launching Movies Earning Over $4.3 Billion In Total – "John Wick", "Toy Story 4", "Matrix", And Many More
– Joanna Lumley Blasts Media Which "Forgets Broken Lives/Communities Left Behind Once Storm Of Publicity Has Moved On From An Area Of Crisis" In Support Of Humans Of Our World's "Remember Forgotten Villages" Campaign
– FACT-CHECKED Series: Zendaya And 15 Things You Might Not Know About The Star Of 'Euphoria', Tom Holland's Leading Lady In "Spider-Man: Far From Home' And Next Starring With Timothée Chalamet In 'Dune'
– Dame Judi Dench Urges All To Remember Forgotten Villages Of Nepal By Donating To Humans Of Our World's Nepal Campaign
– WATCH: Do People In America Choose Human Rights Or Religion? – Season 2 Of Hollywood Insider's Messages From America – Episode 1
–WATCH: Do People In USA Support Gun Control? – Hollywood Insider's "Messages From America" – Episode 5
– Jason Momoa, Star Of 'Aquaman' And 'Game Of Thrones' Utilizes His Platform To Defend Nature And Mauna Kea In Hawaii Joined By Dwayne Johnson And Bruno Mars
– FACT-CHECKED Series: Tom Holland And 15 Things You Might Not Know About The Star Of Spider-Man
– WATCH: Once Upon A Time In Hollywood's Premiere & "Reaction From Stars" Leonardo DiCaprio, Brad Pitt, Quentin Tarantino, Margot Robbie, Etc. On The Making Of The Masterpiece
– Spider-Man's Zendaya In Her First Adult Role In HBO's Brilliant Series Euphoria – It Is Also One Of Leonardo DiCaprio's Favorite Shows
– Why Queen Elizabeth II Is One Of The Greatest Monarchs | Her Majesty Queen Elizabeth II of United Queendom of Great Britain & Northern Ireland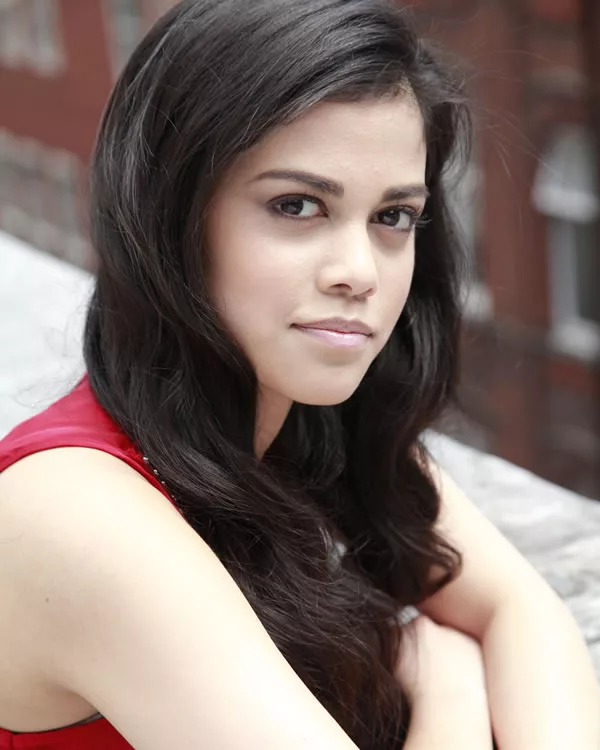 Bhawana Siwa is a writer for Hollywood Insider, writing film reviews and the occasional feature. Having grown up with a passion for finding beautiful stories, she aims to put her love of films and TV (and the hours she's spent watching them) to good use, aiding audiences to wade through the mass to find entertainment that is well-made, meaningful and that helps open their world up a little bit – exactly aligned with Hollywood Insider.