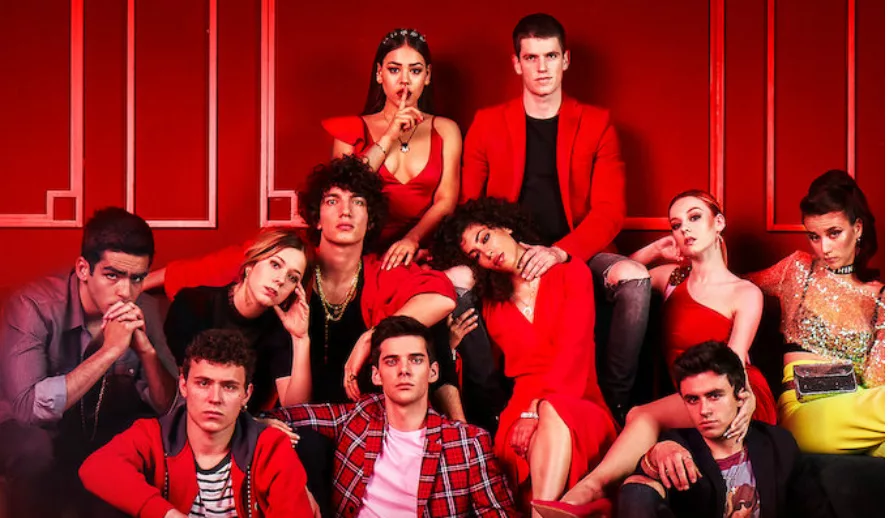 Photo: "Elite"/Netflix
The Netflix original Spanish drama directed by Ramón Salazar and Dani de la Orden, Elite, is back with more sex, controversy, and crime – now that school is back in session and the aftermath of Marina's death has created tension, extra tension, between characters. Not only are there new characters being added into the mix, but there's also more parties, fights, love triangles, deaths, and most definitely an increase in sexiness.
After the amazing season one – this new season continues to win with viewers as it has been declared the number one TV show in USA by TV Time Binge Report. This is one show that you may want to make a priority – you have been advised! This is one show that you hope will have more seasons to add to its repertoire. Characters with such depth that they not only add to the plot but develop their own personal fanbases. The plot never lets you go – this is one show that was made for the binge culture.
The Depths of Toxic Masculinity in The Elite Community
With Marina now dead, her brother Guzman, played by Miguel Bernardeau, has an even harsher vendetta against Samuel, played by Itzan Escamilla, for he believes his brother is responsible for his sister's death. This causes their feud to become based on a masculinity contest, as Guzman tries to scare him away with force from school in which Samuel stands his ground. Guzman often utilizes violence and aggression to mark his territory. The show does a really outstanding job at portraying the association of toxic masculinity in handling emotions which is really common universally.
Related article: FACT-CHECKED Series: Timothée Chalamet and 32 Things About This Extraordinary Superstar
The Beauty of True Love Against All Challenges Through Omander in Elite
Another issue that's still apparent is Omar and Ander's forbidden love, played by Omar Ayuso and Arón Piper. The couple are so popular all over the world that there is even a hashtag devoted to them – #Omander. Nick Jonas and Priyanka Chopra Jonas are the most famous couple? Well Omar and Ander are here to steal that title. Omar still insists that not only do they need to hide their relationship from his strict Muslim family, but Ander should just stay away from his home altogether. Issues begin to arise once Ander becomes exhausted of concealing their love due to Omar's fear of his father.
Limited Time Offer – FREE Subscription to Hollywood Insider, for substance and meaningful entertainment that is free of gossip and scandal, click here
Their situation is difficult and we pine for their pining for each other – we cannot help but root for Omander's love story to succeed into a happily ever after. We must realize the difficulty for younger generations who still live within traditional households and the severity that come with probing their cultural boundaries. Luckily, except Omar's un-accepting parents – everyone else including Ander's parents, all their friends and siblings are fully accepting and supportive – lucky!! May all gay couples be blessed with such accepting and celebratory loved ones. It's most definitely interesting watching it play out – and lets add sexy to that.
There are many fans of Elite and Omander within the editorial team of Hollywood Insider – and this is a collective statement being put out by Hollywood Insider as a testament to Omander: "In a world ruined by swipe right and swipe left, this app and that app, Omander are here to serve romance in the abundance and donate it to all the parched hearts – in fact, Omar and Ander are bringing romance back. Shakerspeare had Romeo and Juliet, James Cameron had Jack and Rose, Netflix has given us Omar and Ander – luckily this couple are definitely going to have a "happily ever after" – social media and #omander hashtag will make sure of it. Netflix are you listening? We demand a "happily ever after" for Omander".
Elite's Season 2 Introduces 3 New Students at Las Encinas
This season brings in three new students that will spice up the scene at Las Encinas even more. The first character introduced is Lu's half brother, Valerio, played by Jorge Lopez, who is depicted as a happy-go-lucky party guy who's addicted to cocaine and already seems to be on good terms with everyone in Las Encinas. Throughout the season, we become intrigued about what Lu and Valerio have experienced in the past together which definitely plays into their current dynamic.
We can't help but admire Valerio for his easy going attitude and charisma with all of the characters. Next, we meet Rebeca, played by Claudia Salas, who is a working class girl and she has just moved into the neighborhood due to her mother winning the lottery. With a super quirky sense of style, she doesn't seem to care about what anyone thinks of her.
Related VIDEO: Want GUARANTEED SUCCESS? Remove these ten words | Transform your life INSTANTLY
She eventually starts teaching Samuel to box so that he can defend himself over his brother's enemies and helps Nadia, played by Mina El Hammani, learn how to try new things outside her culture. We also see her on the receiving end of class-ist judgment for not coming from a traditionally wealthy family like the rest of the students which is an extremely apparent issue at this school. She quickly finds herself victim of Lu's wrath due to Lu's overly competitive mindset. Nevertheless, she will eventually play a key role in the ultimate drama within the season.
Then, we have Cateyana, played by Georgina Amorós, a mysterious Instagram influencer with over 39,000 followers. On the outside, she's gorgeous and fits into the school's look perfectly; however, she also perfectly represents the stigma of misrepresentation on social media, how people portray themselves the way they want to be seen rather than what they are. Tensions will rise between her and Rebeca as Cateyana becomes more "seen" than she had desired.
Related articles: A Tribute To The Academy Awards: All Best Actor/Actress Speeches From The Beginning Of Oscars 1929-2019 |
Elite Continues to Address Modern Issues That Apply Universally to Younger Generations
In terms of crime, drama and sexiness, Elite serves even more of all three in this season through love, feuds, and betrayal–very similar to a Shakespearan tale except it's in Madrid. However, now that relations are even more heated after Marina's death, things become a lot more direct and every episode is full of tea that you cannot miss. Elite addresses several modern problems such as differences of class, religion, sexuality, etc. Each Elite student embodies a different struggle that other teens can likely relate to and with all of these struggles compressed together, we get an extremely intense season that will no doubt be binge-worthy. If you enjoyed Degrassi or Euphoria, Elite Season 2 lives up to the same level and more.
Video: Every James Bond Kiss From 1962 to 2020 | All Bond Girls List | Sean Connery to Daniel Craig
Cast: Itzan Escamilla, Miguel Bernardeau, Álvaro Rico, Arón Piper, Mina El Hammani, Ester Expósito, Omar Ayuso, Danna Paola, Jaime Lorente, Miguel Herran, Jorge López, Claudia Salas, Georgina Amorós, Alfredo Villa, Eva Llorach, Jorge Suquet, Marta Aledo
Directors: Ramón Salazar, Dani de la Orden
Writers: Darió Madrona, Carlos Montero, Amanda Celíne Miller, Carlos C. Tomé
Cinematographers: Ricardo De Gracia, Daniel Sosa Segura
By Juliet Poucher
More Interesting Stories From Hollywood Insider
– Netflix's Elite is a show where being gay is a non-issue and gay couples are celebrated
– LGBTQ+ Representation in Film/TV: From The First Romantic Film in 1919 Based On A Gay Love Story To Where We Must Go
– Bollywood Wins With Lesbian Romantic Film Starring Sonam Kapoor Ahuja
– A Tribute To The Academy Awards: All Best Actor/Actress Speeches From The Beginning Of Oscars 1929-2019 | From Rami Malek, Leonardo DiCaprio To Marlon Brando & Beyond | From Olivia Colman, Meryl Streep To Bette Davis & Beyond
– In The 32nd Year Of His Career, Keanu Reeves' Face Continues To Reign After Launching Movies Earning Over $4.3 Billion In Total – "John Wick", "Toy Story 4", "Matrix", And Many More
– Joanna Lumley Blasts Media Which "Forgets Broken Lives/Communities Left Behind Once Storm Of Publicity Has Moved On From An Area Of Crisis" In Support Of Humans Of Our World's "Remember Forgotten Villages" Campaign
– FACT-CHECKED Series: Zendaya And 15 Things You Might Not Know About The Star Of 'Euphoria', Tom Holland's Leading Lady In "Spider-Man: Far From Home' And Next Starring With Timothée Chalamet In 'Dune'
– Dame Judi Dench Urges All To Remember Forgotten Villages Of Nepal By Donating To Humans Of Our World's Nepal Campaign
– WATCH: Do People In America Choose Human Rights Or Religion? – Season 2 Of Hollywood Insider's Messages From America – Episode 1
–WATCH: Do People In USA Support Gun Control? – Hollywood Insider's "Messages From America" – Episode 5
– Jason Momoa, Star Of 'Aquaman' And 'Game Of Thrones' Utilizes His Platform To Defend Nature And Mauna Kea In Hawaii Joined By Dwayne Johnson And Bruno Mars
– FACT-CHECKED Series: Tom Holland And 15 Things You Might Not Know About The Star Of Spider-Man
– WATCH: Once Upon A Time In Hollywood's Premiere & "Reaction From Stars" Leonardo DiCaprio, Brad Pitt, Quentin Tarantino, Margot Robbie, Etc. On The Making Of The Masterpiece
– Spider-Man's Zendaya In Her First Adult Role In HBO's Brilliant Series Euphoria – It Is Also One Of Leonardo DiCaprio's Favorite Shows
– Why Queen Elizabeth II Is One Of The Greatest Monarchs | Her Majesty Queen Elizabeth II of United Queendom of Great Britain & Northern Ireland
– WATCH: Pritan Ambroase On The #metoo Revolution & Powerful Questions That Need Answers