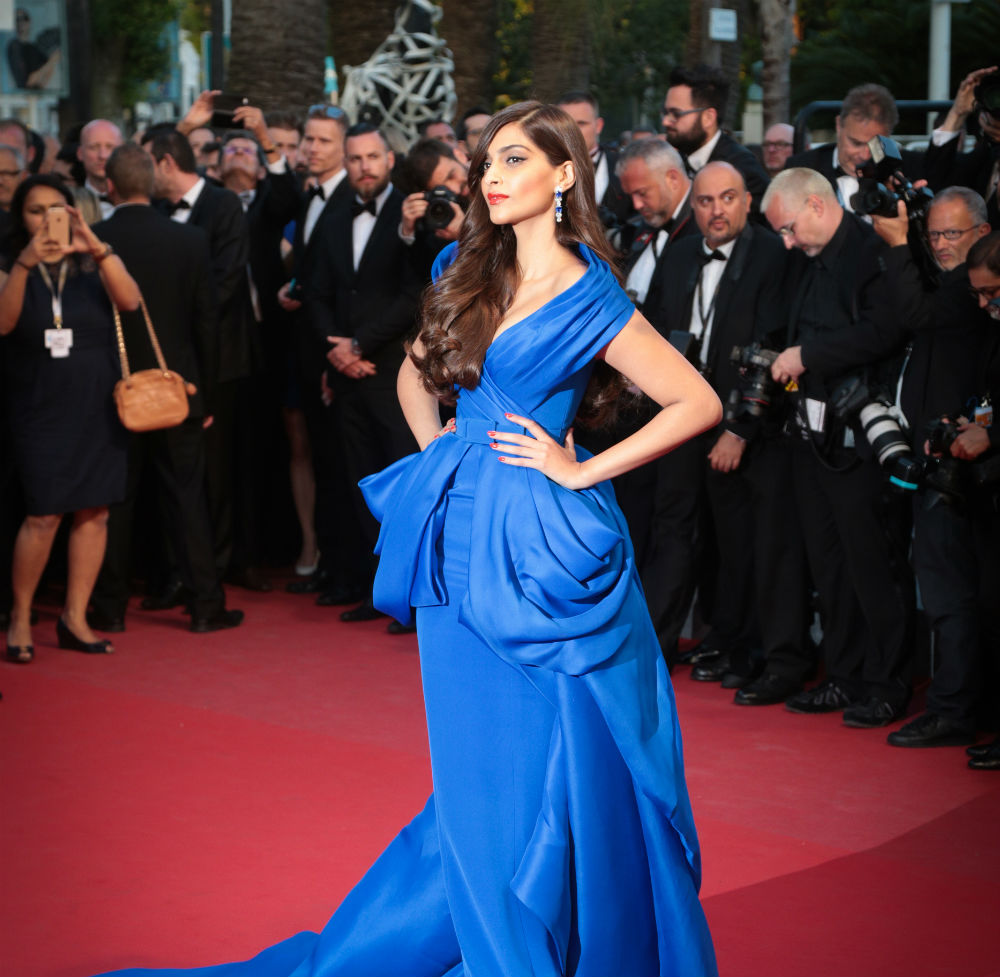 Photo: Sonam Kapoor in Cannes Film Festival 2016 by Indian Express is licensed under CC BY-SA 3.0 
This article is not a review of Sonam Kapoor Ahuja's latest groundbreaking film, and that fact should be clear from the onset. Certain movies, shows, projects, etc. transcend reviews and go beyond criticism, whether that be, constructive or destructive. Cinema, when done right has the power to change the masses for the better, which in turn betters the world and that is when movies stop being just an option for entertainment and become a tool, and that too, a powerful one. The Bollywood feature Ek Ladki Ko Dekha Toh Aisa Laga does just that and more. It has brought a lesbian romance to mainstream Bollywood for the first time, and for that, it deserves all the applause.
Subscribe to Hollywood Insider's YouTube Channel, by clicking here.  
If the question happens to be, how many stars out of 5? Then there aren't enough star ratings to accurately gauge the level of positive change that this results in, for the population of India, be it straight, gay, lesbian or any of the various LGBTQ representations, as well as the billions of fans of the biggest movie industry in the world: Bollywood. And the fact that the actress who essays the role of the protagonist happens to be an A-List leading lady is beyond magnanimous. It is an act of activism in itself. This film is an undoubted landmark for Bollywood and the broader Indian Film Industry, the people of India as well as cinema in itself.
Related article: EXCLUSIVE: Ayushmann Khurrana Interview – India's Tom Hanks is Transforming Bollywood and Indian Society while Destroying Toxic Masculinity
Ek Ladki Ko Dekha Toh Aisa Laga is an ambitious and courageous project, brought forward by the protagonist and leading Bollywood actress/star Sonam Kapoor Ahuja and her real-life father, an even bigger star, Anil Kapoor. The story bravely portrays Sonam's character's romantic love interest being a girl, rather than another boy. By Indian cinema standards, this is a unique romantic love story between two women but told with all the regular oomph, music and glamour that most Bollywood movies serve as a staple. Anil Kapoor plays Balbir, the father to the protagonist and also his real-life daughter, Sonam who has beautifully essayed the character of Sweety and her love interest played by Regina Cassandra as Kuhu. The rest of the cast with Juhi Chawla as Chatro and Rajkummar Rao as Sahil, form a noteworthy ensemble cast that carries this remarkable story forward.
Related Article: Want GUARANTEED SUCCESS? Remove these ten words | Transform your life INSTANTLY
To understand the gravity of this beautiful piece of cinema, one must remember the fact that India decriminalized homosexuality in 2018. Just. One. Year. Ago. Comparatively, a neighboring nation, Nepal had already legalized homosexuality in 2008, becoming the first country in the world to include a third gender in its federal census in 2011, and by 2015 became the first country in the world to issue passports that recognized three genders. India may have been slow to the race towards making human rights available to all, more so, love legally accessible to all, but with Ek Ladki Ko Dekha Toh Aisa Laga, it does so with aplomb. Upon hearing of the news about India's legal system decriminalizing homosexuality, Kapoor remarked, "I'm very happy and proud that India has taken a step forward and people can live and love the way they want to love and that's very important to me. And I think it should be very important to everybody in this world."
Limited Time Offer – FREE Subscription to Hollywood Insider, for substance and meaningful entertainment that is free of gossip and scandal, click here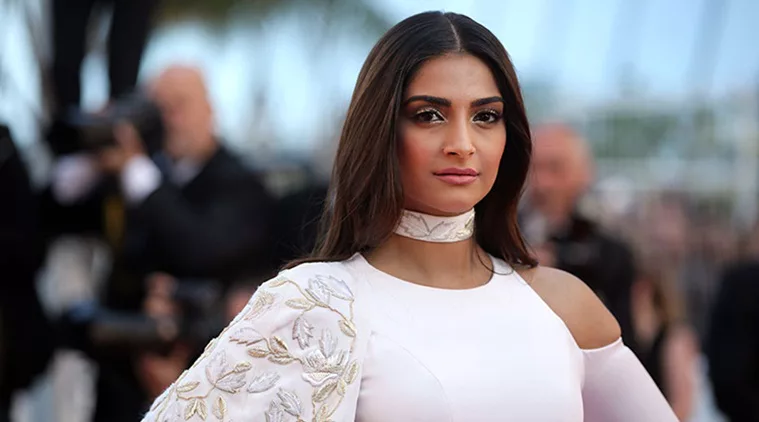 Photo: Magicinfoto/Bigstock
Although Bollywood and Indian Cinema have had several other movies with gay/lesbian/LGBTQ storylines, they have not been a part of the mainstream where an A-list leading man or woman has been shown playing a romantic gay/lesbian leading role. To put it into layman's terms, Ek Ladki Ko Dekha Toh Aisa Laga has brought a homosexual love story to the mainstream of Bollywood with a major A-List actress playing the leading role of a lesbian character, with the central love story being between her and her female love interest — and that is an act that has not been carried out by any of the heroes of Bollywood, heroes being a term reserved for a leading MAN in India.
Related articles:  A Tribute To The Academy Awards: All Best Actor/Actress Speeches From The Beginning Of Oscars 1929-2019 | From Rami Malek, Leonardo DiCaprio To Marlon Brando & Beyond | From Olivia Colman, Meryl Streep To Bette Davis & Beyond
She has been a long-standing and courageous supporter of LGBTQI+ rights in India and upon appearing on a popular Indian talk show Koffee With Karan, she publicly stated, ""I'm a huge advocate for LGBTQI (Lesbian, gay, bisexual, transgender, queer and intersex). For me, it is one of the most important things that I fight for and I hope for when there is a country and a world without labels."
Sonam Kapoor Ahuja, the actress, is a hero, and that too a real-life
and reel-life one.
Upon speaking to fans of Bollywood, it is quite clear that there is a multi-layer excitement around the film. Going by fans' anecdotes, when unraveled, the many reasons why the film excites them happens to be plentiful, even before the buzz that it would be a lesbian romance was known to the public. Since the news broke that this would be the first movie in which the father-daughter duo would appear together, fans of both of the stars, from two different generations have been excited, and the first trailer of the movie only heightened that excitement.
Related article: Genius Robert Pattinson and His 15-Year Strategy to 'Tenet' & 'Batman'
The name of the movie itself borrows a line from a hugely popular song in a 90s blockbuster titled 1942: A LOVE STORY, in which the father Anil Kapoor had essayed the role of the romantic leading man opposite award-winning Nepali actress Manisha Koirala. Bollywood is largely known for its singular focus on love stories where boy meets girl, love happens, and all is being told in a feel-good melodramatic musical fashion. The release of the first trailer showed the movie to be another feel-good romantic boy-girl love story told with all its usual Bollywood delights. The actual main storyline of Sonam's character being a lesbian was only revealed near to the release of the movie, and the same-sex love interest was only shown after the release itself.
Related article: Hollywood Insider's CEO Pritan Ambroase's Love Letter to Black Lives Matter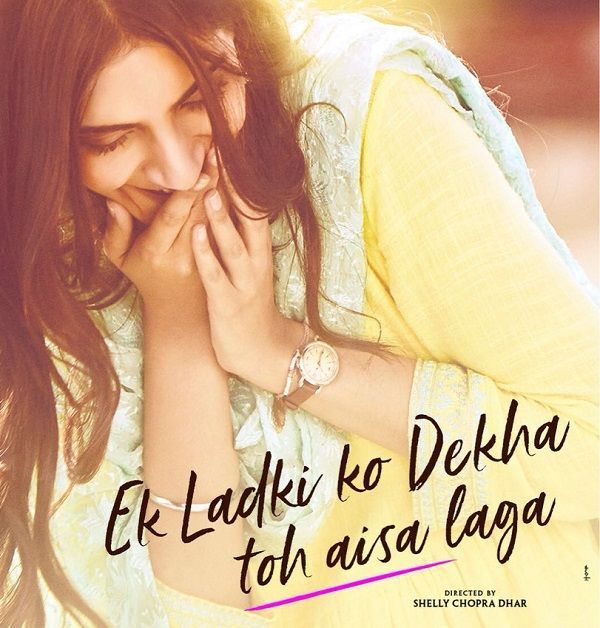 Photo: Sonam Kapoor Ahuja. Fox Star Studios
Video: FoxStarHindi
The filmmakers may have had a plethora of reasons for hiding the real story being a lesbian one from its audiences until the last minute. Perhaps to heighten excitement, to avoid losing viewers, or to avoid film-based religious/political riots, like the violent one that was sparked around the release of the blockbuster Padmaavat starring Deepika Padukone due to certain protestors objecting over the way the Rajput Queen was depicted in the movie.
​Related article: FACT-CHECKED Series: Timothée Chalamet and 32 Things About This Extraordinary Superstar
The fact that Ek Ladki Ko Dekha Toh Aisa Laga has fared well without any protests or riots show a positive change in India towards all sexualities and a highly progressive society which hopefully will continue onwards. Just as the film's tagline suggests "Let love be" and "Set Love Free".  
The father-daughter superstar duo waited long to choose a movie to act together in, and that choice has become a barrier-breaking, a love-is-love-celebrating, a mainstream-revolting form of cinema that has made its mark in history. All in all, this movie has liberated millions from mental blocks that have unhealthily lasted for far too long. The roles essayed by two generations from the same superstar family has also resulted in an open dialogue regarding acceptance of homosexuality and gay/lesbian couples and their beautiful love stories, between grandparents, parents, and children in a country like India where families still live together in a joint-family equation. It provides a positive talking point that hopefully will lead to a better society where love and humanity are prioritized over man-made legalities.
Simplifying this feature, at the very least, understand that Ek Ladki Dekho Toh Aisa Laga shows that couples of all varieties, be it gay/lesbian/straight being together openly is not their way of being against their families, rather their want/need to be a family themselves. And how can anyone argue with that? Thank you to Sonam Kapoor.
For a list of charities that advocate LGBTQI+ rights in India, please click on this link.
This movie is available to watch on Netflix.
Hollywood Insider Staff Writer
More Inspiring Stories From Hollywood Insider
– Netflix's Elite is a show where being gay is a non-issue and gay couples are celebrated
– When Brad Pitt, Leonardo DiCaprio and the rest of the cast of Once Upon A Time In… Hollywood brought glamour back to Cannes
– 10 facts you may not know about Ben Hardy, the Bohemian Rhapsody Star
– Timothée Chalamet feels lucky to utilize his platform to save people from drug abuse 
– Pritan Ambroase on his idols Martin Scorsese, James Cameron and positive actions needed to avert the global warming crisis
– How Hollywood continues to take a stance on climate change and speaks up to halt the crisis facing our ONE home known as earth
–  Has Crazy Rich Asians, Black Panther And Priyanka Chopra Eradicated White-Washing In Hollywood?: Improvements Happening, More Needs To Be Done
– Avengers: Endgame Is The Most Satisfying Finale To Marvel's Series – And There Are More "Big" Things Coming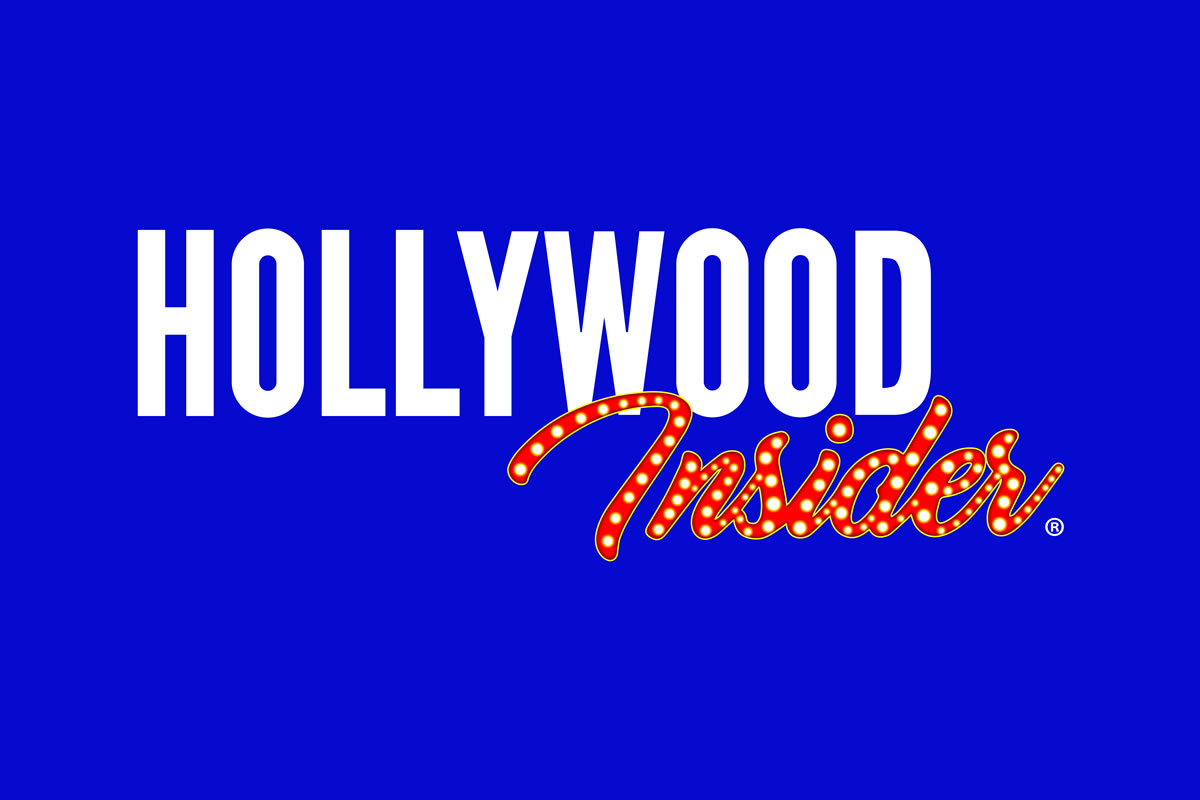 Hollywood Insider  is a media network thatfocuses on substance and meaningful entertainment/culture, so as to utilize media as a tool to unite and better our world, by combining entertainment, education and philanthropy, while being against gossip and scandal.