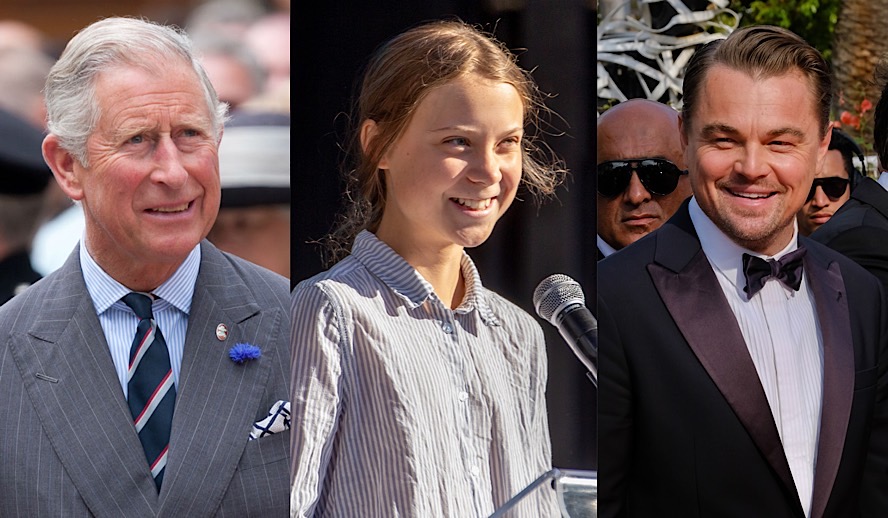 Photo/Video: Prince Charles, Greta Thunberg and Leonardo DiCaprio. (Dan Marsh, Lëa-Kim Châteauneuf, Olivia Vigerie)/Hollywood Insider YouTube Channel
Is it really correct to call this massive issue we are facing simply 'climate change'? Does it not soften the actual danger? Would it, perhaps, be right to call it 'Rapid Destructive Climate Change"? This might actually awaken people to the dangers that we are currently facing. No one can argue that humans have polluted and harmed the earth to the point that we might have caused a rapid destructive climate change and that is not a normal or natural occurence. All of us have heard the loud American politicians, their tweets and their slurs – but how many of us have heard what the people/civilians in America think? What do people in America think? What are messages from civilians in USA to refugees? Most of the people in America are nothing like the politicians in America – so it is important to make sure that world sees more of America and its people than just the loud politicians, regardless of them being republican/democract or any other political iteration. Hollywood Insider's 'Messages From America' asked American and visitors their response to the question "Which Sounds More Urgent? Climate Change or Rapid Destructive Climate Change?" The current state of politics in America with the 2020 elections shows to us that Hollywood Insider's Messages From America" series is more relevant and needed now than ever before. The 2nd season of Messages From America aims to continue to show the views, perspectives and messages from the everyday people/civilians in America. Most of the people around the world usually form an impression of America and its people based on a sitting President – whether it be Bill Clinton, George Bush, Barack Obama or currently Donald Trump. That is over 7 billion people around the world that think the President of America represents the 325 million plus people in America. What is worse that they believe that Americans might be very much like their President? Which is far from the truth. Most civilians and everyday people in America are far from politics and are nothing like the loud politicians that represent them. 
Click here for episode 1 of season 2: "Do You Choose Human Rights Or Religion?"
Click here for episode 2 of season 2: Who Is President For 2020? Pete Buttigieg? Joe Biden? Kamala Harris? Donald Trump? Bernie Sanders?
Click here for episode 3 of season 2: WATCH: Would A President's Sexuality Matter To You? A Lesbian, Gay, LGBTQ President? Pete Buttigieg?
Click here for episode 4 of season 2: WATCH: Do You Support Universal Healthcare?
Click here for episode 5 of season 2: WATCH: Do People In Usa Support Gun Control?
Click here for episode 6 of season 2: If Your Child Told You They Were Gay/Lesbian, What Would You Do? – Prince William Confirms He Would Completely Accept His Gay Children
Click here for episode 7 of season 2: Is Climate Change An Urgent Issue Or Not A Worry For 100 Years?
Click here for episode 8 of season 2: What Do You Want To Say To Refugees?
Click here for episode 9 of season 2: Should The Government Spend Money On Colonizing Mars?
Click here for episode 10 of season 2: Should Marijuana Be Legalized in All 50 States?
Click here for episode 11 of season 2: What's your message to LGBTQ People who got disowned by parents?
Season 2 | Episode 12: "Which sounds more urgent? Climate change or rapid destructive climate change?" Hear as a wide range of people from all over America tell us. 
Any President and their team do not reflect the American people in their entirety. By that same account, neither can any President in the future or has any President in the past ever reflected the American people in their entirety. Messages From America series hopes to show to the world what the American people that are civilians (not politicians) have to say on important issues. Usually, the world only knows the words and actions of US POLITICIANS, but seldom see what the people in America truly think about important issues. Other countries see only one side, without knowing that not all Americans agree with their politicians. This series aims to show what the rest of America, the people in America truly feel.
We at Hollywood Insider utilize our mission statement as our compass, which you can read more of by clicking here.
Here is a snippet: Hollywood Insider focuses on substance and meaningful entertainment, so as to utilize media as a tool to unite and better our world, by combining entertainment, education and philanthropy, while being against gossip and scandal.
To view the previous season – please choose from the videos below: 
Guide below:
Episode 1: What Is Your Message To Refugees?
Episode 2: Should Religion Be Utilized To Govern America?
Episode 3: Human Rights Or Religion? 
Episode 4: If You Are President For One Day, What Would You Change? 
Episode 5: Should USA Invest In Space Force or Education/Healthcare For All? 
Episode 6: Do you support Trump's Zero-Tolerance Immigration Policy? 
Episode 7: Universal Healthcare In USA? 
Disclaimer: The views expressed in this video are of the individuals themselves and do not reflect those of Hollywood Insider or interviewer/crew. 
By Hollywood Insider Team 
More Interesting Stories From Hollywood Insider
– WATCH: Do People In America Choose Human Rights Or Religion? – Season 2 Of Hollywood Insider's Messages From America – Episode 1
– WATCH: "If Your Child Told You They Were Gay/Lesbian, What Would You Do?" – Prince William Confirms He Would Completely Accept His Gay Children – Hollywood Insider's 'Messages From America' – Episode 6
– Why Queen Elizabeth II Is One Of The Greatest Monarchs | Her Majesty Queen Elizabeth II Of United Queendom Of Great Britain & Northern Ireland
– A Tribute To The Academy Awards: All Best Actor/Actress Speeches From The Beginning Of Oscars 1929-2019 | From Rami Malek, Leonardo DiCaprio To Marlon Brando & Beyond | From Olivia Colman, Meryl Streep To Bette Davis & Beyond
– The Verified Complete List of Every Female Best Director Golden Globes Winner: Fact-Checked Series