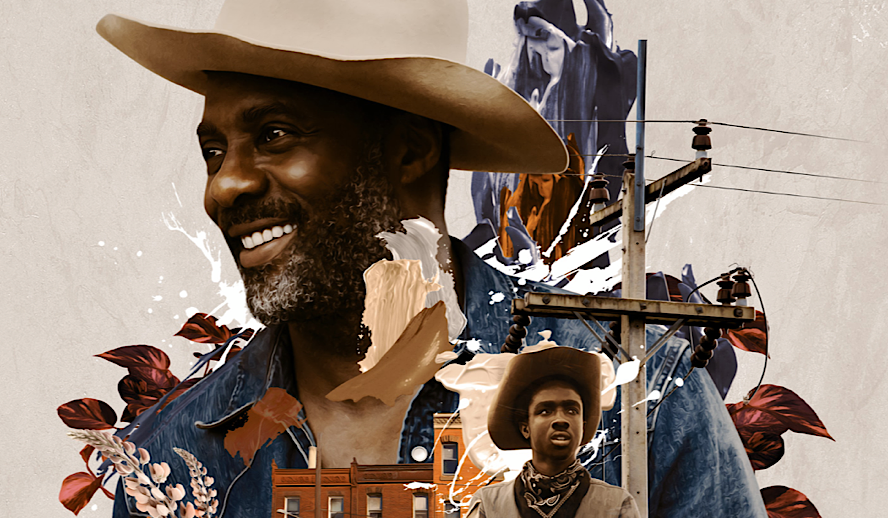 Photo: 'Concrete Cowboy'/Netflix
Netflix's 'Concrete Cowboy' is a coming-of-age drama about Black cowboys in the outskirts of the city of Philadelphia based on G. Neri's novel 'Ghetto Cowboy.' 'Concrete Cowboy' has western elements as expected with horseback riding but with the addition of modern Black neighborhood and cultural issues such as poverty, hunger, crime, and gentrification. 
The film stars Caleb McLaughlin, who is completely unrecognizable as the young boy we have come to know from 'Stranger Things,' instead, he appears as Cole, a troubled boy from Detroit whose mother Amahle (Liz Priestley) sends him off with two trash bags of clothes to live with his father he has never seen before. Cole's father, Harp, is portrayed by Idris Elba and is just as breathtakingly human as he teaches Cole the lessons he had to learn while growing up. Harp is a horseman with not much to his name but an old stable and a heart of gold that is willing to give to the ones he loves.
Related article: The Complete List of 2021 Oscar Nominations – Celebrations, Surprises & Snubs | The Show Must Go On
Related article: The Rise of Idris Elba: A Tribute to the Path-Breaking Leading Man
'Concrete Cowboy' Is An Incredible and Necessary Tale of Gentrification in Philadelphia
Cole sleeps on the couch adjacent to Harp's horse Chuck, which is later revealed to be Cole's childhood friend Smush's horse. While staying with his estranged father, Cole is given two choices: shoveling horse dung at the real-life Fletcher Street Stables, which Harp is part owner of, or continue to ride the streets alongside Smush, portrayed by Jharrel Jerome, a boy who has found himself amongst trouble. 
With hunger and the lack of home leaning over Cole, he chooses to shovel horse dung but still finds ways to sneak off with Smush from time to time. There is an adorably hilarious scene in which Cole drops horse dung on his Jordan's, which was an ironic mixture between the western culture and the city life represented throughout the film. There is a scene in which Cole stands on the street asking anyone he comes across if they have a phone for him to call his mom; it breaks your heart. As troubled as he is with the things he did in school hovering over him, he was dropped off in a strange world with nothing but two trash bags of clothes. He's confused, hungry, and while learning how to become an adult, he is still trying to discover who he is as a person or, more so, as a Black boy in a world that is against him. 
Cole forms a relationship with an ostensibly untrainable horse named "Boo." Despite this reflection of himself as someone who feels lost and unloved, this relationship between a horse who can not love and a boy who needs love could have been dug deeper. Although I think the director was more focused on portraying the importance of the cowboy culture within Philadelphia, he forgot about a few elements. The relationship Cole has with Esha (played by real-life rider Ivannah-Mercedes) also feels like there is a slight disconnect between Cole and a loved one that has not been thoroughly fleshed out. 
Related article: MUST WATCH – Hollywood Insider's CEO Pritan Ambroase's Love Letter to Black Lives Matter – VIDEO
Subscribe to Hollywood Insider's YouTube Channel, by clicking here. 
'Concrete Cowboy' is without a doubt one of Netflix's most powerful success stories this year and that I have ever seen come from them. This film is a gem in a land of greedy entertainment giants, and if you are to take anything from this review, you need to find the time to take a moment out of your day to watch it. If I had the power to award the cast and crew with awards, they would be receiving a truck full of golden statues. I'm in awe, honestly. I will be recommending 'Concrete Cowboy' for months to come; it holds a special aura that I think many people can relate to, and some should learn from. I cannot begin to speak about how this film broke me while filling it with knowledge, purpose, and realization. There is so much pain and beauty within this film that I do not know how to form sentences at this point.
The Importance of 'Concrete Cowboy' 
'Concrete Cowboy' comes from the first feature directorial debut and Philadelphia-born Ricky Staub, whose past work only includes a short film in 2017 about a young teen struggling with home life and everyday difficulties as a young Black boy. With only two directorial works and now a single feature, I can confidently say that I am impressed by Staub's content and artistry of his work. 
I do not want to come across as a kiss-up or fangirl, but with the minor issues within the film, Staub is incredibly impressive to pull this film off as beautifully as it came across. If directing is not enough, Staub alongside Dan Walser were the screenwriters, and the choice of language throughout the film is quite possibly one of the best aspects about it. The way the characters speak to each other feels human rather than scripted so much that it feels like genuine people were placed in front of a camera, and they went on with their lives being "humans." There is a beautiful scene of the cowboys joining around a bonfire when the film's meaning is confessed through the dialogue. 
Related article: The Power of Positivity: Ikorodu Bois + Chris Hemsworth + Russo Brothers + Sam Hargrave
Limited Time Offer – FREE Subscription to Hollywood Insider
Click here to read more on Hollywood Insider's vision, values and mission statement here – Media has the responsibility to better our world – Hollywood Insider fully focuses on substance and meaningful entertainment, against gossip and scandal, by combining entertainment, education, and philanthropy. 
With a critical line such as, "Black folks knew that a horse wasn't made to be dominated. A horse was meant to be free." The origin of Black cowboys is hinted at through the insinuation that back in the day, they got their food from horse buggies. When the city became gentrified with trucks for transportation, White people got rid of the horses because they no longer needed them. However, Black cowboys loved their horses, and it was not what the horse could provide for them but rather a symbiotic relationship of love, so they kept their stables and their horses.  
The real issue might be within the editing done by Luke Ciarrocchi, and I'd even recommend Ricky Staub taking a chance at editing the film himself as he has already proved himself within directing and screenwriting. With critiques and reviews about the lack of environment, I think Staub could make a difference in just shifting some scenes a bit that would allow more connection with the dialogue referencing gentrification and the environment depicting it as well as the human relationships Cole gains with Boo and Esha. 
The cinematographer, Minka Farthing-Kohl, indeed did some magic with intriguing shots that could disorientate in moments but also tell the story of what it would be like to grow up as a Black boy in poverty. There is a scene with a little Black boy wearing two different shoes meant for much larger feet, but he plays like any normal kid because, for him, he at least has something covering his feet. It breaks your heart. 
Related article: Hollywood Insider's CEO Pritan Ambroase: "The Importance of Venice Film Festival as the Protector of Cinema"
Related article: The Masters of Cinema Archives: Hollywood Insider Pays Tribute to 'La Vie En Rose', Exclusive Interview with Director Olivier Dahan
There's a single shot of the Black cowboys on the outskirts of the city, and that is precisely what we needed to get a sense of the gentrification that Staub is trying to tell the audience; however, we only get this single scene. In the dialogue, there was more than enough information about the gentrification as the Black cowboys discussed how stables were being shut down because of real estate or how new Condos were being built five blocks away. One cowboy had a funny comment about how hipster latte-drinking hippies wouldn't want to walk five blocks. One of my favorite scenes is between Harp and Cole, in which Harp explains to his son where he got his name, and while I could tell you what occurs, I believe that the moment is much more special if you see it with your own eyes. In all, this feels like one of those films you don't necessarily see anyone make anymore, and when you do, you need to hold onto it. 
'Concrete Cowboy' is full of brilliant concepts and brief bursts of poetic cinema, such as Cole wearing a cowboy hat at dusk as he sits on a horse or when Smush breaks down under a bridge, which shows rays of light cutting through the darkness as he dreams of an optimistic escape from his existence. Scenes such as these are why I am left impressed to know that this is Ricky Staub's first feature directorial debut. These scenes are examples of how the film pulls away from its overarching storyline and offers incredible surreal images of each character. 
Also to add, the music done by Kevin Matley was lovely, so much so that I immediately went to add the score to my film playlist. It feels like those moments in life when no word could come close to describing the way you feel. 
Related article: What Is an Oscar Bait Film? How to Be Nominated for and Win an Academy Award
Related article: Worst Oscar Snubs: The Academy Awards Failed By Ignoring These Great Movies and Performances
An Incredible Performance Alongside Real Fletcher Riders
Were there things in 'Concrete Cowboy' that could have been changed to better tell the story of the history of Black cowboys? Yes, but the film itself is still outstanding, even if it was because of the casting choices' charisma and talent. 
It is true to say that Elba and McLaughlin put a considerable amount of work into this film, making it the success that it is. McLaughlin is this angsty adolescent on the brink of bursting, and Elba is the distant father burdened with regret. The performances from the two and the entire cast enable the storyline to dig deeper within their characters' meaning. There are moments in the film when an argument increases like a race car with no build-up, but perhaps this can be interpreted as bottled-up emotions that are burst like glass on the pavement. Elba has been one of my favorite actors for a while but I am just now seeing that I need to keep my eye out for McLaughlin. This was McLaughlin's film and he truly left me impressed. 
The cast is genuinely fantastic, but I would wonder in the future if there would ever be a chance to get more detail about the actual Fletcher riders that appeared in the film such as Jamil Prattis "Paris" or Ivannah-Mercedes. Their short interviews at the end of the film depict so much suffering and longing for a part of their culture that is dwindling that you wish to know more about their lives.
Related article: April Movies Release Schedule: The Most Accurate List of Every Movie Coming Out in April – Live Updates
Related article:  Black Jobs Matter; A Reflection on Historical and Contemporary Black Opportunity
Gentrification of Black Culture 
If you were to consider the appearance of a cowboy, you would think of large belt buckles, denim jeans, cowboy hats, bolo ties, but most evidently, you would consider a White man to mark the appearance of a cowboy. The film focuses on the less spoken subculture in the United States, which is Black cowboys in inner-cities. Cowboys come from many walks of life, including African-Americans, Native Americans, Mexicans, and the eastern US and European immigrants. Some of the first Black cowboys were born into slavery but sought a better existence on the open range, where they faced less bigotry than they did in the city. 
The film, in theory, deviates from traditional Hollywood cowboy and American mythology. The film contains this underlying meaning of how the entertainment industry has whitewashed American history. One out of every four cowboys was proven to be Black, even though few have been portrayed in western films. This tension between American self-image and racial truth could have been furthered, but I think Staub did it on purpose not to include a single White person in his film. Of course, the depiction of Harp, a Black man, riding his horse along city streets rather than over country fields runs contrary to Hollywood's idea of a cowboy. I do not think that this film is powerful enough to hold the strength of portraying the entire entity of what it meant to be a Black cowboy and what it continues to represent. Nor the continuation of gentrification and racial injustice, but I think that the film is a good beginning for the entertainment industry to end whitewashing history.  
Related article: HBCU, A Black American Secret Tradition | Historically Black Colleges and Universities
Related article: The Case of Being Born Black in the American South, Black People Edition
Donate To Save Philadelphia's Black Cowboys
At the end of 'Concrete Cowboy,' these words appear on screen, "The City of Philadelphia is currently developing on Fletcher Street's land." Before watching the film, I had only a tiny bit of knowledge, knowing that Black cowboys were underappreciated and lacked acknowledgment when it came to western culture; however, I was completely unaware that they still existed on the streets of Philadelphia. We cannot let the culture of men, women, and children disappear as a repeat of what has been done in the past. In this life, we have the chance to stop this gentrification and culture erasure of Black cowboys. 
According to the Philadelphia Inquirer, the filmmakers of 'Concrete Cowboy' established the Philadelphia Urban Riding Academy in 2019 to "preserve the life, legacy, and culture of Black urban cowboys in the city of Philadelphia." They created a GoFundMe, "Raising $ For A Permanent Stable," in which they hope to raise $2 million for stables across Philadelphia. 
However, it is not to be confused with the Fletcher Street Urban Riding Club founded by Ellis Ferrel in 2004, who wants people to know that his foundation and life are separate from 'Concrete Cowboy' and their group. While both are wishing to do good for the Black cowboys of Philadelphia, they are separate entities. Ellis Ferrell also has a GoFundMe, "Help FSURC Get Back In The Saddle," or you can donate directly to the non-profit foundation on their website. 
Related article: A Tribute to August Wilson: Breath and Life of American Artistry, Writer of 'Ma Rainey's Black Bottom'
Related article: The Divine Future of These Strands, What The History of Black Hair Reveals About Its Destiny
The executive director of the Philadelphia Urban Riding Academy, Erin Brown, revealed her thoughts on his foundation. "It's not just Fletcher Street [that's in trouble]. There are backyard stables that still exist. In the event that they're affected by gentrification or they have to relocate … we are here for them." As to how a donation could help and what $2 million might buy, Brown said, "There were like 35-plus backyard stables in Philadelphia, we're talking about a facility with 20 to 25 stalls and … actual pastures." 
Where To Watch 'Concrete Cowboy'
'Concrete Cowboy' releases for streaming across the globe on April 2, 2021, available to watch through the streaming service Netflix. 
Where To Find The Stars
Expected August 6, 2021, Idris Elba can next be seen as Bloodsport in James Gunn's 'The Suicide Squad' alongside Margot Robbie, Taika Waititi, Viola Davis, and many more. As said on IMDb about 'The Suicide Squad,' "Supervillains Harley Quinn, Bloodsport, Peacemaker and a collection of nutty cons at Belle Reve prison join the super-secret, super-shady Task Force X as they are dropped off at the remote, enemy-infused island of Corto Maltese."
Expected in 2021, Idris Elba can also be seen in another western of Jeymes Samuel's 'The Harder They Fall' alongside Zazie Beetz, LaKeith Stanfield, and more. As said on IMDb about 'The Harder They Fall,' "When an outlaw discovers his enemy is being released from prison, he reunites his gang to seek revenge in this Western."
Get excited because it is rumored that season 4 of 'Stranger Things' will premiere later this year, starring Caleb McLaughlin, Millie Bobby Brown, Finn Wolfhard, and more. 
Click here to read Hollywood Insider's CEO Pritan Ambroase's love letter to Black Lives Matter, in which he tackles more than just police reform, press freedom and more – click here.
An excerpt from the love letter: Hollywood Insider's CEO/editor-in-chief Pritan Ambroase affirms, "Hollywood Insider fully supports the much-needed Black Lives Matter movement. We are actively, physically and digitally a part of this global movement. We will continue reporting on this major issue of police brutality and legal murders of Black people to hold the system accountable. We will continue reporting on this major issue with kindness and respect to all Black people, as each and every one of them are seen and heard. Just a reminder, that the Black Lives Matter movement is about more than just police brutality and extends into banking, housing, education, medical, infrastructure, etc. We have the space and time for all your stories. We believe in peaceful/non-violent protests and I would like to request the rest of media to focus on 95% of the protests that are peaceful and working effectively with positive changes happening daily. Media has a responsibility to better the world and Hollywood Insider will continue to do so."
Ways to support Black Lives Matter Movement to end systemic racism
More Interesting Stories From Hollywood Insider
– Want GUARANTEED SUCCESS? Remove these ten words from your vocabulary| Transform your life INSTANTLY
– Compilation: All James Bond 007 Opening Sequences From 1962 Sean Connery to Daniel Craig
– Do you know the hidden messages in 'Call Me By Your Name'? Find out behind the scenes facts in the full commentary and In-depth analysis of the cinematic masterpiece
– A Tribute To The Academy Awards: All Best Actor/Actress Speeches From The Beginning Of Oscars 1929-2019 | From Rami Malek, Leonardo DiCaprio To Denzel Washington, Halle Berry & Beyond | From Olivia Colman, Meryl Streep To Bette Davis & Beyond
– In the 32nd Year Of His Career, Keanu Reeves' Face Continues To Reign After Launching Movies Earning Over $4.3 Billion In Total – "John Wick", "Toy Story 4", "Matrix", And Many More
concrete cowboy, concrete cowboy, concrete cowboy, concrete cowboy, concrete cowboy, concrete cowboy, concrete cowboy, concrete cowboy, concrete cowboy, concrete cowboy, concrete cowboy, concrete cowboy, concrete cowboy, concrete cowboy, concrete cowboy, concrete cowboy, concrete cowboy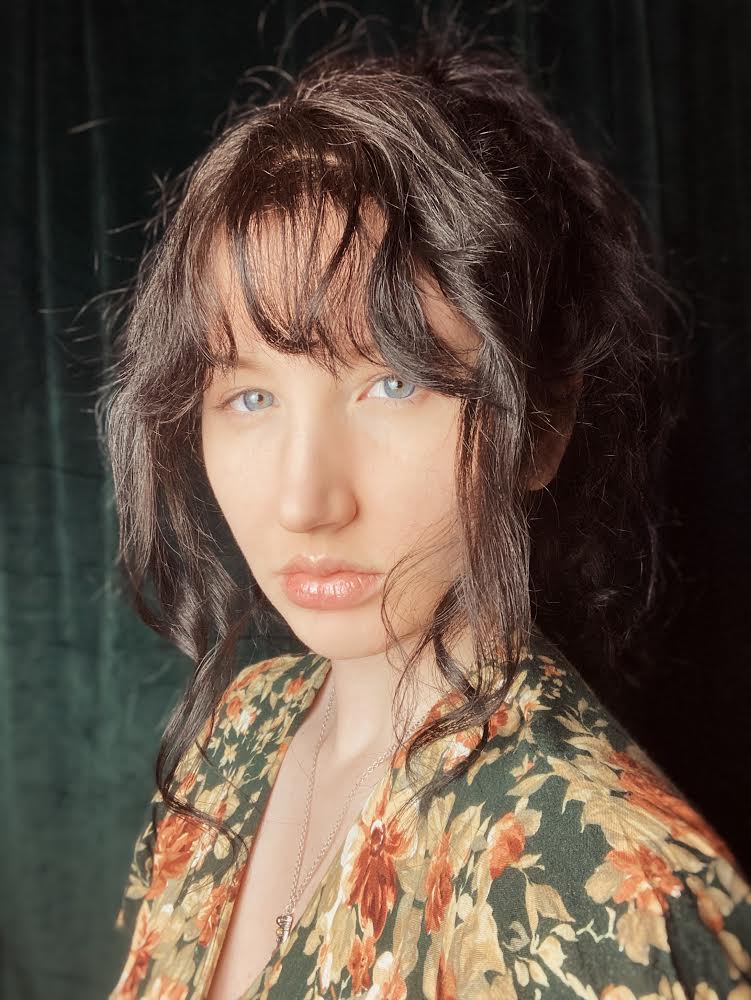 Isabella Brownlee is an experienced writer, video editor and filmmaker. She is currently a writer for Hollywood Insider, focusing on detailed and thought-provoking film reviews and articles discussing truth and impact in the film industry. Driven by self-awareness and unique perspectives, she takes utmost pride in providing others with emotionally impacted knowledge about the film industry. As a writer, her main goal is to connect with the audience and those who find themselves in the back of the bleachers unknown to anyone but beautifully aware of the world. In addition to her primary job functions, Isabella creates and edits videos/films personally and professionally. Aligning with Hollywood Insider's mission of sharing impactful and influential content, Isabella hopes to enrich her readers with positivity and truth.