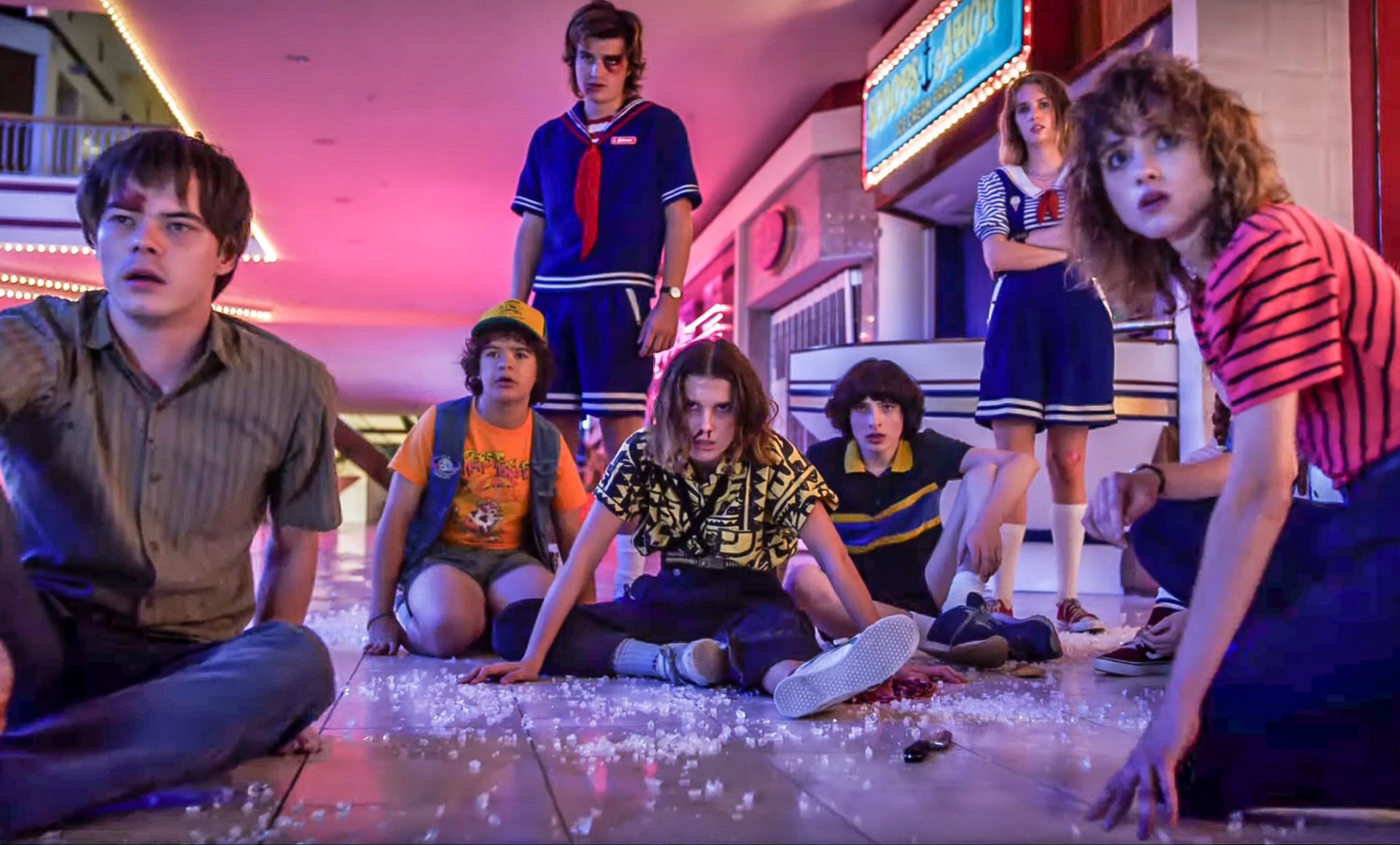 Photo: Stranger Things Season 3/Netflix
'Tis A Season Of Personal Issues at Stranger Things
The Duffer Brothers have delivered another extra satisfying chain of episodes that portray the lovable band of misfits living out their summer in Hawkins.  We get to see our favorite characters again played by Winona Ryder, David Harbour, Finn Wolfard, Millie Bobby Brown, and many more. This summer, all of the characters are dealing with their own personal issues: Hopper is struggling to accept that Eleven is now in an intimate relationship with Mike, Dustin feels as if his friends forgot about him, Lucas and Max are constantly on and off, Will seems to be the only one in his friend group who's not interested in girls, Nancy feels undermined at her new internship by her sexist superiors, Joyce is feeling increasingly lonely after the death of her old boyfriend, and Steve is stuck working at an ice cream shop in the new mall where he's incapable of maintaining his popular guy persona. Problems start to arise when Max's brother Billy starts showing concerning behavior, Dustin's radio picks up on a mysterious Russian broadcast, and Nancy receives a startling call regarding an outbreak of a supernatural disease. The characters split up into four groups in dealing with these issues that eventually result in a jaw dropping finale.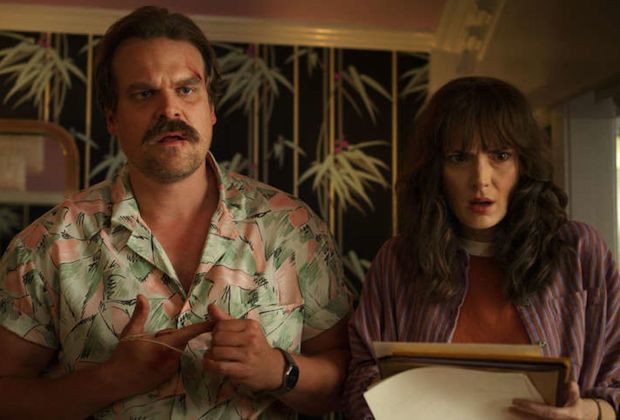 Photo: Stranger Things Season 3/Netflix
Stranger Things' Characters' Growth and Development 
This season in particular focuses a bit less on the supernatural plot, and a bit more on the character development which doesn't satisfy us any less. The issues these characters experience are quite common and relatable, making it easily entertaining. There's heavy attention placed on the rapidly growing relationship between Eleven and Mike. Eleven, as an underdeveloped human being with an inexperienced parent, doesn't understand how overly involved she's become with him until Max, played by Sadie Sink, convinces her so, then encourages her to develop a more individual character for herself and realize her worth. This feminine exploration she experiences is amusing to watch and she eventually establishes healthy boundaries with Mike. We also see a different side to Hopper, who is somewhat trying to soften his edges, especially in regards to the women in his life. Joyce tries to help him confront Eleven in a diplomatic conversation regarding her relationship with Mike which hilariously does not go as planned. On the other hand, he's also trying to confront Joyce romantically by asking her out on a date which also does not go as planned. Harbour's character is hilarious and gritty as always; we can't help but admire his attempt to improve his communication skills and temperament.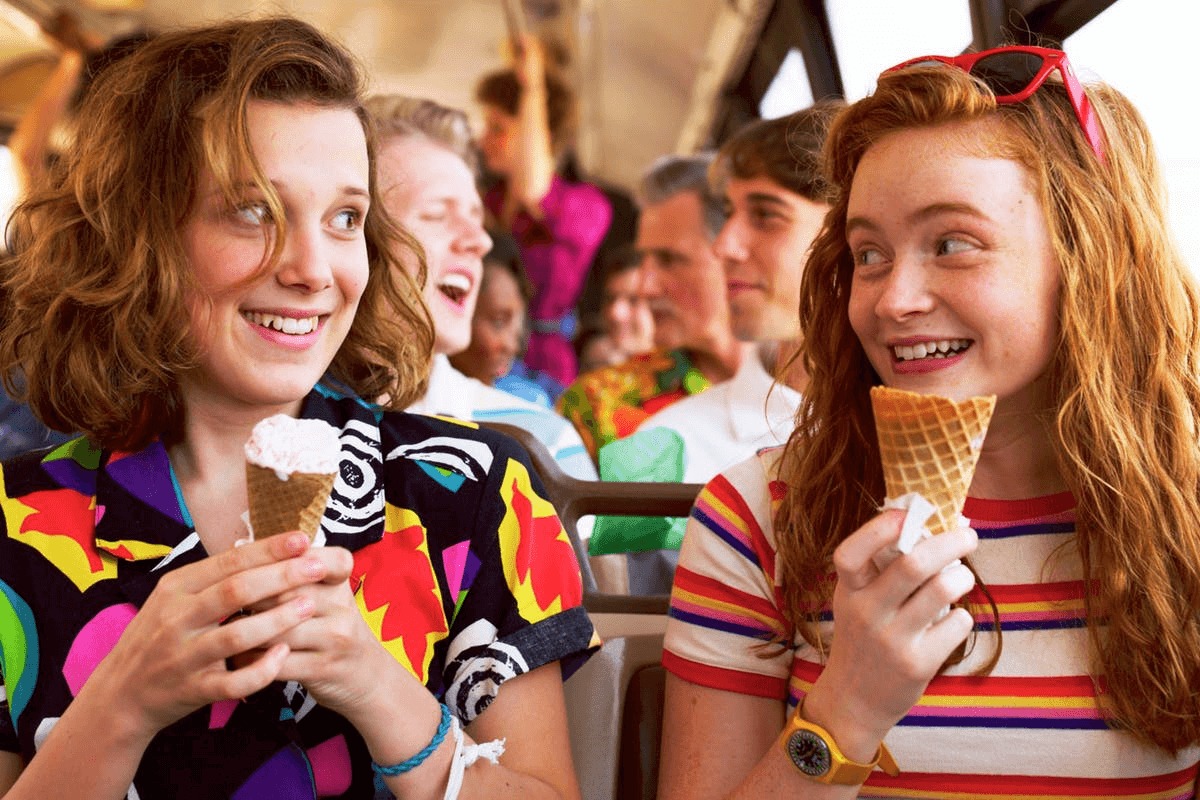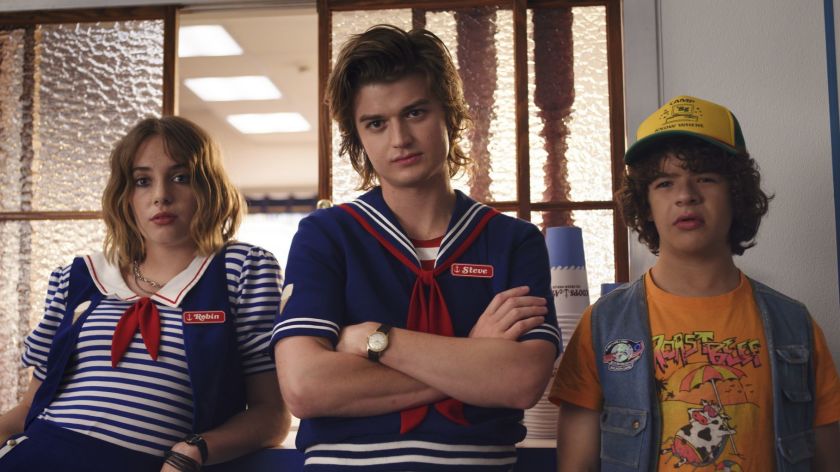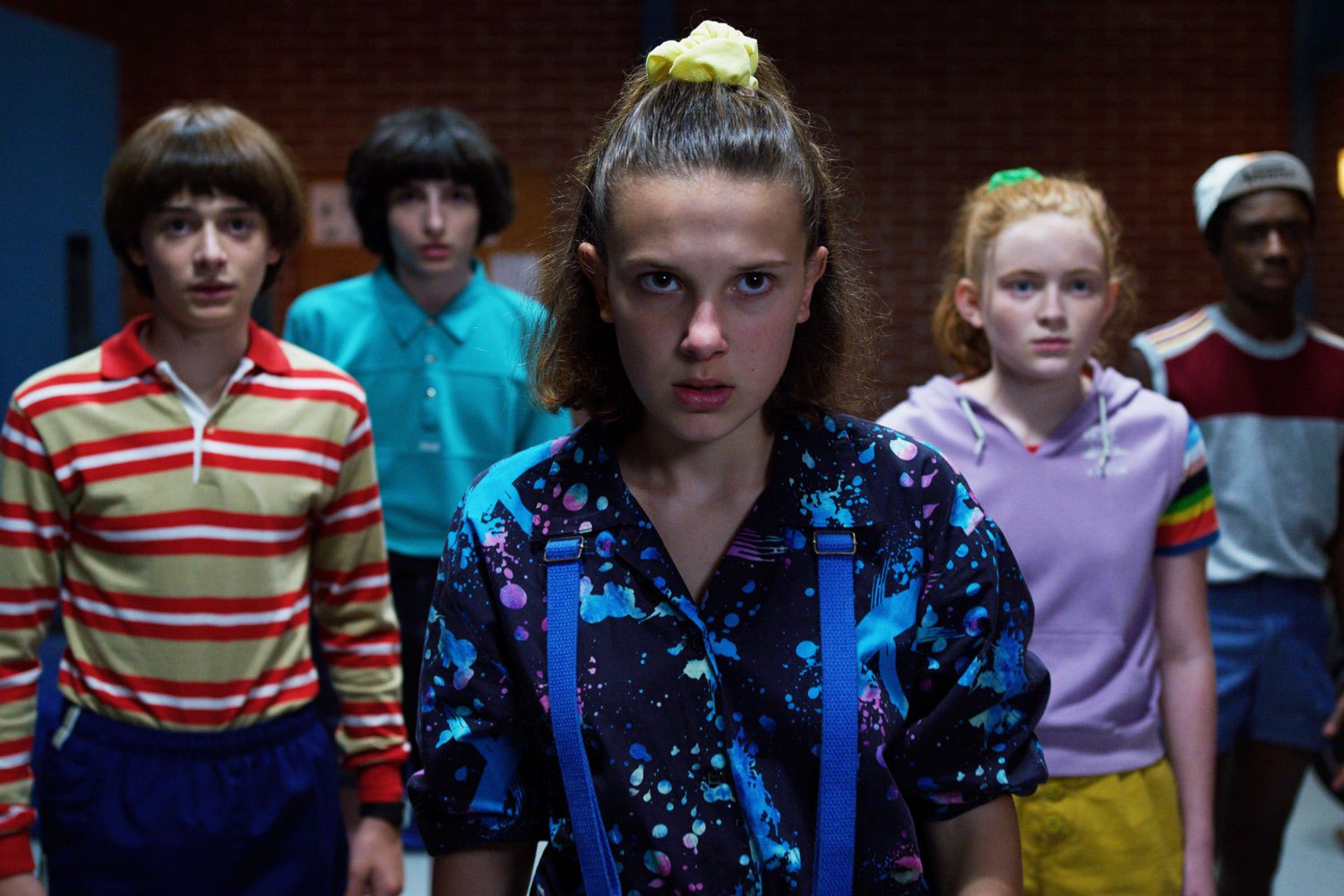 Photo: Stranger Things Season 3/Netflix
Stranger Things' New Iconic Characters 
Season 3 introduces a few charismatic characters into the scene, all played by incredibly talented actors. Maya Hawke, who is also the daughter of Uma Thurman and Ethan Hawke, plays Steve's co-worker at the mall, Robin, who seems amused at his failure to maintain the swagger he had in high school and eventually becomes part of his and Dustin's scheme to find out what the Russians are up to. Her high intelligence and sense of independence plays perfectly into their trio and she quickly becomes a likable "mom of the group" character. Then, we're introduced to Priah Ferguson who plays Erica, Lucas' mall rat little sister. She becomes of use to the mall trio when she agrees to help them with their plan to infiltrate a storage room full of suspicious boxes in exchange for free ice cream for life. Her sassy mouth adds a comedic effect to the group's situation and it's later discovered that she's a lot more intelligent than she appears. Lastly, although he's not a new character, Dacre Montgomery puts on a stellar performance as he becomes the center of attention as Max's step brother, Billy, who seems to be possessed by a dark supernatural force, becoming one of the primary signs of danger coming. We witness his character undergo an extra terrifyingly violent persona who has fits of absolute fear and pain through this possession which is successfully portrayed by Montgomery. 
80s Nostalgia Is At An All Time High in Hawkins
One of the most blatant aspects about this season is that it heavily plays on an 80s summer nostalgic vibe through the clothes, soundtrack, and overall aesthetic. The show makes very clear that the kids have officially made their transition as teenagers through their rebellious exploration of self, love, and meaning in life. At one point in the season, Max encourages Eleven to find her true sense of self and style by taking her on a shopping trip to Starcourt where she experiments with a series of colorful clothing to Madonna's "Material Girl" and dumps Mike shamelessly afterwards. Nancy and Jonathan continue to stick to their vintage style of dress as they enter the adult world through their internships at the Hawkins Post. The new Starcourt mall that's opened up in Hawkins where the kids frequently visit adds a lot more color to the usual brown and green Hawkins scenery from past seasons. Even the ice cream shop that Steve works at brings a lot more color to the scene. It's a fun series to watch this summer, not just because of the violent Russians taking over the mall or Mind Flayer dragging the characters back into the Upside Down, but for the nostalgic settings, comedic dialogue, and overall light heartedness of the season. 
And, let's avoid the topic of Natalie Dyer looking like Timothée Chalamet altogether. 
Cast: Winona Ryder, David Harbour, Finn Wolfard, Millie Bobby Brown, Gaten Matarazzo, Caleb McLaughlin, Natalia Dyer, Charlie Heaton, Joe Keery, Noah Schnapp, Sadie Sink, Dacre Montgomery, Priah Ferguson, Maya Hawke
Directors: Matt Duffler, Ross Duffler, Shawn Levy, Andrew Stanton, Uta Briesewitz, Rebecca Thomas
Writers: Matt Duffler, Ross Duffler, Jessie Nickson-Lopez, Paul Dichter, Kate Trefry, Justin Doble, Jessica Mecklenberg, Alison Tatlock, William Bridges, Curtis Gwinn
Cinematographers: Tim Ives, Tod Campbell, Lachlan Milne, David Franco
By Juliet Poucher 
More Interesting Stories From Hollywood Insider
– FACT-CHECKED Series: Tom Holland And 15 Things You Might Not Know About The Star Of Spider-Man
– Himesh Patel, Lily James & Danny Boyle Bring The Beatles Back To Life In The Brilliantly Original Film Yesterday with a sprinkling of Ed Sheeran and Kate Mckinnon
–The Lion King Roars Louder With Beyonce, Donald Glover, Chiwetel Ejiofor As Leads – "It Never Gets Old"
– Disney's The Lion King – Donald Grover, Beyoncé, Seth Rogen, Chiwetel Ejiofor, on "Trailer With A Scoop Of Trivia"
– Spider-Man: Far From Home –Tom Holland, Jake Gyllenhaal, Zendaya & "Trailer With A Scoop Of Trivia"
– 10 facts you may not know about Ben Hardy, the Bohemian Rhapsody Star
– Are you a huge fan of the British Royal family? Would you like to know REAL FACTS instead of just gossip? Here are 15 facts about HRH Prince Charles brought to you by Hollywood Insider's Fact-Checked Series
– EXCLUSIVE: Is That Quentin Tarantino Hidden In Plain Sight In The New Poster Of Once Upon A Time In… Hollywood: An In-Depth Analysis
– New & Exciting Poster Released For Once Upon A Time In… Hollywood –Taking A Page Out Of The Golden Age Of Hollywood
– From The First Romantic Film in 1919 Based On A Gay Love Story To Where We Must Go – Why LGBTQ+ Representation in Film/TV matters
– Netflix's Elite is a show where being gay is a non-issue and gay couples are celebrated
– How Hollywood continues to take a stance on climate change and speaks up to halt the crisis facing our ONE home known as earth
– When Brad Pitt, Leonardo DiCaprio and the rest of the cast of Once Upon A Time In… Hollywood brought glamour back to Cannes
– Timothée Chalamet feels lucky to utilize his platform to save people from drug abuse 
– Pritan Ambroase on his idols Martin Scorsese, James Cameron and positive actions needed to avert the global warming crisis
– Men In Black: International – Chris Hemsworth & Tessa Thompson in "Trailer With A Scoop Of Trivia"
– 32 Facts on Rambo and the more-than-meets-the-eye superstar Sylvester Stallone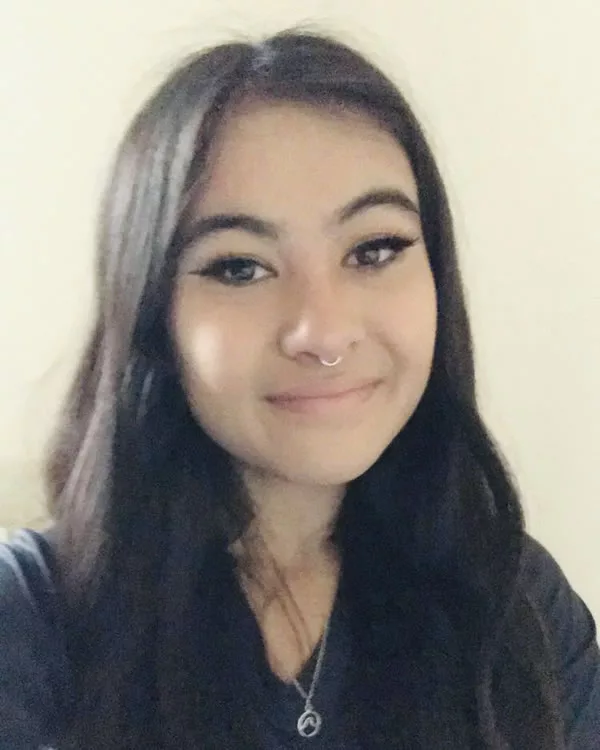 Juliet Poucher is a reviews writer for Hollywood Insider. She has a keen eye for films, art and literature, often analyzing them for hidden meanings. Hr goal with her career and duripromote entertainment with quality actors, meaningful stories, and universal messages.