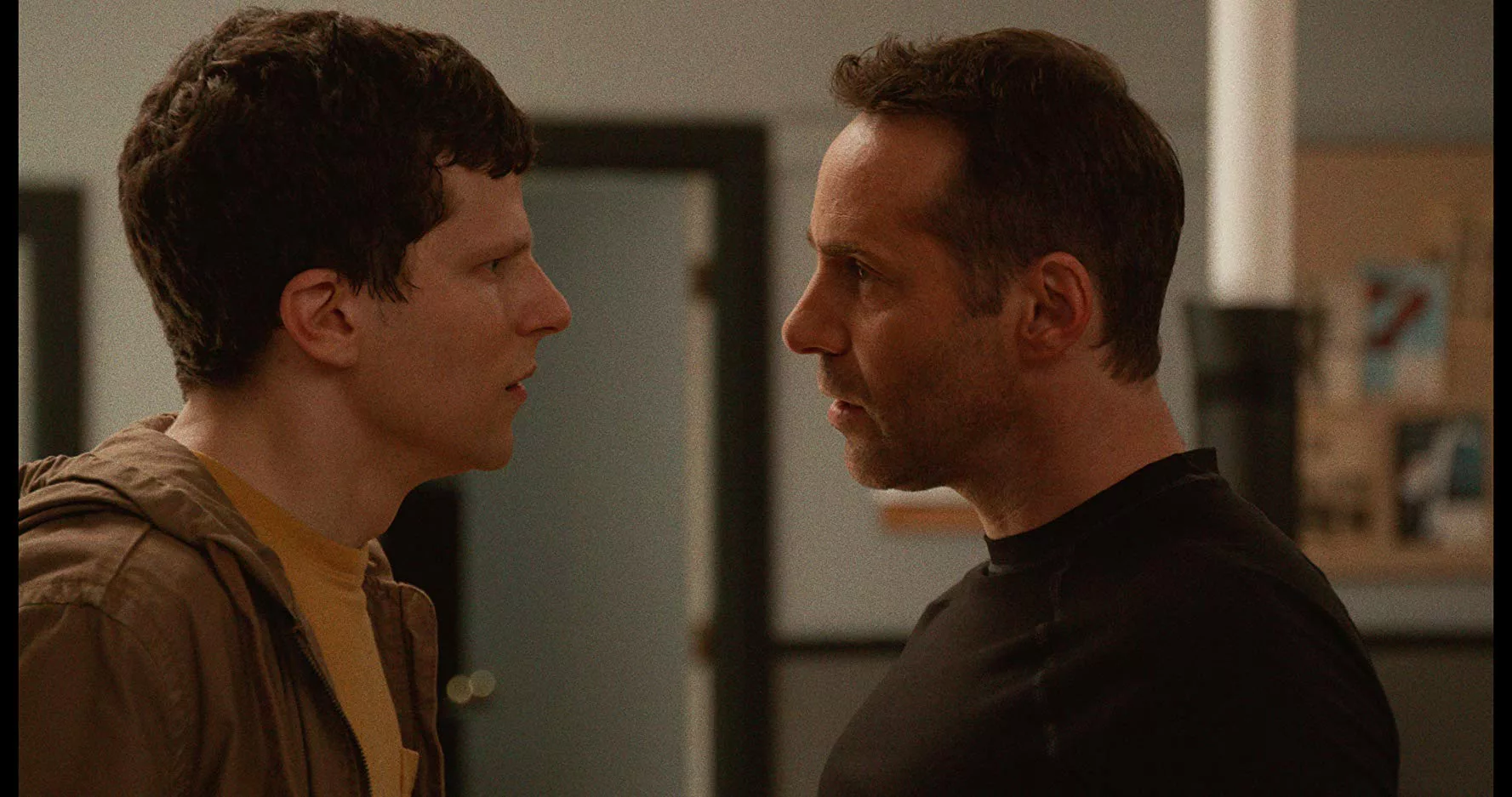 Photo: Jesse Eisenberg and Alesssandro Nivola in "The Art Of Self Defense"/Bleecker Street Media
The Art of Self Defense is a dark comedy directed by Riley Stearns, set in the middle of America with characters that seem mediocre on the surface, but are extremely eccentric once we get to know them. Jesse Eisenberg comes off as a boring accountant, Casey Davies, who has a mild-mannered dog as his primary companion and an overall lack of excitement for life until he is brutally attacked by a motorcycle gang. Being physically and emotionally scarred from this experience, he finds himself becoming immersed in karate classes, hosted by the ultra-masculine sensei played by Alessandro Nivola. The sensei encourages him to carry on with the classes by placing him on a pedestal for his efforts and with the motivation of the only female classmate, Anna, who is played by Imogen Poots. The more intimate Casey becomes with this group of people, the more disturbing the reality of his situation becomes. The overall plot and characters have parallels to Fight Clubbut it's a lot less serious and more about the comedic aspects. Jesse Eisenberg puts out a fantastic performance of an insecure, self-loathing guy who is just beginning to find his place in the world as a man in his thirties. His natural flair for dark humor and dramatic abilities create a perfect contrast not only within his character but the whole film.
The Ironic Misconceptions of Gender Roles in The Art of Self Defense
The most blatant theme of this film is its toxic masculinity and harsh enforcement of gender roles. The sensei makes clear to Casey that his central problem in life is that no one takes him seriously as a man and the knowledge of how to fight will instill newfound confidence. Throughout the film, Casey's attitude begins to change in disheartening ways due to this idea in the fact that he won't cuddle his dog anymore, forces himself to listen to heavy metal, and yells at his coworkers. The audience is meant to catch onto this irony, but the tragic part about it is that it's completely true; the film addresses how men in this day and age tend to take on more aggressive attitudes as a portrayal of their masculinity. It doesn't truly make much of a difference in Casey's true abilities, but the sensei, his toxic source of information, acts as if it does. Then of course, when dealing with Anna, the sensei has limited regard for her. She proves herself to be the best in the class by beating black belt student, Thomas played by Steve Terada (who happens to be a black belt in real life). Sensei still refuses to promote her to a black belt due to her gender status and belief that women will always be physically weaker than men. He ironically trains Casey to believe that if he's as masculine as possible, he'll be more successful yet Anna wonderfully tropes this throughout the film.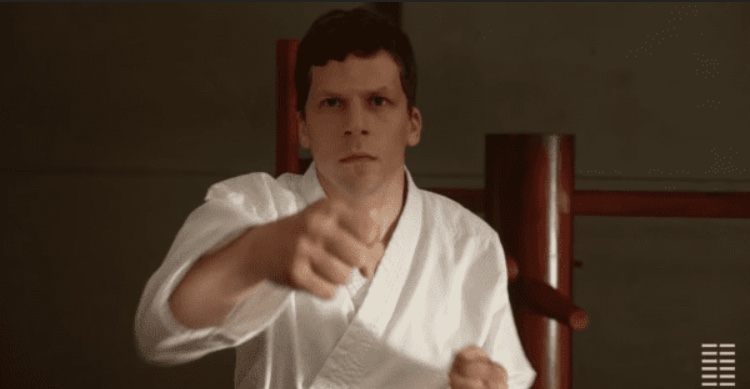 Photo: Jesse Eisenberg in "The Art Of Self Defense"/Bleecker Street Media
Nivola's Characterization Within The Art Of Self Defense
Nivola's character as sensei not only embodies a karate dojo but is also seen as a father figure to Casey and the others. Most men grow up have their fathers to teach them how to be a man and this is an example of what can happen to people with extremely masculine fathers. He tells Casey, "You're a blade and I'm sharpening you", figuratively and literally. Common fatalities due to guns and other weapons happen every day in America, typically by men, due to this toxic, dominating mindset. There's also a tragic standard of preying on the weak to further showcase one's masculinity; we see this through blue belt student, Kennith played by Phillip Andre Botello, who gets his arm broken as an example by the sensei to others. This is a common root of bullying and the film indirectly addresses the ridiculousness of it.
"Karate Is A Way of Communicating"
What's hilarious about the sensei's character is that he ironically dramatizes everything about karate, almost building it up to be a theatrical performance. He's constantly trying to create a deeper meaning behind their violence and this false, fictitious concept of manhood to Casey and it ends up hurting every area of his life. This scenario not only satirizes the placement of extreme masculinity on a pedestal, but it also goes after people who live within elaborate terms rather than practical. Building up the significance behind minuscule actions can be parallel to living a lie; sensei is so far into the abstract meanings behind what they're doing that it creates physical consequences. It's up to Casey whether there's more to what they're doing or not and it's for the audience to decide if there really is a message to be communicated through this film or if it's just another excellent dark comedy.
Cast: Jesse Eisenberg, Alessandro Nivola, Imogen Poots, Steve Terada, Phillip Andre Botello
Director: Riley Stearns
Writer: Riley Stearns
Cinematographer: Michael Ragen
By Juliet Poucher
More Interesting Stories From Hollywood Insider
– Dame Judi Dench Urges All To Remember Forgotten Villages Of Nepal By Donating To Humans Of Our World's Nepal Campaign
– In the 32nd Year Of His Career, Keanu Reeves' Face Continues To Reign After Launching Movies Earning Over $4.3 Billion In Total – "John Wick", "Toy Story 4", "Matrix", And Many More
– WATCH: Who Is President For 2020? Pete Buttigieg? Joe Biden? Kamala Harris? Donald Trump? Bernie Sanders? – Season 2 Of Hollywood Insider's Messages From America – Episode 2
– WATCH: Would A President's Sexuality Matter To You? A Lesbian, Gay, LGBTQ President? Pete Buttigieg? – Hollywood Insider's "Messages From America" – Episode 3
– WATCH: Do People In America Choose Human Rights Or Religion? – Season 2 OfHollywood Insider's Messages From America – Episode 1
– FACT-CHECKED Series: Tom Holland And 15 Things You Might Not Know About The Star Of Spider-Man
– WATCH: Once Upon A Time In Hollywood's Premiere & "Reaction From Stars" Leonardo DiCaprio, Brad Pitt, Quentin Tarantino, Margot Robbie, Etc. On The Making Of The Masterpiece
–Spider-Man's Zendaya In Her First Adult Role In HBO's Brilliant Series Euphoria – It Is Also One Of Leonardo DiCaprio's Favorite Shows
– Why Queen Elizabeth II Is One Of The Greatest Monarchs | Her Majesty Queen Elizabeth II of United Queendom of Great Britain & Northern Ireland
– WATCH: Pritan Ambroase On The #metoo Revolution & Powerful Questions That Need Answers
– FACT-CHECKED Series: Tom Holland And 15 Things You Might Not Know About The Star Of Spider-Man
– 10 facts you may not know about Ben Hardy, the Bohemian Rhapsody Star
– Are you a huge fan of the British Royal family? Would you like to know REAL FACTS instead of just gossip? Here are 15 facts about HRH Prince Charles brought to you by Hollywood Insider's Fact-Checked Series
– EXCLUSIVE: Is That Quentin Tarantino Hidden In Plain Sight In The New Poster Of Once Upon A Time In… Hollywood: An In-Depth Analysis
– From The First Romantic Film in 1919 Based On A Gay Love Story To Where We Must Go – Why LGBTQ+ Representation in Film/TV matters
– Netflix's Elite is a show where being gay is a non-issue and gay couples are celebrated
– Pritan Ambroase on his idols Martin Scorsese, James Cameron and positive actions needed to avert the global warming crisis
– 32 Facts on Rambo and the more-than-meets-the-eye superstar Sylvester Stallone