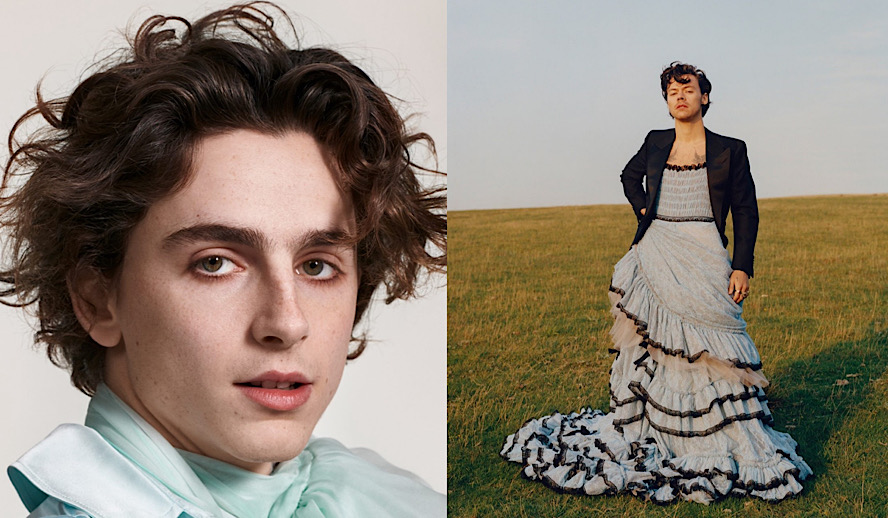 Video Version of this Article
Photo/Video: Timothée Chalamet/Entertainment Weekly and Harry Styles/Vogue/Hollywood Insider YouTube Channel
It's no secret that Timothée Chalamet and Harry Styles have some of the most dedicated fan bases in Hollywood. Both men have mass amounts of adoring followers who watch their every move. However, unlike early teen heartthrobs James Dean or Leonardo DiCaprio, both Chalamet and Styles have utilized their platforms to challenge gender expectations through the roles they play and their unique fashion choices. It is important to note that Chalamet and Styles' progressive agendas did not kick start their careers. Instead, they have managed to evolve from typical teen heartthrobs into ones who challenge the ideals of attractiveness in the United States. Given their consistently loyal fans who support them in their bold fashion statements and new perspectives on masculinity, it is safe to say that Chalamet and Styles have succeeded in their goals to reposition the "teen heartthrob" from a piece of eye-candy to a progressive, politically active celebrity who uses their platform for change. 
Related article: FACT-CHECKED Series: Timothée Chalamet and 32 Things About This Extraordinary Superstar
Related article: Did you see the hidden messages in 'Call Me By Your Name'? Find out behind the scenes facts in the full commentary and In-depth analysis of the cinematic masterpiece
The Beginning of A Revolution in Gender Standards – Harry Styles and Timothée Chalamet
So how exactly did Harry Styles and Timothée Chalamet gain the massive following that they each possess now? Styles got his start as the frontliner of British boyband One Direction. The band rose to prominence in the early 2010s, signifying a renaissance of the '90s pop boy band. Every good '90s boy band had a leading man (see NSYNC's Justin Timberlake or Brian Littrell of the Backstreet Boys) and One Direction was no different. Styles consistently seemed to draw the most attention from their adoring fans, made up almost exclusively of teenage girls. He drew attention not only for his "swoon-worthy" British looks but also for his talent. Eventually, as all boy bands must, the members of One Direction grew in different ways and decided to break up in 2016. Immediately after the announcement of their indefinite hiatus, Styles began to work on solo projects. He released a self-titled album in mid-2017, successfully transitioning the fans he had accumulated while in One Direction into his own.
I could sit here and list out all the awards this album won and all the records it has broken, but at this point, you could probably guess them, so let's just say it was a very successful debut album and leave it at that. This album was extremely important in other ways as well, as it marked a change in the overall image of Harry Styles. By this point, he was no longer a rowdy British teenager, but a musician who took himself and his work seriously. His solo endeavors allowed him to acknowledge his success and approach music from a deeper, more artistically-focused point. The critical and commercial achievement of his first album also, presumably, encouraged him to explore his personality and image as an artist, which is exactly what he did on his next album. 
Related article: MUST WATCH – Hollywood Insider's CEO Pritan Ambroase's Love Letter to Black Lives Matter – VIDEO
Subscribe to Hollywood Insider's YouTube Channel, by clicking here. 
Fine Line was released just a little over a year ago now, and it is clearly Styles' magnum opus. Once again, this is an incredible album with a record-breaking number of accolades and awards. This time, the praise is more overtly significant because Styles presents a clear challenge to traditional masculine ideals in tandem with the release of this album. Every music video off the album – "Golden", "Lights Up", etc – features Styles sporting a flamboyant outfit while surrounded by adoring members of the opposite (and sometimes same) sex. Through his nonchalant approach to fashion, aka 'If-I-like-it, I-wear-it', Styles had unknowingly created a new aesthetic for himself in the midst of the Fine Line release. On the album cover, for example, Styles wears a bright pink, blousy top paired with extremely wide-legged and high-waisted white pants. Compared to the early days of his career, when he walked around in t-shirts and jeans, this is an impossible jump. But the beauty of Styles and his ever-changing aesthetic is that his fans will follow and support him through it all. 
A Groundbreaking
Vogue
Cover to Further the Conversation
Recently, Styles was featured on the cover of Vogue magazine, marking a new era for the magazine. Not only was he the first male ever to be solely featured on the cover, but he also wore a dress. The dress, in turn, caused a ruckus on the conservative side of Twitter, garnering attention from notorious figures like Candace Owens and Ben Shapiro. These two, specifically, were upset as they felt that Styles' gender-bending was an "outright attack" on "manly men". Why people like Candace Owens and Ben Shapiro were so riled by this instance of a man wearing a dress is actually because it did not receive as much backlash as they had hoped for. See, Styles didn't lose any fans or lessen his impact as an artist by wearing a dress on the cover of Vogue, and that's exactly why conservative Twitter felt upset – because Styles was praised for his fashion selection.
Related article: The Power of Positivity: Ikorodu Bois + Chris Hemsworth + Russo Brothers + Sam Hargrave
Limited Time Offer – FREE Subscription to Hollywood Insider
Click here to read more on Hollywood Insider's vision, values and mission statement here – Media has the responsibility to better our world – Hollywood Insider fully focuses on substance and meaningful entertainment, against gossip and scandal, by combining entertainment, education, and philanthropy. 
His fan base was overwhelmingly supportive, even commenting on how attractive the male singer was in his chosen dress. And this, the fans' reaction, is exactly why gender-bending stars are threatening to the traditional ideals of masculinity. They prove that even with their flamboyant style of dress and outfit selection, they will still be overwhelmingly desirable to their audience. There's no stopping the revolution that Styles has created through his unique cultivation of fashion; it has set a precedent for years to come that teen heartthrobs can use their platforms in whatever way they decide to. It just so happens that Styles uses his platform to promote things he likes, which sometimes include dresses. 
Now, it's entirely unfair to discuss Styles' rise to prominence as a new-age teen idol without mentioning his closely related co-teen-idol, Timothée Chalamet. Though Chalamet has not been a notable figure in the entertainment industry for as long as Styles has, he has still managed to make the same amount of impact in regards to challenging concepts of traditional masculinity. 
Related article: Hollywood Insider's CEO Pritan Ambroase: "The Importance of Venice Film Festival as the Protector of Cinema"
Related article: The Masters of Cinema Archives: Hollywood Insider Pays Tribute to 'La Vie En Rose', Exclusive Interview with Director Olivier Dahan
Timothée Chalamet: Setting New Expectations of Emotional Vulnerability
Timothée Chalamet made his film debut in the 2014 drama Men, Women, and Children, directed by Jason Reitman. He acted in a few movies and shows afterward, but he really rose to prominence after his portrayal of Elio Perlman in Luca Guadagino's Call Me By Your Name. This film, coupled with the release of Lady Bird, catapulted him into the spotlight as the object of affection of teenage girls and boys everywhere. This is, in all terms, poetically ironic, because the film Call Me By Your Name centers around a budding relationship between Elio and his lover, Oliver. The film is sexually graphic which also makes Chalamet's rise to stardom as a heartthrob ironic as he was portraying a gay man. But that was part of the appeal to his fans – he thrives on roles that are emotionally vulnerable and pivot him as, for lack of a better term, a "softboy". Chalamet presented himself in a contrasting light to the cool, unfeeling teen heartthrobs of yesteryear.
His emotional vulnerability onscreen matched with the goofy persona he presented in interviews, combining to form a person whom females were attracted to for his genuineness. And that's presumably part of why Styles attracted a large fan base as well; his lack of caring about the opinions/backlash he received for his colorful fashion sense made him feel that much more genuine to women. Chalamet's roles in Beautiful Boy and Little Women carried on his tradition of gravitating towards emotionally intelligent men while his style continued to evolve to show an affinity for rule-breaking, much like Styles. Chalamet has many iconic fashion moments, most of which involve garish patterns and colors as well as traditionally feminine material, like satin or sequins. His look for the 2019 Golden Globe Awards featured an all-black matching set with a sparkling, silver harness as the statement piece. Though Chalamet has not received the same intensity of backlash as Styles has, he, in his own way, has successfully helped to change our mental image of what a teen idol looks like. 
Related article: WATCH: "If Your Child Told You They Were Gay/Lesbian, What Would You Do?" – Prince William Confirms He Would Completely Accept His Gay Children – Hollywood Insider's 'Messages From America' – Episode 6
Related article: Pride Month: Hollywood Insider Pays Tribute To LGBTQ Films 1918-Now
Chalamet and Styles would not have half the impact that they do if it weren't for their ever-loving fans. The statement pieces and sparkly suits are not the things that feel threatening to traditional masculine ideals, it's the fact that both stars have managed to stay relevant and attractive to their audiences by evolving their style and changing the standard for "men who we find attractive." No longer are six-pack abs and a grizzled beard the subject of teenage girls' adoration, but instead, it's the tall, skinny gender-bending, dark-haired boys who steal their hearts. Chalamet and Styles represent a specific period of time in which our standards of what we deem conventionally attractive are changing. That's what's so threatening to the traditionalists – the outright praise that both of these men have received for their ventures into fashion because it signifies a societal change on the horizon. Some may even say that their statements concerning masculinity have widened their audience, attracting new fans through the headlines about what they wore to the Met Gala or their upcoming performance. 
Click here to read Hollywood Insider's CEO Pritan Ambroase's love letter to Black Lives Matter, in which he tackles more than just police reform, press freedom and more – click here.
An excerpt from the love letter: Hollywood Insider's CEO/editor-in-chief Pritan Ambroase affirms, "Hollywood Insider fully supports the much-needed Black Lives Matter movement. We are actively, physically and digitally a part of this global movement. We will continue reporting on this major issue of police brutality and legal murders of Black people to hold the system accountable. We will continue reporting on this major issue with kindness and respect to all Black people, as each and every one of them are seen and heard. Just a reminder, that the Black Lives Matter movement is about more than just police brutality and extends into banking, housing, education, medical, infrastructure, etc. We have the space and time for all your stories. We believe in peaceful/non-violent protests and I would like to request the rest of media to focus on 95% of the protests that are peaceful and working effectively with positive changes happening daily. Media has a responsibility to better the world and Hollywood Insider will continue to do so."
Ways to support Black Lives Matter Movement to end systemic racism
More Interesting Stories From Hollywood Insider
– Want GUARANTEED SUCCESS? Remove these ten words from your vocabulary| Transform your life INSTANTLY
– Compilation: All James Bond 007 Opening Sequences From 1962 Sean Connery to Daniel Craig
– Do you know the hidden messages in 'Call Me By Your Name'? Find out behind the scenes facts in the full commentary and In-depth analysis of the cinematic masterpiece
– A Tribute To The Academy Awards: All Best Actor/Actress Speeches From The Beginning Of Oscars 1929-2019 | From Rami Malek, Leonardo DiCaprio To Denzel Washington, Halle Berry & Beyond | From Olivia Colman, Meryl Streep To Bette Davis & Beyond
– In the 32nd Year Of His Career, Keanu Reeves' Face Continues To Reign After Launching Movies Earning Over $4.3 Billion In Total – "John Wick", "Toy Story 4", "Matrix", And Many More
Harry Styles, Harry Styles, Harry Styles, Harry Styles, Harry Styles, Harry Styles, Harry Styles, Harry Styles, Harry Styles, Harry Styles, Harry Styles, Harry Styles, Harry Styles, Harry Styles, Harry Styles, Harry Styles, Harry Styles, Harry Styles, Harry Styles, Harry Styles, Harry Styles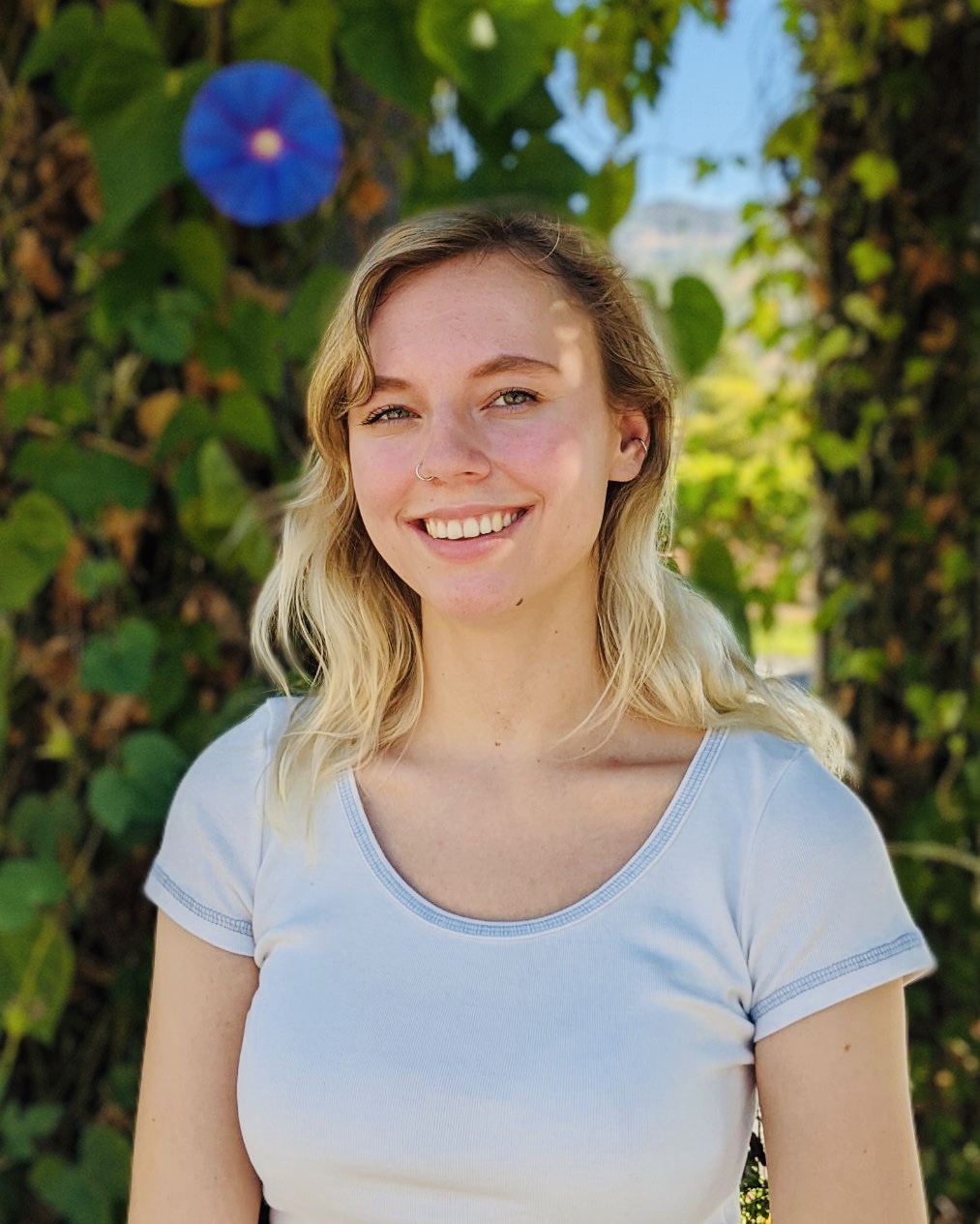 Caroline is currently a writer and contributor for Hollywood Insider. She believes in constant critical thinking and applied analysis when it comes to media consumption. Her goal aligns with Hollywood Insider's mission statement, and she strives to educate readers on the nuances of the entertainment industry and to hopefully encourage them to form their own opinions on the media they consume daily.