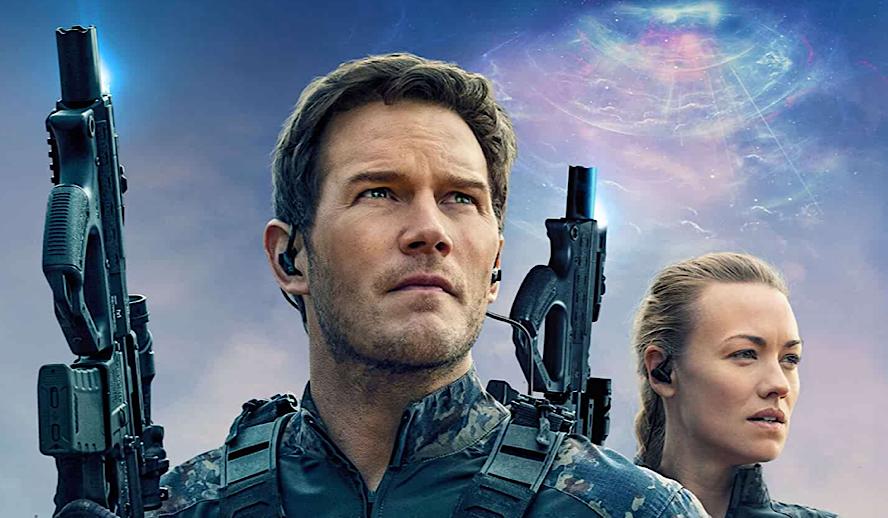 Photo: 'The Tomorrow War'/Amazon Studios
'The Tomorrow War' – Fighting For Mankind
So far this year, not a single film has blown me out of the water, and I find it astounding to see that lack-luster films like 'The Conjuring: The Devil Made Me Do It' is winning over audiences. Maybe it is because people are so desperately searching for their "normal" after such a strange year in quarantine but, I'm still waiting for that one film to remind me of the joy when you leave a theater and change your entire life based on the film. While critics deem 'The Tomorrow War' as bland, I'll tell you this; while not extraordinary, it is by far better than most if not all of the films I've seen this year. Yeah, I just said that. Mic drop. 
Related article: 'In the Heights' – Behind the Scenes and Full Commentary/Reactions from Cast & Crew
Amazon Studios and director Chris McKay ('The Lego Batman Movie') bring you 'The Tomorrow War,' a film that can be described as 'World War Z' meets 'Edge of Tomorrow' meets 'War Of The Worlds.' I suppose that's a lot to throw at you so, let's unpack that. The story follows Dan Forester (Chris Pratt), a high school science teacher with experience in the military from 15 years ago. "Look, I'm incredibly proud of my career in the military, and I did two combat tours, but, uh, I was never gonna be a career guy. I found my passion in the Army Research Lab.
I used my GI Bill to, uh…to go to Cal State, and I'm currently teaching high school biology," Dan says. With his combat skills in the past, he is a family man who adores his wife, Emmy (Betty Gilpin), and daughter Muri (Ryan Kiera Armstrong) — living a seemingly calm life with a few struggles at job searching, Dan's life, as well as the future of humanity, changes when people from the future show up and reveal that society is near extinction due to an alien invasion. Will Dan be one of the unfortunate to be drafted into entering the future, 30 years later, to help save the world? He's the main character, so yeah, the chances are very likely but let's get into that. 
"I am meant to do something special with my life."
The story starts in December 2022, 30 years prior to the war against the alien invasion that has wiped out the majority of mankind, leaving under 500,000 lives on the planet. During a Christmas Party, Dan, his wife, and daughter are confronted by the life-changing moment as they are watching the World Cup on the television. During the famous soccer match, a supernatural invasion of people marches across the field, shocking everyone before Lt. Hart, a woman from the future, gives a speech addressing the world. Writer Zach Dean has some brilliance in the script that I'll address in later characters, but this piece of text was not presented in the way I believe he had meant it. Instead, it was forced information given to the audience, and it came out melodramatically; however, there are later successes that allow this flaw to pass. 
Related article: MUST WATCH – The Hollywood Insider's CEO Pritan Ambroase's Love Letter to Black Lives Matter – VIDEO
Subscribe to The Hollywood Insider's YouTube Channel, by clicking here.
Lt. Hart: "We are you, 30 years in the future. We are fighting a war. Our enemy is not human. And we are losing. In 11 months' time, all human beings in the future will be wiped from the face of the earth unless you help us. We need you. Our fathers, mothers, and grandparents, we need you to fight beside us if we stand a chance at winning this war. You…are our last hope." 
After this, soldiers are sent to 2051, 30 years into the future, to fight against the aliens that are called the Whitespikes. I'm indifferent to the character design of the aliens; they're massive creatures white in color, with a similar body structure to a frog/bunny with external worm-like limbs. Nothing spectacular but intimidating enough, and I'd be intrigued to learn their origin as created by the artist of this menacing creature. Also, the Whitespikes sound like dinosaurs, so this isn't new for Pratt, whose better role as Owen from 'Jurassic World' has some experience with scary monsters.
The aliens are similar to bees as the female is stronger and stays protected while the males go out and fight. As opposed to the males, the female can survive the humans' toxins that can kill the males. If the species continues to live, the only way to kill them all and save humanity is to kill the female. Boom, science is needed. However, I think they could've done more character design between the male and female aliens since that was such a big thing to differentiate. Instead, it was hard to tell, considering she is supposed to be bigger, but it isn't easy to know if she is bigger. 
This is not just a U.S. occurrence, as soldiers from all around the world are lining up to sacrifice their lives to save the world. Although the survival rate is less than 20% and soon enough, soldiers are not enough, and civilians begin to be drafted, ranging to thousands of lives being sent to the future per week. Riots and protests are erupting worldwide, with people angry against being sent because of the massive number of deaths and the war that hasn't happened in their lifetimes.
Related article: Why Queen Elizabeth II Is One Of The Greatest Monarchs | Her Majesty Queen Elizabeth II of United Queendom of Great Britain & Northern Ireland (Video Insight)
Click here to read more on The Hollywood Insider's vision, values and mission statement here – Media has the responsibility to better our world – The Hollywood Insider fully focuses on substance and meaningful entertainment, against gossip and scandal, by combining entertainment, education, and philanthropy.
"Not our war! Not our war!" With more and more people being drafted, Dan is eventually taken in for an inspection to see if he is fit enough to make the journey 30 years into the future. As Dan is trapped within a machine, this scene is a bit upsetting as he is giving no consent to the mechanical arm feature that is being injected into his body. This device, similar to an armband, allows him to jump between the future and the present, and if he were to take off the machine, he would be imprisoned, or his family would suffer the consequences of his actions.
If this lack of acknowledging consent, even if the world is ending, is not upsetting enough, a soldier reveals that Dan will die in seven years. "It says, at 11:23 Eastern Time, October 13, 2030, you'll be pronounced dead," a soldier says. If time travel is real, then I suppose knowing when or how someone will die is also possible, but they leave out the how and rather just tell him when. Knowing when he will die resting on his mind, he is now drafted into the possibility of dying and has to break the news to his wife and daughter. 
Of course, his family is distraught, and Emmy tries to reason with Dan by getting him to seek out his father, who might be able to take off the arm device. Although, as you would expect, his relations with his father are terrible as he left him with his mother when he was a child. But, doing this for the chance of staying with his family, he makes the visit to his father, James (J.K. Simmons), who is an engineer and hates the U.S. government, so he lives off-grid.
Strange enough, J.K. Simmons makes a good Chris Pratt father, as the energy between the two of them works so well that their relationship appears natural. But this good relationship only got a few minutes of screen time as J.K. Simmons had around two and a half appearances in the entire film. Before Dan leaves to venture into the future of death, he breaks the news to his daughter, Muri, who hopes to be like her father. Their relationship is so endearing as she knows the importance of science and how her father's expertise in the field is aspirational. In smaller words, he is her hero. 
Related article: The Hollywood Insider's CEO Pritan Ambroase: "The Importance of Venice Film Festival as the Protector of Cinema"
Related article: The Masters of Cinema Archives: The Hollywood Insider Pays Tribute to 'La Vie En Rose', Exclusive Interview with Director Olivier Dahan
Related article: – Want GUARANTEED SUCCESS? Remove these ten words from your vocabulary| Transform your life INSTANTLY
"Of course, it had to be the beach." – Fighting Aliens In Miami Beach
The training process, if you can even call it that, was humorous as ordinary people are armed with violent weapons they have no knowledge of. With a man in a chef's uniform next to a small woman, all geared up in soldier accessories, it's entertaining enough that you don't want to look away. The training process is fit with gun training, medical training, but no obstacle courses. Now that I think about it, I suppose you could throw 'The Hunger Games' as another similar storyline depiction. The concept is rather entertaining, honestly, and the people involved were charismatic with anxious personalities and wardrobe choices. Enter Charlie (Sam Richardson), who is my favorite character to come out of the film, and I adored him so much that I honestly can't put it into words. 
During the training, we are also introduced to Dorian (Edwin Hodge), who has already traveled into the war zone but continues to go and has a stand-off personality. Edwin Hodge, who plays Dorian, is one of my comfort characters as his experience in 'The Purge' series and as the cameraman in 'As Above, So Below' are some of my favorite characters. His personality and way of acting remind me of the comedic take from Tom Hardy meets the comfortable presence of Trevante Rhodes; let's hope Edwin shows up more in films because he's a joy to watch. 
Dorian: "If I'm gonna die, I'm gonna die my way!"
Some other side characters introduced are Cowan (Mike Mitchell), Norah (Mary Lynn Rajskub), and Diablo (Alexis Louder). All I can say is, don't get attached to characters in a world where there is a less than 20% chance of survival. I made that mistake…yeah, don't do that. From the start, Dan takes Charlie under his wing, as Charlie is your big bear, comfort character whose comedic relief is the best part of the film. He's precisely the type of character you need when having ordinary people in a war zone, as he keeps the angst and the comedic relief while being natural. There's a slo-mo running scene when they are escaping from the aliens, and Charlie's fearful face quite literally made my entire day because it was so hilarious.
Related article: 'Everest': Everything We Know About Doug Liman's Revolutionary Adventure Biopic with Ewan McGregor & Sam Heughan
Related article: 'Lord of the Rings: War of the Rohirrim': A New Animated Feature Film Fast-Tracked for Global Release
Charlie: "Shit. Shit. Shit. Shit. Shit. Shit. Shit. Shit. Shit. Shit. Shit. Shit. Shit." 
When the Jumplink Tech, the system that transports the people from the future and the present malfunctions, the coordinates land the group in the sky rather than 5-10 feet from the ground, falling into Miami, many people are killed instantly as buildings impale them, but Dan and his group safely land on a pool at the top of a skyrise. Immediately, Dan's instincts from his past appear as he takes control and speaks to a brilliant scientist Romeo Command (Yvonne Strahovski), through an earpiece as she helps guide them to safety. Yvonne Strahovski blew me for a loop as I've only seen her in dramas such as 'The Handmaid's Tale' and 'Angel of Mine,' but her authoritative position in this film is so good as she gives firm orders that are quick and clear.
After a fight with the aliens and Charlie's humorous slo-mo running scene, the group is evacuated from Miami and transported to Forward Operating Base in Puerto Plata, Dominican Republic. From here, we learn some information that, while I so desperately want to reveal because it was a twist I did not expect, I will keep it a secret. So, instead, I will say…I recommend 'The Tomorrow War' more than most of the films that have been screened this year. But, again, my taste seems to be different from everyone else. 
Charlie: "Okay. I can survive this."

Dorian: (chuckles) "No, you can't."

Charlie: "Well, don't laugh. You don't laugh if somebody says they're gonna survive something."
Honestly, I'm surprised this film isn't headed to theaters, I mean, selfishly enough, I enjoyed being able to watch it through Amazon Prime Video with no expense other than my Prime one-time payment, but I do think this film was worthy of seeing the big screen. Remember when I said, 'World War Z' meets 'Edge of Tomorrow' meets 'War Of The Worlds,' let me explain. So, it's similar to 'World War Z' because there is a similar scene of the famous mass of zombies climbing up the city walls. It's similar to 'Edge of Tomorrow' because of the war against aliens to save humanity mixed with time travel, and I'll let you consider the 'War Of The Worlds' reference because any more context will spoil things.
"I love you, Dad." – An Entertaining Watch
There's a shot as Dan jumps after Romeo Command, who is falling to a pit of aliens, and when I tell you this is the most cinematically beautiful scene I have witnessed this year, I mean it. Absolutely, utterly breathtaking as it is practically a painting. Bravo, absolutely bravo, and I even have chills thinking back to it.
Chris Pratt has small doses of comedy, of which he excels in, and it's done in the perfect amount honestly that it's impressive. He's a great actor, and he did a really excellent job in this film, nothing to write home about but enough to be like, "yeah, he held his own." The action is also very well done, and Pratt looks entirely natural when holding a weapon with the way he curves his body. Like, he truly knows what he is doing, and he does it very, very well. I went into this thinking, oh, another 'Edge of Tomorrow,' but dare I say, I enjoyed 'The Tomorrow War' way more than I expected I would.
The hints of comedic relief, the nature of being an average person in a future war zone, and the acting capabilities of Pratt and the rest of the cast; I'm a big fan. As far as dystopian action films go, I will more than definitely be rewatching this one. It's an easy, digestible watch while not extremely brilliant; it was entertaining, and the good stuff diminished any negative points. 
Where To Watch 'The Tomorrow War''
The Tomorrow War' releases on July 2, 2021, available to stream exclusively on Amazon Prime Video. Rated PG-13 for intense sequences of sci-fi violence and action, language, and some suggestive references.
Where To Find The Stars
Just announced, Chris McKay's next directorial feature is for 'Nightwing' with an unannounced cast and plot at this time. 
In the post-production process, Chris Pratt can be seen in Colin Trevorrow's 'Jurassic World: Dominion' alongside DeWanda Wise, Bryce Dallas Howard, and more. Plot unknown at this time. 
Yvonne Strahovski can be seen in season 4 of 'The Handmaid's Tale,' which recently wrapped up a few weeks ago. Check out this article on Hollywood Insider for everything we know about season 4 of 'The Handmaid's Tale.' 
Coming in 2021, J.K. Simmons can be seen in Trent O'Donnell's 'Ride the Eagle' alongside Susan Sarandon, Jake Johnson, and more. As said on IMDb about 'Ride the Eagle,' "Leif is left with a conditional inheritance when his estranged mother Honey dies. Before he can move into her picturesque Yosemite cabin, he has to complete her elaborate and sometimes dubious to-do list."
Click here to read The Hollywood Insider's CEO Pritan Ambroase's love letter to Black Lives Matter, in which he tackles more than just police reform, press freedom and more – click here.
An excerpt from the love letter: The Hollywood Insider's CEO/editor-in-chief Pritan Ambroase affirms, "The Hollywood Insider fully supports the much-needed Black Lives Matter movement. We are actively, physically and digitally a part of this global movement. We will continue reporting on this major issue of police brutality and legal murders of Black people to hold the system accountable. We will continue reporting on this major issue with kindness and respect to all Black people, as each and every one of them are seen and heard.
Just a reminder, that the Black Lives Matter movement is about more than just police brutality and extends into banking, housing, education, medical, infrastructure, etc. We have the space and time for all your stories. We believe in peaceful/non-violent protests and I would like to request the rest of media to focus on 95% of the protests that are peaceful and working effectively with positive changes happening daily. Media has a responsibility to better the world and The Hollywood Insider will continue to do so."
Ways to support Black Lives Matter Movement to end systemic racism
More Interesting Stories From The Hollywood Insider
– Want GUARANTEED SUCCESS? Remove these ten words from your vocabulary| Transform your life INSTANTLY
– Compilation: All James Bond 007 Opening Sequences From 1962 Sean Connery to Daniel Craig
– Do you know the hidden messages in 'Call Me By Your Name'? Find out behind the scenes facts in the full commentary and In-depth analysis of the cinematic masterpiece
– A Tribute To The Academy Awards: All Best Actor/Actress Speeches From The Beginning Of Oscars 1929-2019 | From Rami Malek, Leonardo DiCaprio To Denzel Washington, Halle Berry & Beyond | From Olivia Colman, Meryl Streep To Bette Davis & Beyond
– In the 32nd Year Of His Career, Keanu Reeves' Face Continues To Reign After Launching Movies Earning Over $4.3 Billion In Total – "John Wick", "Toy Story 4", "Matrix", And Many More
the tomorrow war, the tomorrow war, the tomorrow war, the tomorrow war, the tomorrow war, the tomorrow war, the tomorrow war, the tomorrow war, the tomorrow war, the tomorrow war, the tomorrow war, the tomorrow war, the tomorrow war, the tomorrow war, the tomorrow war, the tomorrow war, the tomorrow war, the tomorrow war, the tomorrow war, the tomorrow war, the tomorrow war, the tomorrow war, the tomorrow war, the tomorrow war, the tomorrow war, the tomorrow war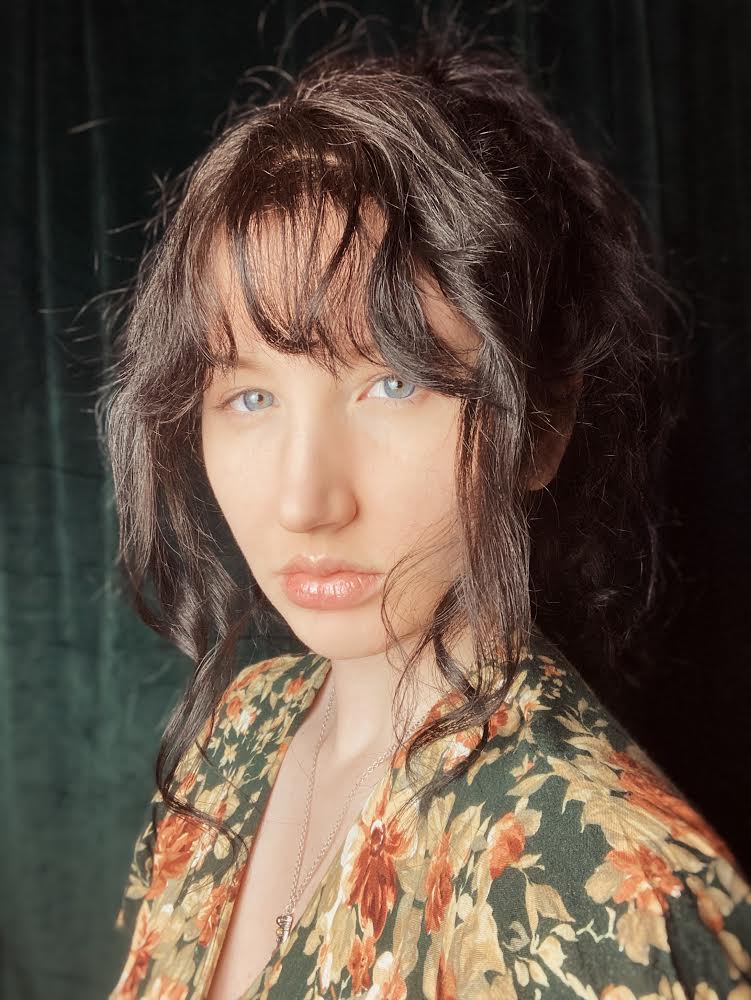 Isabella Brownlee is an experienced writer, video editor and filmmaker. She is currently a writer for Hollywood Insider, focusing on detailed and thought-provoking film reviews and articles discussing truth and impact in the film industry. Driven by self-awareness and unique perspectives, she takes utmost pride in providing others with emotionally impacted knowledge about the film industry. As a writer, her main goal is to connect with the audience and those who find themselves in the back of the bleachers unknown to anyone but beautifully aware of the world. In addition to her primary job functions, Isabella creates and edits videos/films personally and professionally. Aligning with Hollywood Insider's mission of sharing impactful and influential content, Isabella hopes to enrich her readers with positivity and truth.