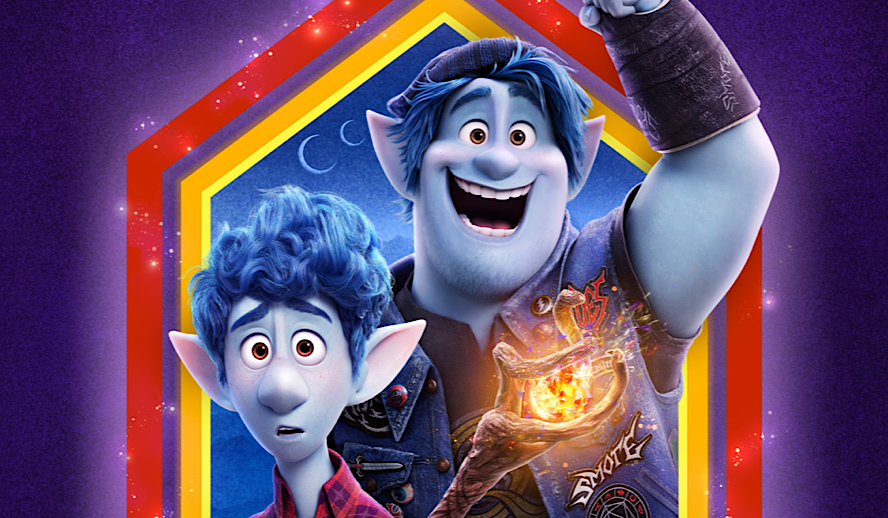 Photo: Onward/Disney/Pixar
Disney Pixar's most recent film, Onward, takes on the genre of wizardry, modern-day troubles, and an epic buddy-buddy quest all into one. The film is the critically acclaimed studios' first original story in three years as they've been releasing a couple of sequels in that time span. Despite the high quality and success of previous darlings, Onward once again proves that with sharp wit, dazzling animation, and excellent voice cast, their creative team's bucket of originality magic hasn't run out yet. 
Marvelous Voice Cast for Onward
Hey look kids: Spider-Man and Star-Lord are teaming up! Marvel actors Tom Holland and Chris Pratt aren't superheroes here, but they lend their voice talents as a pair of brothers trying to be with their father for a day. The story is about brotherly love and the special bond that can come to fruition in that relationship, and had the wrong actors been cast, the film would have come crashing down with a loud thud. Thankfully, Pratt and Holland already had voice acting experience, (The Lego Movie Franchise for Pratt and Spies in Disguise for Holland), and that shows here, as every line is delivered with genuine care for the story and characters they both portray. Pratt's Barley Lightfoot is clearly the funny guy to Holland's straight man in Ian Lightfoot. But both show an emotional depth and charm regardless of their roles, and that isn't easy to do with just voicing.  
Related article: FACT-CHECKED Series: Tom Holland And 15 Things You Might Not Know About The Star Of Spider-Man
Rendezvous At The Premiere of Onward
Video: Hollywood Insider YouTube Channel​
The rest of the main characters are rounded out by Laurel Lightfoot (Julia Louis-Dreyfus), Corey (Octavia Spencer), Colt Bronco (Mel Rodriguez), and Kyle Bornheimer as the late father Wilden Lightfoot. All are fantastic but with especially great chemistry from Louis-Dreyfus and Spencer.
Storytelling On Point in Onward
The idea to blend magic with a modern-day world and fill it with characters like elves, manticores, and centaurs to name a few, was fresh and I immediately understood what Pixar was doing and bought into it right away. From a past of magic to a present of lights, TVs, and phones, the world doesn't just mesh the different elements together, but like Pixar always does, they find a way to connect dots logically and seamlessly that slides us into the world they want us to be a part of. Another interesting aspect is that the games we consider nothing more than RPG and for our fantasies are actually historic lore in this world, and I found that story beat clever within the plot the writers were trying to build. Barley may fit the cliche of an obsessed teen always in the middle of a ling campaign, but it comes in handy for him when the adventure comes along. 
Related article: Video: 'Spies in Disguise' – Come Behind The Scenes on the Animation That Brought Will Smith and Tom Holland Together
Video: Tom Holland & Chris Pratt React to Onward
Video: Hollywood Insider YouTube Channel
The humor is a grade A+ here, as it may have at times gone over the little one's heads, but for us slightly older audience members, we laughed out loud on a regular basis and the clever nods about growing older and what comes with that is present. Pratt is the standout, but who is surprised at that. Pratt has impeccable comedic timing and plays off of the shy and timid character that Holland voices, never seeming to slow down. 
Of course, the main message that the film ends up telling is a positive one but it especially hit home for me. The story of two brothers having to connect in ways that they hadn't had to do their entire lives, only to find everything thing they need in each other was executed well and doesn't come off clichè. In fact, the story has a few twists and turns that totally subverted my expectations which had me once again noting how Pixar is able to brilliantly take genres and make slight changes to what we as an audience expect, and for the better. The finale was not as large and grand as you might expect but really, it was exactly what it needed to be and never betrayed the two main characters and their respective personal journeys throughout the film. And like most Pixar films, the story tells it in a way that kept me laughing and smiling at the adventure the two Lightfoot brothers embarked on.
Related article: Is Disney Ready to Explicitly Apologize for 90+ Years of Racism? Thankfully, They Are Trying to Correct Their Past Mistakes
In Conversation with Director Dan Scanlon on Onward
Video: Hollywood Insider YouTube Channel
​
Dazzling World Building
When you take old magic and present-day worlds and mesh them together, you need some of the best visuals around. Pixar may be at their best here, of course, it helps that they made the film in 2020 and not 2010. Certain moments felt incredibly realistic and the bombastic colors and spells being cast somehow didn't overshadow the suburban life or various highways and cities the two brothers go by on their journey. Everything was incredibly photorealistic and left me saying something I couldn't actually believe I was saying:‌ maybe I should have seen this in 3D? I don't really like 3D, but the way the creators used the visuals and world as a character of its own, left me thinking that for just a moment. 
While I will need to let this new film stew, I can definitely see it becoming a favorite Pixar film of mine, maybe even cracking my top five. The kids will be dazzled and the parents will laugh and feel more emotion than they may have bargained for. But hey, that's Pixar right?
​By Merrick Sinclair
More Interesting Stories From Hollywood Insider
– A Tribute To The Academy Awards: All Best Actor/Actress Speeches From The Beginning Of Oscars 1929-2019 | From Rami Malek, Leonardo DiCaprio To Marlon Brando & Beyond | From Olivia Colman, Meryl Streep To Bette Davis & Beyond
– Why Queen Elizabeth II Is One Of The Greatest Monarchs | Her Majesty Queen Elizabeth II of United Queendom of Great Britain & Northern Ireland
– Compilation: All James Bond 007 Opening Sequences From 1962 Sean Connery to Daniel Craig
– In the 32nd Year Of His Career, Keanu Reeves' Face Continues To Reign After Launching Movies Earning Over $4.3 Billion In Total – "John Wick", "Toy Story 4", "Matrix", And Many More
– Want GUARANTEED SUCCESS? Remove these ten words from your vocabulary| Transform your life INSTANTLY