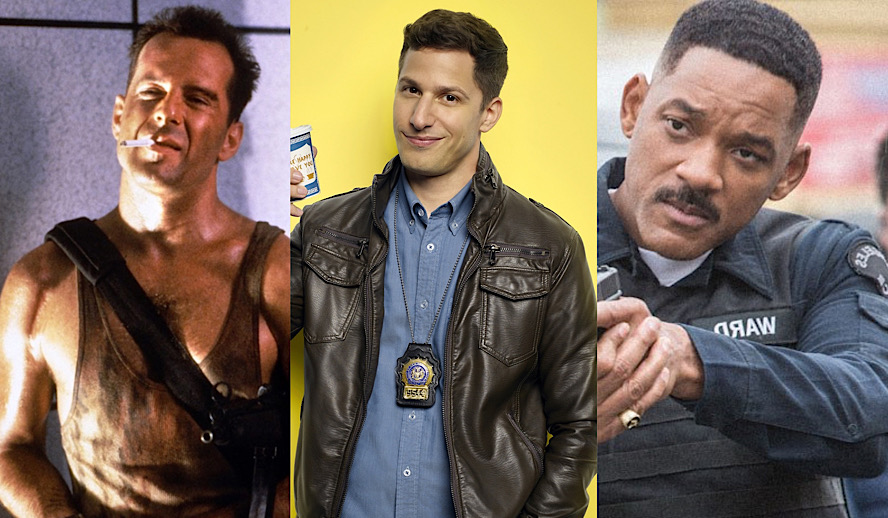 Photo: Bruce Willis, Andy Samberg, Will Smith
Police Stories
I want to start with a story. A while back when I interned at a production company, I got to read a script that was very much your standard police thriller. Cops as morally ambiguous anti-heroes? Check. Various examples of them crossing lines and making unethical choices for the sake of justice or a noble cause? Check. Tacit support by their peers and superiors in contrast to the stodgy by-the-book Internal Affairs? The anti-hero policemen feeling tormented over their actions? A lecture on not understanding what a cop goes through? Check, check, and check. 
I tempered my criticisms to avoid being too harsh, but the script's valorization of crooked-but-noble cops very much bothered me. And this was well before this summer. Now?
Related article: Innocent Kind Elijah McClain "Legally" Murdered by Thug Police Officers
Related article: Prison Reform: To End Police Brutality, Ban Private Prisons
George Floyd. Breonna Taylor. Ahmaud Arbery. Jacob Blake. And many more. Their names remind us of the systemic racism that plagues our current society and shine a spotlight on matters of police brutality and misconduct and the need for reform. 
We live in a world where the police shoot tear gas and rubber bullets at peaceful protestors, and according to a recent Gallup poll, Americans' confidence in the police has dropped to a record low of 48%. But that's still a not-inconsiderable number (a difference of only four percent) and Republicans' confidence in the police actually went up. 
This is a testament to the impact pop culture can wield: of art influencing life. That in a lot of our movies and TV shows, the cop remains the protagonist; the one whose story and life matters. And that belief bleeds into the real world. So how did we get here? And with people becoming more attentive towards police depictions in the media, what is there to do about the "hero cop" myth in entertainment?
Related article: MUST WATCH – Hollywood Insider's CEO Pritan Ambroase's Love Letter to Black Lives Matter – VIDEO
Subscribe to Hollywood Insider's YouTube Channel, by clicking here. 
Cops in Entertainment: From Bumbling to Hero
In 1910, a resolution was adopted by the International Association of Chiefs of Police condemning portrayals of police in cinema; to be specific, "in moving pictures the police are sometimes made to look ridiculous". One particular source of ire was The Keystone Cops, which depicted police as bumbling and inept in several silent film slapstick comedies. To this day, "Keystone Cops" is still pretty much a pejorative shorthand for when a group of people fails after making stupid mistakes. The reason for this depiction is most likely the Lexow Committee of the 1890s, which uncovered widespread police corruption in New York City and tainted the police's image.
Public perception of the police gradually changed after years of reforms. The Hollywood studio system also came to see the need for police cooperation, whether it's to secure filming permits or to help in covering up stars' misdeeds and scandals. At the same time, the Hays Code (a set of moral guidelines that the movie industry adopted and self-enforced to avoid government censorship) went into effect; one of the rules was that crimes can never be portrayed in a positive light and must be punished, and that authority figures (say, the police) have to be depicted with respect. It stands to reason that during the Code's heyday, when the general public watches a movie, they'd leave with a more positive view of police.
Related article: The Power of Positivity: Ikorodu Bois + Chris Hemsworth + Russo Brothers + Sam Hargrave
Limited Time Offer – FREE Subscription to Hollywood Insider
Click here to read more on Hollywood Insider's vision, values and mission statement here – Media has the responsibility to better our world – Hollywood Insider fully focuses on substance and meaningful entertainment, against gossip and scandal, by combining entertainment, education, and philanthropy. 
The real game-changer though came in 1951 with a show called Dragnet. Created by and starring Jack Webb, based on his hit radio drama show of the same name, the show follows LAPD Sgt. Joe Friday (played by Webb) as he and his partners investigate crimes. What set the show apart was its focus on realism and authenticity, drawing from actual case files and police procedures, to show what it's like to be a police officer. Webb consulted with the LAPD for accuracy in his scripts, and in exchange, they'd have final script approval. The show's success was credited with cleaning up law enforcement's public image, and this would set an example for future movies and TV shows to follow: with police serving as consultants and offering their resources, production would have greater authenticity. And in return, law enforcement gets to reshape the narrative of the police.
Ironically, Dragnet premiered the same year the LAPD was embroiled in another scandal: Bloody Christmas, when police officers brutally assaulted seven prisoners, five of whom were Hispanic. Unsurprisingly, the show would ignore the issue of racism by the police and focus on the fantasy. 
Related article: Hollywood Insider's CEO Pritan Ambroase: "The Importance of Venice Film Festival as the Protector of Cinema"
Related article: The Masters of Cinema Archives: Hollywood Insider Pays Tribute to 'La Vie En Rose', Exclusive Interview with Director Olivier Dahan
On Humanizing/Glamorizing the Police
Another turning point in the depiction of police is Joseph Wambaugh's 1971 novel The New Centurions, later adapted into a film. Drawing from his own experiences as a patrolman and detective in the LAPD, the book follows three LAPD officers and the toll the job takes on their psyche; also explored are their private lives, touching on themes of alcoholism, adultery, racism, and suicide among police. We now have a new archetype: the cop as a complex and flawed human being.
1981 saw the premiere of Steven Bochco and Michael Kozoll's Hill Street Blues, a police procedural that was even more groundbreaking in its' exploration of the cops' private lives and their interpersonal relationships, as well as inter-racial and inter-ethnic partnerships (and the possible resulting tensions), along with subjects like racism and police corruption. This, along with its use of handheld cinematography, ensemble casts, and serialized character arcs and plot threads, would influence other police procedurals for years to come, including Bochco's later show NYPD Blue, as well as the Law & Order franchise. 
Related article: Black Mothers Join Politics After Innocent Sons Killed By Police Brutality
Related article: No Press Freedom in USA Anymore, Police Attacks/Arrests Journalists
On the opposite end of the spectrum, you have Dirty Harry, which featured Clint Eastwood's iconic Harry Callahan as a tough and ruthless cop willing to cross lines to pursue justice, even in the face of obstructive and incompetent bureaucracy. The success of the character establishes another archetype: the tough/cool cop. Into this, we have shows like Hawaii Five-O, Kojak, and Starsky and Hutch. And this was taken to the next level with the 1984 debut of Miami Vice, with its exploration of a more stylized neon-lit Miami, as well as the prevalence of cool cars, use of pop music, and two stylish detectives (played by Don Johnson and Philip Michael Thomas) as the leads. There's a reason the show is nicknamed "MTV Cops", for its filtering of the cop show through an MTV/music video-like aesthetic.
That appears to be a common thread in the '80s, as some police stories just became more. More of everything: more shootouts, more car chases, more explosions, higher stakes. Think movies like Cobra, Lethal Weapon, Beverly Hills Cop, and even Die Hard. Think of how the cop protagonists are portrayed in those films: as either stoic-yet-cool, or quick-witted badasses. The implication is clear: being a cop just looks cool. This persists to this day with action movies like the Bad Boys series; or shows like the Hawaii Five-0 remake, Chicago P.D., or Blue Bloods that split the difference—telegenic cops with rich interior lives. 
Related article: Live Updates: List of Violent Police Attacks on Journalists Amidst Protests
Related article: Black Lives Matter Demands Complete Police Reform to End Police Brutality
But the myths these stories peddle are inaccurate and can be damaging. The truth is, most police work is mundane and boring with an emphasis on providing public services and general patrolling. It calls to mind the scene early in the 21 Jump Street movie where Channing Tatum's character, working bicycle patrol, remarks that he thought the job would be more exciting. Unfortunately, there are people drawn to police work who most likely form their expectations from movies and TV: the ones waiting for their opportunity to be action heroes, or believe that the ends always justify the means when it comes to enforcing the law. And that if there are bad policemen, they're just chalked up as "a few bad apples", ignoring the second half of that phrase: "can spoil the whole barrel". And that if good policemen do bad things and they appear to be contrite, we should forgive them or accept that they had no choice. We run the risk of enabling their bad behavior and the broken system that allows them to abuse their power and brutalize citizens. In summation, there are inherent flaws in glamorizing the police.
Conclusion — What's the Solution, If Any?
As mentioned at the start, the recent deaths of George Floyd, Breonna Taylor, and many others have now forced law enforcement into a kind of reckoning by the general public, as seen with the Black Lives Matter protests this summer. And this attitude has also spread to entertainment as creators are starting to rethink their approach.
This summer, Terry Crews revealed that the upcoming eighth season of Brooklyn Nine-Nine would be reconfigured in response to the George Floyd killing, with four episodes scrapped. The cast and crew also donated to the National Bail Fund Network to support protestors. Two other cop shows (The Rookie and S.W.A.T) have also announced plans to tackle police brutality and race and policing in their upcoming seasons. At the same time, long-running docuseries COPS and Live PD were both cancelled (with COPS resuming production only for international viewers). It's worth pointing out that Live PD was mired in controversy over destroying video footage of Javier Ambler dying in police custody.
Related article: The Rise Of Teen Idols Timothée Chalamet & Harry Styles: Destroying Toxic Masculinity
Related article: On The Life Of Kamala Harris (Vice President-Elect), The Strongest Medicine We're Ready For
But what other solutions are there? Power creator and showrunner Courtney Kemp argued in favor of greater diversity in the writing staff of cop shows; that the voices of writers of color should be heard for a chance to allow more nuanced storytelling. Another option is to look at other shows that take on different perspectives: For Life follows a wrongfully convicted man who becomes a jailhouse lawyer to prove his innocence and fight against the system that imprisoned him; or Orange is the New Black, which sees the humanity in the incarcerated, guilty, or wrongfully convicted. Another recent great example to look at is HBO's Watchmen, which allows a cop (Regina King's Angela Abar) to be the protagonist and give her "hero" moments, while also fully exploring the prejudiced reality of policing both past and present. The noir genre is also another good option, allowing creators to tell stories that can also comment on the insidiousness of powerful institutions enabling or committing crimes: the most recent Perry Mason comes to mind. 
In the end, crime stories will always remain our favorite kind of stories. There's something of catharsis in seeing mysteries solved and justice served in the span of one to two hours. And in an increasingly gray world, it can also be comforting to retreat to stories that see the world in more binary terms: good and bad, cop and criminal, right and wrong. So while the "hero cop" might not be going away anytime soon, their stories might have to evolve in the face of a more critical public.
Because when it comes to police brutality, the blinders are off now.   
By Mario Yuwono
Click here to read Hollywood Insider's CEO Pritan Ambroase's love letter to Black Lives Matter, in which he tackles more than just police reform, press freedom and more – click here.
An excerpt from the love letter: Hollywood Insider's CEO/editor-in-chief Pritan Ambroase affirms, "Hollywood Insider fully supports the much-needed Black Lives Matter movement. We are actively, physically and digitally a part of this global movement. We will continue reporting on this major issue of police brutality and legal murders of Black people to hold the system accountable. We will continue reporting on this major issue with kindness and respect to all Black people, as each and every one of them are seen and heard. Just a reminder, that the Black Lives Matter movement is about more than just police brutality and extends into banking, housing, education, medical, infrastructure, etc. We have the space and time for all your stories. We believe in peaceful/non-violent protests and I would like to request the rest of media to focus on 95% of the protests that are peaceful and working effectively with positive changes happening daily. Media has a responsibility to better the world and Hollywood Insider will continue to do so."
Ways to support Black Lives Matter Movement to end systemic racism
More Interesting Stories From Hollywood Insider
– Want GUARANTEED SUCCESS? Remove these ten words from your vocabulary| Transform your life INSTANTLY
– Compilation: All James Bond 007 Opening Sequences From 1962 Sean Connery to Daniel Craig
– Do you know the hidden messages in 'Call Me By Your Name'? Find out behind the scenes facts in the full commentary and In-depth analysis of the cinematic masterpiece
– A Tribute To The Academy Awards: All Best Actor/Actress Speeches From The Beginning Of Oscars 1929-2019 | From Rami Malek, Leonardo DiCaprio To Denzel Washington, Halle Berry & Beyond | From Olivia Colman, Meryl Streep To Bette Davis & Beyond
– In the 32nd Year Of His Career, Keanu Reeves' Face Continues To Reign After Launching Movies Earning Over $4.3 Billion In Total – "John Wick", "Toy Story 4", "Matrix", And Many More
Police Stories, Police Stories, Police Stories, Police Stories, Police Stories, Police Stories, Police Stories, Police Stories, Police Stories, Police Stories, Police Stories, Police Stories, Police Stories, Police Stories, Police Stories, Police Stories, Police Stories, Police Stories, Police Stories, Police Stories, Police Stories, Police Stories, Police Stories, Police Stories, Police Stories, Police Stories, Police Stories, Police Stories, Police Stories, Police Stories, Police Stories, Police Stories, Police Stories, Police Stories, Police Stories, Police Stories, Police Stories, Police Stories, Police Stories, Police Stories, Police Stories, Police Stories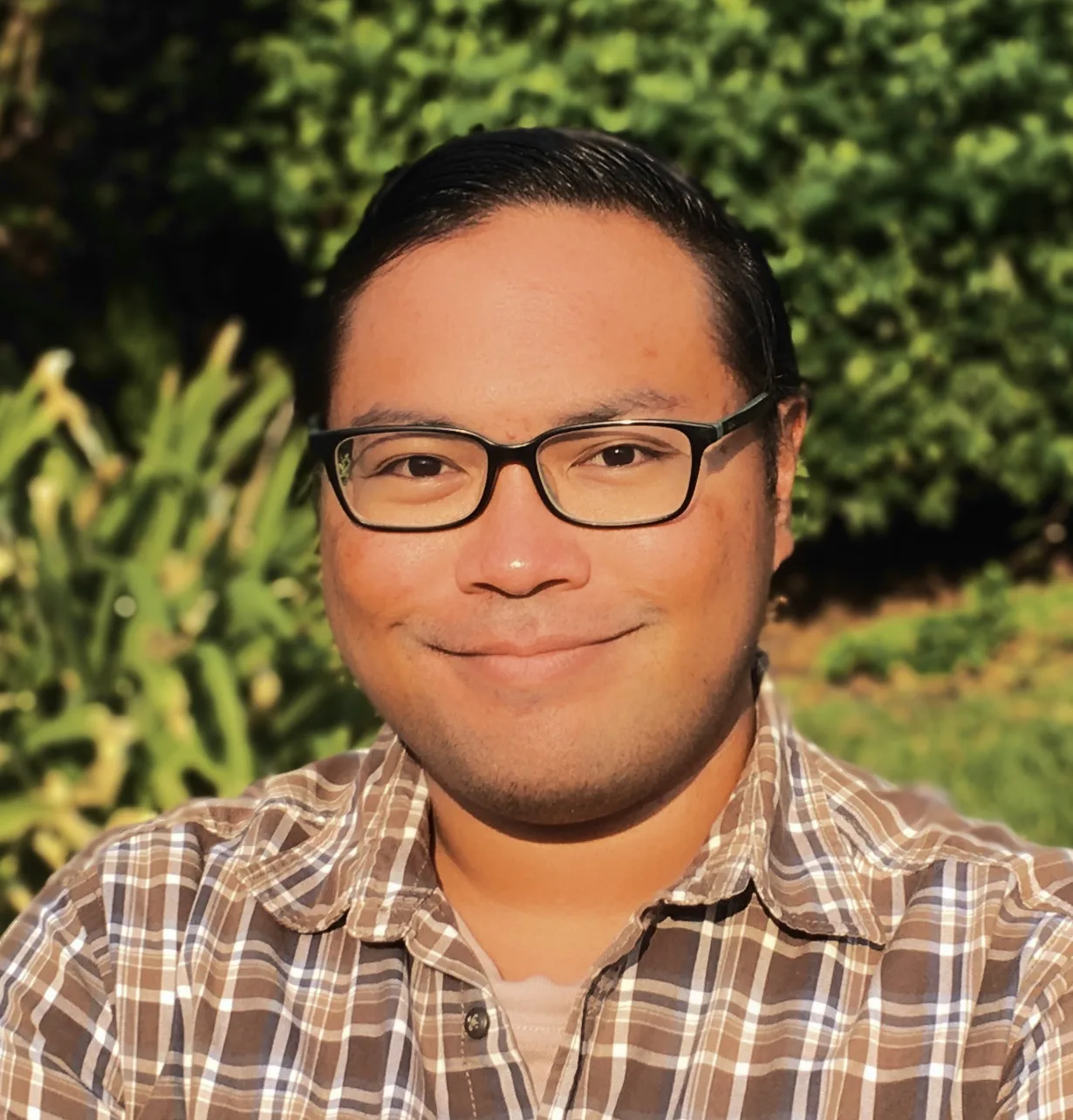 Mario
Yuwono
is from Indonesia, but was born in Italy and attended school in Jakarta, Moscow, Berlin and Los Angeles. He has been obsessed with films ever since he saw his first movie at the age of five, and would go on to spend his younger years reading film encyclopedias and movie guides. Combined with a global upbringing rooted in greater social awareness, this drives him to be more observant of values promoted in films. He believes in cinema's potential to enable greater empathy and meaningfully expand people's horizons, in line with
Hollywood Insider's
goal. He holds a Master of Fine Arts degree in Screenwriting from California State University in Northridge. Aside from reporting on film, TV and culture, Mario also aspires to write for film and television, and is a strong believer in social change, equality and inclusion.