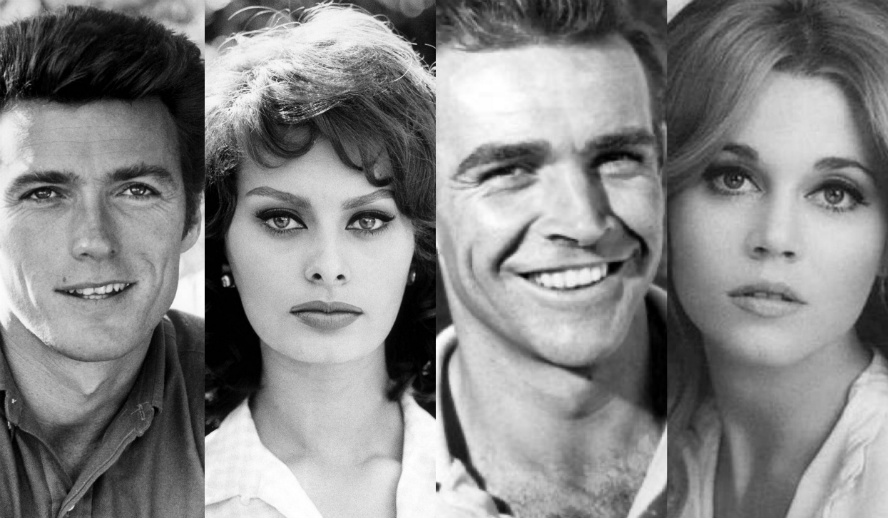 Photo: Clint Eastwood, Sophia Loren, Sean Connery & Jane Fonda
Many of us have watched sixties films with amazement for the cinematic gems and its stars' natural beauty, commanding physicality and hypnotizing acting skills/charisma. Is it that particular period of time, fashion, lifestyle, or the character that they built on screen that made them extraordinary enough to shine until today and possibly further? 
Here are some of the most successful and beautiful stars of the 60's with their advice, lessons and quotes derived from their own personal life experiences. Wisdom and education are present everywhere, it is just a matter of accepting it. 
​
Sophia Loren 
"The two big advantages I had at birth were to have been born ​wise​ and to have been born ​in poverty​." 
"Many people think they want things, but they don't really have the ​strength​, the ​discipline​. They are weak. I believe that ​you get what you want if you want it badly enough​." 
"There IS a ​Fountain of Youth​: It is your ​mind​, your​ talents​, the ​creativity​ you bring to your life and the lives of the people you love. When you learn to tap this source, you will truly have defeated age." 
Advice: To Sophie Loren, poverty and life's difficulties are a lesson rather than an obstacle. If we really want something, we can find the discipline and the strength to make it happen. If we don't, then maybe we didn't want it so badly. Our mind, our talents and our creativity can keep us young enough to achieve all the things we dream of. Instead of looking for the miracle pill or cosmetic, we should look within ourselves.
Clint Eastwood 
"I like the ​libertarian view​, which is to leave everyone alone. Even as a kid, I was annoyed by people who wanted to tell everyone how to live." 
"There's a ​rebel​ lying deep in my soul. Anytime anybody tells me the trend is such and such, I go the opposite direction. I hate the idea of trends. ​I hate imitation​; I have a reverence for individuality. I got where I am by coming off the wall. I've always considered myself too individualistic to be either right-wing or left-wing." 
"I don't believe in pessimism. ​If something doesn't come up the way you want, forge ahead​." 
"I believe you have just ​one shot at life​, and you should do the best you can with that shot. And I suppose you should ​be thankful​ that you've been given the ability to do certain things in life, and not be greedy enough to want to stay around forever." 
"​You're as young as you feel​. As young as you want to be. There's an old saying I heard from a friend of mine. People ask him, "Why do you look so good at your age?" He'll say, "Because I never let the old man in." And there's truth to that. It's in your mind, how far you let him come in." 
"I was a daydreamer as a kid. I just like being myself and meditating. I think a certain kind of meditation is good for anybody for some sort of ​peace of mind​. Some people find it looking at the ocean, some people find it in religion. It depends on the individual. I don't believe in the old adage that men shouldn't cry. If a person feels like crying it's probably the greatest catharsis in the world." 
Advice: Be free, be authentic, be original and if anything gets in your way, forge ahead. This is the Clint Eastwood way. We should be thankful and do our best with that one shot that we have at life. Depression is not an option for him, as happiness can be found in the simplest things. We are all as young as we feel. Everything is in our minds.
Once again, like Sophia Loren, the answer for Eastwood, lies within. 
​Sean Connery's Advice
"I haven't found anywhere in the world where I want to be all the time. The best of my life is the ​moving​. I look forward to going." 
"​Love​ may not make the world go round, but I must admit that it ​makes the ride worthwhile​." 
"What happened was that I had polyps on my vocal cords for about six years. I had them lasered off each time. But then I had a little twinge of a problem while I was doing​ Rising Sun (1993). I couldn't get the timbre of my voice right. I couldn't get the variation and enunciation as comfortable as I wanted. So I went back to the doctor and he suggested radiation. I went for six weeks and​ didn't have any side effects or problems​. Then I made the  announcement that I had done radiation treatment. The publicists said not to do it, that it would set off an explosion. But I thought, "If you do radiation and it's a success, why not speak about it?" 
"I've honestly not been too aware of my age until I went to the doctor for a full check-up. He said I had the heart of a young man – "but you're not young, you're 40". 
"​Some age, others mature​." 
Advice: Change and love, for Sean Connery, make life worth living. Drugs, drinking, even polyps couldn't stand in his way. Age is something relative for him as maturity is the reward. 
Jane Fonda's Advice 
"​Aging​ is not what we used to think it was, where you peak at middle age. It's ascending a staircase ​into growth, wisdom, well-being and happiness​." 
"When I was young I never thought I was going to make it past thirty. I thought I was going to die of alcoholism and loneliness and you know that hasn't been the case… ​Don't give up no matter how hard it is​. Try to make the best of who you are." 
"A man is not sexy to me unless I feel he can ​take me to a place that I've never been​". 
"​Patience​ is critical. I also ​meditate​ and ​work out​, both of which raises one's level of endorphins and, thus, can decrease depression." 
Advice: Alcoholism, loneliness, depression are states of being that we can all find a way to deal with. If we have the will, we can find methods to overcome all problems. Superficial beauty for Jane Fonda doesn't compare to the beauty of sharing a new experience with a loved one. Meditation, working out and patience are some of the methods according to her that can help us achieve a balanced energy. The only thing we need to do is: … our best and never give up! 
Lessons acquired: 
According to all of these quotes and life experiences shared, we can realize that what we perceive as healthy, natural and beautiful – all of it starts within our own self. It's a process. It's a journey. It's a way of living. It's the way we train ourselves to live and the way we deal with everything that comes in our way. It's a combination of a healthy diet, exercise and balance between our mind and body. Additionally, an authentic, free and determined personality is required to achieve all goals and dreams. The answer is within us – and it is with a positive perspective that we can live a long, successful and happy life. 
By Aliki Valores
More Interesting Stories From Hollywood Insider
– Why Queen Elizabeth II Is One Of The Greatest Monarchs | Her Majesty Queen Elizabeth II of United Queendom of Great Britain & Northern Ireland
– A Tribute To The Academy Awards: All Best Actor/Actress Speeches From The Beginning Of Oscars 1929-2019 | From Rami Malek, Leonardo DiCaprio To Marlon Brando & Beyond | From Olivia Colman, Meryl Streep To Bette Davis & Beyond
–  The No. 1 Show In USA – 'Elite' Is Faster, Edgier & Sexier In Season 2 – And Omar & Ander Also Known As #Omander Are Here To Steal The Title Of Most Famous/Sexiest Couple From Priyanka Chopra Jonas & Nick Jonas
– Watch: Behind The Scenes & Making Of Netflix's 'The Irishman' As Al Pacino, Robert De Niro, Joe Pesci & Martin Scorsese Continue Their Legendary Partnership 
– Voice Of A Teen: The Frightening New Reality Children Face In Response To School Shootings & Warning Signs
– Watch: 'Reaction From Stars' On Making Of Roland Emmerich's 'Midway' From Luke Evans, Nick Jonas, Darren Criss, Dennis Quaid, Ed Skrein, Mandy Moore, Tadanobu Asano, Aaron Eckhart And More
– Watch: Behind The Scenes & Making Of 'Maleficent: Mistress of Evil' As Angelina Jolie, Elle Fanning, Michelle Pfeiffer, Ed Skrein, Chiwetel Ejiofor Laugh Through Their Bloopers
– WATCH: "If Your Child Told You They Were Gay/Lesbian, What Would You Do?" – Prince William Confirms He Would Completely Accept His Gay Children – Hollywood Insider's 'Messages From America' – Episode 6
– Watch: Reaction From Stars On The Making Of 'Ad Astra' With Brad Pitt & Real-Life NASA Astronauts
– Hollywood Insider's BEST DRESSED WINNERS: Cannes Film Festival 2019 – Recap With Leonardo DiCaprio, Brad Pitt, Priyanka Chopra Jonas, Nick Jonas, Elle Fanning, Ming Xi & Many More
– Watch: Once Upon A Time in Hollywood's Premiere & 'Reaction From Stars' Leonardo DiCaprio, Brad Pitt, Quentin Tarantino, Margot Robbie, Etc. On The Making Of The Masterpiece
– The No. 1 Show in USA – 'Elite' is Faster, Edgier & Sexier In Season 2 – And Omar & Ander Also Known As #Omander Are Here To Steal The Title Of Most Famous/Sexiest Couple From Priyanka Chopra Jonas & Nick Jonas
–  FACT-CHECKED Series: Keanu Reeves – 12 Revelations About The Star Of 'Matrix', 'John Wick' & 'Toy Story 4′ – Did His Close Friend River Phoenix Predict Reeves' Super Stardom?
– In The 32nd Year Of His Career, Keanu Reeves' Face Continues To Reign After Launching Movies Earning Over $4.3 Billion In Total – "John Wick", "Toy Story 4", "Matrix", And Many More
– FACT-CHECKED Series: Zendaya And 15 Things You Might Not Know About The Star Of 'Euphoria', Tom Holland's Leading Lady In "Spider-Man: Far From Home' And Next Starring With Timothée Chalamet In 'Dune'
– Dame Judi Dench Urges All To Remember Forgotten Villages Of Nepal By Donating To Humans Of Our World's Nepal Campaign
– WATCH: Do People In America Choose Human Rights Or Religion? – Season 2 Of Hollywood Insider's Messages From America – Episode 1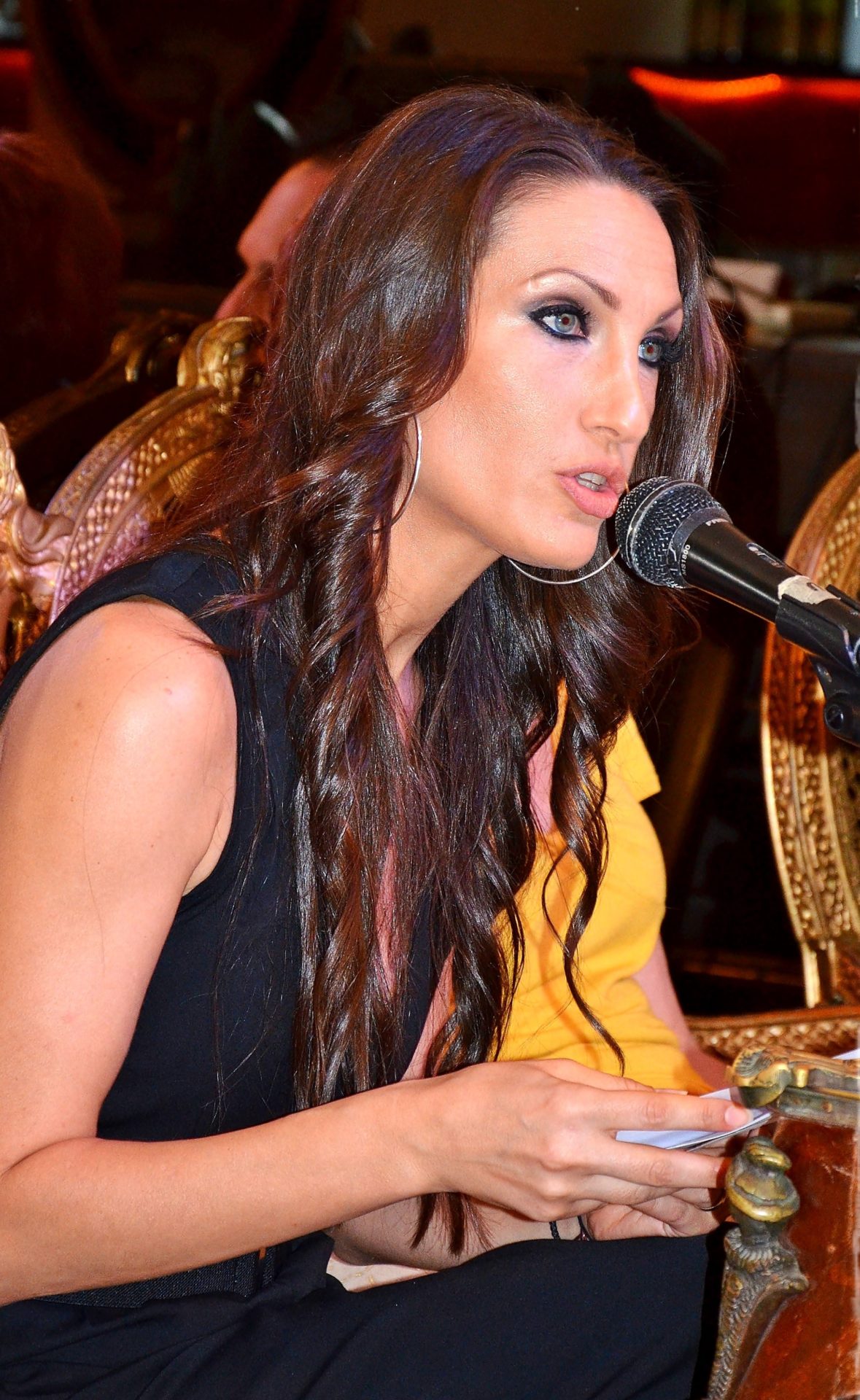 Aliki Valores is an author in the field of personal growth with several published books under her name. All of her books aim for a better world and those are the exact values she brings to Hollywood Insider. She continues to write articles that will help people better their own lives. Her family name is Aliki Chatzara and she is from Athens, Greece. She has studied at the Philosophical Faculty of the National and Kapodistrian University of Athens, with post graduate studies on Creative Writing and Methodology of Teaching. She has travelled and lived in many placesa round the world, Dubai and Bahrain being her most recent residences. Through her self-improvement fiction books, she aspires and motivates us to participate in the creation of a beautiful and peaceful planet. A planet in harmony with human and spiritual values (Valores). This is also the reason for which she uses this pen name. She has contributed articles for several magazines, Hollywood Insider being her most recent. Her books have been sold in more than fifteen countries.