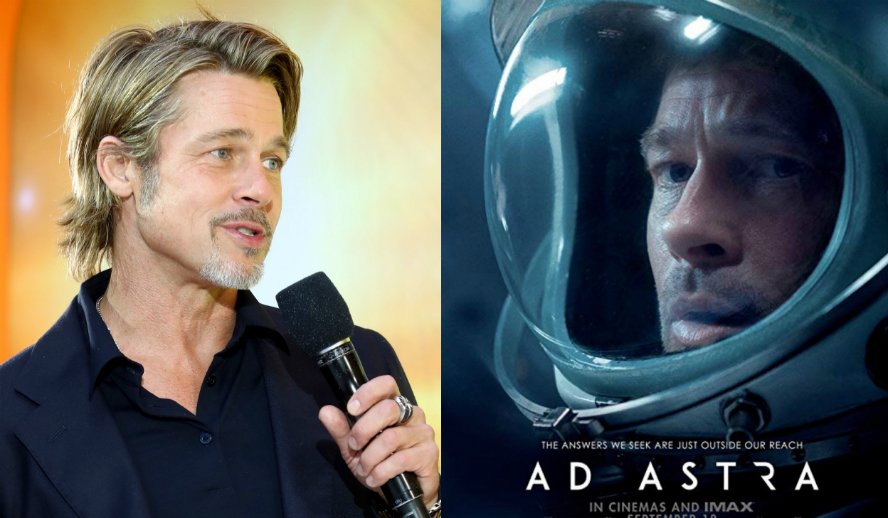 Photo/Video: 'Ad Astra', 20th Century Fox/Hollywood Insider YouTube Channel
 Reactions from Stars on 'Ad Astra'
 In the latest edition of Hollywood Insider's Reaction From Stars – we focus on 'Ad Astra', the latest Brad Pitt film to hit our screens. Directed by James Gray, this movie is going to be another winner for Brad and his co-stars Ruth Negga, Liv Tyler, Tommy Lee Jones, Donald Sutherland, etc. Hear the reactions to the space film from Brad Pitt as well as real-life NASA astronauts. To have real-life astronauts give their reaction to a space-based film is the most exhilarating part about this reaction video.  Brad plays the role of Astronaut Roy McBride who travels to the outer edges of the solar system to find his missing father and unravel a mystery that threatens the survival of our planet. His journey will uncover secrets that challenge the nature of human existence and our place in the cosmos. Imagine Brad Pitt being nominated for two Oscars for both Best Supporting Actor for his role in Once Upon A Time In Hollywood and for Best Actor for his lead role in Ad Astra? Yup – that might just happen. 
It is currently playing in theatres.  
For more reaction videos from famous celebrities, visit Hollywood Insider's YouTube channel by clicking here. Have you subscribed yet?  
By Hollywood Insider Staff Writer 
More Interesting Stories From Hollywood Insider
– Hollywood Insider's BEST DRESSED WINNERS: Cannes Film Festival 2019 – Recap With Leonardo DiCaprio, Brad Pitt, Priyanka Chopra Jonas, Nick Jonas, Elle Fanning, Ming Xi & Many More
– Watch: Once Upon A Time in Hollywood's Premiere & 'Reaction From Stars' Leonardo DiCaprio, Brad Pitt, Quentin Tarantino, Margot Robbie, Etc. On The Making Of The Masterpiece
– The No. 1 Show in USA – 'Elite' is Faster, Edgier & Sexier In Season 2 – And Omar & Ander Also Known As #Omander Are Here To Steal The Title Of Most Famous/Sexiest Couple From Priyanka Chopra Jonas & Nick Jonas
– Why Queen Elizabeth II Is One Of The Greatest Monarchs | Her Majesty Queen Elizabeth II of United Queendom of Great Britain & Northern Ireland
– A Tribute To The Academy Awards: All Best Actor/Actress Speeches From The Beginning Of Oscars 1929-2019 | From Rami Malek, Leonardo DiCaprio To Marlon Brando & Beyond | From Olivia Colman, Meryl Streep To Bette Davis & Beyond
Ad Astra, Ad Astra, Ad Astra, Ad Astra, Ad Astra, Ad Astra, Ad Astra, Ad Astra, Ad Astra, Ad Astra, Ad Astra, Ad Astra, Ad Astra, Ad Astra, Ad Astra, Ad Astra, Ad Astra, Ad Astra, Ad Astra, Ad Astra, Ad Astra, Ad Astra, Ad Astra, Ad Astra, Ad Astra, Ad Astra, Ad Astra, Ad Astra, Ad Astra, Ad Astra