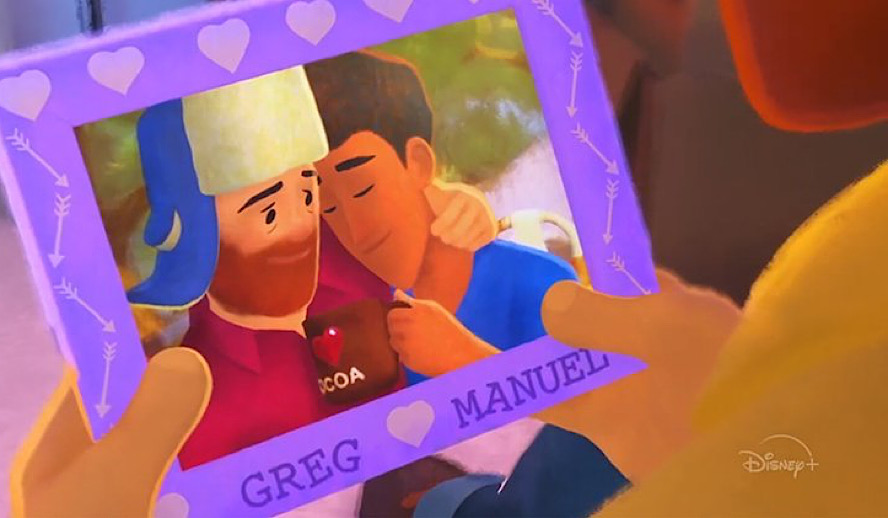 Photo: Pixar's 'Out' celebrates gay love story of Greg and Manuel as protagonists/Pixar
Pixar's Out is the topic of conversation here for celebration of LGBTQ all over the world during PRIDE month and beyond. Pixar Animation Studios has forged an extensive pedigree within the entertainment industry since its founding in 1986. Known for its computer-animated feature films and shorts, which are distributed by the company's parent The Walt Disney Company, Pixar has become a household name around the world. From their very first release, 1995's Toy Story, to their most recent venture, Onward, Pixar's animated features are a staple of entertainment for both children and adults. They have also built a vast portfolio of beloved short films, including Tin Toy, For the Birds and Bao. 
Related article: Hollywood Insider's CEO Pritan Ambroase's Love Letter to Black Lives Matter
Out Celebrates Being Gay
Pixar's most recent animated short, titled Out, recently released on Disney+. The short is the newest installment in the company's SparkShorts program, which gives employees the opportunity to write and direct their own animated short films. This latest short film in the collection is particularly notable, because Out is Pixar's first project to feature an explicitly gay main character. 
Related article: Did you see the hidden messages in 'Call Me By Your Name'? Find out behind the scenes facts in the full commentary and In-depth analysis of the cinematic masterpiece
Out means Disney and Pixar have taken strides towards LGBTQ representation
In recent years, Disney and Pixar have both taken steps towards portraying a wider range of sexualities in their films. The 2016 Disney film Zootopia features a same-sex couple, Bucky and Pronk, minor characters who serve as next-door neighbors to the film's protagonist Judy Hopps. Then in 2019 Pixar's Toy Story 4 featured a brief glimpse at a lesbian couple, though the appearance is minor with no dialogue given to the two women. Even still, the scene resulted in outrage from some conservative groups, including One Million Moms. Just this year Pixar's latest animated feature, Onward, also featured a lesbian character in a fairly prominent role named Officer Specter. However, the character's sexuality is mostly irrelevant to the film's plot and is revealed in an off-hand remark when she casually mentions her girlfriend. 
Related article: Please Sign Petition: Has Mount Everest Been Stolen? Google/Apple Must Rectify Error which has stolen Nepal's national landmark Mount Everest and placed it in China – please sign NOW
Despite these small inclusions in past films, Out is certainly the first project by either studio to focus primarily on a character's homosexuality and to feature a same-sex kiss. The SparkShort was written and directed by Steven Clay Hunter, an animator whose previous works include highly-regarded Pixar films such as Toy Story 2, Finding Nemo and Wall-E. Out revolves around Greg, a man who lives with his partner Manuel but has not yet come out to his mother and father. When his parents arrive at his home unexpectedly, Greg's attempts to hide his sexuality are made more difficult when he is suddenly swapped into his dog's body.
Subscribe to Hollywood Insider's YouTube Channel, by clicking here. 
Related Article: Want GUARANTEED SUCCESS? Remove these ten words | Transform your life INSTANTLY
Out is relevant to today's society and a much-needed story
While the emotional thread of revealing your true self to the ones you love runs throughout the short, it uses magical elements to supplement this idea. Greg's mind being swapped with his dog's adds a lightheartedness to the short and makes it feel distinctly Pixar. It takes inspiration from past works like Mark Waters' Freaky Friday or Charles Barton's The Shaggy Dog, but in a more modern context which fits perfectly. Greg's struggle to accept himself and feel comfortable in his own body clearly manifests itself when he is literally removed from his body, and this magical element elevates the theme of the short. 
Related article: 'God's Own Country' is a Must-Watch for Fans of 'Call Me By Your Name'
Like Out, the previous films in the SparkShorts series have also dealt with mature themes and social justice issues. The first film in the series, Purl, was written and directed by Kristen Lester and focuses on an anthropomorphic ball of yarn who is ignored in her male-dominated workplace. In an interview with Deadline, Lester revealed that the story was inspired by her, "long journey getting to Pixar." Purl deals with themes of sexism in the corporate workplace, and uses contrasting visuals to separate the female Purl from her masculine coworkers and office. The realistic design and color pallet used for the office makes the bright pink, fuzzy and cartoonish Purl appear out of place in her environment. The message of the short, that standing up against inequality is more effective than simply blending in, is an important one for both children and adults.
Related article: WATCH: "If Your Child Told You They Were Gay/Lesbian, What Would You Do?" – Prince William Confirms He Would Completely Accept His Gay Children – Hollywood Insider's 'Messages From America' – Episode 6
Another short in the series, Float, portrays an overbearing father who attempts to hide the fact that his young son, Alex, can fly. The short was written and directed by Bobby Rubio, who told Variety that he based the short on his experience raising his autistic son Alex. The short film is extremely poignant, with a universal theme and message that can encompass all manner of discrimination. The idea of a father trying to protect his son, and in doing so holding him back from his true potential, has the power to touch the heart of any viewer.  
Related article: Live Updates: List of Successes From Black Lives Matter Protests!
Related article: WATCH: Would A President's Sexuality Matter To You? A Lesbian, Gay, LGBTQ President? Pete Buttigieg? – Hollywood Insider's "Messages From America" – Episode 3
Celebration of society and its unique individuals
Pixar's SparkShorts program is focused on allowing individual Pixar employees to tell deeply personal stories using unprecedented and wholly unique animation. As a multi-billion dollar company, Pixar is less likely to take dramatic risks when producing new full-length animated films. By giving artists short films to create instead, Pixar is promoting creativity and originality without risking their financial success. 
In recent years Disney and Pixar have expressed an increasing interest in tackling the topic of sexuality. While there are still no major queer characters in any major Disney or Pixar animated films, steps in that direction are being taken. Hopefully Out will serve as a huge leap in that direction, and audiences will see more inclusive animated works on the big screen in the near future. 
We, at Hollywood Insider, have always cherished Pixar movies for reminding us of kindness. compassion and love. Pixar's Out proves just that as the studio continues to champion love by joining the love is love celebration by portraying their first gay protagonist and central love story between a gay couple. We appreciate you Pixar and thank you for everything you keep doing for humanity. Pride month is made better by this gem.
More Interesting Stories From Hollywood Insider
– Do you know the hidden messages in 'Call Me By Your Name'? Find out behind the scenes facts in the full commentary and In-depth analysis of the cinematic masterpiece
– A Tribute To The Academy Awards: All Best Actor/Actress Speeches From The Beginning Of Oscars 1929-2019 | From Rami Malek, Leonardo DiCaprio To Marlon Brando & Beyond | From Olivia Colman, Meryl Streep To Bette Davis & Beyond
– Why Queen Elizabeth II Is One Of The Greatest Monarchs | Her Majesty Queen Elizabeth II of United Queendom of Great Britain & Northern Ireland
– Compilation: All James Bond 007 Opening Sequences From 1962 Sean Connery to Daniel Craig
– In the 32nd Year Of His Career, Keanu Reeves' Face Continues To Reign After Launching Movies Earning Over $4.3 Billion In Total – "John Wick", "Toy Story 4", "Matrix", And Many More
– Want GUARANTEED SUCCESS? Remove these ten words from your vocabulary| Transform your life INSTANTLY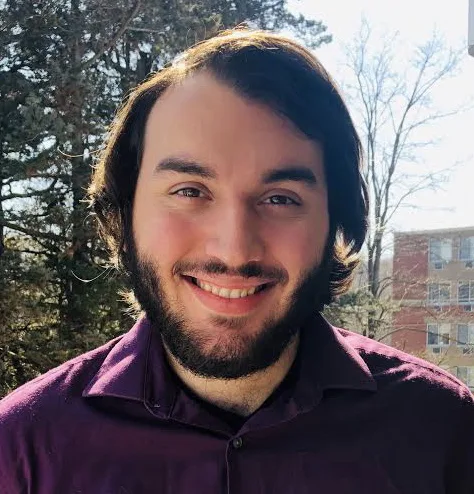 Thomas McNulty believes in thorough research and ethical journalism with a keen awareness of Hollywood trends and news. Thomas likes to look at the bigger picture of where the industry is heading with all forms of entertainment, including movies, TV shows, books, video games and live entertainment that are forms of art and should be treated as such. By drawing connections between these various pieces of entertainment, we are able to come closer to understanding society as a whole. Thomas believes in writing for a publication that promotes ethics and morality and that is why he has chosen Hollywood Insider as the right platform to advocate for positive entertainment.