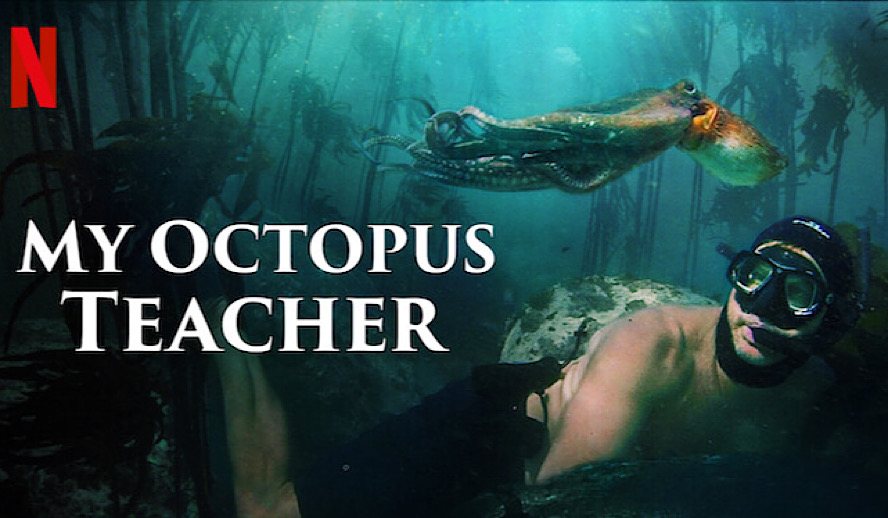 Photo: 'My Octopus Teacher'/Netflix
Perhaps one of the most seemingly alien things to humans, aside from the mysterious depths of space, is the spellbinding enchantments of the ocean–right here on Earth. There is so much to be explored, understood, and observed for the first time. As Craig Foster discovers in this life-changing documentary, there is a great likelihood of encountering something entirely new every time you explore it, the underwater vastness and variety are screaming for scientific discoveries. 
Co-directed by James Reed, this meditative documentary stars Craig Foster (also the narrator) who spends every single day for a year boldly free diving in the chilly waters near Cape Town (with no wet-suit or scuba gear) to spend time with an octopus. After quitting her job to work on the documentary, co-director and editor Pippa Ehrlich masters her first feature-length film with a fervent passion to spread their knowledge. Equipped with captivatingly stunning cinematography, Foster and Roger Horrocks unleash an astonishingly colorful underwater mural of abundant sea life/ flora.  Eager to deepen their scientific understanding and explore the philosophical implications of speciesism, the team embarks on one of the most wholesome stories of unexpected friendship and love between Homosapien and Cephalopod.
Related article: 'A Life on Our Planet': By David Attenborough – A Reprise on Regenerating Earth's Biodiversity
Related article: WATCH: "Is Climate Change An Urgent Issue Or Not A Worry For 100 Years?" Do You Support Leonardo DiCaprio & Greta Thunberg? – Hollywood Insider's 'Messages From America' – Episode 7
Trusting Tentacles – 'My Octopus Teacher'
"That's when I realized: This animal trusts me. She no longer sees me as a threat, and her fear changes to curiosity," he says. "That's when the real excitement comes and you think, 'Oh, my goodness, I'm being let into the secret world of this wild animal' — and that's when you feel on fire."
In a world that is so congested with distrustful politics, self-serving propaganda, and competitive survival–the courage to invest in truth, and to build genuine trust is so difficult. When we feel trusted and safe to invest trust, it is one of the purest feelings an organism or being can experience. It's the foundation for all love, courage, and evolution. The kind of trust we see unravel on screen between these two organisms is one of the purest sneak-peeks into the waltz of nature to date. 
Preluding Foster's underwater chronicles, this South African filmmaker was feeling depleted and uninspired before he made his way into the kelp forests– with no clear direction in mind and adapting his body to the intimidatingly frigid temperatures, sometimes reaching 46 degrees.  
Related article: MUST WATCH – Hollywood Insider's CEO Pritan Ambroase's Love Letter to Black Lives Matter – VIDEO
Subscribe to Hollywood Insider's YouTube Channel, by clicking here. 
"You feel alive, you feel awake, you feel stimulated. But because you can feel that water on your skin, you can feel the slight temperature differences, you feel much closer to nature. You feel more amphibious, in a way. I like to ponder on the amphibious nature of our humanness and diving in this way, with this method, brings out that amphibious nature." –Craig Foster
Slowly the ocean began peeling Foster open again, breathing life back into his exhausted spirit. After traversing through the life-teeming waters, something extraordinary caught Foster's attention. Covered in shells, looking like a hump of breathing coral, was the special octopus in hiding. Honoring his intuition, he set out to visit the same octopus–day after day. 
Eventually, after multiple dives, and his patient observations, the octopus would leave her den to hunt and explore–seemingly unperturbed by his company. Over time, the octopus developed a deeper sense of trust and curiosity for this foreign human occupant. One of the most fascinating moments, breaching a new layer of trust, occurred when she reached out her tentacle– placing it finely on Foster's hand and fingers.  A gentle exchange of harmony between two living things– enjoying and exploring the company of the other, seeping into a uniquely never seen before dimension of creature credence.
Related article: The Power of Positivity: Ikorodu Bois + Chris Hemsworth + Russo Brothers + Sam Hargrave
Limited Time Offer – FREE Subscription to Hollywood Insider – Click here to read more on Hollywood Insider's vision, values and mission statement here – Media has the responsibility to better our world – Hollywood Insider fully focuses on substance and meaningful entertainment, against gossip and scandal, by combining entertainment, education, and philanthropy. 
Proceeding the following visits, the relationship between Homosapien and Cephalopod intensifies as she strategically uses the body of Foster to square in on her prey, capturing the fascinating potential of interactive underwater awareness. Their familiarity deepens even further, forming an unconventionally rapturous bond that is revolutionary to witness. One of the most unshakeable examples of this occurs when she feels comfortable enough to eagerly glide onto his chest, nesting with her suckers, curling her tentacles around his fingers as he pets her affectionately. Had she been a cat, purring bubbles might have been seen, rising to the surface of the ocean. 
Of all the remarkably novel moments that blossom in this underwater story of love and friendship, one particular discovery drips with such purity, it is likely to never dry in your memory once witnessed. After watching her flail and sway her arms in and out of a sea of fish, Foster eyes her behavior with some confusion, quite certain her intentions are not to catch these fish for dinner. Curiously examining her new activity, Foster recognizes that she is simply playing with them. Darting, waving, and enjoying the flicking of their bodies while swaying her tentacles genially between them. It's not a surprise to see common domesticated animals like dogs or cats playing with each other, but to see an octopus jovial and having fun with the fish was an unexpected delight. There is so much we don't know about the mysteriously wild variety of sea life. 
Related article: The Masters of Cinema Archives: Hollywood Insider Pays Tribute to 'La Vie En Rose', Exclusive Interview with Director Olivier Dahan
Related article: A Tribute to Brad Pitt: His Greatest Roles & Transformations – The Winner's Journey
Emotional Ecology: The Movement
"Throughout our work, we have started a movement of "emotional ecology" where people feel a meaningful connection to wild places and the animals that live in them." 
Co-founded and created by Craig Foster and Ross Frylinck, the Sea Change Project is a community of scientists, storytellers, journalists, and filmmakers seeking to establish a fundamental shift in the way people view our relationship to nature and the ocean.  Their mission is to make the Great African Seaforest a global icon, telling stories that inspire people to become part of the planet's regeneration. 
"I need no convincing that an ecosystem such as this is of inestimable value and must be protected." -Sir David Attenborough 
This story is one that brings us closer to the significance of our relationship and collaboration with the environment and animals. Observing the patterns of nature in their process by tracking sea life can help restore the deep connection with the ocean and the planet that we have lost as our species has evolved. Since the origin of all life began in the sea, our DNA evolved from ocean creatures. Our great-great ancestors were some species of fish. Recent archaeological evidence suggests that the modern human mind evolved at the ocean, such data implies that our brains were fueled by our relationship with the sea. 
Related article: The Rise of Matthew McConaughey: A Tribute to the Powerful Thespian & Superstar Leading Man
Related article: Video: The Evolution Of Johnny Depp – All His Roles & Performances From 1984 to 2021
So often we shy from that which can truly deepen our understanding of ourselves, and assist to harmonize us with the environment. There is a fear of drowning in the depths of the unknown, literally and metaphorically. Hopefully, in conjunction with the efforts employed by those involved in the Sea Change Project, the inhabitants of this planet will come to recognize the importance of strengthening our bond with nature. And with the help of our octopus teacher, we can unite as a species to replenish the bridges we have lost, and rebuild a path of wisdom as a way to reimagine and realign our rapport with the natural world. 
"What I loved about this story is there was a story of positivity and hope that involved human beings and the natural world being in one place. "It was an opportunity to expand people's perceptions of what the relationship between us and the wild can be." -Pippa Ehrlich
Click here to read Hollywood Insider's CEO Pritan Ambroase's love letter to Black Lives Matter, in which he tackles more than just police reform, press freedom and more – click here.
An excerpt from the love letter: 
Hollywood Insider's 
CEO/editor-in-chief 
Pritan Ambroase
 affirms,
 "Hollywood Insider
 fully supports the much-needed Black Lives Matter movement. We are actively, physically and digitally a part of this global movement. We will continue reporting on this major issue of police brutality and legal murders of Black people to hold the system accountable. We will continue reporting on this major issue with kindness and respect to all Black people, as each and every one of them are seen and heard. Just a reminder, that the Black Lives Matter movement is about more than just police brutality and extends into banking, housing, education, medical, infrastructure, etc. We have the space and time for all your stories. We believe in peaceful/non-violent protests and I would like to request the rest of media to focus on 95% of the protests that are peaceful and working effectively with positive changes happening daily. Media has a responsibility to better the world and 
Hollywood Insider
 will continue to do so."
Vote with a conscience – Register to Vote – Your vote saves lives and ends systemic racism
Ways to support Black Lives Matter Movement to end systemic racism
– Do you know the hidden messages in 'Call Me By Your Name'? Find out behind the scenes facts in the full commentary and In-depth analysis of the cinematic masterpiece
– A Tribute To The Academy Awards: All Best Actor/Actress Speeches From The Beginning Of Oscars 1929-2019 | From Rami Malek, Leonardo DiCaprio To Denzel Washington, Halle Berry & Beyond | From Olivia Colman, Meryl Streep To Bette Davis & Beyond
– In the 32nd Year Of His Career, Keanu Reeves' Face Continues To Reign After Launching Movies Earning Over $4.3 Billion In Total – "John Wick", "Toy Story 4", "Matrix", And Many More
My Octopus Teacher, My Octopus Teacher, My Octopus Teacher, My Octopus Teacher, My Octopus Teacher, My Octopus Teacher, My Octopus Teacher, My Octopus Teacher, My Octopus Teacher, My Octopus Teacher, My Octopus Teacher, My Octopus Teacher, My Octopus Teacher, My Octopus Teacher, My Octopus Teacher, My Octopus Teacher, My Octopus Teacher, My Octopus Teacher, My Octopus Teacher, My Octopus Teacher, My Octopus Teacher, My Octopus Teacher, My Octopus Teacher, My Octopus Teacher, My Octopus Teacher, My Octopus Teacher, My Octopus Teacher, My Octopus Teacher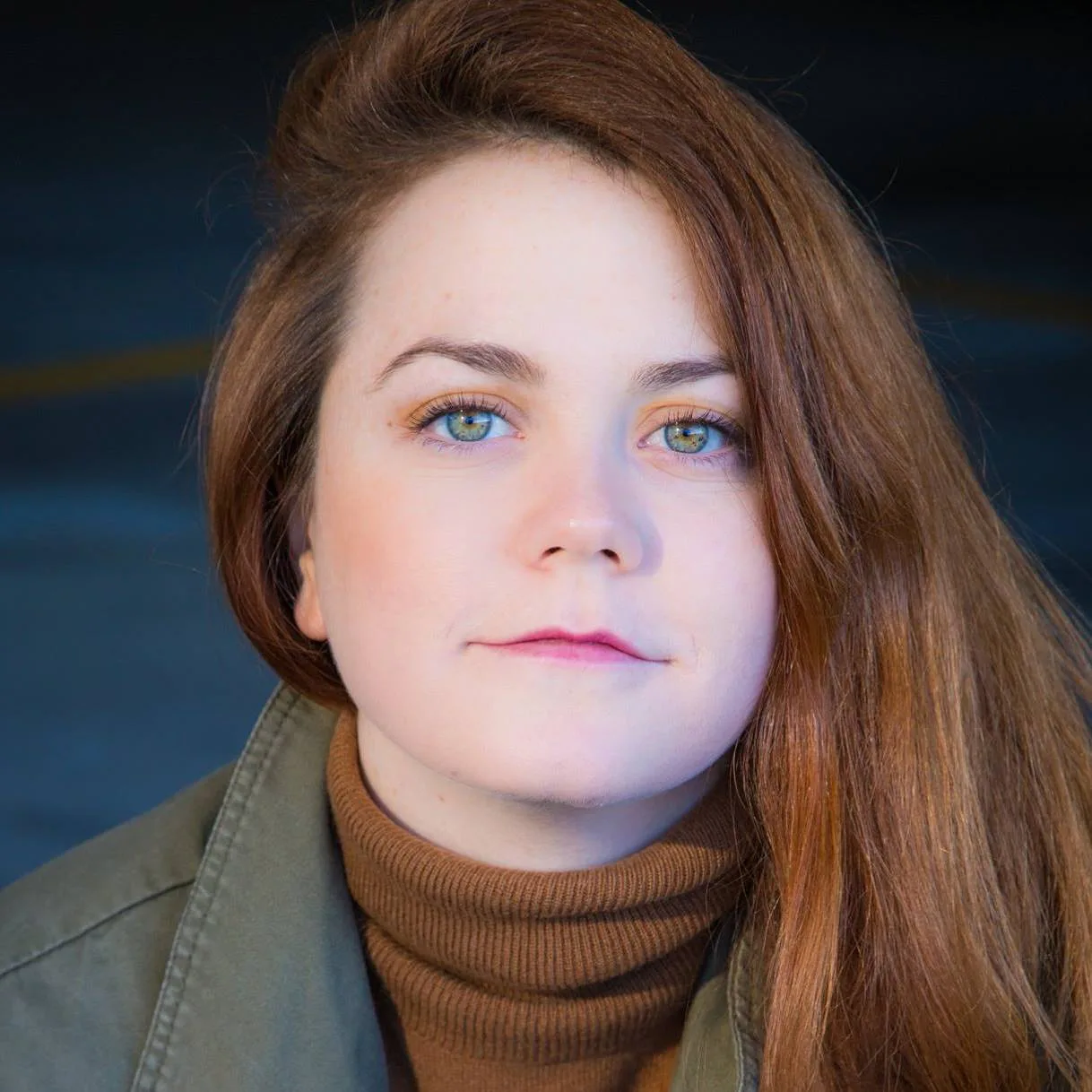 Melissa McGrath is a writer for Hollywood Insider, offering rich and engaging content for reviews and features. Melissa feels at home with Hollywood Insider's lively team who share an equal passion for the art of cinema. Having sought out compelling stories her whole life, she is eager to examine and share her observations with others interested in thought-provoking material. She believes in changing the world through meaningful dialogue and hopes to provide helpful insight with her work. She values open discussions concerning morality, culture, personal development, and holds a soft spot for cathartic humor. Through the art of storytelling, journalism, and cinema, Melissa seeks to help build a strong community of free-thinkers and cultivate a deeper understanding of the human experience.