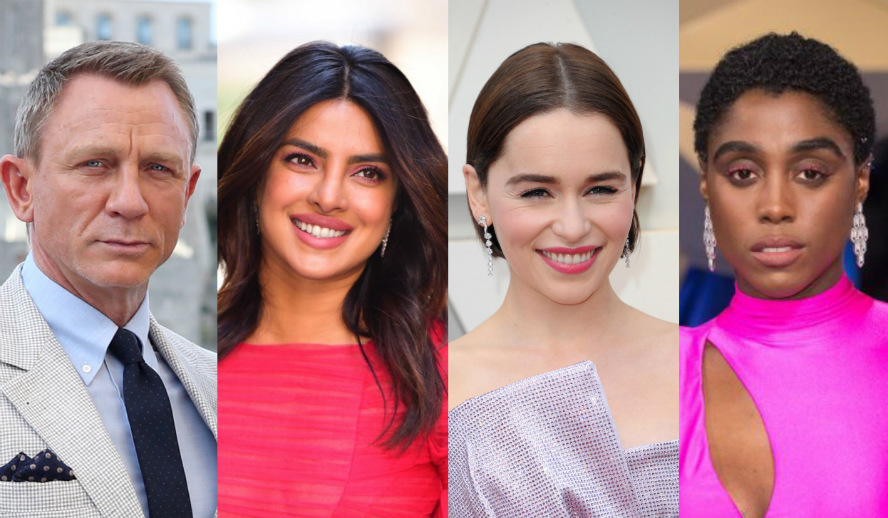 Photo: Daniel Craig, Priyanka Chopra, Emilia Clarke and Lashana Lynch
It's been widely reported that Daniel Craig will be enjoying his final martini as 007 next year, with the actor apparently keen to explore new opportunities, having starred in the last 4 movies. Speculation is mounting over possible replacements; lists are being drawn up and pored over; names bandied about, left, right, and centre: Tom Hardy, Richard Madden, and even Idris Elba, who would at least take the series in a different direction, have been linked to the much-coveted role.  The one common unifier? Once again there seem to be very few women being considered for the part, and once you move beyond the obvious argument, it's for no good reason. In an era where female-led action movies are crossing the billion dollar mark, it may be wise to consider letting a woman lead the franchise. Path-breaker? Sure. Money-maker? Hopefully. Something new with the decades old franchise? Definitely. 
No Time to Die
Feels More Like No Time For Change
Much was made back in 2015 and prior to the release of Spectre, on how the latest Bond movie was set to attempt the seemingly impossible; no, not a scene where the sleuth evades capture by disguising himself as a clown before invading a circus matinee in order to diffuse a bomb that's been strapped to the back of a cannon. It's been done.  
I'm talking about a genuine stab at providing Bond with a leading lady who didn't simply come across as 'feisty eye candy,' with a few vague references to female empowerment thrown in to please the critics. Sadly, it was too much to hope for. Sure, Lea Seydoux's Bond-girl put up a bit of a fight, serving up dialogue like "Come anywhere near me and I'll kill you.'' A line made completely redundant a few minutes later after succumbing to 007's unrelenting suave.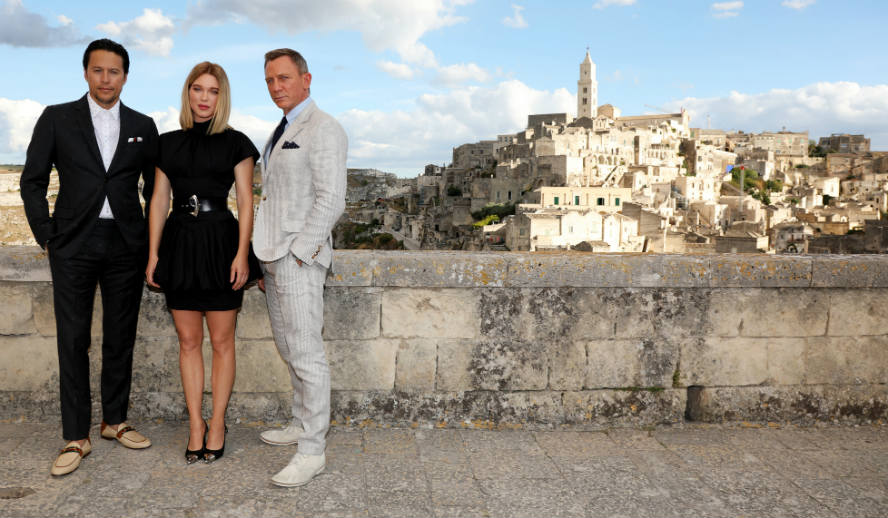 Photo: Cary Joji Fukunaga, Lea Seydoux and Daniel Craig at 'No Time To Die' Photocall in Matera, Italy/Franco Origlia/MGM
Rather than the odd nudge in the right direction, which by my estimate would see us enjoying a believable female sidekick by about Bond 50, why not give the series a much-needed shove by dispensing with the sidekick angle altogether. Give us a female Bond. 
Bond's Gender Is Not Important
The old 'Bond must be male' argument only holds weight because we still think about gender in a very stereotypical way. 
When we picture Bond we think of fast cars, danger, dry-wit, and a shall we say, deep appreciation of the opposite sex. But those qualities are not exclusively male, regardless of what we're led to believe. Take Angelina Jolie in fellow spy-caper, Salt – or Gal Gadot's more recent portrayal of Wonder Woman. Both women displayed many of the same qualities, both women showed that they're just as bad-ass as Bond, and both women embraced their femininity without having to compromise.
Indeed, a female Bond wouldn't need to adopt a masculine persona to succeed. That would feel contrived. According to Jany Temine, lead costume designer on the super-spy's last two outings, doing the opposite would make a lot more sense. "The trick is to play up 007's femininity,'' suggested Temine in an interview with W Magazine.  Going on to add that "She can be powerful, very physical, but nothing about her should make you think she is trying to do a man's job. She is too busy saving the world to pretend to be a man.''
And besides, it's not like this would be new territory for the Bond franchise. Dame Judi Dench took on the role of 'M,' 007's brusque boss and one of the series most beloved characters in 1995, replacing actor Robert Brown. Dench filled the role for over 15 years, and earned considerable recognition for her portrayal of the character.  
Video: No Time To Die' Photocall in Matera, Italy, MGM/Hollywood Insider YouTube Channel
A Fresh Perspective Would Give The Franchise A Boost 
Purists argue that the "James Bond brand" is too iconic, that the name alone is so entrenched in popular culture, its core audience would simply not accept a female 007.  The 'Jane Bond' moniker draws loud guffaws, and the old 'If it ain't broke don't fix it' proverb gets a fresh dusting down whenever questions about Bonds' future are raised.  They're missing the point.
After fifty-seven years, nine different actors, and 24 movies, the name Bond, James Bond, is so universal it really wouldn't matter a great deal who took on the role, and if each new incarnation of the character is supposed to bring something new to the table, why not actually opt for something a little radical? It is, after all, just a name. Priyanka Chopra has already thrown her name in the hat and Lashana Lynch's name has been all over the press. And most recently, Mother of Dragons, Emilia Clarke, herself. Game of Thrones lady reborn as Bond…… James Bond. 
A female Bond would work.  The franchise is secure, it's legacy long solidified, and it would take a pretty spectacular mishap to alienate its loyal audience.  No Time to Die will be the 25th instalment. 25 entertaining but ultimately formulaic movies that has seen the series grow stale over time. It is ripe for reinvention. And it is ready for a female Bond. Perhaps, this re-invention might just save Bond – the brand of cinema we have all come to love. 
By Kian Northcote
More Interesting Stories From Hollywood Insider
– A Tribute To The Academy Awards: All Best Actor/Actress Speeches From The Beginning Of Oscars 1929-2019 | From Rami Malek, Leonardo DiCaprio To Marlon Brando & Beyond | From Olivia Colman, Meryl Streep To Bette Davis & Beyond
– Timothée Chalamet Utilizes His Platform To Save People From Drug Abuse
– FACT-CHECKED Series: Zendaya And 15 Things You Might Not Know About The Star Of 'Euphoria', Tom Holland's Leading Lady In "Spider-Man: Far From Home' And Next Starring With Timothée Chalamet In 'Dune'
– WATCH: "If Your Child Told You They Were Gay/Lesbian, What Would You Do?" – Prince William Confirms He Would Completely Accept His Gay Children – Hollywood Insider's 'Messages From America' – Episode 6
– FACT-CHECKED Series: Keanu Reeves – 12 Revelations About The Star Of 'Matrix', 'John Wick' & 'Toy Story 4′ – Did His Close Friend River Phoenix Predict Reeves' Super Stardom?
– Why Queen Elizabeth II Is One Of The Greatest Monarchs | Her Majesty Queen Elizabeth II Of United Queendom Of Great Britain & Northern Ireland
– Voice Of A Teen: The Frightening New Reality Children Face In Response To School Shootings & Warning Signs
– LGBTQ+ Representation In Film/TV: From The First Romantic Film In 1919 Based On A Gay Love Story To Where We Must Go
– Priyanka Chopra Hopes Media Stops Turning Online Trolls'/Bullies' Comments Into News
– Watch: 'Reaction From Stars' On Making Of 'Bombshell' From Charlize Theron As Megyn Kelly, Nicole Kidman, Margot Robbie And More 
Kian is contributing to Hollywood Insider due to his passion for important issues that need to be highlighted. He is a film grad from the UK, and is particularly passionate about sci-fi. He also helps new writers hone their talents by providing tips and tutorials.