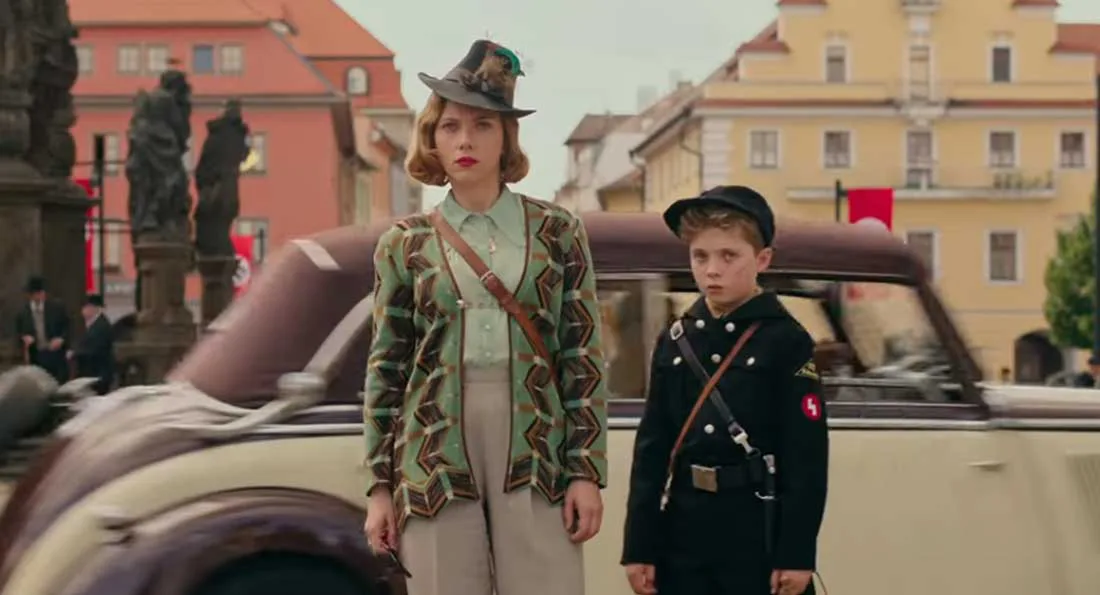 Photo: 'Jojo Rabbit'/Fox Searchlight Pictures 
​In the movie "Jojo Rabbit", the audience submerges almost instantaneously in a world which has a very controversial and unexpected starting point.  The film approaches one of the darkest moments of humanity in an absurd, comedic and revolutionary way. Jojo Betzler (Roman Griffin Davis), a timid and emotionally wounded boy who joins the Nazi Youth will trust in the help and advice of a very peculiar imaginary friend: Adolf Hitler. His mother Rosie (Scarlett Johansson) is not only worried about Jojo's loyalty towards the regime but is also part of the resistance. As soon as Jojo finds out that his mom is hiding Elsa (Thomasin McKenzie), a Jewish girl at their home things begin to change. The child will slowly starts questioning his own beliefs and transforming his ideological point of view. Although the premise is quite shocking, it hooks you from the very beginning.
The writer and director, Taika Waititi brings this parody into life, and also portrays the Führer's character. This controversial and hilarious Hitler is Jojo's voice of consciousness. He tries to reinforce his self-confidence while stimulating the passionate devotion to the Nazi government. In the process of constructing the character, Waititi admits that he didn't make the effort of building a very accurate version of the anti-Semite leader because he didn't want him to have the satisfaction of knowing that someone studied him so closely. 
'Jojo Rabbit' From The Book To The Big Screen – Innovative Storytelling To Spread Love, Union And Tolerance
The movie is based on the novel "Caging Skies" written by Christine Leunens who used her personal family story as a source of inspiration. Her grandfather was taken to a work camp and her husband worked in the War Memorial in Normandy. Moreover, while she was living in Paris, she met an elderly woman who fell in love and married a man who hid with her family during the war. As in almost every adaptation, there are similarities and differences and in this case there was a close and friendly collaboration between the novelist and the filmmaker. Leunens considers that although the film practically follows the book plot, Taika puts his own touches which engages an audience. The major difference between the novel and the movie revolves around Hitler's character. In the book he was in the consciousness of the character while in the movie the director brought him out in order to explore a kid's point of view of the situation. For the writer, the film explores what the book was trying to do with the same message.  
Scarlett Johansen is Rosie, Jojo's mom.  She is not only a single mom in a truly violent and complicated world but also a brave human who secretly fights to eradicate hatred from Germany. The actress immediately fell in love with this character as she believes that Rosie is a kind of magical, warm, safe place. Always loving and of course worried about her son's insecurities and convictions, she works hard in order to protect her boy and show him how cruel and hostile reality is. 
Video: 'Behind The Scenes' and 'Reaction From Stars' on 'Jojo Rabbit'/Hollywood Insider YouTube Channel
​Illuminating The Darkest Periods Of Humanity
It is not the first time that a film tries to illuminate the most awful and despicable human atrocities. In 1997, Roberto Benigni's "Life is Beautiful" also brought an inventive storytelling approach about the horrors of extremism. The character of Guido Orefice "transforms" a horrendous and inhumane concentration camp into a fantastic world full of imagination and humor. He does it to protect his son from the calamities of World War II. 
Jojo Rabbit is a journey of growth and acceptance. It is a reminder of how human beings have historically built walls and barriers among races. Unfortunately, these topics didn't expire and still resound in our actual complex social reality. Waititi manifests the need for these kinds of stories to be told. He believes that it is very important to find new and inventive ways of telling the same story so children can listen, grow, move forward unified and with love in the future
In this funny and emotive story, the main character arches and grows up reframing his perspectives and the way he understands the world. He will see his personal life and his surroundings with new eyes. He will fight against and demolish brainwashing propaganda and discover that all individuals of all races and ethnicities are equal. 
By Catalina Piotti
More Interesting Stories From Hollywood Insider
– Life Lessons From Joaquin Phoenix's 'Joker': The Clown Prince Of Crime – Isn't It Time To Remove Stigma From Mental Health Issues?
– Watch: 'Reaction From Stars' On Making Of 'Joker' From Joaquin Phoenix & Director Todd Phillips
– The Name Is Bond….. Female Bond? Could Daniel Craig's Successor Be Priyanka Chopra, Emilia Clarke Or Lashana Lynch After 'No Time To Die'?
– Why Queen Elizabeth II Is One Of The Greatest Monarchs | Her Majesty Queen Elizabeth II Of United Queendom Of Great Britain & Northern Ireland
– A Tribute To The Academy Awards: All Best Actor/Actress Speeches From The Beginning Of Oscars 1929-2019 | From Rami Malek, Leonardo DiCaprio To Marlon Brando & Beyond | From Olivia Colman, Meryl Streep To Bette Davis & Beyond
– Timothée Chalamet Utilizes His Platform To Save People From Drug Abuse
– FACT-CHECKED Series: Zendaya And 15 Things You Might Not Know About The Star Of 'Euphoria', Tom Holland's Leading Lady In "Spider-Man: Far From Home' And Next Starring With Timothée Chalamet In 'Dune'
– WATCH: "If Your Child Told You They Were Gay/Lesbian, What Would You Do?" – Prince William Confirms He Would Completely Accept His Gay Children – Hollywood Insider's 'Messages From America' – Episode 6
– FACT-CHECKED Series: Keanu Reeves – 12 Revelations About The Star Of 'Matrix', 'John Wick' & 'Toy Story 4′ – Did His Close Friend River Phoenix Predict Reeves' Super Stardom?
– Voice Of A Teen: The Frightening New Reality Children Face In Response To School Shootings & Warning Signs
– LGBTQ+ Representation In Film/TV: From The First Romantic Film In 1919 Based On A Gay Love Story To Where We Must Go
– Priyanka Chopra Hopes Media Stops Turning Online Trolls'/Bullies' Comments Into News
– Watch: 'Reaction From Stars' On Making Of 'Bombshell' From Charlize Theron As Megyn Kelly, Nicole Kidman, Margot Robbie And More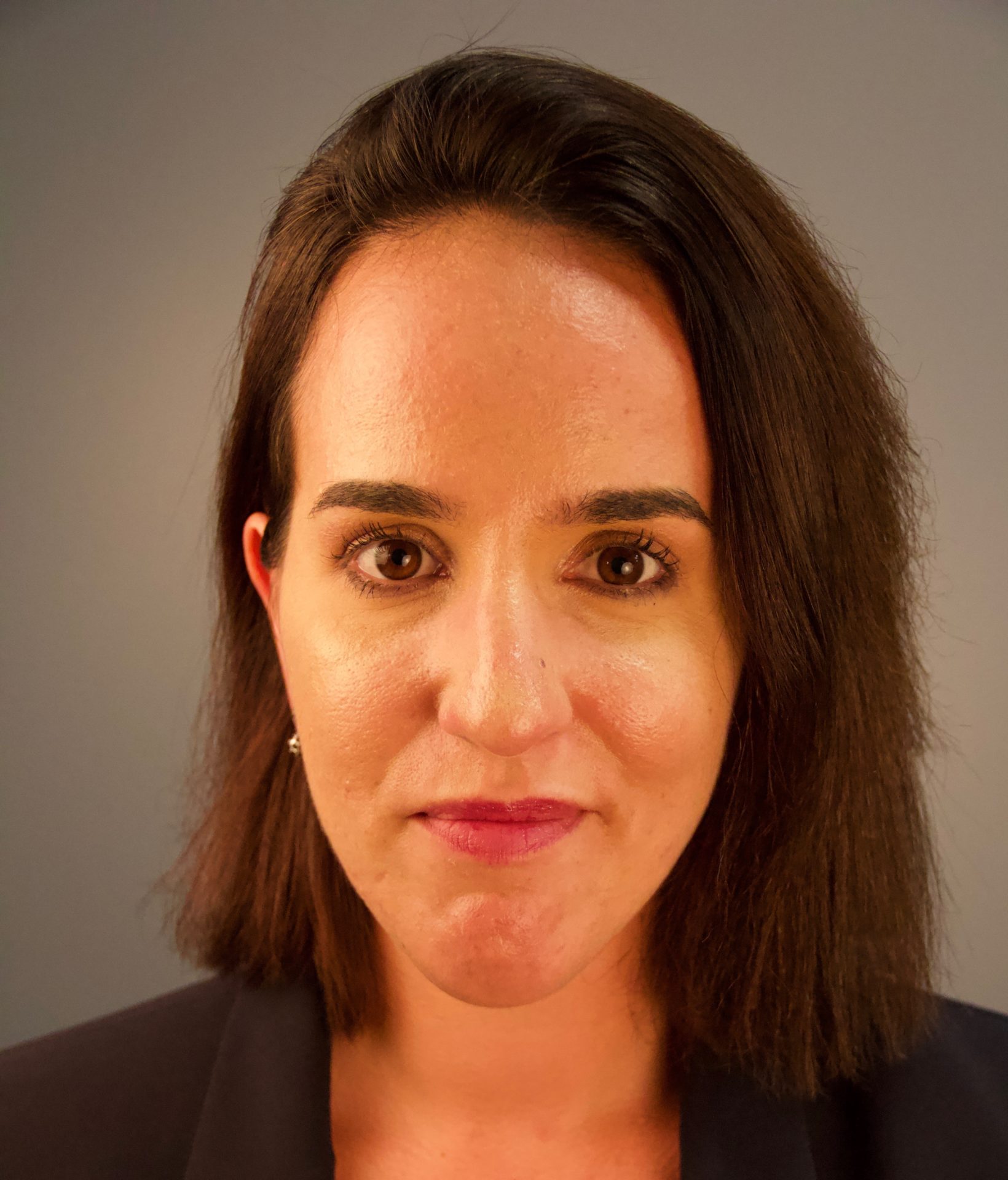 Catalina is a passionate writer who believes that global entertainment journalism can be used as a tool to make audiences reflect upon deep social, cultural, educational and philosophical matters. For that reason, she is happy to be working in Hollywood Insider with a team that focuses on meaningful content and stays away from scandal and sensationalism to make the world a kinder place for all.