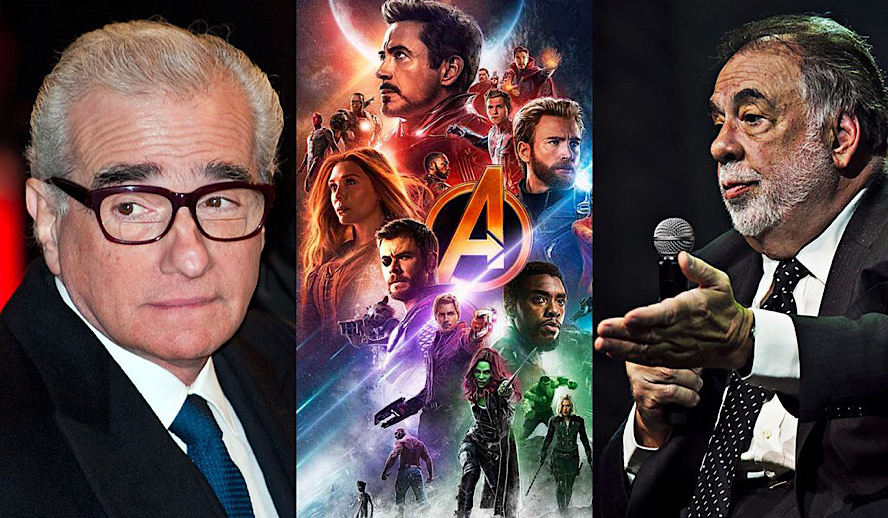 Photo: Coppola and Scorsese Against Marvel
For any readers who've read my previous article covering the controversial topic (at least for cinephiles) of whether or not superhero films are "true cinema," you already know I'm a fan of the genre. I love Batman, Spider-Man, the Flash (not Ezra Miller), I'm a real nerd. I'm also a film scholar. And so, when figurehead of film, master of Cinema, auteur director, Martin Scorsese delivered a scathing critique of some of my favorite movies, I felt a little slighted. Even in my classes, professors pass snide remarks. At work, colleagues dismiss. But nevertheless, I say these naysayers are simply ignorant. Okay, that's a harsh word to read, let's go with, "oblivious," to the fact that these stories about caped crusaders and web-slingers are no different than the cherished, mythological epics of old, whether that be the birth of Venus, the creation of Adam, or the destruction of Asgard. But, I've already bored you with over a thousand words pitching that angle, so now let's turn our attention to Mr. Coppola. 
Related article: OSCAR-NOMINATED – EXCLUSIVE: 'Dune' Full Commentary, Reactions, Making Of – Timothee Chalamet, Zendaya, Oscar Isaac
Related article: OSCAR-NOMINATED – 'House of Gucci' Full Commentary & Behind the Scenes – Lady Gaga, Adam Driver, Jared Leto, Al Pacino
Related article: OSCAR-NOMINATED – 'Belfast' Full Commentary & BTS – Jamie Dornan, Caitriona Balfe, Judi Dench
Related article: OSCAR-NOMINATED – 'West Side Story' Full Commentary – Rita Moreno, Steven Spielberg, Rachel Zegler
Related article: OSCAR-NOMINATED – 'No Time to Die' Full Commentary, Behind the Scenes & Reactions, Daniel Craig, Rami Malek, Bond
Coppola and Scorsese – Remarks
Francis Ford Coppola. A name revered throughout all of film culture. The man is responsible for producing one of the most influential bodies of work ever created in film, from 'The Godfather' trilogy (helming all three parts) to 'Apocalypse Now' to 'Bram Stoker's Dracula'.Entire masterclasses could be taught discussing 'The Godfather' films and 'Apocalypse Now,' with myself having had to sit through several lectures. Even the Dracula movie, released in 1992 and starring such icons as Gary Oldman as Count Dracula ('Léon: The Professional'), Keanu Reeves as Jonathan Harker ('John Wick'), Winona Ryder as Mina Harker ('Stranger Things'), and Anthony Hopkins as Abraham Van Helsing ('The Silence of the Lambs'). And, just for the purposes of this article, I'd like to point out, two of these esteemed actors have been in…you guessed it, superhero movies! Batman fans will no doubt remember Gary Oldman as their affable Police Commissioner Jim Gordon from 2005's 'Batman Begins,' 2008's 'The Dark Knight,' and 2012's 'The Dark Knight Rises.' And Anthony Hopkins can be seen as Thor's father, Odin, in 2011's 'Thor,' 2013's 'Thor: The Dark World,' and 2017's 'Thor: Ragnarok.'  
In a 2019 interview in France, Coppola admitted that he felt colleague Martin Scorsese's criticisms of Marvel movies as "theme parks" were actually too kind. He said the word he would have used was downright "despicable," and that these should not be considered examples of true Cinema. The eighty-year-old 'Apocalypse Now' director said, "We expect to learn something from Cinema, we expect to gain something, some enlightenment, some knowledge, some inspiration…I don't know that anyone gets anything out of seeing the same movie over and over again. Martin was kind when he said it's not Cinema." 
Related article: All Best Actor/Actress Speeches From The Beginning Of Oscars 1929-2019 | Hollywood Insider
Related article: EVOLUTION: Every Henry Cavill Role From 2001 to 2021, All Performances Exceptionally Poignant
Related article: EVOLUTION: Every Chris Evans Role From 1997 to 2020, All Performances Exceptionally Poignant
Related article: 'In the Heights' Full Commentary & Behind the Scenes +  Reactions – Lin Manuel Miranda, John M. Chu
Harsh. Imagine being a filmmaker, you've made it, you're directing major, multi-million dollar motion pictures, and one of your heroes, a pioneer of modern Cinema, calls you and your work "despicable" and antithetical to the art itself. Marvel movie directors were quick to hit back, like James Gunn, Joss Whedon, etc. And, while this is a scathing, cutting condemnation of the MCU (Marvel Cinematic Universe), I must admit I'm having a hard time arguing with some facets of Coppola's specific critiques. 
"The same movie over and over again"
Coppola's shared belief with Scorsese, that Cinema and storytelling through film implores to change the viewer in some way, that they may learn something, or come away different from the experience, is one that speaks to me. I know that sounds like the cliche art student thing to say, but I think it's a fair requirement when it comes to qualifying and justifying Cinema's validity as an art. And, as Coppola clarifies, can one truly discover anything new from seeing/hearing/ingesting the same story over and over? No. And, when it comes to superhero movies, we seem to do a lot of seeing the same thing over and over. I don't know how many times I've had to see Bruce Wayne's parents die. I mean, for example (prior to Ezra Miller's recent controversy postponing 'The Flash'), in 2022, we almost got three different on-screen Batmen. One would have been (and was) Robert Pattinson's in 'The Batman,' and then we would have seen the returns of both Michael Keaton and Ben Affleck later in the year. And, 'Spider-Man: No Way Home' literally just shattered records by featuring three different Spider-Men, with Tom Holland, Andrew Garfield, and Tobey Maguire. 
Related article: Why Queen Elizabeth II Is One Of The Greatest Monarchs | Her Majesty Queen Elizabeth II of United Queendom of Great Britain & Northern Ireland (Video Insight)
Limited Time Offer – FREE Subscription to The Hollywood Insider
Click here to read more on The Hollywood Insider's vision, values and mission statement here – Media has the responsibility to better our world – The Hollywood Insider fully focuses on substance and meaningful entertainment, against gossip and scandal, by combining entertainment, education, and philanthropy.
Related article: #metoo Revolution: Powerful Questions That Need Answers
Related article: FACT-CHECKED Series: Timothee Chalamet and 32 Facts about The Young Superstar
"But Mr. Writer, each Batman and Spider-Man iteration brings different things to the table." Whatever, the point is, in ten years we've had four takes on Batman, three franchises on Spider-Man, and two different versions of the X-Men, with no signs of slowing down or stopping in the near future. And don't get me wrong, I am a comic book nerd. But, Coppola's right, I'm not learning anything new. But there's also more to his point than just the same I.P. getting produced over and over. One of my main problems with the MCU as of late, is that it no longer feels as though they have anything to offer me. They're simply relying on what they've built. Each movie also feels inherently the same. Each one is similar in tone, aesthetic, style, and even plot structure. Cookie-cutter. 'Thor,' 'Thor: Ragnarok,' 'Iron Man,' 'The Avengers,' 'Captain Marvel,' virtually all of the MCU installments follow the same sense of storytelling, "The Hero's Journey."  
Related article: The Hollywood Insider's CEO Pritan Ambroase: "The Importance of Venice Film Festival as the Protector of Cinema"
Related article: The Masters of Cinema Archives: The Hollywood Insider Pays Tribute to 'La Vie En Rose', Exclusive Interview with Director Olivier Dahan
Related article: – Want GUARANTEED SUCCESS? Remove these ten words from your vocabulary| Transform your life INSTANTLY
The Rebuttal
Now, obviously, it does make some sense for superhero movies to follow The Hero's Journey. But once you become aware of this technique (as I have through screenwriting), it becomes hard to casually enjoy a movie, and suspend your wonderment of "where could this possibly be going?" However, again in defense of CBM's (comic book movies), I would like to point out to Mr. Coppola, that following a similar structure that has been repeated over and over again is not exclusive to the MCU. Rather, this speaks to a broader problem in film and Cinema. The Hero's Journey did not originate with the MCU, nor with CBM's in general. It is a screenwriting/storytelling term, older than even the original 'Star Wars,' which George Lucas made to serve as a sort of checklist for the format. The Hero's Journey typically consists of the following, the hero's ordinary world, their call to action, the crossing of the threshold into the "underworld," meeting with mentors and allies, a major twist at the midpoint (perhaps also the arrival of a new character), a crushing lowpoint, and then the reclamation of hope, the climax, and the return.
Related article: MUST WATCH – The Hollywood Insider's CEO Pritan Ambroase's Love Letter to Black Lives Matter – VIDEO
Subscribe to The Hollywood Insider's YouTube Channel, by clicking here.
This and the Three-Act Structure are the predominant methods of storytelling in screenwriting and movie making today. Picture after picture is produced by this formula. Every romance movie is virtually the same script, just different names. Coppola's criticisms of no longer gaining or learning anything from the movie-going experience because the movie isn't new, speaks to something broader in the industry. Even my remarks about rebooting the same content over and over applies to broader Hollywood. Again, don't get me wrong, I love 'Ghostbusters,' but I'm not even sure which ones are canon anymore, no one needed another 'Baywatch,' and 'Magnum, P.I.' should never be played by anyone else except Tom Selleck, yet here they all still are. 
As a young, aspiring screenwriter, it is routine for me to want to curse the archaic standards and rules of structuring my art, every writer wants to break free from the form and create something new. I'm not saying anything new. But, to be honest, neither is Coppola, or Scorsese. People aren't gonna like everything, some will like one thing, others will completely despise it and find it "despicable." We have different tastes. And, you know what? That's okay, because art's subjective. And so, too, are Marvel films. Art and subjective.  
 By Connor Garvin
Click here to read The Hollywood Insider's CEO Pritan Ambroase's love letter to Cinema, TV and Media. An excerpt from the love letter: The Hollywood Insider's CEO/editor-in-chief Pritan Ambroase affirms, "We have the space and time for all your stories, no matter who/what/where you are. Media/Cinema/TV have a responsibility to better the world and The Hollywood Insider will continue to do so. Talent, diversity and authenticity matter in Cinema/TV, media and storytelling. In fact, I reckon that we should announce "talent-diversity-authenticity-storytelling-Cinema-Oscars-Academy-Awards" as synonyms of each other. We show respect to talent and stories regardless of their skin color, race, gender, sexuality, religion, nationality, etc., thus allowing authenticity into this system just by something as simple as accepting and showing respect to the human species' factual diversity. We become greater just by respecting and appreciating talent in all its shapes, sizes, and forms. Award winners, which includes nominees, must be chosen on the greatness of their talent ALONE.
I am sure I am speaking for a multitude of Cinema lovers all over the world when I speak of the following sentiments that this medium of art has blessed me with. Cinema taught me about our world, at times in English and at times through the beautiful one-inch bar of subtitles. I learned from the stories in the global movies that we are all alike across all borders. Remember that one of the best symbols of many great civilizations and their prosperity has been the art they have left behind. This art can be in the form of paintings, sculptures, architecture, writings, inventions, etc. For our modern society, Cinema happens to be one of them. Cinema is more than just a form of entertainment, it is an integral part of society. I love the world uniting, be it for Cinema, TV. media, art, fashion, sport, etc. Please keep this going full speed."
More Interesting Stories From The Hollywood Insider
– Want GUARANTEED SUCCESS? Remove these ten words from your vocabulary| Transform your life INSTANTLY
– A Tribute to Martin Scorsese: A Complete Analysis of the Life and Career of the Man Who Lives and Breathes Cinema 
– Do you know the hidden messages in 'Call Me By Your Name'? Find out behind the scenes facts in the full commentary and In-depth analysis of the cinematic masterpiece
– A Tribute To The Academy Awards: All Best Actor/Actress Speeches From The Beginning Of Oscars 1929-2019 | From Rami Malek, Leonardo DiCaprio To Denzel Washington, Halle Berry & Beyond | From Olivia Colman, Meryl Streep To Bette Davis & Beyond
– In the 32nd Year Of His Career, Keanu Reeves' Face Continues To Reign After Launching Movies Earning Over $4.3 Billion In Total – "John Wick", "Toy Story 4", "Matrix", And Many More
coppola and scorsese, coppola and scorsese, coppola and scorsese, coppola and scorsese, coppola and scorsese, coppola and scorsese, coppola and scorsese, coppola and scorsese, coppola and scorsese, coppola and scorsese, coppola and scorsese, coppola and scorsese, coppola and scorsese, coppola and scorsese, coppola and scorsese, coppola and scorsese, coppola and scorsese, coppola and scorsese, coppola and scorsese, coppola and scorsese, coppola and scorsese coppola and scorsese, coppola and scorsese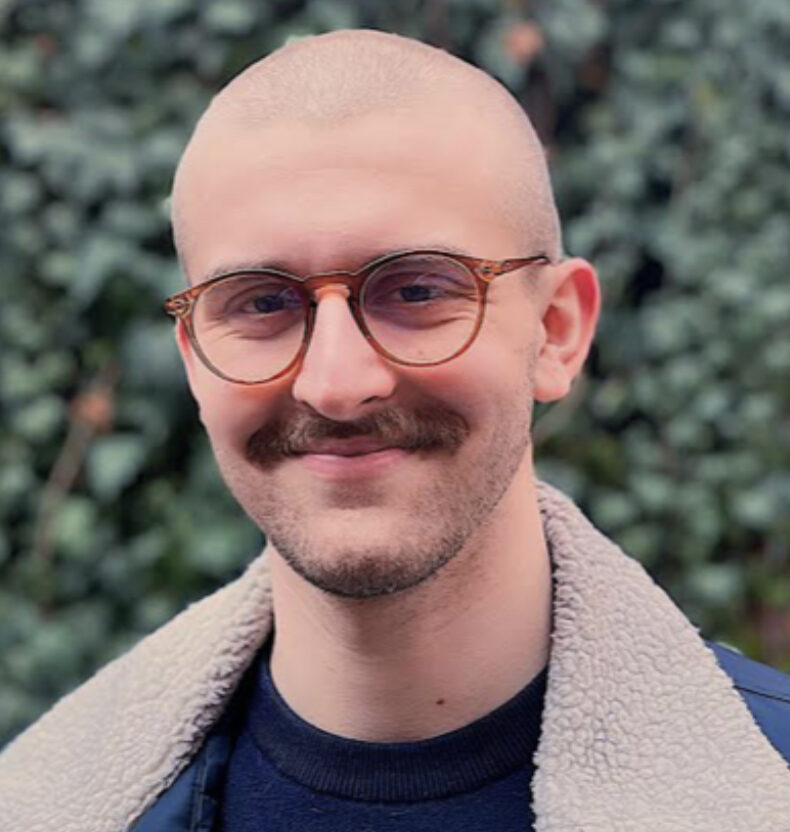 Connor Garvin has been a writer for as long as he can remember. Writing has enabled him to distill the thoughts within his own head, as well as allowed him to have those same thoughts heard. Connor is a screenwriter, and filmmaker more generally, with a focus on television. He also believes that real change only occurs if everyone is heard, and is therefore a proud champion of the arts, and a kindred spirit to The Hollywood Insider and its values.