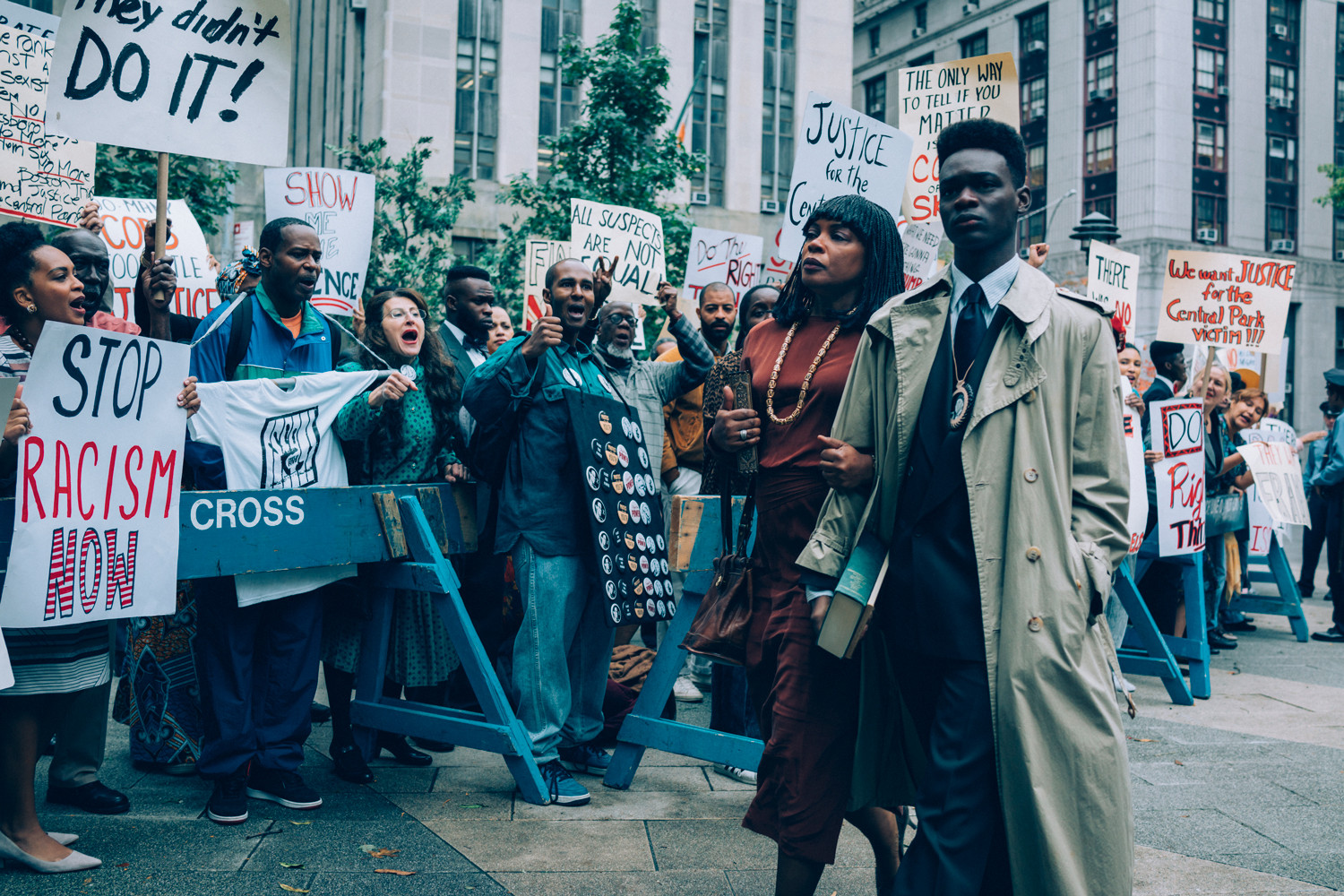 Photo: Aunjanue Ellis, Ethan Herisse in "When They See Us". Atsushi Nishijima/Netflix
Netflix delivers, once again, another powerful courtroom drama gone wrong, alluding to the real life case in 1989 of the wrongly accused Central Park Five. When They See Us, the mini-series is directed by the talented Ava DuVernay, who also happens to be the first African American woman to have ever received the Best Director Prize at the Sundance Festival in 2012. The series depicts the infamously true story of five African American and Latino teenagers who are wrongly accused of the rape and asssault of Trisha Meili, a white woman who had been jogging in the park around the same time the boys had been "wilding" out there. The young boys, Kevin Richardson played by Asante Blackk, Anton McCray played by Caleel Harris, Yuseff Salaam played by Ethan Herisse, Korey Wise played by Jharrel Jerome, and Raymond Santana played by Marquis Rodriguez all plead not guilty yet are relentlessly accused with inconsistent assumptions, vague evidence, and forced confessions by a corrupt justice system.
The Beautiful & Heart-Wrenching Portrayals of the Central Park 5 in When They See Us
The transition seen with these boys as terrified, innocent children to traumatized older men is absolutely heartbreaking and clearly understood due to the outstanding performance of these young actors. Seeing them break down emotionally and experiencing their first racially directed oppression in the first episode as they're being aggressively accused by officers is hard enough to watch in itself during this first episode. Asante Blackk specifically gives a tear jerking performance as the youngest, Kevin Richardson, who is seen with a black eye and being terrorized by grown adults, clearly not even looking old enough to know much about sex, let alone rape. It hurts to watch these scenes as a viewer, but it's important for this country to understand that these painful experiences were forced upon real people and children.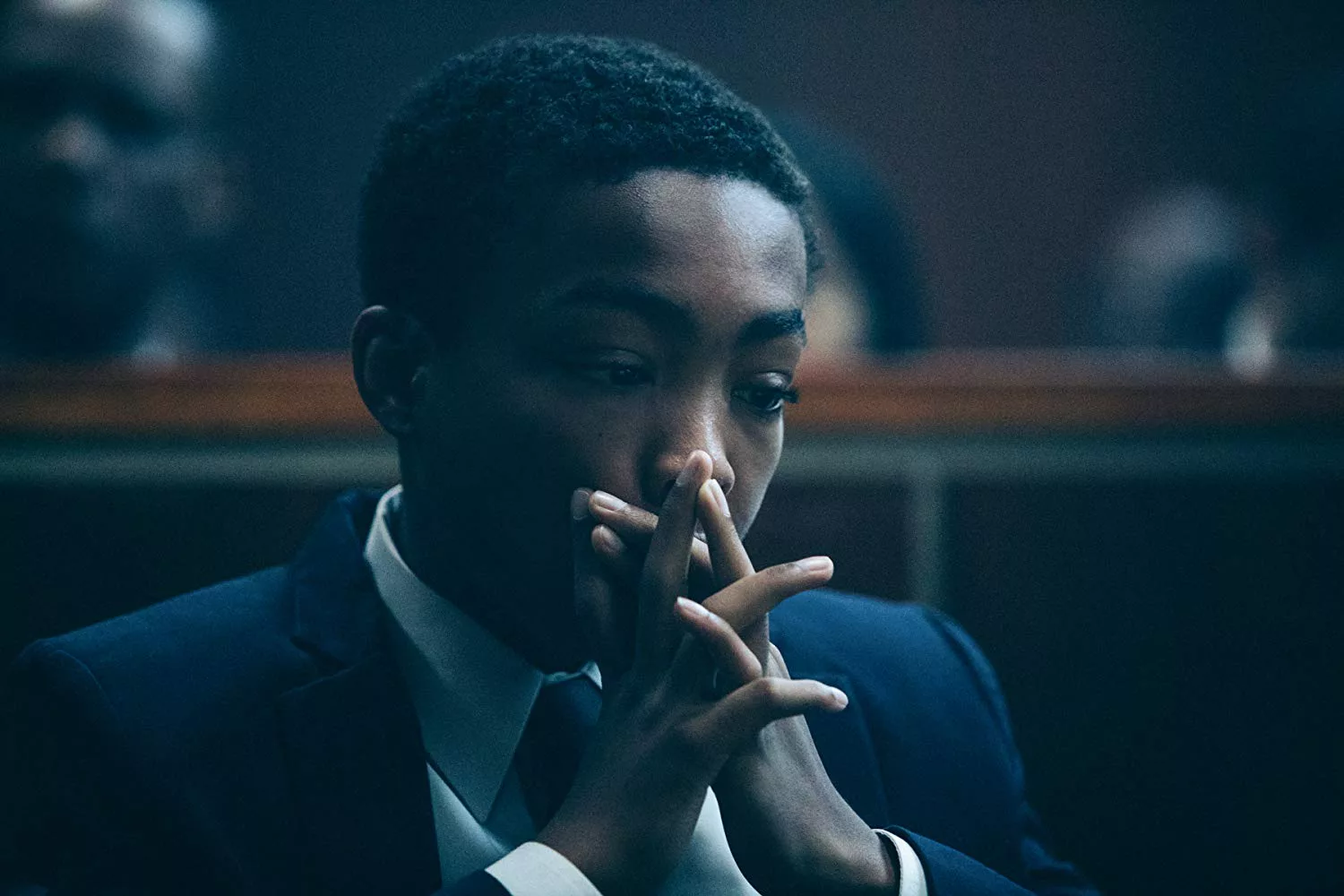 Photo: Asante Blackk in "When They See Us". Atsushi Nishijima/Netflix
Demonizing the Right People as shown by When They See Us
The American Justice System is still known to stigmatize African Americans as criminals seen from statistics regarding police shootings, longer prison sentences, and other cases of accusations. When They See Us successfully subverts from this stereotype and paints the Justice system as it is–corrupt and sometimes evil. The Central Park Five Prosecutor Linda Farstein, played by Felicity Huffman, is portrayed many times finding inconsistencies within her claims and evidence yet keeps striving to bend the truth and create a narrative that can make the shoe fit. She constantly emphasizes on how tragic Meili's assault was and how they must achieve justice for her, possibly due to her young, rich, white woman identity. Farstein seems to believe it only makes sense for the abusers to be a group of young black males, even if she had originally believed the rapist to be one person. At the end of the series, the real rapist, Matias Reyes who had been a serial rapist/killer, comes forward with a confession with the DNA evidence being an exact match. Tragically, he was never convicted but the boys inevitably got $41 million from the city for discrimination and emotional distress, which is just to say at the most.
When They See Us has a Heavy Impact on Central Park Five Prosecutor Linda Farstein Today
Linda Farstein had turned out to be a successful crime novelist after this case, but after this series, many people called for a boycott on her books, resulting in her being dropped by her publisher and stepping down from several non-profit boards. She stands by the belief that her portrayal was inaccurate in depicting her as a racist bigot, yet it doesn't take away much from the fact that she strongly enforced a vague accusation on innocent kids and that she still believes them to be guilty for some of the minor charges. There are also notable parallels between Farstein and Huffman, the actress who plays Farstein, for some are accusing Huffman of utilizing white privilege within her own case in real life. Regardless, there remains to some degree, a bit of satisfaction in knowing these women are being brought out from their privileged white woman identities and being revealed for their injustices to others.
The Cold, Bitter Truth About Systemic Oppression
When They See Us may be difficult for some to sit through for it portrays the horror of what people put each other through and the genuine pain and suffering that comes with it.. However, it's incredibly important for everyone to see this film and to have a clearer understanding of what goes on in this country. People of all races, yet especially black, are wrongly accused of major crimes all of the time. After the four boys are released from their juvenile sentences and portrayed as adults, they find it incredibly difficult to resume back to life normally. Raymond Santana played by Freddy Miyares, comes back to find his father married to a younger woman who despises him moving in. Antron McCray, now played by Jovan Adepo, comes back to his father who has become seriously ill while he was gone. All four men experience diffculty in trying to find a job as a registered sex offender or " sexual predator" as some see it. Then for Korey Wise, who is the only one sentenced as an adult, experiences physical and mental abuse through the various prisons he's sent to, usually thousands of miles away from home. He eventually goes into solitary where he experiences hallucinations and mental illness. The immense suffering these men had to go through for a large part of their lives remains unjust and the show goes to prove that once the system releases you, you're never quite free. When They See Us illustrates and raises awareness of the terrible reality of systemic oppression and how people in power continue to abuse their positions to hurt others. It is an incredibly important series for all of us to watch to elicit empathy for each other and to educate ourselves on these existent inequalities and disadvantages in America.
Cast: Asante Blackk, Caleel Harris, Ethan Herisse, Jharrel Jerome,Marsha Stephanie Blake, Marquis Rodriguez, Kylie Bunbury, Aunjanue Ellis, Vera Farmiga, Felicity Huffman, John Leguizamo, Niecy Nash, Michael Kenneth Williams, Famke Jansen, William Sadler, Storm Reid
Director: Ava DuVernay
Writers: Ava DuVernay, Julian Breece, Robin Swicord, Attica Locke, Michael Starrbury
Cinematographer: Bradford Young
By Juliet Poucher
More Interesting Stories From Hollywood Insider
– 10 facts you may not know about Ben Hardy, the Bohemian Rhapsody Star 
– Are you a huge fan of the British Royal family? Would you like to know REAL FACTS instead of just gossip? Here are 15 facts about HRH Prince Charles brought to you by Hollywood Insider's Fact-Checked Series
– EXCLUSIVE: Is That Quentin Tarantino Hidden In Plain Sight In The New Poster Of Once Upon A Time In… Hollywood: An In-Depth Analysis
– New & Exciting Poster Released For Once Upon A Time In… Hollywood –Taking A Page Out Of The Golden Age Of Hollywood
– From The First Romantic Film in 1919 Based On A Gay Love Story To Where We Must Go – Why LGBTQ+ Representation in Film/TV matters
– Netflix's Elite is a show where being gay is a non-issue and gay couples are celebrated
– Watch: Reaction From Stars On The Making Of – Men In Black: International | Chris Hemsworth, Tessa Thompson & Gary Gray On A Global Tour – Indonesia, China, Russia, France, Brazil, UK & USA
– When Brad Pitt, Leonardo DiCaprio and the rest of the cast of Once Upon A Time In… Hollywood brought glamour back to Cannes
– Timothée Chalamet feels lucky to utilize his platform to save people from drug abuse 
– Pritan Ambroase on his idols Martin Scorsese, James Cameron and positive actions needed to avert the global warming crisis
– Men In Black: International – Chris Hemsworth & Tessa Thompson in "Trailer With A Scoop Of Trivia"
– 32 Facts on Rambo and the more-than-meets-the-eye superstar Sylvester Stallone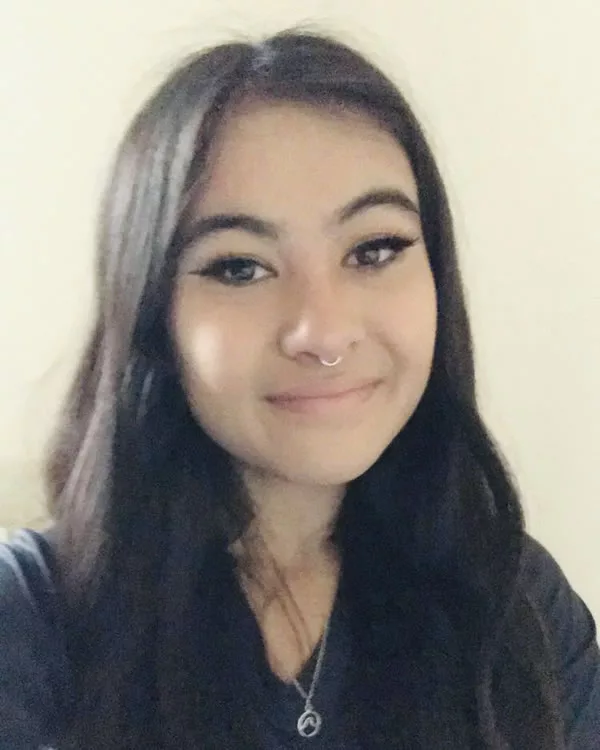 Juliet Poucher is a reviews writer for Hollywood Insider. She has a keen eye for films, art and literature, often analyzing them for hidden meanings. Hr goal with her career and duripromote entertainment with quality actors, meaningful stories, and universal messages.