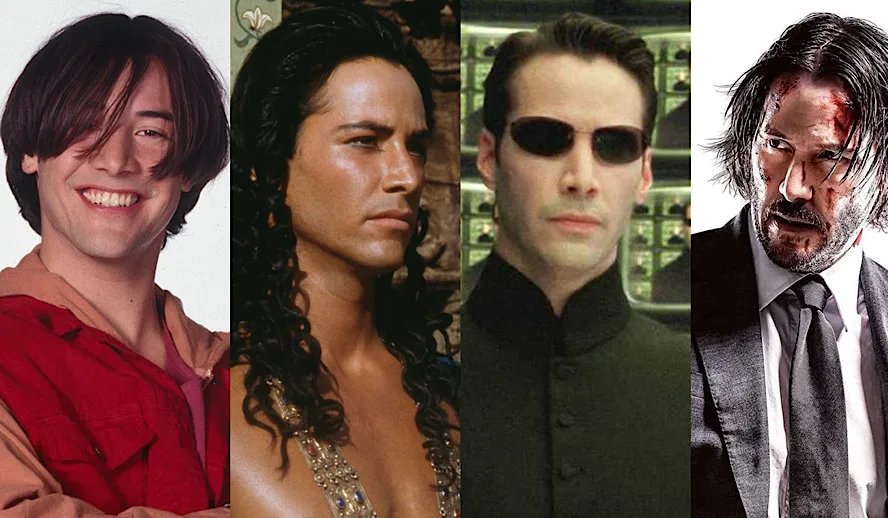 Video Version of This Article
Photo: Bill and Ted's Bogus Journey/MGM, Little Buddha/Miramax, Matrix/Warner Bros, John Wick/Lionsgate
An Actor's Upbringing 
Actors come from all walks of life. Some are born into the film industry, some earn their way into the spotlight, and some have film roles thrust upon them. For idol Keanu Reeves the path to stardom was a long one, and it has led to an incredibly interesting and diverse collection of roles. 
Subscribe to Hollywood Insider's YouTube Channel, by clicking here  
Reeves was born on September 2, 1964, and grew up in Beirut, Lebanon. When he was six years old his mother married her second husband, a Broadway and Hollywood director named Paul Aaron. Working as Aaron's production assistant was one of Keanu's first forays into the entertainment industry, after appearing in a production of Damn Yankees when he was nine years old. Throughout the late 70s and early 80s he would appear in television shows, commercials, short films and stage productions.
Keanu Reeves' first movie appearance was a small role 1986's Youngblood, starring Rob Lowe and Patrick Swayze. At the time Reeves' stepfather hired Reeves' manager, Erwin Stoff, who still works as Reeves' manager more than thirty years later. 
Related article: FACT-CHECKED Series: Keanu Reeves – 12 Revelations About The Star Of 'Matrix', 'John Wick' & 'Toy Story 4′ – Did His Close Friend River Phoenix Predict Reeves' Super Stardom?
Keanu Reeves' Face Evolution From Childhood To Fifties
Video: Hollywood Insider YouTube Channel​
​Keanu Reeves Always
Outside the Box 
Keanu consistently appeared in films in the 80s and 90s, and he began to make a name for himself during this time. He appeared in a number of drama and action films, the genres that would become a major staple of his filmography. Notable examples include surfer cop action flick Point Break, where he again appeared alongside Patrick Swayze half a decade afterYoungblood, and high-speed bus thriller Speed. 
However, Keanu also showcased a wide range outside of thrillers and action movies. He showed musical talent as well, playing bass guitar in alt rock and grunge band Dogstar. The band was founded by Reeves and Robert Mailhouse, who also has a lengthy acting career on television programs such as Days of Our Lives and Battery Park. Keanu, demonstrating artistic integrity at a young age, declined a role in Speed 2: Cruise Control in favor of touring with Dogstar. 
Related Article: Want GUARANTEED SUCCESS? Remove these ten words | Transform your life INSTANTLY
Keanu has also made a mark in dramatic roles such as playing Lord Buddha in Bernardo Bertolucci's Little Buddha. He mesmerisingly portrays a Nepali prince living in Nepal who leaves his palace behind to attain enlightenment. He also played a gay leading role alongside River Phoenix in My Own Private Idaho essaying the sensitive character of a prostitute. When questioned by Interview Magazine if playing a gay character that is a also a prostitute would hurt his public image, Keanu retorted, "Hurt my image? Who am I—a politician? [laughs softly] No. I'm an actor. That wasn't a problem."
Limited Time Offer – FREE Subscription to Hollywood Insider, for substance and meaningful entertainment that is free of gossip and scandal, click here     
Even within the world of acting, Reeves has never been contained. While most of his major acting credits are for thrillers or action films, he has also appeared in comedy roles. Bill & Ted's Excellent Adventure, directed by Stephen Herek and starring Keanu Reeves and Alex Winter. It was a successful box-office comedy and has become a major cult classic. The story of two lazy teenagers who use a time machine to complete their history homework, Bill & Ted Excellent Adventure was quickly followed by a sequel, Bill & Ted's Bogus Journey, which has achieved a similar cult status. 
Related article: In the 32nd Year Of His Career, Keanu Reeves' Face Continues To Reign After Launching Movies Earning Over $4.3 Billion In Total – "John Wick", "Toy Story 4", "Matrix", And Many More
Video: Keanu Reeves' Reaction on Toy Story 4
Video: Hollywood Insider YouTube Channel
​
Becoming John Wick 
Keanu Reeves' varied and fascinating career has refused to slow down in recent years. His starring role in 1999's The Matrix put him on the map as a Hollywood action star, which has followed him ever since. The Matrix Reloaded and The Matrix Revolutions followed, and he is now well-known as the eponymous protagonist in the John Wick neo-noir action franchise. 
Reeves' work as John Wick is notable because of the intense amount of stunt training that he completed in order to bring the action sequences to life. The series relies on using minimal cuts during action scenes, so that the viewer can see exactly what's happening and become immersed in the action. This meant that Reeves had to actually know how to punch, kick, shoot and drive the way John Wick does, not just fake it for a few seconds. 
Chad Stahelski, director of the John Wick films, was also Keanu Reeves' stunt double on The Matrix trilogy. This means that he knows what Keanu can and can't do, and the stunts can be written right into the script. According to Reeves, it still took hours of practice to master the small subtleties of being John Wick. "Basically just take the gun home, start walking around, practice spying rooms, practice your draws," Reeves told Page Six, "practice your reloads, transitions from weapon to weapon, footwork, and then kind of coming up with the John Wick style."
Related article: A Screen is A Screen: Actors like Keanu Reeves Are Moving to Video Games as a New Medium For Their Career
Despite his major accomplishments in the world of action, Reeves still refuses to be typecast. His recent filmography includes romantic comedy Destination Wedding, horror thriller The Neon Demon, and action comedy Keanu (in which he voices a kitten). He cameoed as himself in Netflix's Always Be My Maybe, and voiced the action figure Duke Caboom in Pixar's Toy Story 4. 
The Future of Keanu
With a massively diverse filmography, Keanu Reeves shows no signs of slowing down or getting stuck in a rut. The Hollywood star's slate of upcoming projects is incredibly diverse. He will be appearing in long-awaited sequels to some of his past films, including Bill & Ted Face the Music and The Matrix 4. alongside Carrie-Anne Moss, Priyanka Chopra, Neil Patrick Harris, Jonathan Groff, Jada Pinkett Smith, Brian J. Smith, Erendira Ibarra, etc and directed by Lana Wachowski.  He has also discussed, but not officially confirmed, that John Wick 4 will be coming in the near future. 
Video: Every James Bond Kiss From 1962 to 2020 | All Bond Girls List | Sean Connery to Daniel Craig
Other than big blockbuster sequels, Reeves will be popping up in some unexpected places. He will be playing a role in The SpongeBob Movie: Sponge on the Run, where he will apparently be playing a tumbleweed named Sage who offers advice to SpongeBob and his pal Patrick. Aside from the big screen, you can also find Keanu in the realm of videogames this year in Cyberpunk 2077. Keanu will appear, through voice work and motion capture, as the punk rocker Johnny Silverhand in CD Projekt's upcoming role-playing game. 
Few actors in Hollywood have as diverse a pedigree as Keanu Reeves. Though he has appeared in huge action blockbusters, it seems that he has never lost his thirst for new experiences. That willingness to try new things and take risks ensures that our friend Keanu never puts in a dull performance.  
​By Thomas McNulty
More Interesting Stories From Hollywood Insider
– A Tribute To The Academy Awards: All Best Actor/Actress Speeches From The Beginning Of Oscars 1929-2019 | From Rami Malek, Leonardo DiCaprio To Marlon Brando & Beyond | From Olivia Colman, Meryl Streep To Bette Davis & Beyond
– Why Queen Elizabeth II Is One Of The Greatest Monarchs | Her Majesty Queen Elizabeth II of United Queendom of Great Britain & Northern Ireland
– Compilation: All James Bond 007 Opening Sequences From 1962 Sean Connery to Daniel Craig
– In the 32nd Year Of His Career, Keanu Reeves' Face Continues To Reign After Launching Movies Earning Over $4.3 Billion In Total – "John Wick", "Toy Story 4", "Matrix", And Many More
– Want GUARANTEED SUCCESS? Remove these ten words from your vocabulary| Transform your life INSTANTLY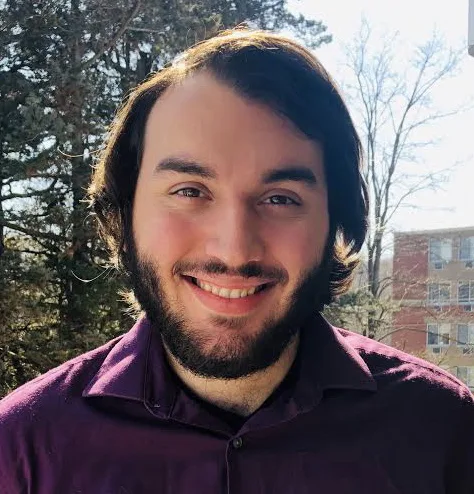 Thomas McNulty believes in thorough research and ethical journalism with a keen awareness of Hollywood trends and news. Thomas likes to look at the bigger picture of where the industry is heading with all forms of entertainment, including movies, TV shows, books, video games and live entertainment that are forms of art and should be treated as such. By drawing connections between these various pieces of entertainment, we are able to come closer to understanding society as a whole. Thomas believes in writing for a publication that promotes ethics and morality and that is why he has chosen Hollywood Insider as the right platform to advocate for positive entertainment.