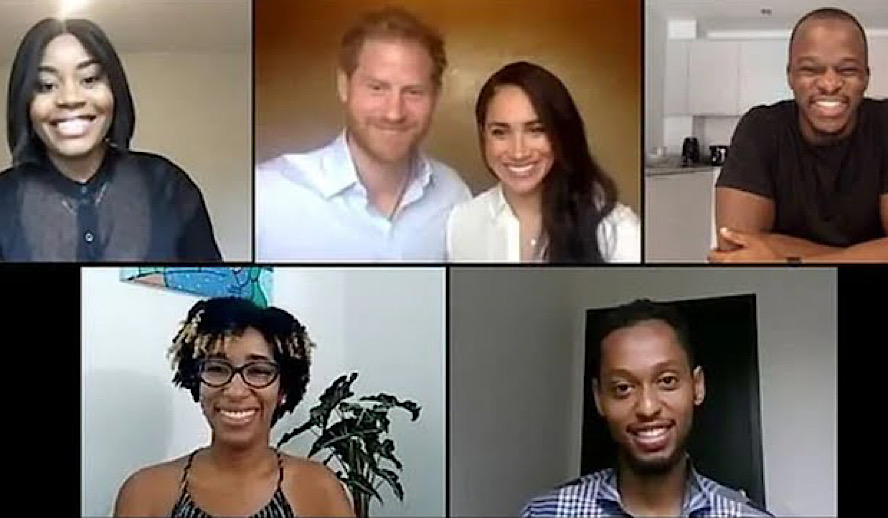 Photo: Prince Harry and Meghan Markle in their conference call with young leaders from around the Commonwealth. Courtesy of: The Queen's Commonwealth Trust.
Prince Harry and Meghan Markle have been actively speaking out against racism in recent months, continuing their candid vocalness of the past few years that began with the start of their relationship back in 2016. 
Serving as the President and Vice-President for the Queen's Commonwealth Trust, the two royals recently joined young members of the QCT network for a "conversation on fairness, justice and equal rights as part of an ongoing series of youth-led discussions." The July 1 discussion took place via video call and was posted on the trust's YouTube page, and featured Chrisann Jarrett, QCT Trustee and co-founder of We Belong; Mike Omoniyi, the founder and CEO of The Common Sense Network; Alicia Wallace, the director of Equality Bahamas; and Abdullahi Alim, who leads the World Economic Forum's Global Shapers network of emerging young leaders across Africa and the Middle East. 
Prince Harry and Meghan addressed racism and bias that have long-existed, as well as the potential driving forces of change, which they believe will be enacted by the rising generation of young leaders. 
Related article: Hollywood Insider's CEO Pritan Ambroase's Love Letter to Black Lives Matter
Prince Harry pointed out that, "When it comes to institutional, systemic racism, it's there and it stays there because someone, somewhere is benefiting from it." The conversation covered how this is a crucial moment in terms of advancing human rights and justice, as well as how important it is to challenge biases and acknowledge mistakes of the past.
"When you look across the Commonwealth, there is no way that we can move forward unless we acknowledge the past. So many people have done such an incredible job of acknowledging the past and trying to right those wrongs, but I think we all acknowledge there is so much more still to do. It's not going to be easy, and in some cases it's not going to be comfortable, but it needs to be done, because guess what, everybody benefits," he stated during the twenty-minute discussion. 
Meghan added to these sentiments, acknowledging that, "We're going to have to be a little uncomfortable right now, because it's only in pushing through that discomfort that we get to the other side of this and find the place where a high tide raises all ships. Equality does not put anyone on the back foot. It puts us all on the same footing, which is a fundamental human right."
Related article: FACT-CHECKED SERIES: Prince Harry and 32 Facts on the Duke of Sussex
The Duke and Duchess both addressed unconscious biases and the way they are manifested. "We can't deny or ignore the fact that all of us have been brought up and educated to see the world differently, however, once you start to realize that there is that bias there, then you need to acknowledge it," Harry noted. 
"It's not just in the big moments, it's in the quiet moments where racism and unconscious bias lies and thrives", Meghan added, citing her own experiences as a biracial woman. "It makes it confusing for a lot of people to understand the role that they play in that, both passively and actively."
Related article: Kate Middleton & Meghan Markle: Both Women Can Be Great Without One Being Torn Down, Stop Pitting The Duchesses Against Each Other
Prince Harry and Meghan Markle Speaking out in the past 
Last month, the Duchess of Sussex delivered a virtual commencement speech for her former high school's graduating class that addressed the death of George Floyd. She expressed her deliberation on how to speak out about what has been happening in the country. 
"I wanted to say the right thing and I was really nervous that I wouldn't, or that it would get picked apart, and I realized the only wrong thing to say is to say nothing," she said in the video. "Because George Floyd's life mattered, and Breonna Taylor's life mattered, and Philando Castile's life mattered and Tamir Rice's life mattered." 
The speech served as both a tribute to the black people who have lost their lives in senseless killings and as an inspirational message to the graduating class as they face our country's current turmoil, as she urged the graduates to harness their skills and work that they had embodied throughout their years of high school to combat racism.  
Related article: Live Updates: List of Successes From Black Lives Matter Protests!
Limited Time Offer – FREE Subscription to Hollywood Insider, independent media network for substance and meaningful entertainment that is free of gossip and scandal, factual news on culture, click here
"Now all of that work gets activated," she said. "Now you get to be part of rebuilding, and I know sometimes people say 'How many times do we need to rebuild?' Well you know, we're going to rebuild and rebuild and rebuild until it is rebuilt. Because when the foundation is broken, so are we." 
Prince Harry also recently recorded a speech for the annual Diana Awards, which were established to honor his late mother Princess Diana and her belief that young people have the power to change the world. The virtual ceremony took place on July 1, which would have been Princess Diana's 59th birthday, and presented 184 children and young adults with a high accolade for social action and humanitarian efforts. In the video message that was shown during the virtual ceremony, Harry gave a special mention to the young people who were being awarded for their work on race and injustice issues. 
"Right now, we're seeing situations around the world where division, isolation and anger are dominating as pain and trauma come to the surface. But I see the greatest hope in people like you and I'm confident about the world's future and its ability to heal because it is in your hands," he said, before recognizing that institutional racism is "still endemic" in our societies.
Related article: Black Leaders: Hollywood's Black Stars on Black Lives Matter ​
He also echoed Meghan's push for more recognition and change. "My wife said recently that our generation and the ones before us haven't done enough to right the wrongs of the past," Harry said, alluding to the contents of her commencement speech. "I too am sorry—sorry that we haven't got the world to the place that you deserve it to be."
"Unconscious bias must be acknowledged without blame to create a better world for all of you," he said, before concluding that he and Meghan "are committed to being part of the solution and to being part of the change that you are all leading." 
Related article: Innocent Kind Elijah McClain "Legally" Murdered by Thug Police Officers
Subscribe to Hollywood Insider's YouTube Channel, by clicking here. 
Harry additionally spoke out back in 2016 against the racism of the tabloids that were ruthlessly coming after Meghan, who was his girlfriend at the time. A statement issued by Kensington Palace criticized the way she had been "subject to a wave of abuse and harassment," including the "public smear[s] on the front page of a national newspaper, the racial undertones of comment pieces; and the outright sexism and racism of social media trolls and web article comments," all of which were strongly condemned. All of this served to further spur Harry and Meghan's involvement in racial justice issues, which they have been advocating, for now, more than ever. 
As the couple adjusts to their new life in Los Angeles after stepping away from their roles as senior members of the Royal Family, a move in part spurred by the scrutiny and racism they were facing from the British press, they continue to voice their support and involvement in the Black Lives Matter movement, and are using their platform to bring about change and hold both countries accountable for their racist past and actions. They have been advocating for the #StopHateforProfit campaign, started by the NAACP, Color of Change, Anti-Defamation League as well as other civil rights organizations, and were recently thanked by the NAACP for their continued support. During this time of continued nationwide protests and the recognition of the prominence of institutional racism, the outspokenness and leadership from the power couple is much-welcomed and is definitely something to appreciate and learn from. 
Click here to read Hollywood Insider's CEO Pritan Ambroase's love letter to Black Lives Matter, in which he tackles more than just police reform, press freedom and more – click here.
An excerpt from the love letter: Hollywood Insider's CEO/editor-in-chief Pritan Ambroase affirms, "Hollywood Insider fully supports the much-needed Black Lives Matter movement. We are actively, physically and digitally a part of this global movement. We will continue reporting on this major issue of police brutality and legal murders of Black people to hold the system accountable. We will continue reporting on this major issue with kindness and respect to all Black people, as each and every one of them are seen and heard. Just a reminder, that the Black Lives Matter movement is about more than just police brutality and extends into banking, housing, education, medical, infrastructure, etc. We have the space and time for all your stories. We believe in peaceful/non-violent protests and I would like to request the rest of media to focus on 95% of the protests that are peaceful and working effectively with positive changes happening daily. Media has a responsibility to better the world and Hollywood Insider will continue to do so."
Vote with a conscience – Register to Vote – Your vote saves lives and ends systemic racism
Ways to support Black Lives Matter Movement to end systemic racism
– Do you know the hidden messages in 'Call Me By Your Name'? Find out behind the scenes facts in the full commentary and In-depth analysis of the cinematic masterpiece
– A Tribute To The Academy Awards: All Best Actor/Actress Speeches From The Beginning Of Oscars 1929-2019 | From Rami Malek, Leonardo DiCaprio To Denzel Washington, Halle Berry & Beyond | From Olivia Colman, Meryl Streep To Bette Davis & Beyond
– In the 32nd Year Of His Career, Keanu Reeves' Face Continues To Reign After Launching Movies Earning Over $4.3 Billion In Total – "John Wick", "Toy Story 4", "Matrix", And Many More
Prince Harry and Meghan Markle, Prince Harry and Meghan Markle, Prince Harry and Meghan Markle, Prince Harry and Meghan Markle, Prince Harry and Meghan Markle, Prince Harry and Meghan Markle, Prince Harry and Meghan Markle, Prince Harry and Meghan Markle, Prince Harry and Meghan Markle, Prince Harry and Meghan Markle, Prince Harry and Meghan Markle, Prince Harry and Meghan Markle, Prince Harry and Meghan Markle, Prince Harry and Meghan Markle, Prince Harry and Meghan Markle, Prince Harry and Meghan Markle, Prince Harry and Meghan Markle, Prince Harry and Meghan Markle, Prince Harry and Meghan Markle, Prince Harry and Meghan Markle, Prince Harry and Meghan Markle, Prince Harry and Meghan Markle, Prince Harry and Meghan Markle, Prince Harry and Meghan Markle, Prince Harry and Meghan Markle