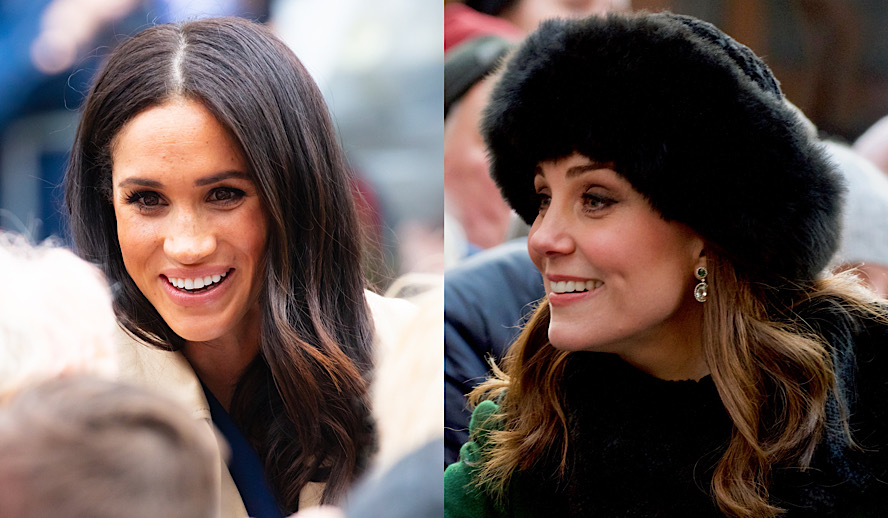 Photo: Meghan Markle & Kate Middleton/Liv Oeian/Shutterstock
Enough of pitting women against each other. Enough of the manufactured hatred just to sell magazines and newspapers. Enough of the fake catfights. I am shocked at this barbaric level of hatred that the press spews out. Does it have to be a bloody gladiatorial battle? Most proponents of tabloid culture and press seem to think that two famous WOMEN cannot be friends. Yes, women in block letters – as it is usually women of merit and/or fame that are targeted and used as props for stories of competition by the press. Many actresses and singers have fallen prey to this trope. And sadly, the duchesses, Kate Middleton and Meghan Markle, have not been excused from this abuse either.
Kate and Meghan married into the House of Windsor which transformed their lives and names. Today, Kate is styled as Catherine, Her Royal Highness the Duchess of Cambridge when she married Prince William. Meghan is styled as Meghan, Her Royal Highness the Duchess of Sussex when she married Prince Harry. Along with their long titles, glamorous lives and fame came their lack of privacy. The loss of privacy is not the issue here, I am sure they had expected that. The problem happens to be fake fights being created to pit them against each other for others' "entertainment" and financial profits, or the constant comparing as which one is "better", and the list goes on.
Kate being appreciated does not mean Meghan needs to be hated. And Meghan being appreciated does not mean Kate needs to be hated.
​Two women can both be great at the same time without one being humiliated, bashed and ridiculed. One being appreciated does not mean other should be destroyed. A person can be complimented on their own merit, without destroying another. If you have to destroy another for your own self-worth, then you have lost. The powerful #timesup movement is about respect for the individual and the collective without segregation, oppression and abuse. The world is a huge stage with space and time for all to shine, and the monarchy is richer by these two beautiful souls, Kate and Meghan, who have their own voices – which they have demonstrated through their utilization of their platform to make the world a better place. They should be applauded for the family-ship that they provide to Princes William and Harry. Only these two women know all they had to go through and all the broken glasses they had/have to walk on, to be married into the most famous family in the entire world. Several have famously crumbled under that same pressure – no names needed. Greatness is borne out of collaboration and not competition. The Windsor brand comes with benefits and challenges. The British Royals have constantly modernized their rules, re-written their own version of constitutions just to adapt to their people and also for their grandchildren's happiness – and THAT deserves respect. Remember one need not be broken for another to be mended. I am shocked at the morals of the press who wrongfully create "news" at the sake of a family. 
Misuse of social media and toxic fandom has wrongfully made large numbers of people/keyboard warriors cowards think they must choose one or the other. One look at social media in regards to the two duchesses will show you the horrid way that platform is utilized to hurl hatred at them. No one has been asked to choose Kate "vs" Meghan. It is Kate AND Meghan. They are not contestants in American Idol or Britain's Got Talent and no one has asked you to vote for one or the other. Both the duchesses have their own roles to play in life and court, to which they seem to have taken on brilliantly. I wish both of them, first and foremost, a happy family life. I sincerely hope Diana's boys have the home and family that they have long wished for. And I pray they continue to utilize their platforms to make the world a better place – which they are already excelling in.
To those that are of the mindset that they "asked for it" and "they knew what they were getting into by marrying royals" – nothing should come at the cost of a family. History is something we need to learn from, so that all can make sure the negative parts are not repeated. That "ALL" includes members of the so-called press.
To all others – choose kindness.
More Interesting Stories From Hollywood Insider
– Why Queen Elizabeth II Is One Of The Greatest Monarchs | Her Majesty Queen Elizabeth II Of United Queendom Of Great Britain & Northern Ireland
– A Tribute To The Academy Awards: All Best Actor/Actress Speeches From The Beginning Of Oscars 1929-2019 | From Rami Malek, Leonardo DiCaprio To Marlon Brando & Beyond | From Olivia Colman, Meryl Streep To Bette Davis & Beyond
– WATCH: "If Your Child Told You They Were Gay/Lesbian, What Would You Do?" – Prince William Confirms He Would Completely Accept His Gay Children – Hollywood Insider's 'Messages From America' – Episode 6
– Watch: FACT-CHECKED Series – 15 Things You Might Not Know About HRH Crown Prince Charles | More Than Just The Son Of Queen Elizabeth, Father Of Prince William & Prince Harry
– Video: Full Commentary & Reactions From Stars On 'Bombshell' With Charlize Theron, Nicole Kidman, Margot Robbie, Jay Roach & Team