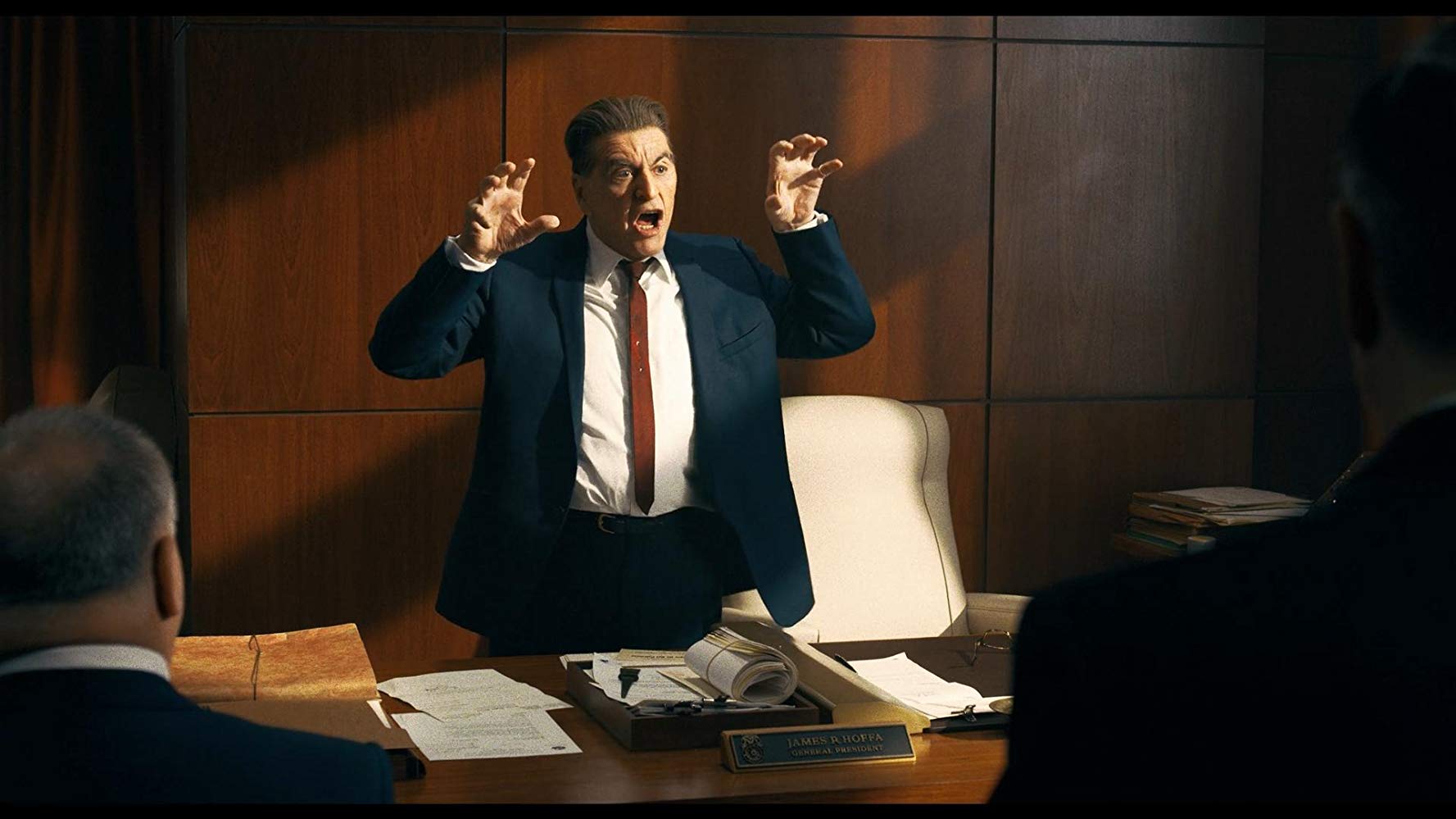 Photo: 'The Irishman'/Netflix
44 years after mysteriously vanishing, the infamous case of Jimmy Hoffa remains unsolved. The trade unionist and former Teamsters President went missing under suspicious circumstances in 1975. While bizarre conspiracies and urban legends plague his fate, the cold case of his disappearance remains open. Frank Sheeran, an associate of the Hoffa family and former bodyguard has claimed responsibility for the mob-style execution and subsequent destroying of Hoffa's remains. Sheeran passed away in 2003, but not before telling his story to former prosecutor and defense attorney Charles Brandt. Brandt turned his sit-down with Sheeran into a narrative nonfiction book, "I Heard You Paint Houses." With a rocky road to fruition and 12 years in the making, The Irishman, based on Brandt's best seller, is an intriguing film with a remarkable cast of distinguished Hollywood royalty.
Painting Houses – A Job for the Mob
Meandering through the world of organized crime, Martin Scorsese returns to his comfort zone. His most notable trips through mob alley include Mean Streets (1973), Goodfellas (1990), Casino (1995), and The Departed (2006). A surefire recipe for success, the union of Robert De Niro, Al Pacino, and Joe Pesci make this film enticing with star power alone. The Irishman marks the ninth rendezvous for De Niro and Scorsese, the seventh for De Niro and Pesci, and the first for Pesci and Pacino. With a production budget of $159 million, the film is the most expensive endeavor yet for Netflix, distributor of the critically-acclaimed masterpiece. With a limited theatrical release in early November, the film was released on Netflix on November 27, 2019. 
The film is seen through the eyes of Frank Sheeran (De Niro). Perched in a wheelchair, Sheeran reflects on his life from the confines of a nursing home. From truck driver to hitman, his tale twists and turns through the nuances of various kills bestowed on him by the mafia. Befriending Russell Bufalino (Pesci), the relationship solidifies the trust between Sheeran and Hoffa (Pacino). The trusting friendship they share makes the ending all the more intense. De Niro's portrayal of Frank Sheeran imagines a seemingly naïve hitman who is easily persuaded to carry out hits and please his boss. Mortality is commonplace throughout the film, as many characters are introduced with a caption stating when they died and a brief synopsis of their brutal demise. The conclusion of the film brings viewers back to present day, where we are face-to-face with a melancholy, lonely old man. Is there a moral lesson weaved within Sheeran's autobiography? The consensus will agree; a life of crime is punishable by death or in Frank's case, incessant loneliness.
Video: 'Behind The Scenes' and 'Rendezvous At Premiere' of 'The Irishman'/Hollywood Insider YouTube Channel
Traveling Through Decades in 3 1/2 Hours
Advanced CGI technology made De Niro, 76 years old, and Pacino, 79, appear youthful during the majority of the film. Viewers have the pleasure of watching the story unfold over the course of four decades, using the same actors to portray the characters as they ebb and flow through the years. The groundbreaking technology gave Scorsese room to visualize the film exactly as he desired. The de-aging software created by 'Industrial Light & Magic' took over two years to perfect. The actors refused to wear distracting facial markers, leaving Visual Effects Supervisor Pablo Helman with only lighting manipulation and texture to achieve the desired effect. The expensive effort resulted in a visual depiction of actors that were believably de-aged. The incredible transformations add fluidity to the story, never distracting the viewer or taking from the story. The progressive technology used by ILM has the potential to change the way Hollywood approaches de-aging technology in films. While the exterior characteristics of the mafioso criminals change throughout the film, their inner souls remain callous and cold. Viewers will be intrigued by the vilification of organized crime. Hollywood tends to romanticize all subjects, but this film is an outlier that shows the despondency of criminals.
2019's Most Noteworthy Trifecta
The Irishman is unpredictable and one thing is for sure – the notoriety of the all-star cast will entice viewers to hit play. Viewers will not be disappointed, as the film is likely to become an iconic tale for which 2019 is remembered. Joining the ranks of Scarface and Goodfellas, The Irishman is an overdue asset to the modern crime genre, and to the world's repertoire of classics as a whole. Robert De Niro, Joe Pesci, and Al Pacino conjure a rare on-screen magic that cannot be replicated. Notable supporting actors include Ray Romano, Anna Paquin, Harvey Keitel, and Jesse Plemons. The chemistry between the cast permeates the personas they adopt, resulting in a luminous spark that ignites an instant classic. The Irishman is now available on Netflix and is  screening in select theaters around the world. 
By Raquel Kokkoros
More Interesting Stories From Hollywood Insider
– Reactions at the premiere of 'The Irishman'
– Life Lessons From Joaquin Phoenix's 'Joker': The Clown Prince Of Crime – Isn't It Time To Remove Stigma From Mental Health Issues? 
– Watch: 'Reaction From Stars' On Making Of 'Joker' From Joaquin Phoenix & Director Todd Phillips
– The Name Is Bond….. Female Bond? Could Daniel Craig's Successor Be Priyanka Chopra, Emilia Clarke Or Lashana Lynch After 'No Time To Die'?
– Why Queen Elizabeth II Is One Of The Greatest Monarchs | Her Majesty Queen Elizabeth II Of United Queendom Of Great Britain & Northern Ireland
– A Tribute To The Academy Awards: All Best Actor/Actress Speeches From The Beginning Of Oscars 1929-2019 | From Rami Malek, Leonardo DiCaprio To Marlon Brando & Beyond | From Olivia Colman, Meryl Streep To Bette Davis & Beyond
– Timothée Chalamet Utilizes His Platform To Save People From Drug Abuse
– FACT-CHECKED Series: Zendaya And 15 Things You Might Not Know About The Star Of 'Euphoria', Tom Holland's Leading Lady In "Spider-Man: Far From Home' And Next Starring With Timothée Chalamet In 'Dune'
– WATCH: "If Your Child Told You They Were Gay/Lesbian, What Would You Do?" – Prince William Confirms He Would Completely Accept His Gay Children – Hollywood Insider's 'Messages From America' – Episode 6
– FACT-CHECKED Series: Keanu Reeves – 12 Revelations About The Star Of 'Matrix', 'John Wick' & 'Toy Story 4′ – Did His Close Friend River Phoenix Predict Reeves' Super Stardom?
– Voice Of A Teen: The Frightening New Reality Children Face In Response To School Shootings & Warning Signs
– LGBTQ+ Representation In Film/TV: From The First Romantic Film In 1919 Based On A Gay Love Story To Where We Must Go
– Priyanka Chopra Hopes Media Stops Turning Online Trolls'/Bullies' Comments Into News
– Watch: 'Reaction From Stars' On Making Of 'Bombshell' From Charlize Theron As Megyn Kelly, Nicole Kidman, Margot Robbie And More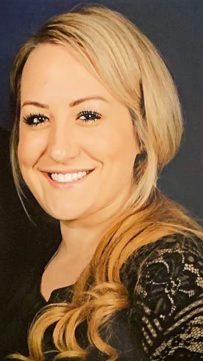 Raquel Kokkoros is currently a writer for Hollywood Insider. Enchanted by the illustriousness of cinema, Raquel is proud to contribute to a team that prioritizes quality journalism and respect for the entertainment business being utilized as a tool to better the world. Raquel believes in emphasizing elements of film and television that deserve an unbiased platform. Proud to provide an optimistic stage for the diverse offerings of Hollywood, Raquel enjoys writing from a fair, understanding, and truthful perspective –  a philosophy that embodies the ethos of Hollywood Insider.