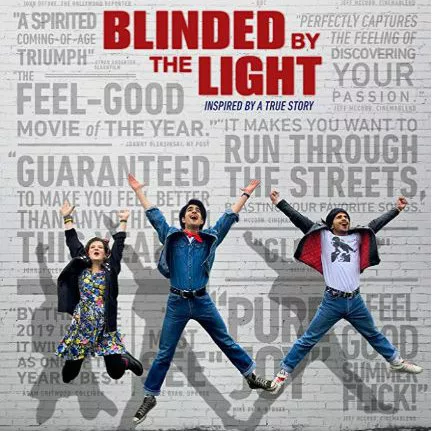 Photo:  Blinded By The Light/Warner Bros. 
Blinded By the Light is a British coming of age film directed by Gurinder Chadha, who is also the director of Bend It Like Beckham, and she shines light on a Pakistani teenager, Javed played by Viveik Kalra, who is just beginning to discover his own taste in music and overall identity. Javed comes from a traditional Pakistan family with parents Malik and Noor, played by Kulvinder Ghir and Meera Ganatra, who are fully focused on Javed's academic career and living by their own culture in order to preserve their identity. Javed strives to be a writer, but his family has more financially aimed goals for him. He becomes torn between maintaining his Pakistan identity for the sake of satisfying his family and figuring out his own identity in the Western world with the help of his friend Matt played by Dean-Charles Chapman, love interest Eliza played by Nell Williams, and rock and roll legend Bruce Springsteen. Springsteen's music is what truly opens the gate to Javed's rock and roll exploration; he claims "It's like Bruce knows everything I've ever felt. Everything I've ever wanted." 
With Blinded By The Light Chadha Brings Asian Representation To Rock & Roll
We don't truly see enough Asian representation in Western films so it's quite a treat that Chadha puts together for us this Asian coming of age comedy/musical. It's common for immigrants of all backgrounds to struggle with their cultural identity when they come to a new country, feeling like they have to choose one or the other. Rock and roll was originally all about liberal values and rebellious attitudes, contrasting Javed's traditional home life but he finds out he's able to relate to this music as well in emotionality. Blinded By The Light portrays how music can speak to all human beings, not exclusively to a certain group of people. Bruce's music inspires Javed to break out of his shell and explore who he really is as a person without the usual social restrictions. Javed begins applying Bruce's music to all areas of life in regards to love, fashion, and his career dreams, inspiring him to reach out to Eliza romantically, goofily break out into song and dance whenever he feels like, and overall to live his youth out to the fullest. As cheesy and soft it can be at times, it's worth it to indulge in order to really appreciate the power rock and roll music has over people.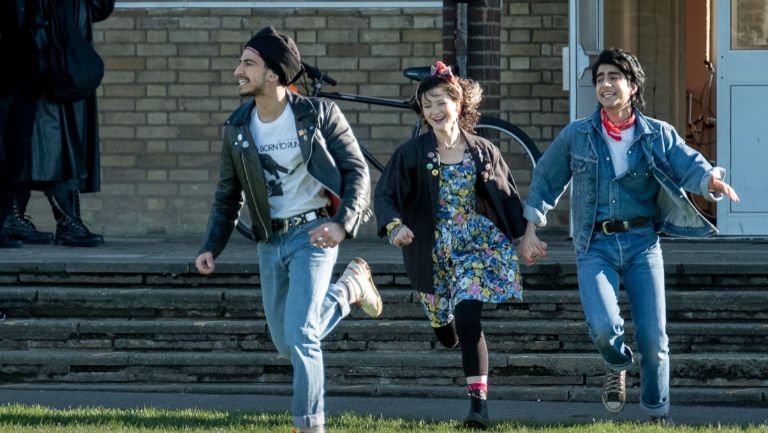 Photo:  Blinded By The Light/Warner Bros. 
Shining Light On Immigration Issues
Along with intertwining a South Asian traditional lifestyle with Western factors, we get a glimpse of the socio-economic struggles that goes on behind an immigrant's life. Javed is clearly torn between two cultures and feels somewhat unaccepted by both. Malik and Noor only have good intentions for their son and want to protect him from the sufferings of the world such as poverty and racism. At one point, Malik exclaims to his son, "Do you think that this man sings for people like us?", implying that Bruce's cultural values don't align with theirs, therefore it's deemed unrelatable. This causes Javed to question his own cultural values which is interesting because this enforces that pop culture can have a massive impact on one's own moral character. In Javed's case, it's quite innocent and seems to have a positive influence on his writing and social life. This story not only classifies as a "feel good" musical, but it's also an important one to tell for it showcases the emotional struggles of minorities to commit to one culture or the other due to lack of social acceptance. Javed faces blatant racism at a certain point and it's heartbreaking to realize that human beings continue to treat each other in such a way in this day and age, instilling fear in others due to their national identity. Music is an outlet that connects the world as a community due to its capacity to relate to anyone emotionally, regardless of background or identity.
Blinded By The Light Enables Us To See Springsteen's Stellar Impact To The Full Extent
One of the ultimate purposes of the film is clearly to pay tribute to the brilliant Bruce Springsteen and his legacy. Similar to Yesterday, the film is full of nostalgic, rock and roll tunes that will make you want to sing along and re-listen to them when you get home. The way Javed and his peers idolize Springsteen as a pop inspiration is relatable for many people growing up. Even the officer Javed encounters at the US Customs and Border Protection cheekily refers to the country as the "home of a legend" aka Bruce Springsteen. Springsteen most definitely gets the recognition he deserves and especially at a time where rock and roll music is slowly becoming less popular among the newer generations. Chadha really brings this film to life with a wholesome storyline, iconic tunes, and lovable characters that help us appreciate Springsteen's beautifully everlasting impact on the world.
Cast: Viveik Kalra, Kulvinder Ghir, Meera Ganatra, Aaron Phagura, Dean-Charles Chapman, Nikita Mehra, Nell Williams, Tara Divina, Rob Brydon, Frankie Fox, Hayley Atwell, Sally Philips
Director: Gurinder Chadha
Writers: Paul Mayeda Berges, Gurinder Chadha, Sarfraz Manzoor, Bruce Springsteen (words & music inspiration)
Cinematographer: Ben Smithard
By Juliet Poucher
More Interesting Stories From Hollywood Insider
– Joanna Lumley Blasts Media Which "Forgets Broken Lives/Communities Left Behind Once Storm Of Publicity Has Moved On From An Area Of Crisis" In Support Of Humans Of Our World's "Remember Forgotten Villages" Campaign
– A Tribute To The Academy Awards: All Best Actor/Actress Speeches From The Beginning Of Oscars 1929-2019 | From Rami Malek, Leonardo DiCaprio To Marlon Brando & Beyond | From Olivia Colman, Meryl Streep To Bette Davis & Beyond
– FACT-CHECKED Series: Zendaya And 15 Things You Might Not Know About The Star Of 'Euphoria', Tom Holland's Leading Lady In "Spider-Man: Far From Home' And Next Starring With Timothée Chalamet In 'Dune'
– Dame Judi Dench Urges All To Remember Forgotten Villages Of Nepal By Donating To Humans Of Our World's Nepal Campaign
– WATCH: Do People In America Choose Human Rights Or Religion? – Season 2 Of Hollywood Insider's Messages From America – Episode 1
– FACT-CHECKED Series: Tom Holland And 15 Things You Might Not Know About The Star Of Spider-Man
– WATCH: Once Upon A Time In Hollywood's Premiere & "Reaction From Stars" Leonardo DiCaprio, Brad Pitt, Quentin Tarantino, Margot Robbie, Etc. On The Making Of The Masterpiece
– Spider-Man's Zendaya In Her First Adult Role In HBO's Brilliant Series Euphoria – It Is Also One Of Leonardo DiCaprio's Favorite Shows
– Why Queen Elizabeth II Is One Of The Greatest Monarchs | Her Majesty Queen Elizabeth II of United Queendom of Great Britain & Northern Ireland
– WATCH: Pritan Ambroase On The #metoo Revolution & Powerful Questions That Need Answers
– FACT-CHECKED Series: Tom Holland And 15 Things You Might Not Know About The Star Of Spider-Man