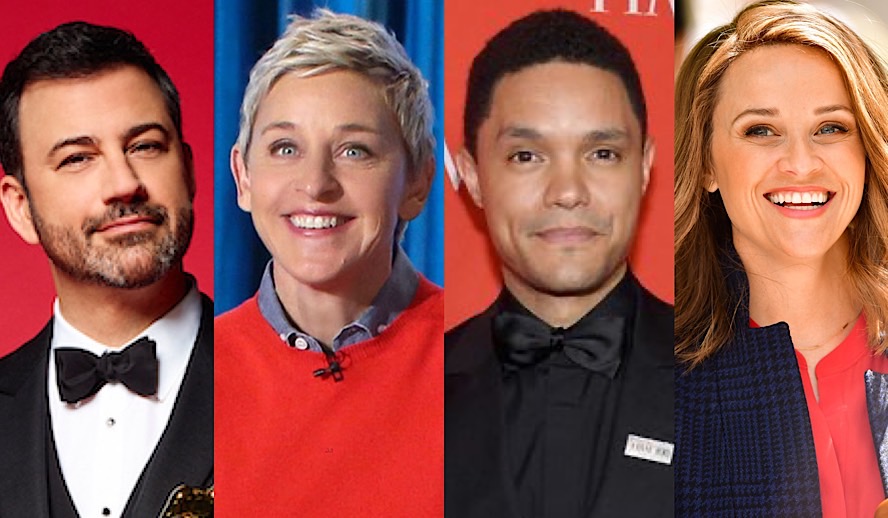 Photo: ABC/NBC/Comedy Central/Big Stock Photo
As the world adapts to our new normal for the time being, the quarantine is not discriminating. From the working class to Hollywood's elite, no man is left untouched by the United States' necessary yet nearly draconian measures to "flatten the curve" of the COVID-19 virus. While we all adapt and try to occupy ourselves during this unchartered new lifestyle, somehow through the required social distancing movement, entertainment has found a way. As we have heard, "The Show Must Go On." Through John Legend's impromptu piano serenade, to Jimmy Kimmel's Tonight Show  and Trevor Noah's The Daily Show broadcast from their living room, many entertainers have found a way to maintain some sort of normalcy. Aside from attempting to maintain status quo, the will and desire of celebrities to continue to provide entertainment content offers the world a breath of levity in this very serious predicament. It's also a much-needed reminder that not even celebrities are immune to social distancing or the virus itself. We have been reminded that celebrities are not immune to this virus, as stars such as Tom Hanks, his wife Rita Wilson, Idris Elba, NBA star Kevin Durant, and others have come forward to share their positive COVID-19 results. It is important to remember that we truly are all in this together and we will get through this…together.
Related article: Coronavirus's Impact on Hollywood: Box Office Loss, Halted Productions and 'No Time To Die' Premiere Delayed?
​
Learning Initiatives during Quarantine
Aside from stars using their platforms to provide entertainment, some have also formed alliances to provide children with an educational outlet. Jennifer Garner and Amy Adams announced a reading initiative called Save with Stories. They teamed up with No Kid Hungry and Save the Children. Broadcast on social media, this movement has already seen celebrities such as Camilla Cabello, Jimmy Fallon, Reese Witherspoon, and Ellen DeGeneres reading stories to children. In addition to this, Frozen's Josh Gad, who voices Olaf in the Disney franchise, announced the "Gad Book Club" of which he will live-stream himself reading a book every day on Twitter until the quarantine is over. Google Arts and Culture has plans to live-stream video tours of museums and other places of interest for children to learn from their own homes. It is important to remember that children are also experiencing stress during this uncomfortable time, and it is important to help identify this stress in children and help them find ways to overcome it while navigating the new normal. Parents around the world, including myself, are thankful for these alternative educational initiatives to encourage children to keep their minds active while stuck at home. 
Related article: Coronavirus's Perpectual Panic, Pandemic, Plague and Pandemonium Causes Major Cancellations in Hollywood
Related article: 'The Way Back': Ben Affleck's Most Emotional Role Proves To Be His Comeback on Personal and Professional Front
An Alternative Perspective on Social Distancing
While many stars have been characteristically public with their adherence to the guidance from the CDC to practice social distancing, there has been one notable defiance. Actress Evangeline Lilly, who has two young children, shared her distain for the quarantine orders, blaming it on political propaganda and said, "there is something every election year." She expressed her feeling that the methods to combat COVID-19 are too much like "marshall (sic) law" and also shared her father, who shares a home with her and her children, is battling stage four leukemia. This diagnosis makes her father even more vulnerable to the effects of COVID-19, yet she is openly preaching her defiance. As imagined, this move has ignited the flames of social media, with fans and peers alike labeling her stance "dangerous" and "irresponsible." When lambasted for her remarks on Twitter, Lilly replied, "Some people value their lives over freedom, some people value freedom over their lives. We all make our choices." While she is theoretically correct, her opinion is her own, and she is free to share it as she sees fit. Is it responsible in a time where the global death toll of this virus passed 10,000? Perhaps not, but it is America, and while it may feel right now that we are not as free as we once felt, the only way to fight this invisible enemy is together. It is important to remember, "United We Stand, Divided We Fall." Rather than shoving our personal opinions down everyone's throat, or publicly shaming them for sharing their opinion if it doesn't match ours, let's focus on making our own decisions and practicing the guidelines and advice from the professionals. The only way to combat this illness and slow its devastation is to establish distance from one another in an effort to mitigate the spread. If we all go into hiding, the virus may struggle to find hosts. 
Related article: Timothée Chalamet and Saoirse Ronan: The Young Powerhouse Duo That Is Dominating Hollywood Together
Related article: The Victorious Journey of OUR Idol Keanu Reeves Throughout A Long Hollywood History
Hope for a Happy Ending
While no one knows how this ordeal will end, we can only hope to lessen the devastation it can bring by heading the advice of the World Health Organization, The Center for Disease Control, and the authorities. Despite your political affiliation, we should have faith that the wellbeing of the country and its citizens is a bipartisan desire. It won't benefit anyone to preside over a country in financial and societal ruin over a virus that dominates and devastates several regions at a time. While we are all only beginning our isolation/quarantine journeys, let's hope we can find ways to see the light at the end of this weird, unfathomable tunnel we are current traveling through. We will come out on the other side. When you are this low, there is nowhere to go but up. Each day brings us one day closer to getting back to normalcy. The results of how quickly this will happen largely depend upon society's adherence. Until we can safely roam again, let's be thankful we have entertainment from celebrities who continue to share their talents from the isolation of their own homes. Art has the power to unite us all.
By Raquel Kokkoros
More Interesting Stories From Hollywood Insider
– A Tribute To The Academy Awards: All Best Actor/Actress Speeches From The Beginning Of Oscars 1929-2019 | From Rami Malek, Leonardo DiCaprio To Marlon Brando & Beyond | From Olivia Colman, Meryl Streep To Bette Davis & Beyond
– Why Queen Elizabeth II Is One Of The Greatest Monarchs | Her Majesty Queen Elizabeth II of United Queendom of Great Britain & Northern Ireland
– Compilation: All James Bond 007 Opening Sequences From 1962 Sean Connery to Daniel Craig
– In the 32nd Year Of His Career, Keanu Reeves' Face Continues To Reign After Launching Movies Earning Over $4.3 Billion In Total – "John Wick", "Toy Story 4", "Matrix", And Many More
– Want GUARANTEED SUCCESS? Remove these ten words from your vocabulary| Transform your life INSTANTLY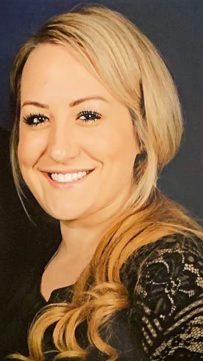 Raquel Kokkoros is currently a writer for Hollywood Insider. Enchanted by the illustriousness of cinema, Raquel is proud to contribute to a team that prioritizes quality journalism and respect for the entertainment business being utilized as a tool to better the world. Raquel believes in emphasizing elements of film and television that deserve an unbiased platform. Proud to provide an optimistic stage for the diverse offerings of Hollywood, Raquel enjoys writing from a fair, understanding, and truthful perspective –  a philosophy that embodies the ethos of Hollywood Insider.