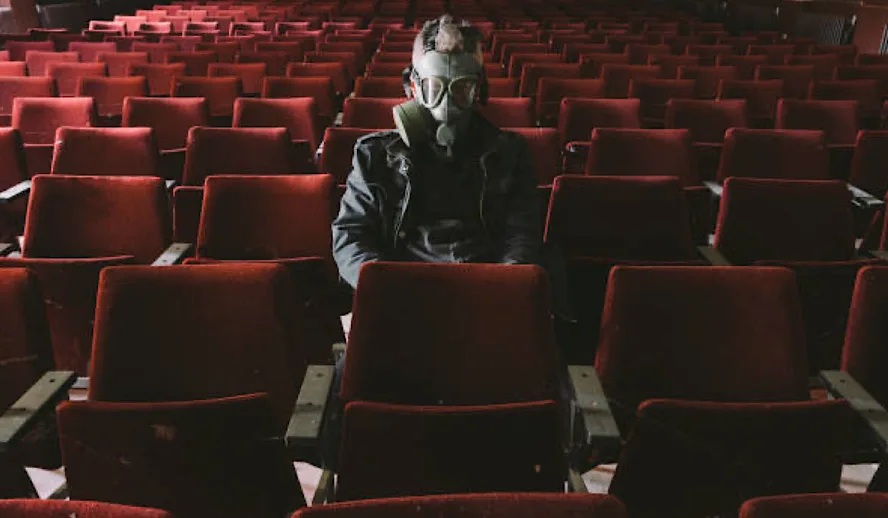 Photo:  Man in cinema wearing a gas mask
March is here and with it brings a sense of worry. With a pandemic knocking on our door, Hollywood abuzz with cancellations, the world is anticipating many more will fall ill to the latest strain of unpredictable Coronavirus. As we are all well aware, Coronavirus started to divide and conquer in Wuhan, China in late 2019. A few short months later, the virus has spread from the Wuhan epicenter to countries across the world. Now effecting people in over 66 countries, a total of 83,386 (including 80,134‬ in Mainland China, Hong Kong, and Macau) confirmed cases of novel coronavirus infection including 3,048 deaths (including 2,794 in China, 54 in Iran, 34 in Italy, 22 in South Korea, 12 in Japan, two in France, two in the US and one each in the Philippines, Australia, Thailand, and Taiwan) have been reported across the world as of March 2, 2020. Country officials are issuing recommended quarantines and limiting the number of people gathered in one area during an event or concert. With such precautions in place, how will this virus affect Hollywood? Productions have halted, concerts have been canceled, and theatrical film releases delayed. To what end? What are the potential impacts on the entertainment industry's economy? And now SXSW 2020 has been cancelled. 
Cancellations galore – Let's take a moment to be responsible on the method of reporting such unstable and constantly evolving conditions. 
Italy has been one of the hardest hit countries outside of Mainland China. Paramount has halted production on Mission: Impossible VII. The seventh installment in the franchise was scheduled to launch a three-week production kick-off but was forced to postpone their plans when the Italian government issued and enforced a ban on all public gatherings. While the hype of the virus may be a novelty and the plot of all post-apocalyptic disaster movies, it is nowhere near close to the death toll or seasonal impact of the common flu. It may be garnering so much hype because it is a previously undiscovered strain of virus with an incredibly long and unpredictable 14-day incubation period. Much like the yearly flu, experts are recommending hand washing as the best way to prevent the spread and infection of others. Imagine being on a film set, an action film such as expected with the Mission: Impossible franchise and having to roll around in the dirt and get up close and sweaty with your enemies. It's clear to see why postponing the production was a logical way to stop the spread via contact and being in extremely close quarters. The feature is brought to you by the letter "P", which stands for PERPETUAL PANIC, PANDEMIC, PLAGUE, and PANDEMONIUM. Holy scare tactics, media. Let's take a moment to be responsible on the method of reporting such unstable and constantly evolving conditions. 
Related Article: Coronavirus's Impact on Hollywood: Box Office Loss, Halted Productions and 'No Time To Die' Premiere Delayed?
The Happiest Place of Earth Suddenly Became One of the Loneliest
Shanghai Disney Resort made the decision to avoid the spread of the virus by closing the park completely until further notice. Tokyo Disney followed suit. While considering being responsible when covering this ever-evolving story, I will say that it may behoove everyone to keep a small stock of food and water on hand at all times. You just never know when it may come in handy and ultimately save your life. Now whether or not it's worth it is up to the individual. It is always good to be proactive and plan ahead, but hopefully it can be done with a sense of level-headed thought and realistic expectations. Another interesting industry that will be potentially impacted is the 2020 Olympics. An official decision on whether or not to cancel or postpone the gauntlet of challenges is strictly based on the progression or stabilization of the spread of Coronavirus and will be ruled on this week. 
Bottom line is it will be best to avoid close contact with ill individuals as much as possible. Kick back, relax, and catch up on the first six Mission: Impossible films since we are still trying to figure out the method behind the ability to justify a seventh film in the series.
If you are experiencing symptoms of illness, visit the Centers for Disease Control and Prevention page of Coronavirus Disease 2019 (COVID-19). Check daily for updates, as the situation is volatile and evolving by the minute.
​By Raquel Kokkoros
More Interesting Stories From Hollywood Insider
– Coronavirus's Impact on Hollywood: Box Office Loss, Halted Productions and 'No Time To Die' Premiere Delayed?
– A Tribute To The Academy Awards: All Best Actor/Actress Speeches From The Beginning Of Oscars 1929-2019 | From Rami Malek, Leonardo DiCaprio To Marlon Brando & Beyond | From Olivia Colman, Meryl Streep To Bette Davis & Beyond
– The Verified Complete List of Every Female Best Director Oscar Winner: Fact-Checked Series
– Why Queen Elizabeth II Is One Of The Greatest Monarchs | Her Majesty Queen Elizabeth II of United Queendom of Great Britain & Northern Ireland
– Video: '1917' – Golden Globes Winner – Full Commentary And Reactions From The Stars & Crew Including Sam Mendes, George MacKay, Dean-Charles Chapman & Team
– Video: Full Commentary & Reactions From Stars On 'Bombshell' With Charlize Theron, Nicole Kidman, Margot Robbie, Jay Roach & Team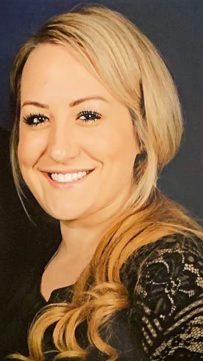 Raquel Kokkoros is currently a writer for Hollywood Insider. Enchanted by the illustriousness of cinema, Raquel is proud to contribute to a team that prioritizes quality journalism and respect for the entertainment business being utilized as a tool to better the world. Raquel believes in emphasizing elements of film and television that deserve an unbiased platform. Proud to provide an optimistic stage for the diverse offerings of Hollywood, Raquel enjoys writing from a fair, understanding, and truthful perspective –  a philosophy that embodies the ethos of Hollywood Insider.