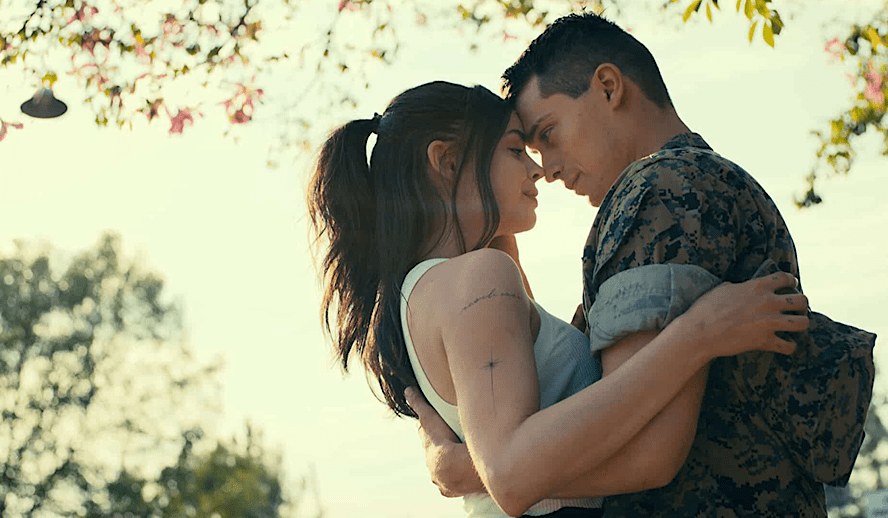 Photo: 'Purple Hearts' 
It's no surprise 'Purple Hearts' reached the number one slot on Netflix' top ten most watched movies. With its romance novel-esque premise combined with a real-world context, it makes complete sense why viewers have and continue to hit the "play" button. Though, it must be acknowledged, there's a danger that comes with mixing too many identities. 
Things to do: 
Click here to read more on

The Hollywood Insider's

vision, values and mission statement here – Media has the responsibility to better our world –

The Hollywood Insider

fully focuses on substance and meaningful entertainment, against gossip and scandal, by combining entertainment, education, and philanthropy.
Starring Sofia Carson (most recognizable for her role in Disney Channel's 'Descendants' series) and Nicholas Galitzine (no stranger to the artistic romance genre with leading roles in 2016's 'High Strung' and 2021's 'Cinderella'), the romantic drama makes an attempt for the classic enemies-to-lovers relationship dynamic, catapulted by a marriage of convenience between a singer-songwriter and a marine. That description draws viewers in all on its own, but is the execution there?
'Purple Hearts' – A Brief Synopsis
Cassie (Carson) is a starving artist, trying to pay the bills while pursuing her dreams of becoming an impactful singer with her band. Her struggles are furthered by her diabetes and her lack of insurance to cover the medical expenses. Luke (Galitzine) has done his best to reform himself after getting clean and joining the Marines. He is about to be deployed, but owes his former drug dealer quite a lot of money. Though the two initially hated each other upon first meeting, they agree to marry so Cassie can get the insurance required, and the duo can split the additional pay received for spouses in the military. You can probably guess where the plot goes from there, but there's nothing wrong with a predictable romance – that's one of the comforts of the genre. 
Featuring original music for Carson's character (one of the definite highlights of viewing), the film takes a crack at covering relationships overseas and enters into the territory of politics, as its two leads clash for their social beliefs. There's a lot of elements from the framework that could go right, and a lot that could go wrong. 
Related video: Full Commentary – Cast & Crew Spills Secrets on Making of 'Elvis' | In-Depth Scoop | Austin Butler
Related video: Full Rendezvous At the Premiere of 'Elvis' with Reactions from Stars | Austin Butler, Baz Luhrmann
Related video: Come Behind The Scenes of 'Elvis' | Austin Butler, Tom Hanks and Baz Luhrmann
The Art of Enemies-to-Lovers 
Enemies turned into lovers have happened on the screen time and time again. From older inspirations, such as the original blueprint for the trope, 'Pride and Prejudice,' to modernized takes throughout the years, 'You've Got Mail,' '10 Things I Hate About You,' 'How to Lose a Guy in 10 Days,' etc. the angsty romance dynamic hits for viewers again and again. There's just something so compelling about two people who hate each other at the beginning developing to really feel for one another and love each other. Perhaps it's the sexual tension that emerges from such situations, or it's the deeper hope that someone can hate you and see all the bad parts of you and still fall in love, but the trope resonates. That being said, it is also very easy to get wrong. 
There has to be a clear progression within the relationship. It doesn't make sense for two people who hate each other to admit their feelings the next second. As most romance tropes go, there's a benefit to making it a slowburn. Slowburns keep the characters pining for one another, whether they admit it to themselves or not. There's this desperation in their pining or their growing tension that won't be satisfied until the end. Like the name suggests, it's slow. And it burns. One recent example is another popular Netflix creation, 'Bridgerton' (season two, not season one). The second season sees both leads evolve from their initial disliking, and keeps the audience on the edge of their seats through the mutual pining which ensues. When the execution is right, the viewers can get excited over something as small as a hand touch. In the case of 'Bridgerton,' the tension isn't satiated until the very end of the season, after having strung everyone along for the majority of the episodes. So where does 'Purple Hearts' fit into all of this?
Related article: MUST WATCH – The Hollywood Insider's CEO Pritan Ambroase's Love Letter to Black Lives Matter – VIDEO
Related article: Why Queen Elizabeth II Is One Of The Greatest Monarchs | Her Majesty Queen Elizabeth II of United Queendom of Great Britain & Northern Ireland (Video Insight)
Related article: All Best Actor/Actress Speeches From The Beginning Of Oscars 1929-2019 | Hollywood Insider
Related article: EVOLUTION: Every Henry Cavill Role From 2001 to 2021, All Performances Exceptionally Poignant
Related article: EVOLUTION: Every Chris Evans Role From 1997 to 2020, All Performances Exceptionally Poignant
Related article: #metoo Revolution: Powerful Questions That Need Answers
Related article: FACT-CHECKED Series: Timothee Chalamet and 32 Facts about The Young Superstar
The Art of Misusing Enemies-to-Lovers
'Purple Hearts' capitalizes on the trope, and others that surround it.  It's a marriage of convenience, and you can bet there's a scene where there's only one bed and they have to share. The skeleton of a passionate romance is there. However, there's not much of a slowburn. It's not a requirement, but there still has to be a reasonable progression for the characters to fall for one another. The pacing of the relationship feels a bit awkward at times throughout the film. It's no surprise that the two conventionally attractive leads are attracted to one another, but their relationship dynamic does not resonate the way it could've had the pacing been laid out in a more smooth manner. 
The main thing that's difficult to understand within the film is that it wants to market off of its tropes, but at times it wants to pretend it's not tropey. There's nothing wrong with banking off of familiar tropes that have been proven to be successful. Tropes are tropes because they are well loved and people want to experience them again and again (at least, that's the case for most of them).  By definition, a trope is a recognizable plot element. But though 'Purple Hearts' includes so many romance bullet points, there are moments where it appears to be convincing itself it is more "serious" than the shlucky romance tropes it is based on. Just because something is "shlucky" doesn't mean it can't tackle more sensitive issues, but there has to be a balance and a promise to the audience on how much is tropey and how much is grounded, and 'Purple Hearts' makes no clear promises. It is taking itself too seriously to be passed off as an enjoyable romance, though it has all the makings of being one.
Related article: The Hollywood Insider's CEO Pritan Ambroase: "The Importance of Venice Film Festival as the Protector of Cinema"
Related article: The Masters of Cinema Archives: The Hollywood Insider Pays Tribute to 'La Vie En Rose', Exclusive Interview with Director Olivier Dahan
Related article: – Want GUARANTEED SUCCESS? Remove these ten words from your vocabulary| Transform your life INSTANTLY
Related article: A Tribute to Johnny Depp: The Actor and Musician Who Defined Range
Related video: EVOLUTION: Every Johnny Depp Role From 1984 to 2020, All Performances Exceptionally Poignant
Related article: A Tribute to the Hero & President Volodymyr Zelenskyy: Comedian/Actor, Ukraine's President and Heroic Leader
Blue Plus Red Equals Purple…Sort Of
I said it before, and I'll say it again: the plot is predictable, and the story is extremely trope-fied. You feel like you're signing up for a romance film that will make you laugh and make you cry. But it tries to distance itself from being labeled as just another romance film by adding in another element…politics. Political films have their place in the world and deal with socio-economic issues that plague our present day. But when you sign up for a romance, you aren't exactly down for political debates. Romances are almost fantasies for their whimsical approach to life and untethered relationship to reality. Politics are nothing but reality. I'd argue politics shouldn't be the reason two characters are enemies in an enemies-to-lovers context. Political views are so personal and intense, and it is truly difficult for opposing parties to reach a common ground. So to have this trope where you know the characters are intended to end up together, it's hard to watch with their political views casting their initial divide. It's a nice sentiment to want the characters to overcome their differences through their love, but their clashing views make the romance feel a bit uncomfortable. 
This political aspect ties into the film's syndrome of taking itself too seriously. It is trying to say something groundbreaking, though the message is blurred, and it is trying to tug at your heartstrings through the reality tied into it. However, this film is packed with romantic tropes that make it at odds with its own realistic aspects. On a more positive side, there are attempts the film makes to feel more real that hit. Specifically, Cassie and Luke's relationship with Luke being an active soldier overseas adds a layer of authenticity, and Cassie's medical/financial struggles feel very real. The film has charming moments, and the relationship is never stale but the film's execution of everything exemplifies its identity crisis. Its premise carries a lot of weight for the film's popularity, but you can't get by on just a premise. 
Cast: Sofia Carson, Nicholas Galitzine, Chosen Jacobs, Kat Cunning, Linden Ashby, John Harlan Kim, Scott Deckert, Anthony Ippolito, Loren Escandon, Sarah Rich, Breana Raquel, Dustin Ryder Jones, Nicholas Duvernay, Asante Jones, A.J. Tannen, Theodore Jerome Allen Rosenbaum, Kaitlin Huwe, Rand Guerrero
Crew:
Director: Elizabeth Allen Rosenbaum
Writers: Kyle Jarrow, Liz W. Garcia
Producers: Amy Baer, Matthew Bloomgarden, Kendyll Boucher, Laura Char Carson, Sofia Carson, Paul O. Davis, Romy Golan, Hugh Grumbar, Tim Haslam, Kyle Jarrow, Elysa Koplovitz Dutton, Leslie Morgenstein, Matt Sakatani Roe, Elizabeth Allen Rosenbaum Cinematography: Matt Sakatani Roe
Editor: Ishai Setton
By Rachel Beltowski
Click here to read The Hollywood Insider's CEO Pritan Ambroase's love letter to Cinema, TV and Media. An excerpt from the love letter: The Hollywood Insider's CEO/editor-in-chief Pritan Ambroase affirms, "We have the space and time for all your stories, no matter who/what/where you are. Media/Cinema/TV have a responsibility to better the world and The Hollywood Insider will continue to do so. Talent, diversity and authenticity matter in Cinema/TV, media and storytelling. In fact, I reckon that we should announce "talent-diversity-authenticity-storytelling-Cinema-Oscars-Academy-Awards" as synonyms of each other. We show respect to talent and stories regardless of their skin color, race, gender, sexuality, religion, nationality, etc., thus allowing authenticity into this system just by something as simple as accepting and showing respect to the human species' factual diversity. We become greater just by respecting and appreciating talent in all its shapes, sizes, and forms. Award winners, which includes nominees, must be chosen on the greatness of their talent ALONE.
I am sure I am speaking for a multitude of Cinema lovers all over the world when I speak of the following sentiments that this medium of art has blessed me with. Cinema taught me about our world, at times in English and at times through the beautiful one-inch bar of subtitles. I learned from the stories in the global movies that we are all alike across all borders. Remember that one of the best symbols of many great civilizations and their prosperity has been the art they have left behind. This art can be in the form of paintings, sculptures, architecture, writings, inventions, etc. For our modern society, Cinema happens to be one of them. Cinema is more than just a form of entertainment, it is an integral part of society. I love the world uniting, be it for Cinema, TV, media, art, fashion, sport, etc. Please keep this going full speed."
More Interesting Stories From The Hollywood Insider
– Want GUARANTEED SUCCESS? Remove these ten words from your vocabulary| Transform your life INSTANTLY
– A Tribute to Martin Scorsese: A Complete Analysis of the Life and Career of the Man Who Lives and Breathes Cinema 
– Do you know the hidden messages in 'Call Me By Your Name'? Find out behind the scenes facts in the full commentary and In-depth analysis of the cinematic masterpiece
– A Tribute To The Academy Awards: All Best Actor/Actress Speeches From The Beginning Of Oscars 1929-2019 | From Rami Malek, Leonardo DiCaprio To Denzel Washington, Halle Berry & Beyond | From Olivia Colman, Meryl Streep To Bette Davis & Beyond
– In the 32nd Year Of His Career, Keanu Reeves' Face Continues To Reign After Launching Movies Earning Over $4.3 Billion In Total – "John Wick", "Toy Story 4", "Matrix", And Many More
purple hearts, purple hearts, purple hearts, purple hearts, purple hearts, purple hearts, purple hearts, purple hearts, purple hearts, purple hearts, purple hearts, purple hearts, purple hearts, purple hearts, purple hearts, purple hearts, purple hearts, purple hearts, purple hearts, purple hearts, purple hearts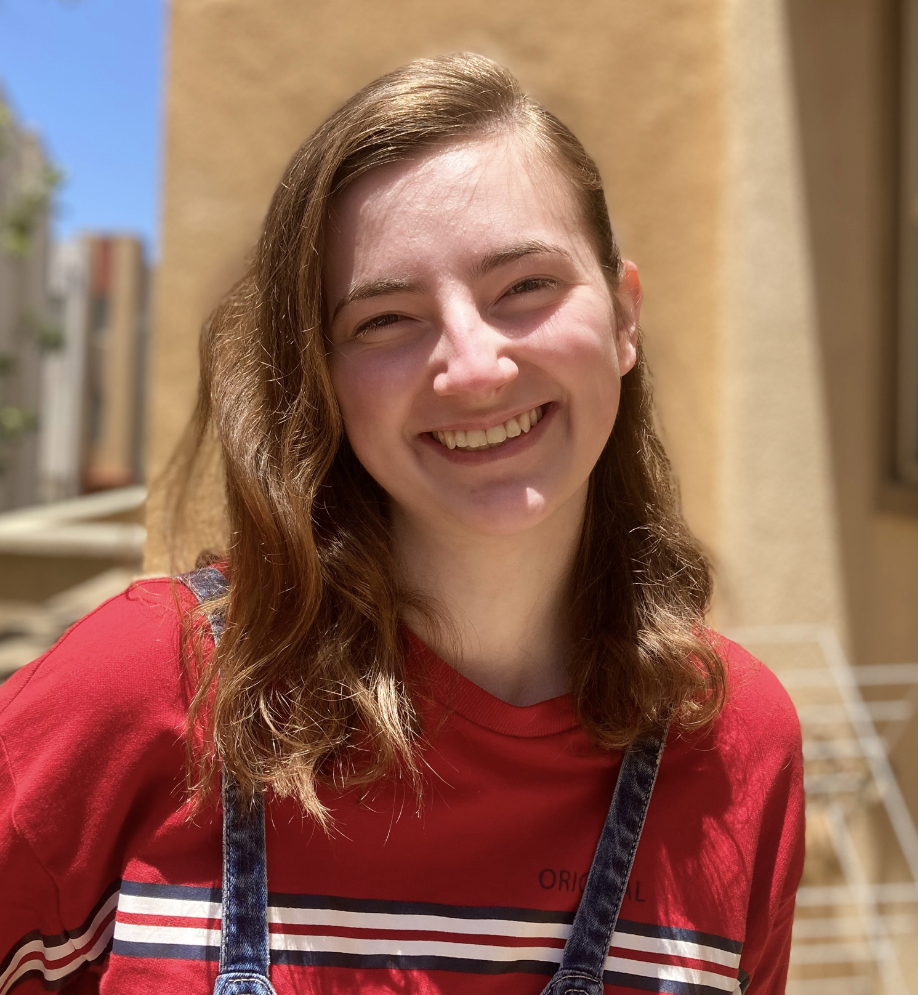 Rachel Beltowski is a screenwriter and film critic, with a passion for character-driven stories and thought-provoking themes. From adventure to horror, Rachel enjoys stories which take the audience on an emotional rollercoaster and allow for personal expression that would otherwise go silent. Rachel was drawn to The Hollywood Insider's dedication to individual perspectives and positive world impacts. The Hollywood Insider has provided a foundation for Rachel to share her insights and leap into the center of the entertainment industry. Rachel hopes to bring a fresh voice into the world of film and television, and share her love of stories with others.