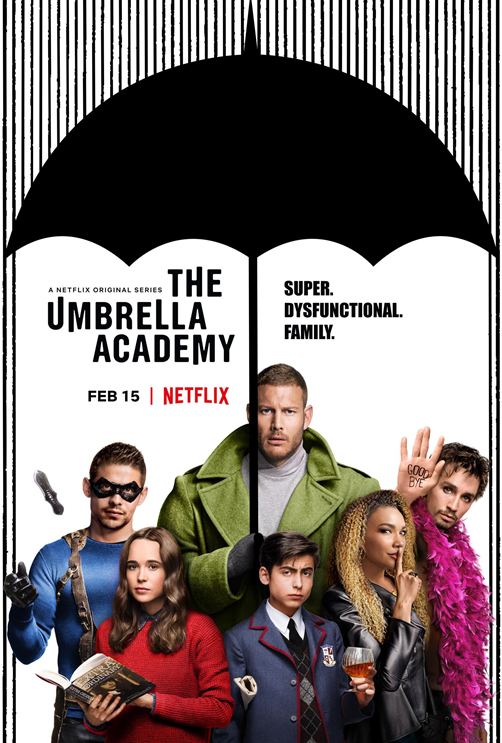 Photo: Netflix
The Umbrella Academy – a Netflix original based on Gerard Way's comic book series of the same name – provides a fresh perspective on the oversaturated superhero genre. Taking a soirée of super siblings, all harboring suppressed childhood trauma and barely managing adulthood, The Umbrella Academy puts its darkly comic foot forward. And in doing so, ventures into an absurdist splendor.
Eschewing superhero tropes in favor of elaborate dance numbers and shoot-outs to the tune of "Don't Stop Me Now," the series is just plain fun. Rather than taking A Dark Knight angle and presenting society's futility as something to fret over, The Umbrella Academy begs you to laugh at it.
When told that the "Future is sh**" by his sibling, Klaus – a delightfully deranged and sexually deviant drug addict – responds with, "Called It!" And in two words, he sums up the show's essence. The Umbrella Academy takes a sci-fi cliche – the dire need to prevent a bleak post-apocalyptic future – and subverts it with character-defining dialogue. For, in The Umbrella Academy, the characters and their dynamics come first.
The writers root the show's suspense in the characters' narrative arcs, as opposed to its storyline. As viewers uncover the dark past defining these characters, the present plotline unfolds in concurrence; thus, the story is equally plot and character driven, as opposed to relying too heavily on one over the other. 
[masterslider alias="ms-77-1-1″]
How it all begins – The Umbrella Academy
The Umbrella Academy opens with an unexplainable natural phenomenon: 43 children are all born on the same day to mothers who were not pregnant when the day began. And each one is born with a unique and powerful ability. A billionaire industrialist – Sir Reginald Hargreeves – adopts seven of the children to forge his so-called "Umbrella Academy."
Hargreeves trains the children to protect humankind, and save it, should the need ever present itself. However, over time, the Academy gradually disbands. The siblings are forced back together – and pushed back into the depths of their childhood despair – when their father suddenly dies. One deceased dad an impending apocalypse later, you find your heroes in this dysfunctional family.
As kids, they saved the day. As adults, they need to save for therapy.
As for the adult "Umbrella Academy," this time around, they are humans before they are superhumans. While their father forgot that they were "just" kids, these adults cannot forget the damage he did or the problems that they have since endured.
The Umbrella Academy presents a family that needs fixing before saviors destined to save. In stark contrast to the X-Men or The Avengers, which are great cinematic accomplishments, The Umbrella Academy does not strive for the most thrilling action sequences or the most extraordinary feats of strength; instead, it strives for relatable emotion delivered via unrelatable "assets."
Often the cause of their misfortune, the characters' powers can be equally interpreted as afflictions. Therein, is the genius behind the series: there exists a seamless simplicity by which it interweaves the superhero-oriented plotline with the character exposés.
[masterslider alias="ms-1-1-1-5″]
Audiences see Luther's need to "save the day" as a response to his innate desire to please Sir Reginald, as he was the only child who did not abandon his father. Luther's emotional hardship catalyzes his need to discover the truth and hunt down the villainous Cha-Cha and Hazel. Thus, the superheroes' alter egos, so to speak, do not feel dichotomous to their savior identities; they feel merged.
Viewers do not witness a Peter Parker and a Spiderman, or a Clark Kent and a Superman; they see Klaus, who is also called the Seance. Or Luther, who is also called Spaceboy (a mockery of the time his dad sent him to the moon for no reason). The identities are not intended to be perceived as distinct. They are intended to be viewed as intimately co-dependent.
The comedy does not dive into toxic masculinity
Possibly the most satisfying aspect of The Umbrella Academy is its humor style. While watching Thor or Iron Man, we are struck by a general tendency to exploit prototypically masculine ideals for comedic purposes. To illustrate, think of the Skorge quote from Thor: Ragnarok, "I call them Des and Stroy. When they're together, they destroy" or, just remember all the times Thor made clear that he would end someone with an air of cocky nonchalance. Either way, the comedic approach has the same lurking, constant foundation: power and superiority.
In The Umbrella Academy, there's self-deprecating humor. Darkly comic jokes abound. If the writers can make a joke about Hitler playing tennis in hell, and get away with it, they've done something right. And at the least, they have created something different. The Umbrella Academy excels because it doesn't try to compete with superhero standards. Instead, it takes Gerard Way's source material and forges a new path within the superhero space.
Starring: Ellen Page, Tom Hopper, Emmy Raver-Lampman, Robert Sheehan, David Castañeda, Aidan Gallagher, Cameron Britton, and Mary J. Blige.
Executive Producers: Steve Blackman (Fargo, Altered Carbon), Jeff F. King (Hand of God), Bluegrass Television, and Mike Richardson and Keith Goldberg from Dark Horse Entertainment.
Co-Executive Producers: Gerard Way and Gabriel Bá
Produced by: Universal Cable Productions for Netflix
Based on: Eisner award-winning comics and graphic novels created and written by Gerard Way (My Chemical Romance), illustrated by Gabriel Bá, and published by Dark Horse Comics.
By Joshua Lezmi
More Interesting Stories From Hollywood Insider
– How Academy Award Nominee and "star" of Netflix's Roma is utilizing her platform and standing up for domestic workers on an international scale
– Bollywood's first mainstream lesbian romance wins hearts all over the world 
– Netflix's Elite is a show where being gay is a non-issue and gay couples are celebrated
– Why Icon Selma Blair is rejecting pity and instead wants recognition for disabled people
– Why Rami Malek cannot be blamed for the director Bryan Singer's faults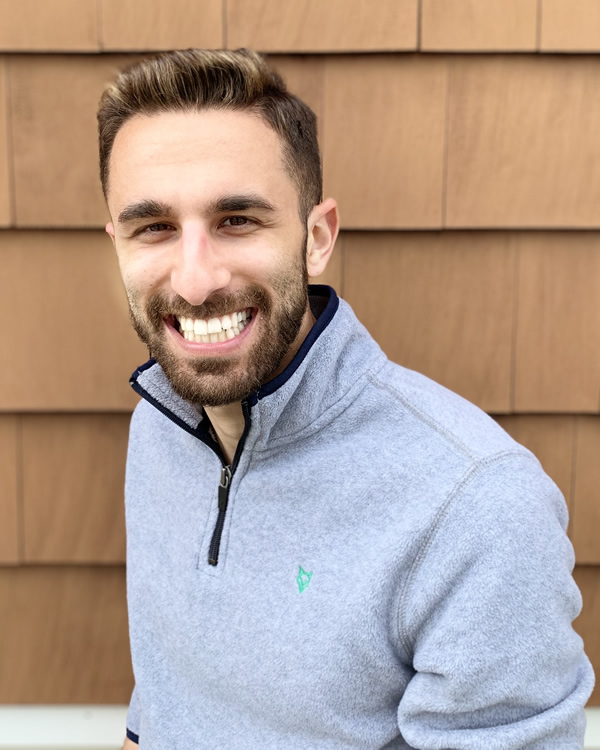 Joshua Lezmi is an entertainment journalist who keeps an ear to the ground concerning movies and Broadway. Writing reviews and feature stories for Hollywood Insider, Joshua enjoys contemplating all the ways that art impacts life. Though often reflecting contemporary cultural values back on society, art can also mold the reality we know. Joshua's coverage often carries and comments on this concept. Joshua enjoys raising questions in his pieces that are designed to be explored, for like the subject matter he covers — movies, TV shows, and Broadway productions — the appeal is in the journey.